Category —
Journal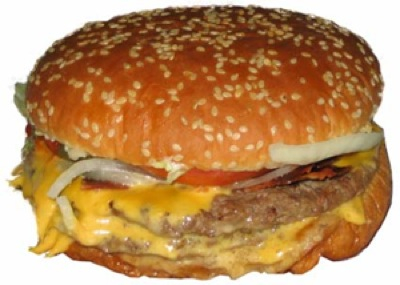 Daniel Eran Dilger
Over the last century, a pattern of exaggerated economic downturns related to corruption and fraud in the market and in banking has repeated at regular intervals. Here's the historical context of what's happening today with Fannie Mae & Freddie Mac.
[Read more →]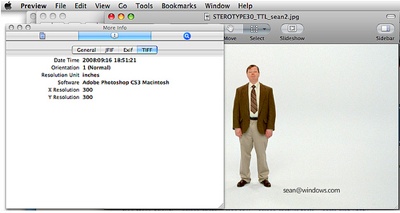 Daniel Eran Dilger
After dumping its $10 million contract with Jerry Seinfeld after just three ads (only two of which even aired) Microsoft has created new ad copy where regular people and a few celebrities say, "I'm a PC!" One problem with the campaign's credibility: the ad work was created using Macs.
Microsoft $300 Million Ads
Microsoft's Mojave Attempts to Wet Vista's Desert
Microsoft's Mojave Experiment Exposes Serious Vista Problems
Paul Thurrott calls Apple "the Bad Guys" of Microsoft's $300 Million Ads
Gates, Seinfeld and the $300 Million Ad to Nowhere
Microsoft's $300 million ad campaign tumbles with new PC ads
Microsoft's "Windows vs Walls" Ad Tries to Think Different, Fails
Microsoft's "I'm a PC" Millions Actually Promoting the Mac
Microsoft's 'I'm a PC' Campaign Keeps Getting Stranger (With Videos)
I'm a PC too… touché
[Read more →]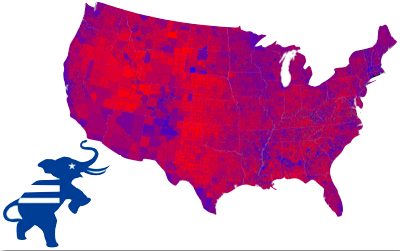 Daniel Eran Dilger
When I point out facts that some people find objectionable, they typically respond by calling me a one-sided partisan with a limited perspective. To offer some balance in perspective, here's a look at what prominent Republicans and conservative thinkers have to say about Barak Obama and the John McCain/Sarah Palin campaign.
[Read more →]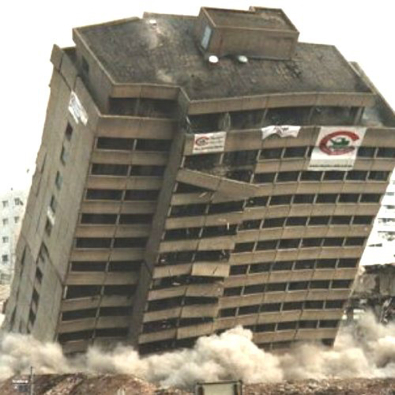 Daniel Eran Dilger
Supporters of the Bush administration like to say that there have been no terrorist attacks on US soil since the tragedy of September 11, 2001, suggesting that President Bush has kept the country safe from terrorism. What they forget is that Osama Bin Laden clearly outlined his strategy for battling America, not by flying more planes into new buildings, but by driving the US into bankruptcy.
[Read more →]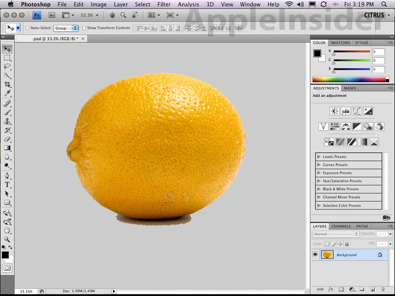 Prince McLean, AppleInsider
Adobe next week will unveil Creative Suite 4, a new version of its media design bundle set to ship the following month with features such as enhanced options for working with 3D objects in Photoshop, new Flash document exports from within InDesign, and a new animation model for Flash, AppleInsider has learned.

Daniel Eran Dilger
While Microsoft and the John McCain presidential campaign might not share many political views, there are striking similarities on how both advertise and promote their respective products. Here's ten parallels between the two that demand attention.
[Read more →]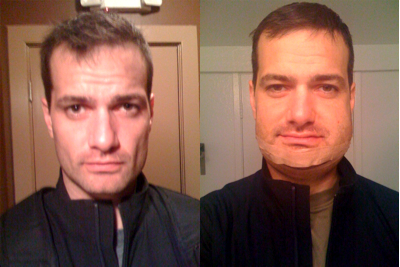 Daniel Eran Dilger
I certainly learn more when I'm under pressure. I can drift along comfortably for days without any epiphanies, but introduce some chaos, trauma, challenge, and threat, and I'll discover all sorts of new things about the world around me. Having my jaw busted up and rewired together has been one of those events that get me thinking.
[Read more →]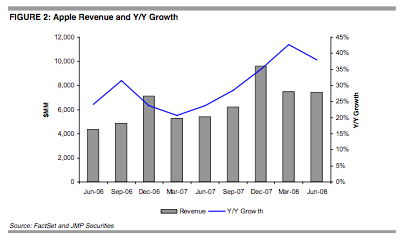 Prince McLean, AppleInsider
In resuming its coverage of Apple, JMP Securities has issued a note warning of slower growth due to global economic factors and indicating that AT&T retail stores were quick to recommend RIM BlackBerry phones over the iPhone 3G, particularly for email.
AppleInsider | AT&T stores recommending RIM over the iPhone [Read more →]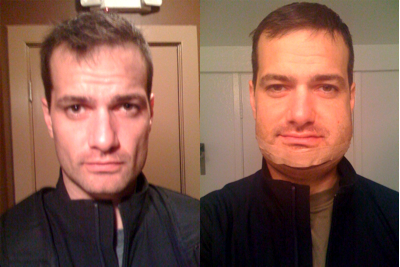 Daniel Eran Dilger
Insurance premiums: $400

Panoramic Xrays: $350
Preparatory Orthodontics: $6,000
Going out for two binge dinners the night before: $40
Maxillofacial Surgery: $70,000
Being told Kaiser Permanente may cancel your policy on a whim after you've been paying premiums to them for for ten years, realizing that no other insurance would ever pick up your case, and living in a country where the president thinks everyone has health care because they can visit an emergency room: Priceless.
Also priceless: my mom wrote to tell me, "Your pic actually looks better with your face filled out!!" Certainly, a face only a mother could love. My head is actually so big the pictures can't even capture the full effect. Even more unflattering (warning, some are gnarly) pics if you continue.
[Read more →]
It seems like I just went on vacation, but here I am making plans to venture across the Bay to tomorrow to visit the beautiful island of Alameda, just off the shore of charming downtown Oakland.
I'll be dodging bullets on the way in order to get drugged, knocked out, and have my face cut open Dark Knight style. I'm going to have by jaw sawed into, broken in half below my teeth, and then rewired back together with the same titanium bolts and plates that held my left arm together (and occasionally set off the security alarms at the Apple campus.)
That means I'll be drinking nothing but fluids for around ten days, and ironically not allowed to use a straw to do so, as the vacuum could rip up the stitches.
That also means I'm likely to not have the same ability to churn out articles like I usually do. Although, who knows, I might have nothing else to do but type, given that I'm going to look like the Elephant Man for two weeks and probably won't venture out of the house much while recuperating.
And it's possible I might never wake up. If I don't, I should probably say that I love everybody and will miss you all (were I able to, being dead and all), even the cranky old dudes who imply that the truth should be ignored if I say it, because living in SF means I could be a fag.
Thanks for reading, commenting, and especially for donating, I love those people the most obviously.
– Dan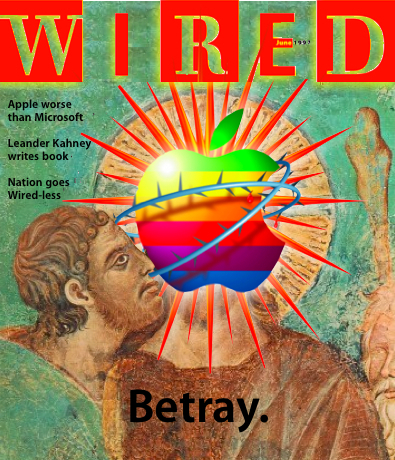 Daniel Eran Dilger
An author who has devoted his career to deriding Steve Jobs' Apple as being "irredeemably evil" and portraying its users as a "cult" has scribbled up a new missive for Wired that attempts to hijack the company's upcoming iPod event and replace any discussion of new technology with a tasteless personal attack of the company's CEO.
[Read more →]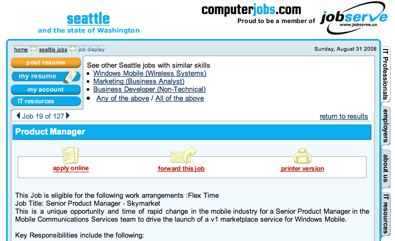 Prince McLean, AppleInsider
Following in the footsteps of US mobile provider T-Mobile and Google's Android platform, Microsoft is plotting its own effort to create an online store for mobile software in the model of Apple's iPhone App Store. [Read more →]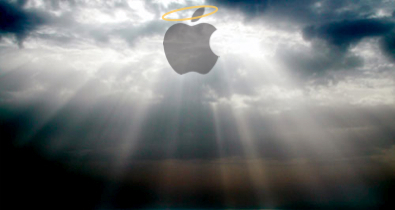 Daniel Eran Dilger
AppleInsider's article "Developers question why Apple keeps its iPhone 2.0 SDK under NDA" presented several reasons why developers are frustrated with Apple's tight control over the iPhone platform. Another facet behind Apple wanting to maintain a centralized position of control over iPhone development, where developers are bound by NDA to interface only with Apple but not each other, is to head off tangent hacks that might complicate Apple's ability to lead its platform in the direction it wants.
[Read more →]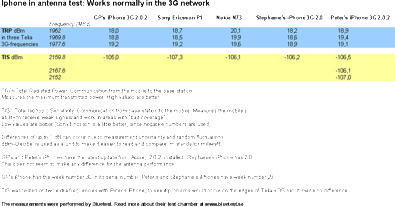 Prince McLean, AppleInsider
After lab results demonstrated that the iPhone 3G's antenna actually functions normally, critics complained that the tests didn't represent their own experiences. So the tests were performed again on two phones that had been experiencing severe problems for some users; the verdict was the same: no hardware problems found.
Repeat tests show iPhone 3G doesn't suffer from faulty hardware
[Read more →]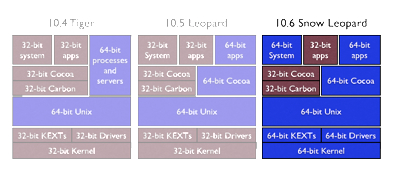 Prince McLean, AppleInsider
Next year's 10.6 reference release of Mac OS X promises to deliver technology updates throughout the system without focusing on the customer-facing marketing features that typically sell a new operating system. Here's a look at what those behind-the-scenes enhancements will mean to you, starting with new 64-bit support.