Podcast: Windows 8
September 20th, 2011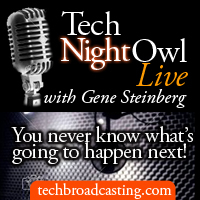 Gene Steinberg of the Tech Night Owl invited me to talk about Windows 8 in a radio broadcast featuring CNET's Seth Rosenblatt and Macworld's Lex Friedman.
You can tune into the live broadcast stream Saturday night from 7:00 to 10:00 PM Pacific, 10:00 PM to 1:00 AM Eastern, at http://www.technightowl.com/radio/. An archive of the show is available for downloading and listening at your convenience within four hours after the original broadcast.
The episode is available here: September 17, 2011 — Daniel Eran Dilger, Seth Rosenblatt and Lex Friedman

The Tech Night Owl LIVE is also broadcast on many local radio stations via the GCN network. There'a also now a mobile app for GCN radio.
You can also access our show's Podcast feed, now available at: http://www.technightowl.com/nightowl.xml.