Podcast: iPad 2, RIM PlayBook, Android 3.0 Honeycomb Xoom
March 4th, 2011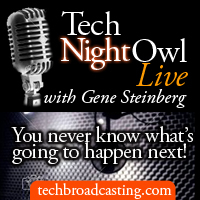 Gene Steinberg of the Tech Night Owl invited me to talk about new tablets: iPad 2, RIM PlayBook, Android 3.0 Honeycomb Xoom.
You can tune into the live broadcast stream Saturday nights from 7:00 to 10:00 PM Pacific, 10:00 PM to 1:00 AM Eastern, at http://www.technightowl.com/radio/. An archive of the show is available for downloading and listening at your convenience within four hours after the original broadcast.
This latest episode is now available at March 5, 2011 — John Martellaro, Kirk McElhearn, and Daniel Eran Dilger
The Tech Night Owl LIVE is also broadcast on many local radio stations via the GCN network.
You can also access our show's Podcast feed, now available at: http://www.technightowl.com/nightowl.xml.