Podcast: WWDC & iPhone 4
June 17th, 2010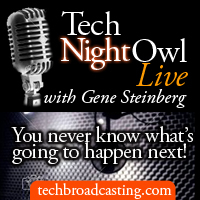 Gene Steinberg of the Tech Night Owl invited me to talk about WWDC and iPhone 4.
You can tune into the live broadcast stream Thursday nights from 6:00 to 8:00 PM Pacific, 9:00 to 11:00 PM Eastern, at http://www.technightowl.com/radio/. An archive of the show will be available for downloading and listening at your convenience within four hours after the original broadcast.
NOW PLAYING! June 17, 2010 — Jim Dalrymple, Daniel Eran Dilger and Molly E. Holzschlag
You can also access the show's Podcast feed, now available at: http://www.technightowl.com/nightowl.xml. Gene Steinberg's Tech Night Owl LIVE program will soon be syndicated on the GCN radio network beginning Saturday, July 10, 2010 at 9 PM Central.
Listen live, pull up earlier podcast episodes via iTunes, and subscribe to the Tech Night Owl RSS feed at: