Podcast: Google, Flash and WWDC
May 27th, 2010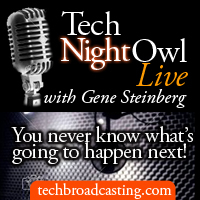 Gene Steinberg of the Tech Night Owl invited me to talk about Google, Flash and WWDC.
You can tune into the live broadcast stream Thursday nights from 6:00 to 8:00 PM Pacific, 9:00 to 11:00 PM Eastern, at http://www.technightowl.com/radio/. An archive of the show will be available for downloading and listening at your convenience within four hours after the original broadcast.
NOW PLAYING! May 27, 2010 — Peter Cohen, Steve "Mr. Gadget" Kruschen and Daniel Eran Dilger
You can also access the show's Podcast feed, now available at: http://www.technightowl.com/nightowl.xml.
Listen live, pull up earlier podcast episodes via iTunes, and subscribe to the Tech Night Owl RSS feed at: