Podcast: Apple vs HTC over Android patent infringement
March 4th, 2010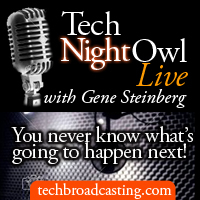 Gene Steinberg of the Tech Night Owl invited me to talk about Apple's patent suit against smartphone maker HTC.
You can tune into the live broadcast stream Thursday nights from 6:00 to 8:00 PM Pacific, 9:00 to 11:00 PM Eastern, at http://www.technightowl.com/radio/. An archive of the show will be available for downloading and listening at your convenience within four hours after the original broadcast.
You can also access the show's Podcast feed, now available at: http://www.technightowl.com/nightowl.xml.
Listen here, pull up earlier podcast episodes via iTunes, and subscribe to the Tech Night Owl RSS feed at:
The Tech Night Owl LIVE with Gene Steinberg
Previous 2009 episodes:
December 24, 2009 2009 in review, 2010 Apple slate in preview
December 3, 2009 iPhone development and Google's Android and Chrome OS
October 29, 2009 Windows NT, Vista, 7, and Unix
October 8, 2009 Adobe Flash, FCC rules on blogger reviews, Windows 7, and
September 17, 2009 Zune HD, Flip video and the iPod nano.
August 27, 2009 Windows 7 and Snow Leopard.
July 30, 2009, Windows 7, netbooks, and the Apple tablet.
July 9, 2009, Mozilla and Opera fight to make Ogg Theora the official codec of HTML 5.
June 18, 2009, Microsoft Enthusiasts
May 21, 2009, talking about Windows 7
March 19, 2009, talking about the iPhone 3.0 SDK
February 26, 2009, covering the Apple stockholder meeting
January 8, 2009, covering Apple's last Macworld Expo
Earlier episodes I've participated on:
Oct 16 08
Oct 2 08
July 31 08
June 12 08
May 1 08
Mar 20 08
Jan 31 08
Jan 3 08
Nov 8 07
Sep 20 07
Aug 9 07
Jun 14 07
Apr 26 07
Mar 1 07
Jan 11 07