Gartner's presumptuous coronation of Android as the Windows of smartphones
October 21st, 2009
Daniel Eran Dilger
A variety of people seem to think that Google's Android is quickly shaping up to be the "Windows 95 Macintosh-killer" to Apple's iPhone, with some of the most vocal proponents of this idea being analysts and bloggers associated with Gartner. They're wrong, here's why.
.
A month ago, Gartner blogger Brian Prentice published an interesting entry on why he thought Apple's rejection of Google Voice was a "tempest in the wrong teacup." The problem is that Prentice–to mangle another cliche–went on to describe the perfect problem to necessitate a solution, and in the process revealed why the "conventional wisdom" on Android's assumed takeover of smartphones is based on faulty logic and historical fallacy.
Essentially, Prentice wrote that Apple is fully justified in rejecting anything in its own App Store store, but that this practice would ultimately result in a replication of the history of the Mac vs the PC, where the market supposedly learned "that addressable market size trumped elegance."
Prentice is right on the money in articulating the non-populist position that "store owners have a right to determine what they'll be stocking on their shelves." Apple's software store has no obligation to open its doors to competitors, he wrote, just as you wouldn't expect to see Windows PCs in the company's retail stores, Volkswagens in a Toyota dealership, or tires at a florist. After making this point however, Prentice suddenly steps out of his original thinking and returns to conventional Gartner-like analysis.
Apple's App Store Rejections – A Tempest In The Wrong Teacup (Gartner)
Presumption that software monoculture is both desirable and inevitable

Whenever you have a group of people who all have a business or political or ideological need to essentially share the same opinions, they'll need to focus on repeating core principles as talking points. For Gartner, that means that the recommendations it made back in the 80s and 90s, which were a simple reflection of where the market seemed to be trending, must now be accepted as gospel in explaining how things "ought" to be in the present and into the future.
And since Gartner championed a desktop PC dominated by a software monoculture back then (because that was actually happening, because those wanting to make it happen paid Gartner to advocate it for them, which helped make it happen), the group is pressed to similarly advocate a software monoculture in smartphones today.
Given that Windows Mobile is clearly in no position to delver this, Gartner analysts are inventing white paper "proof" to support the idea that Google's Android platform will explode to take the number two position behind Symbian within a couple years while Apple's iPhone market share growth remains completely flat, reserving some hope for the possibility that Microsoft will "merely" almost double its sales, despite its current market share losses, and stay in the game.
Marginalizing criticism

An earlier entry I posted a couple weeks ago looked skeptically at Gartner's "evidence" for this supposed inevitability, which was contained in a report that reflected what Gartner wanted to happen, rather than being based on any facts or evidence reflecting what was actually happening. As reader HCE outlined, Gartner's report (which was published by the press without any criticism) predicted:
"Nokia's [Symbian] share is going to go down from around 50 percent to around 40 percent. Very safe prediction here – even if Nokia executes flawlessly from here on out, there's no way they can keep a 50 percent share given the kind of competition they are facing.
"Android at around 14 percent (as opposed to 3 percent or so today). Well, I think it is fairly safe to predict that Android's share will rise – though saying it will rise by 400 percent is something of a stretch.
"Apple's share is going to be around 13 percent. That's what Apple's share is today. So the analyst is essentially saying that Apple's market share is going to stay flat. Not likely IMHO. It seems fairly safe to say that they are not going to have the kind of explosive growth in market share that they did over the past couple of years but to say that they won't grow at all is ridiculous.
"Windows is going to be at a little over 12 percent. They are at 9 percent today – and falling. […] Gartner thinks that WinMo 7 will cause Microsoft's market share to grow by 70-80 percent in less than two years! Wow, 'ridiculous' would be an understatement!
"Blackberry is going to be at around 12 percent as well. Right now, they are at around twice that. Gartner thinks that their market share will drop in half! With all their problems, they are still growing sales and they have quite a strong hold on the corporate market. With the growing consumer smartphone market, their overall share could drop but saying it will drop in half is a bit too much of a stretch."
Simply calling attention to Gartner's uncritically propagated wishful thinking report resulted in criticism: an official response from Gartner's "we're not flacks" Ombudsman Nancy Erskine, as well contemptuous satire from Fake Steve Jobs, who is actually voiced by Daniel Lyons, a well known industry flack who has a lifetime record of supporting paid-to-say sources such as Gartner and one-man-consultancies like the Microsoft-funded Rob Enderle, who played a key role in getting Lyons to attack Linux and open source when that's what Microsoft wanted the press to be doing during the SCO lawsuits. And before he was a blogger, Lyons wrote about how terrible bloggers were.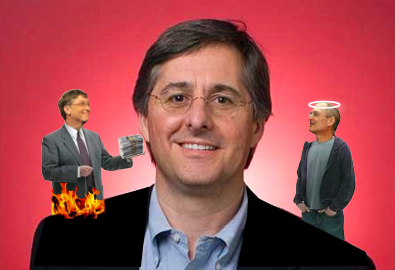 Gartner declares Android a second place winner in 2012. Why?
Daniel Lyons Cries Wolf: The Real Bill Gates Behind the Fake Steve Jobs
Gartner's prediction scorecard

Gartner's business model revolves around getting paid to print reports that say what Gartner wants to happen, but which are voiced as neutral-sounding positions of supposedly "what is actually happening." The thing is that neither Gartner nor anyone else really knows what exactly is going to be happening in a few years, so any and all predictions are going to be based on ideas that reflect a particular bias (unless there is some clear proof involved).
And nothing fuels bias like funding. Or, as Microsoft likes to refer to the process of paying Gartner to issue favorable reports, "lobbying."
This kind of lobbying, along with "plotting out the future based on the past" has allowed Gartner to incorrectly predict a variety of things over the years, including the ideas that professional programmers would become obsolete as development tools got easier to use; that IT staff would be dramatically cut back because nobody needed their services anymore; that distributed computing would return to centralized computing (and vice versa, sounds good doesn't it?); and that, echoing the rest of the Microsoft-centric media, server and workstation CPU vendors, particularly Sun and IBM's PowerPC, would face tough competition from Intel's Itanium processor, which really only ever ended up being the Zune of that market. Gartner bloggers also still like to suggest that the Zune will someday bounce back and should not be counted out yet.
In 2002, Gartner predicted that by 2008 bandwidth would become more cost-effective than computing (which certainly has not happened), but that computing would still unabatedly follow Moore's Law through 2011. While the principle of Moore's Law has continued, Gartner's interpretation of it was way off base. In its 2002 predictions, an analyst wrote, "Gartner projects that by 2008 the typical desktop computer will have 4 to 8 CPUs running at 40 GHz, 4 to 12 gigabytes of RAM, 1.5 terabytes of storage, and 100-Gb LAN technology. By 2011, processors will clock at 150 GHz, and 6 terabytes of storage will be common."
While a quad-processor (usually two dual core CPUs) is now available as a high end option, "typical desktop systems" don't have CPUs with even a tenth the clock speed Gartner said they would just 7 years ago, and most systems have less than 4GB of RAM, much less than a terabyte and a half of disk space, and even 1Gb networking is still considered to be the top of the line for desktops. This indicates that Gartner's predictions can off by an order of magnitude or two, in those cases where they are not simply dead wrong.
Ten tech predictions to shake your world (Gartner, 2002)
How Apple's Firmware Leapfrogs BIOS PCs (Itanium)
Itanium: A cautionary tale – CNET
Did this all happen before?

However, Gartner is not alone in championing Android as the heir apparent of the smartphone operating system monoculture throne being rapidly vacated by Nokia's Symbian. And Gartner's stated reasons for picking Android as the take-all winner are not unique either. Everyone, it seems, feels that no hardware company can maintain a significant position in smartphones, but that some software platform definitely will. The reason behind this faith is that Apple lost its 1984 Macintosh's position to Microsoft's Windows in just ten years. The problem with this belief is that it has very little to do with today's smartphone market, or for that matter, historical reality.
Apple's Macintosh platform began to erode in the late 80s, not because of competitive encroachment by Windows, but almost entirely because of poor management at Apple combined with unfavorable business conditions. The company did refuse to license the Mac in the same way Microsoft licensed Windows, a decision which may (or may not) have otherwise given Apple a stronger position in selling computers or making money in general. However, the real problems that prevented Apple from selling the Macintosh were:
The encroachment of IBM's powerful, entrenched brand into the fledgeling personal computer market in 1981.
Apple's internal struggle between selling the outdated but successful Apple II versus investing in the new Macintosh.
Complex, unique, and incomplete development tools that slowed the release of new software for the Macintosh.
Management issues that forced Steve Jobs to leave and take with him a significant number of Apple's top engineers with him to NeXT.
Apple's decisions to limit sales of the Macintosh to specific markets on the high end where easy profits were.
Today, Apple has none of those same issues.
Apple itself is the powerful, entrenched brand in mobile devices with its iPod, released in 2001.
Apple has no internal struggle between selling iPods, iPhones or Macs. Instead, each benefits the other.
Apple's iPhone development tools are simple, solid, and complete, and superior to those available for Android and Symbian. Its App Store leads the world both in successfully marketing and in delivering what is by far the world's largest and most desirable catalog of mobile software.
There are no major management issues or defections causing problems within Apple.
Apple is successfully working to sell the iPhone in every potential market segment, including at the low end, in education and the enterprise, and internationally.
SCO, Linux, and Microsoft in the History of OS: 1980s
SCO, Linux, and Microsoft in the History of OS: 1990s
SCO, Linux, and Microsoft in the History of OS: 2000s
Google is no Microsoft

Conversely, Microsoft's rise to power with Windows had little or no similarity to Google's Android.
No experience, no barriers to competition: Microsoft had been partnered with IBM since 1981, building support for its DOS PC platform for ten years, before it launched a the first version of Windows that anyone took seriously in 1991. Google as a company has no track record in managing a software platform, and is essentially building Android entirely from scratch with no existing installed base of users.
DOS PC users were able to slowly migrate to Windows between 1991 and 1995, preserving their PC investment while continuing to run their legacy software (and preventing them from considering non-DOS compatible alternatives like the Mac). There is no upgrade cycle that allows users to bring their existing phone to Android, and there's no existing installed base of software that encourages users to stick with Android until it is finished (as was the case with DOS/Windows).
There is also no barrier to adoption affecting any of Android's competitors; if anything, users who try the iPhone might have reason to stick with it if they buy a bunch of apps).
No lack of patent protection to exploit: In 1990, DOS PC vendors were growing desperate for software that could compete with Apple's Macintosh, particularly in education markets. Today, smartphone vendors are similarly desperate for software that can compete against the iPhone. However, the valuable aspects of Apple's Macintosh weren't ever protected by software patents, whereas many key features of the iPhone are protected by patents today.
The most basic example is that Android intentionally doesn't expose support for multitouch to avoid conflict with Apple. Microsoft similarly tiptoed around Apple's intellectual property (until the "look and feel" case was thrown out in 1994) resulting in Windows being a far less competitive product. With Windows 95, Microsoft went whole hog in appropriating unprotected Mac (and NeXT) user interface concepts, and its release was subsequently vastly more popular.
Google does not have, and will not get, a similar opportunity to simply take Apple's intellectual property and start its own business with it, leveraging the dominant position of a latter day IBM to use Apple's own work against it. Any an all comparisons between Android and Windows are therefore completely superficial.
No legal suppression of the market: Additionally, the legal action waged by Apple in the late 80s against NeXT, Digital Research's GEM, HP's NewWave, Microsoft resulted in a market where competition was scarce and potential new contenders were hesitant to enter the market.
Unfortunately for Apple, the 1994 failure of its case against Microsoft (primarily due to a previous licensing agreement it had signed giving Microsoft access to Mac technologies) resulted in unfettered growth of Windows in the PC market like an drug-resistant superbug in a petri dish with no competitive life forms, let alone no larger and more entrenched predators.
In contrast, Google today is entering a crowded market with all the valuable segments dominated by entrenched players: RIM sits on enterprise customers; Apple has consumers and education; and Symbian controls much of Europe and Asia. There are no easy pickings and no protected license to grow unchecked without any real competition as Microsoft enjoyed. Google also faces new challenges in balancing its desire to grow its own Android platform while also promoting its software and services on rival platforms.
No strict platform management: Finally, Microsoft's lack of competitive pressure as essentially the sole viable vendor of a PC operating system gave it the ability to enforce rules on PC hardware vendors. Microsoft rolled out reference designs that PC makers were forced to follow, involving everything from minimum hardware features to what color the mouse port should be painted to what the desktop should look like and the presence of a standard Windows key.
By 1995, these increasingly strict rules whipped the cat herd of PC makers into a unified force that could credibly be compared to the Mac platform, and resulted in even technically-challenged users knowing what "Windows" meant: something you should ask for by name when buying a PC.
Google not only has no power to enforce anything, but has no desire to erect any rules. The result is that every Android phone looks almost completely different. There is no strict baseline for minimum hardware specifications, no established conventions for external hardware buttons or controls, and no restriction on changing the Android look and feel to something completely different. Google doesn't even advertise Android as a brand, choosing instead to advertise the phones as being "with Google." Customers asking for phones "with Google" could just as well walk out of the store with an iPhone or Palm Pre or BlackBerry or Nokia N97.
Google's permissive handling of its Android platform is why HTC's Hero, which may currently be the best Android phone, uses an entirely unique "Sense" user interface that isn't shared by any other Android phone, not even HTC's own Dream/G1 or Magic/myTouch. Motorola is crafting its own unique UI, as is LG, Samsung, and Sony Ericsson. Because phone makers (and mobile operators) are all desperately clawing for some sort of unique differentiation to stand out among the hundreds of smartphones vying for attention, Android will be stretched in every direction to the point where customers won't really benefit from any of the upsides of having a unified software platform, but will experience all of the problems associated with a software monoculture.
Apple's Billion Dollar Patent Bluster
Why Apple's Tim Cook Did Not Threaten Palm Pre
How Apple Keyboards Lost a Logo and Windows PCs Gained One
Android is the worst of Windows Mobile, Linux and Symbian combined

While this sort of look and feel diversity is usually given as a strength of the Android platform, it's really the same problem that keeps Windows Mobile from being recognized as something users need (in contrast to the PC desktop, where such UI customization isn't allowed). This kind of "tyranny of choice" fractionalization has historically also been a key problem for Linux on the desktop. Which window manager do you want to use? The vast majority of users don't know, don't want to know, and are only irritated by the choices presented by rivals all trying to be different for various commercial or ideological reasons.
More specifically to smartphones, Android is shaping up a lot like Symbian, where three UIs once existed: one for Nokia (s60), one for Sony Ericsson (UIQ), and one for NTT DoCoMo (MOAP) in Japan. The fact that all three shared the same kernel allowed Symbian to crow about its great market share, but it did nothing to make different sub-platforms of "Symbian software" work across phones from different markets or makers or to create other economies of scale that shared the costs of UI research across companies in the way that Windows did for the PC.
The result has been that Symbian market share plummeted as soon it was exposed to any real competition: RIM and Apple have in the past two years bitten off a third of Symbian's share and the rest is expected to rapidly erode even faster with the demise of Sony Ericsson. Nokia is now working hard just to give Symbian away to anyone who will use it.
Readers Write About Symbian, OS X and the iPhone
iPhone panic spurs Nokia to dump Symbian on high end
Like Windows Mobile, Android encourages radically different hardware form factors, ranging from phones with or without physical keyboards to netbooks to notebooks to tablets. As with UI flexibility, hardware flexibility comes at a cost: third party developers have to accommodate for different screen resolutions, button arrangements, missing hardware features, and widely divergent specifications from the camera's resolution to the processor speed to the amount of RAM installed.
Particularly for mobile devices that need to optimize their performance, these kinds of issues are show-stopping problems. They require testing and can result in customer complaints and chargebacks. For Windows Mobile phones alone, these issues have contributed to a 25% return rate due to user dissatisfaction. This is egregiously high, and while Android might improve upon the software quality of Windows Mobile, it can do nothing (and does not try to do anything) to address its core hardware issues).
Exclusive: Pink Danger leaks from Microsoft's Windows Phone
The Spectacular Failure of WinCE and Windows Mobile
Wait, I think this did actually all happen before

Pundits forgive and ignore all these very real problems associated with Linux, Windows Mobile, and Symbian in their mad dash to equate Android with being the Windows of smartphones, but Google's permissive handling of Android really has very little in common with Microsoft's strict management of Windows PCs.
Further, the generic PC market has little in common with smartphones, which require far more optimized hardware/software integration because of their size, battery constraints, and uptime requirements. Smartphones are also heavily subsidized by carriers, masking any minor price advantages that generic hardware makers can offer.
Smartphones are actually a lot more like the handheld music player market. That market was dominated by a single vendor from the mid 70s through the late 90s (Sony) and by another single hardware vendor this decade (Apple). Efforts to deliver a ubiquitous commercial software platform for music and media players (Microsoft's PlaysForSure) failed dramatically, and open source efforts to provide a free alternative operating system (Rockbox) have been about as successful as Linux on the desktop. If you want historical foreshadowing of the future of smartphones, it's hard to find a better one than that.
Origins: Why the iPhone is ARM, and isn't Symbian
Let me say what I really think

If you've read this far, you've may have decided that I hate Android and Google and am running down the platform to make the iPhone look better than it is, and that all the facts that I present are therefore meaningless because of my personal opinion. If so, you'd be wrong on all counts.
I think Google is a fantastic company on many levels, ranging from its commitment to supporting open, interoperable software development to its core business model that effectively churns out free (well, ad-supported) services that almost always work well and are quite reliable. I use Google's services every day. I earn some money from Google AdSense from the properties that publish my articles. While I think the tech media sometimes gives Google a free pass in some areas where it deserves scrutiny, Google's track record in playing fair, in supporting the environment, in treating its employees well, in not immediately selling out in human rights issues to gain access to China, and many other areas is much better than most of its peers.
As for Android, while I see lots of obvious problems that I think the media is ignoring or glossing over in their simplistic desire to write up a compelling underdog piece, I have never described Google's smartphone plans as being a competitor or threat to the iPhone. My first article on the subject presented that the rumored "gPhone" was not going to be a hardware competitor to the iPhone at all, but rather a software platform that would target Windows Mobile. I was completely right.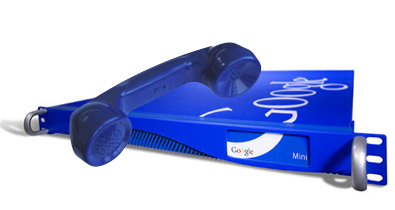 Subsequent articles I've written about Android have all focused on that same idea: that Android is aiming to become the survivor of Windows Mobile and Symbian, both of which are in rapid decline. I also point out that the brightest stars in smartphones are RIM and Apple, and that nothing about Android's Windows Mobile approach provides any evidence that Google's hardware partners will somehow radically improve their market position as they shift from making terrible smartphones dripping with impressive specifications and running Windows Mobile to making terrible smartphones dripping with impressive specifications and running Android.
If the world of smartphones was destined to be dominated by a third-party software monoculture, I would certainly pick Android over Windows Mobile and Symbian. However, I'd prefer to see the winner picked by a market-based meritocracy, not by fiat decree of an ideologically-driven array of punditry and analyst flacks.
Meanwhile, I'll be watching both Android and ChromeOS as potential rivals to Microsoft outside of the smartphone business as well, where open source operating systems offer more benefits and fewer disadvantages in terms of integration, fractionalization, and homogenization.
And for those flacks desperately working to write me off as a hysterical fan-bot with no clue about things, consider that I have a track record better than Gartner and punditry at large, from the flat panel iMac, to the Red Box Myth, to the Mac OS X moving to Linux myth, to the closing of Darwin Myth, to the iTunes-look Finder, to iPod/iPhone coexistence, the iPhone myths, to the not-open/not-closed iPhone software market, to Apple's purposeful baring of Flash and Java on the iPhone, to multiple years of Zune failure, to the failure of Vista, to ZFS not replacing HFS, to the Mac mini server, to iTunes LP self-contained websites, to… well, you can Google my website.
No doubt you can also find predictions that haven't yet come to pass, or identify outright errors among the hundreds of articles I have churned out every year. But unlike Gartner, I don't just make predictions that may or may not come to pass. I explain why I think something will happen and present evidence supporting that position. That forces me to think about what I'm writing. I also read readers' replies, and often learn as much from other people as I do in my own research and observations. And nobody pays/rewards/entertains me to influence my opinion.
It may very well come to pass that the majority of hardware makers abandon Symbian and Windows Mobile to flock to Android. But the majority of hardware makers also flocked to PlaysForSure, and that didn't result in an effective challenge to Apple's iPod dynasty. The real issue is that whether Apple and RIM will give up ground to Android over the next couple years depends a lot upon how well RIM and Apple execute their business, not upon some fated inevitability related to an ancient and apocryphal prophesy involving the late 80s Macintosh, voiced by Gartner's high priests.