iPhone Wars: AT&T, Verizon and the evil of two lessors
August 1st, 2009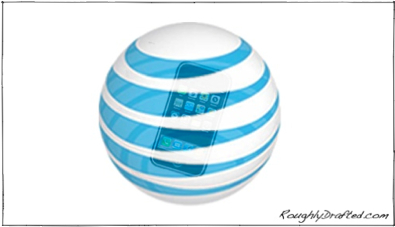 Daniel Eran Dilger
Complaints of AT&T's network performance by iPhone users reached a crescendo at the release of iPhone 3.0, when major features of the release ended up not even being supported by AT&T. But would Verizon be any better?
.
For iPhone users who switched from Verizon (and there are many), complaints typically target AT&T's service holes, particularly for 3G service. In San Francisco and New York City, both regions AT&T colors in solid 3G blue in its service coverage maps, there are lots of completely dead zones with zero service and plenty of places where the faster 3G data isn't available.
Verizon boasts better overall coverage coast to coast, thanks in large part to having started its 3G service rollout earlier. Verizon got started deploying its 3G CDMA2000/EVDO service in late 2003, becoming the second 3G network operator in the country and the oldest to still be operating. Verizon's Qualcomm version of 3G progressively replaced its previous 2G service, which is now called cdmaOne.
AT&T didn't begin building its 3G network until much later. In between, it first rolled out GPRS data service in 2002, and then began upgrading that to EDGE service as an interim step. While technically considered a 3G technology, EDGE is usually described as 2.5 or 2.75G to distinguish it from the much faster data service generally associated with the term "3G."
It wasn't until December of 2005 that AT&T first began installing its own 3G network comparable to the CDMA2000/EVDO networks operated by Verizon and Sprint, albeit using the UMTS/HSDPA global standard instead. There are a number of reasons why AT&T started out two years behind Verizon in its 3G rollout.
The Palm Pre/iPhone Multitasking Myth
The Origins of AT&T Mobility
The main reason is that AT&T itself started later as a patchwork of different networks. In 1994, the long distance remains of what had been America's original telephone monopoly, AT&T, acquired McCaw Cellular to create its own wireless service named AT&T Wireless, which it later spun off as a separate company in 2001.

However, the company that is now AT&T Mobility began as Cingular Wireless in 2000, growing out of the conglomeration of over 100 regional mobile networks including those operated by 12 major "Baby Bells" that had sprouted from the original AT&T's divested local phone services. Most of those networks were operating D-AMPS, while two maintained GSM networks: BellSouth and Pacific Bell.
The independent AT&T Wireless was also primarily GSM, although it also operated older TDMA/AMPS service as well. The British co-owner of Verizon Wireless, mega-giant Vodafone, attempted to purchase AT&T Wireless to obtain what was then America's largest GSM network. After buying AT&T, Vodafone planned to sell its interest in Verizon and exit the CDMA business, as this would enable it to operate worldwide GSM coverage.
Instead, Cingular rushed in and paid a huge premium to obtain AT&T Wireless in 2004, enabling it to create a nationwide, American-owned mobile network for the US that was compatible with global GSM standards. Creating such a network from scratch would have been impossible due to the licensing restrictions and other regulatory barriers complicating the ability to expand mobile networks.
The New Cingular ended up with two networks with a total of around 50,000 cell sites: its original patchwork of orange networks along with AT&T's blue network, both of which were a mix of TDMA/AMPS and GSM. The original Cingular had also been operating a joint venture with T-Mobile that provided both networks with shared GSM networks. After the merger, T-Mobile and Cingular split ways, each operating their own GSM networks.
How AT&T Picked Up the iPhone: A Brief History of Mobiles
Cingular needs a phone
The New Cingular began working to rid itself of the older TDMA service to concentrate its efforts on building a single, unified GSM network. That wasn't fully completed until the first part of 2008. However, Cingular trailed the game in its efforts to sell GSM phones because most of the phones being sold in the US were CDMA models for Verizon and Sprint. Exciting phone models for the GSM market were largely European, many of which could not optimally support Cingular's network because they used different network frequencies.
Additionally, while Sprint and Verizon shared the same CDMA phone technology, thereby making a greater platform of subscribers for phone manufacturers to sell to, Cingular and T-Mobile, while both being GSM did not use the same US radio frequencies, complicating the design of GSM phones being marketed in the US even further. That meant the most popular phones were appearing on Verizon and Sprint.
When Apple began shopping around its iPhone prior to its 2007 unveiling, it found little to no interest from Verizon, which was already happy with the mix of phones it could sell. Verizon also had the market power to force phone manufacturers to support its media, ringtone, and software demands, which included deals to promote Microsoft DRM music and videos and the rental of Qualcomm's heavily restricted BREW applets.
Cingular gave Apple an entirely different reception. Without even seeing Apple's phone, Cingular executives jumped on the prospect of having a phone with the allure of the iPod in a climate where the only cool GSM phones were European models approaching $1000 that couldn't even work well on its patchwork of GSM networks and its fledgling UMTS 3G service.
After Cingular obtained the rights to rename itself AT&T Mobility, it performed the name change in concert with the rollout of the iPhone, immediately rebranding itself as both a conservative institution and fresh and new. The problem remained that AT&T was still two years behind Verizon in building out modern 3G service.
The iPhone Threat to Adobe, Microsoft, Sun, Real, BREW, Symbian
iPhone 3G
AT&T's 3G network was weak enough that Apple decided to initially launch the iPhone as a 2G GSM model. Pundits watching the phone industry largely thought this was a ridiculous thing to do almost four years after the arrival of 3G service in the US. International observers from Europe and Japan, where 3G service had become commonplace even earlier, were particularly amused.
However, Apple sold its phone as an overall experience, not as a set of technical specifications. It also promoted the iPhone's use of WiFi, which appealed to its early adopter audience of AirPort and Mac users. Apple successfully sold the iPhone for a full year before offering 3G service, GPS, and adding third party software. It then sold for another year before offering a decent camera and copy and paste features. All the while, however, Apple focused attention on what the iPhone could do that was unique, resulting in major inroads into the smartphone business and serving as a major draw for AT&T.
AT&T is now in the position of having a unified network that, in places at least, rivals the high speed UMTS/HSDPA networks everywhere apart from the richest and most progressive and socialist of nations, which are still well ahead of anything offered in the US. AT&T's latest 7.2 networks are also significantly faster than the CDMA/EVDO networks operated by Verizon and Sprint. With the entire world moving toward UMTS/HSDPA, Verizon is now pushing to deploy the next generation LTE version of the 3GPP portfolio in leu of the next generation of Qualcomm's mobile technology.
AT&T deploying HSPA 7.2 mobile service ahead of new iPhones
Will Apple jump to Verizon for LTE?
This has pundits atwitter that Apple will jump from AT&T just as soon as it can find a rival mobile provider who can give it the opportunity. With Verizon starting LTE trials early next year, this has wags suggesting that Apple will float its rumored tablet on Verizon's network. But this is absurd on many levels.
For starters, anyone complaining about the holes in AT&T's now three year old UMTS/HSDPA network will not be pleased with Verizon's LTE network trials beginning in a very short list of cities. LTE also has plenty of bugs to work out, as any brand new technology does. Apple doesn't sell gadgets that appeal to tiny minorities, it sells global products it can mass market to wide audiences. That makes it unlikely that Apple will get its toe wet in the LTE water for another couple years, regardless of the operator. Verizon's LTE network won't be built out until 2013 at the earliest.
Not too long ago, one could make the case that Verizon was still several arrogant levels above Apple, thinking that it could poop out any phone from a number of providers and match the iPhone in a heartbeat. After two years and three generations of the iPhone, compared with a series of disappointing duds including Verizon's Blackberry Storm, T-Mobile's Android G1, and Sprint's Palm Pre, the AT&T/Apple partnership is the subject of much envy. It now appears that Verizon might want to make a deal with Apple.
However, Verizon is still very much infatuated with the idea of controlling everything and relegating phone vendors into a humble servant's position. It demands to operate its own software store for all the phones it sells; it is still resistant to supporting WiFi and Bluetooth; and it continues to make too much money on ringtones and music clips to be open to ceding this market to iTunes.
The iPhone isn't coming to Verizon

Would iPhone buyers jump to Verizon?
For many iPhone customers, the arrival of a CDMA/EVDO iPhone would be the bee's knees, and the promise of wicked fast LTE makes that fantasy all the more better. What they're forgetting is that in the mobile industry, there is very little good, just different levels of unknown evil.
As I noted earlier, CDMA/EVDO doesn't support voice and data at once the way UMTS/HSDPA can. Creating a unique version of the iPhone for Verizon would only make sense if Apple only sold its products in the US. Apple is extremely unlikely to create a custom model to reach a market it already addresses, with the iPhone on AT&T and the iPod touch for every other carrier. Only a vast market like China could demand a unique phone model, and it appears Apple is working hard to keep from having to build a China-specific model without WiFi, although it might need to in order to officially enter that country. By the time Apple delivered a CDMA iPhone, it would already be approaching obsolescence.
With CDMA a dead horse and LTE far too new to adopt, Verizon appears to be an unlikely target for Apple to even begin negations with, let alone be able to work out a fair deal with. Imagine Verizon demanding, not just to snoop through and veto apps like AT&T, but also insisting on the right to act as the App Store middleman. The small but vocal minority of developers with App Store complaints would have plenty more to dislike about an arrangement where Verizon was taking an additional cut of their work while adding no new value.
Would iPhone customers who hate AT&T appreciate paying Verizon extra fees to download songs or ringtones from iTunes? Of all the problems AT&T brings to the table, it's easy to overlook the unprecedentedly wide latitude that AT&T conceded to Apple in order to get the iPhone. Despite its current financial woes, Verizon still has less reason to grovel in front of Steve Jobs and company than AT&T did toward the end of 2006.
Verizon V Cast Music with Rhapsody: We LG Dare You To Hate It!

What would make AT&T less atrocious?
Apple's best bet, and the best deal for its customers and developers, is likely to keep pressuring AT&T to improve the level of service it offers. For starters, that means expanding its "fastest 3G network in America" to reduce service holes and improve its 3G coverage area. AT&T already has this in the works, and plans to complete much of the work by the end of the year, long before Verizon will even being trials for LTE.
Also, how about an update on MMS features and tethering, enabled in iPhone 3.0 but still not available from AT&T? Sure, it's nice to think that Verizon would allow unlimited amounts of both, but remember that Verizon also charges its customers $10 a month to use their phone's GPS rather than supplying free Google maps as AT&T and Apple do on the iPhone.
And while the relationship between Apple and AT&T does involve restrictions that are holding off the inevitable shift to VoIP and impairing the principle of net neutrality, such as the rejection of Google Voice and other apps Apple has yanked, apparently at the behest of AT&T, there is no reason for believing that the notoriously closed Verizon wants to usher us all into a land flowing with milk and honey.
Also, Verizon doesn't have functional smartphones eating up all its bandwidth; all the data available clearly shows that iPhone users are requesting half the world's mobile web traffic. If the iPhone were on Verizon, the company's policies on data use would undoubtedly shift to match or exceed AT&T's in terms of being stingy and conservative.
F.C.C. Looking Into Rejection of Google App for iPhone – NYTimes.com
Where's the WiFi?
Secondly, having made it invisibly easy to log into AT&T's WiFi hotspots nationwide in iPhone 3.0, Apple and AT&T should promote the deployment of free WiFi outside of just their retail stores, Starbucks, McDonalds, Barnes and Nobles, and various airports. Why not blanket commercial areas in major cities with WiFi support, enabling iPhone users to soak in data access without saturating AT&T's mobile data network? There must be plenty of desperate cities and transit agencies in America that would jump at the prospect of setting up a public works WiFi project partially subsidized by Apple and AT&T.
Why Apple and AT&T haven't worked out a deal to make AirPort base stations share home users' bandwidth with mobile devices authenticating as iPhones, offering the base station owners some sort of reward program for sharing their connection, is puzzling. AT&T is a major player in delivering broadband Internet, and Apple maintains something like a 10% share of all the WiFi base stations sold.
Even better, Apple and AT&T need to get busy marketing a WiFi/3G femtocell router that automatically sets up a cloud of free WiFi and 3G service for retailers and cafes, using the same Bonjour-iTunes feature that enables Starbucks to sell iTunes tracks to its customers and earn a commission. Shoot, I wouldn't even need a carrot to buy one of these for my home in the middle of San Francisco, where AT&T's mobile service is almost a completely barren black hole. Sure I have WiFi, but without data service I can't receive calls or texts anywhere between my east and west windows.
Having more ubiquitous WiFi available would dampen AT&T's panic over iPhone apps that hammer its network, healing another bone of contention that has left iPhone app developers frustrated with the carrier's meddling in the iTunes App Store. Verizon has just come around to offering its own WiFi hotspots after working to prevent municipal WiFi from taking off and years of restricting WiFi features on its phones. Unlike AT&T, Verizon is only allowing access to its broadband users, not to its mobile subscribers in general.
AT&T's 3G MicroCell to patch iPhone dead zones
Verizon changes tune on Wi-Fi | Wireless – CNET News
International incident
Lastly, AT&T needs to negotiate international calling plans that are not ridiculous. It isn't entirely AT&T's fault that roaming outside the US is absurdly expensive, but if the company wants to advertise "more bars in more places" and promote the idea that, as a GSM/UMTS phone, the iPhone can work in places Sprint and Verizon phone's can't, then it should work to make this realistically possible.
Currently, using the iPhone overseas costs at least a couple hundred dollars a month extra in per minute, per text and per byte fees, on top of the $100 contract rate and $65 "savings" plan you need to prevent calls from costing twice as much. When you get back, AT&T suggests you keep paying the $65 calling plan for months afterward so that any bills that its roaming partners might turn in after the fact are charged at a less absurd rate. This is terrible customer service that approaches fraud.
Yes, you can crack your iPhone and use a SIM card, but I discovered this is just as bad if not worse. You end up with a local number, but you also get data roaming at rates that make root canals seem like fun. Of course, with a CDMA iPhone from Verizon, you get no option to roam internationally or to change out your SIM card.
There's a lot not to like about AT&T. The problem is that there's even more to dislike about Verizon.