Readers Write: How Microsoft got Windows NT
July 30th, 2009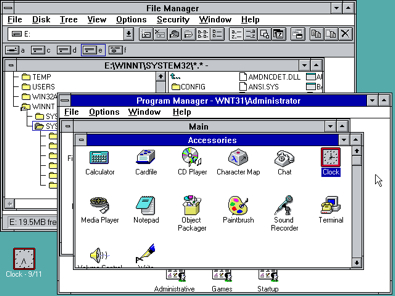 Daniel Eran Dilger
Responding to "The Palm Pre/iPhone Multitasking Myth," which described the history of multitasking in operating systems, reader Marc Dufresne offered some additional insight into how Microsoft obtained the basis of Windows NT from DEC.
I summarized the situation by writing "Microsoft hired Digital's VMS development team, led by Dave Cutler, and paid them to create an original operating system for Microsoft that could itself be pitted against Unix."
"Well, not quite," Dufresne writes, "I'm an old DECcie, so I have some inside info on this. When the VAX was viewed to be running out steam in the eighties, Dave Cutler moved to Bellevue WA (officially known as DECWEST, aka DECWET) to develop a new RISC based architecture (PRISM) and the OS (Mica) to go with it. It was supposed to be cheaper and faster than the VAX.
"This was not to be, for a variety of reasons and the project was cancelled. DEC later went forward with a revised version of the architecture, marketed as the Alpha, porting both VMS and UNIX to the new platform. A lot of the story is here: http://en.wikipedia.org/wiki/DEC_PRISM
"So, Cutler walked down the street to Microsoft and offered them Mica which became NT. Later DEC sued MS and, in an out of court settlement, got royalties for the filched technology. Part of the deal included targeting NT (back) onto the Alpha platform.
"BTW, this was not an usual procedure at DEC. Many employees left the company with intellectual property from a cancelled project under their arm, with the understanding that if they made it a commercial success then DEC would come back knocking on the door for for royalties."
Cutler originally began work on Starlet at DEC in 1975, which resulted in the development of the VAX-VMS operating system, experience that is reflected in the kernel design of both Mica and Windows NT.
According to a confidential DEC memo from June 1988, hosed by Computer Refuge, Mica was in the process of being refashioned as "a proprietary operating system that addresses commercial system requirements, VMS compatibility, contemporary computing concepts, and extensibility" next to PRISM Ultrix shortly before it was canceled and Cutler left for Microsoft.
http://computer-refuge.org/bitsavers/pdf/dec/prism/memos/880610_OSF_on_PRISM.pdf
Microkernel Mania.
According to Wikipedia, in the late 80s "Cutler led development on a new microkernel-based operating system code-named Mica, which was to offer Unix-like and VMS-like 'personalities' on top of a common substrate of services."
This would have been very similar to what the rest of the world was trying to do in the same time frame, with Apple and IBM working into the early 90s to create a microkernel OS to host the Mac OS, OS/2, and eventually Taligent.
In 1988, NeXT had already shipped its operating system, which used a hybrid microkernel design pairing limited Mach microkernel concepts with a more conventional BSD kernel. By the mid 90s, the pure microkernel design was falling out of favor. NeXT retained its hybrid kernel design and eventually became Mac OS X after Apple acquired the company in 1997; by that time, Apple's partnership with IBM had abandoned the idea of shipping a microkernel based Taligent OS.
Microsoft's Windows NT was watered down from its initial goal of delivering the microkernel design of Mica into a more conventional hybrid kernel more like NeXT's Mach/BSD kernel. In its second major release, which Microsoft called NT 4.0, the company even pushed graphics from the user space into the kernel in an attempt to improve performance.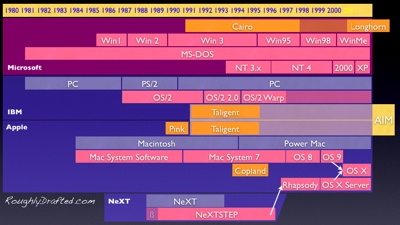 The Microkernel Myth
The Secrets of Pink, Taligent and Copland
OS/2 NT.
Even after hiring Cutler in 1988, Microsoft continued to promote its joint development of OS/2 with IBM, which had started in 1985. However, the company was also writing its own operating environment based on PC-DOS: Windows. Microsoft had also started porting its Mac applications, including Word and Excel, to the new Windows environment running on DOS, and also began shipping WLO (Windows Libraries for OS/2) as a way to port its software titles to run on the new OS/2 as well.
Microsoft continued to recommend that its DOS developers, including Lotus and WordPerfect, port their software from DOS to the native OS/2 APIs instead of Windows. When Windows 3.0 arrived and began to gain some traction, Microsoft shifted its interest from the original work IBM had been doing on OS/2 3.0 and began pushing its Windows API, backstabbing both its operating system partner and its primary application developers to inherit the throne of both PC operating systems and application software.
Microsoft also announced that its Windows environment would run both on top of DOS and, in a surprise announcement, its new Mica-based Windows NT, which was promised to offer backward compatibility with both Unix and OS/2, neither of which were ever really delivered in a usable fashion. Microsoft also promised to ship "Cairo" shortly after NT to catch up with the state of the art represented by NeXT. That never happened either.
1990-1995: The Rise of Windows NT & Fall of OS/2
1990-1995: Microsoft's Yellow Road to Cairo
The killing spree begins.
Instead, Microsoft struggled to get NT out of the gate in 1993 with a debut release named Windows NT 3.1. With performance nowhere near what Microsoft had hoped, the company shifted its mainstream efforts toward pushing the Windows environment on top of DOS to solidify its position against Apple's Macintosh, as payback for Steve Jobs' help in initially launching Microsoft from a small player in the computer language business into the Office application market.
Now that Bill Gates had Windows, he could kill off everyone who had helped him to achieve anything and usurp control over everything in the tech world. At least for the next fifteen years. During that time, Gate's Microsoft would go on to kill competition in every market it touched.
To kill off the emerging competition in the PC-DOS market, Microsoft tied Windows to MS-DOS 7 in order to ship Windows 4.0 (aka Windows 95). While Microsoft lifted the Windows 95 appearance almost entirely from Apple's Mac and Jobs' NeXTSTEP, the company strangled development of Office for the Mac and Gates mused that he would rather "piss on" NeXTSTEP rather than develop software for it. Microsoft continues to steal ideas from Mac OS X and the iPhone while refusing to develop new software for either.
The next year, Microsoft unveiled Windows NT 4.0 with an NT kernel and a Windows environment similar to Windows 95, further muddying the definition of "Windows."
Office Wars 3 – How Microsoft Got Its Office Monopoly
Office Wars 4 – Microsoft's Assault on Lotus and IBM
Support for Alpha, Itanium.
While Microsoft had dutifully ported NT 3.51 to Alpha to fulfill its deal with DEC, multi-platform support for Alpha builds of NT, as well as versions targeted at MIPS and PowerPC in addition to Intel x86 PCs, turned out to be too difficult for Microsoft to maintain.
With the release of NT 5.0, aka Windows 2000, Microsoft abandoned efforts to support hardware outside of Intel's x86 and the then new 64-bit Intel Itanium IA64. Itanium turned out to be a huge disappointment, but did, however, directly kill off Alpha and PA-RISC (and probably PowerPC and SPARC as well), making it the second most destructive technology (in terms of billions of dollars wasted) to ever hit the tech industry after Windows itself.
By the time AMD released its own 64-bit solution for the PC market in 2005, Microsoft was facing competitive pressure from Apple's Mac OS X, which was now running on the 64-bit PowerPC G5. Microsoft scrambled to clone the remaining elements of Mac OS X, including its innovative graphics compositing engine, in a project known as Longhorn.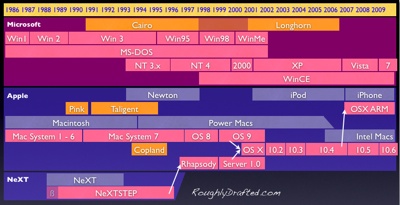 SCO, Linux, and Microsoft in the History of OS: 1990s
OS Interruptus
But Microsoft had bigger problems: NT 5.1 (aka Windows XP, in 2001) had finally brought the NT kernel to the mainstream PC audience to replace DOS-based Windows, but the company's historical slack regard for security had resulted in a virus and malware catastrophe that repeatedly delayed future advancement.
When NT 6.0 finally appeared (Windows Vista, 2007), most PC users didn't seem to care about the arrival of another big monolithic OS, and instead preferred to continue using the faster, more familiar Windows XP.
The next bump, NT 6.1 (Windows 7), is hoped by Windows Enthusiasts to dial back the clock to the 90s, when the media faithfully and uncritically praised Microsoft for reselling technology that was neither novel nor secure nor high performance nor even attractive. At least Windows 7 now looks more like Mac OS X that previous versions, even if it isn't faster than XP.
If Windows 7 can't make a splash worthy of the $8 billion Microsoft has pumped into Windows development since XP, it might mark a dead end for NT entirely, forcing Microsoft to start over with a BSD-based operating system.
Perhaps Steve Ballmer could call it Windows NeXT.
Windows Vista, 7, and Singularity: The New Copland, Gershwin, Taligent