Fox News reports new Mac virus that is neither Mac nor viral nor new
July 30th, 2009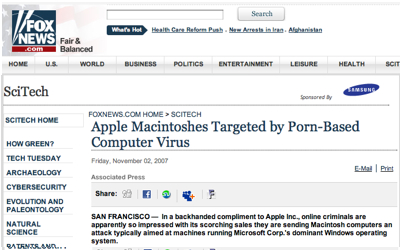 Daniel Eran Dilger
A report published by Fox News says that "online criminals are apparently so impressed with its scorching sales they are sending Macintosh computers an attack typically aimed at" Windows PCs. The story then falls apart in series of inept contradictions.
.
Fox published the story under a headlined expertly designed to 'electrify the base' by using both fear and sex: "Apple Macintoshes Targeted by Porn-Based Computer Virus."
FOXNews.com – Apple Macintoshes Targeted by Porn-Based Computer Virus
A porn-based virus?
Reality only becomes apparent in the story's ninth paragraph, which notes "the attack does not target a vulnerability in the Macintosh operating system," and then proceeds to describe the "virus" as a trojan that users have to manually download and install as an authenticated administrator.
"Once the user authorizes the transaction," the report warns, "the fraudsters can redirect his future browsing to fraudulent Web sites and possibly to steal his information or passwords or simply send ads for other pornographic Web sites and rake in advertising dollars."
Pity the poor porn browsers who are submitted to porn and exposure to ads on the web pages they browse, which might inevitably benefit the porn publishers! How insidious and tragic.
The report then adds, "researchers said the Trojan used in the attack is a rejiggered version of one that's been around for a couple years and requires that victims fall for a social engineering trick to work."
New and different?
Bizarrely, the story then suggests that this fake video player trojan, just described as being a years-old ploy, is now hot news at least in the minds of companies seeking to sell anti-virus software to Mac users.
"Intego, which makes Macintosh antivirus software and discovered the scheme this week, said it underscores the mounting threats to Mac users as the machines grow in popularity," the report said.
It then cites Intego spokesman Peter James as claiming, "this is the first really malicious criminal malware [for Macs]. We've seen some proof-of-concept malware, we've seen some worms, but this is different."
It's virtually impossible to find any statement in the article that is not contradicted within the next paragraph or two. However, mission accomplished: the story's headline establishes, for readers who don't really read, that Macs are being targeted by computer viruses, and suggests a need for installing a solution to this threat.
A faith-based approach to science news
Since that's what many people want to believe, and what unscrupulous fear mongers selling Mac anti-virus software want the public to believe, there is now additional "data" for supporting such a faith-based conclusion, in the form of a false headline. Never mind that the story itself is contradictory and based entirely upon reports from biased sources who profit from creating a climate of fear.
The report also fails to mention how anti-virus software would protect users, even the "online porn-hunters [who] are the intended victim of the latest ploy," from falling victim to a trojan. Does it block them from downloading every bit of software they try to install with warnings that it might be dangerous, as Mac OS X already does?
How much background processing power does the anti-virus software rob from the user in order to maintain vigilant outlook for the half dozen malware pranks in existence? Is that a good trade off? Fox doesn't say. The article is so fraught with bad reporting that it's hard to determine if this is some nefarious plot to serve misinformation to support the currently useless Mac anti-virus industry, or simply another example of ignorant incompetence.
Wrong to be Right.
Fox specializes in both. Sometimes, it fails to identify the country it drummed up support to invade. Note to Fox editors: Iraq is not Egypt. No wonder America can't read a map.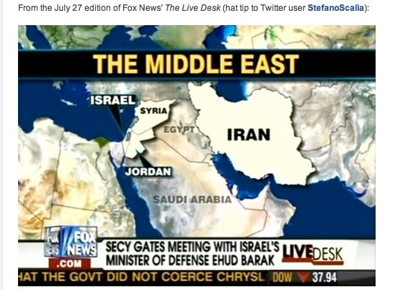 Other times, it appears that Fox really is intending to flat out lie, as when it identifies one disgraced Republican after another as a Democrat: Mark Foley, "wide stance" Larry Craig, former Illinois Governor George Ryan, and "gone missing" Mark Sanford.