The Vista Myth: Why Windows 7 Won't Turn Microsoft Around
July 25th, 2009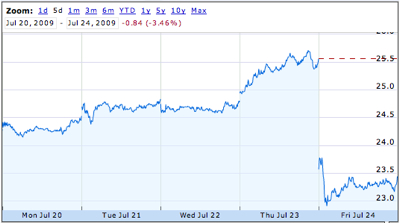 Daniel Eran Dilger
After posting a spectacular 17% revenue drop, the company's first ever year over year decline, Microsoft and its satellite pundits have assembled a seemingly plausible distraction/solution going forward: Windows 7 will boost sales of generic PCs back into orbit and erase the crater caused by Vista and the recession. They're wrong, here's why.
.
In order for a solution to actually fix a problem, it has to address the cause of the problem. Microsoft's executives and the pundits who repeat their talking points have decided that the reason why the company's sales are down is in part because of the global recession and in part because Windows Vista simply hasn't encouraged buyers to run out and get new PCs. Windows 7, being (as they say) so much more improved over the now two year old Vista, will dutifully cause buyers to return to buying PCs at "normal" pre-2007 levels. This is a grave mistake.
This line of reasoning, as is the case with most talking points, only makes sense if you don't stop to think about why it makes no sense at all. Certainly, there are some elements of truth; the world is in the throes of a major economic downturn, and Microsoft is particularly vulnerable because it sells software that its best customers have viewed as non-essential.
After all, everyone from PC gamers to corporate IT staff have rejected Vista by a wide margin with adoption rates that are still around 20% two and a half years after it went on sale, despite their being the greatest beneficiaries of Vista's new features, from the latest Direct X gloss to tightened security; those people have historically also been Microsoft's biggest boosters. Vista clearly did not have the PC-sales boosting effect that pundits insisted it would have back towards the end of 2006.
Microsoft allows HP to wipe Windows 7 with XP through 2010
Cracks in Microsoft's Windows monopoly
However, anyone who thinks that global growth in PC sales has plateaued and even begun to shrunk because of Vista is simply delusional. When I first predicted that Windows Vista wouldn't engender the excitement of Windows 95, pundits laughed and said that it didn't matter if Vista was any good or not, because Windows PC buyers would have to buy new PCs, and Microsoft would therefore simply roll it out whether or not the market wanted it.
In part, that was true. There is no functional, competitive market in the PC operation system space; it is a monopoly. Microsoft simply decrees what people will use, acting like a world government with the authority to tax every PC hardware sale with a Windows tariff. That has been the wide open secret of the company's past success.
Real governments, particularly the US, have not enforced the rule of law and have even refused to force Microsoft to obey its consent decrees (legally binding agreements the company made with the courts in order to stop its most egregious contempt for real and competitive markets). However, real governments have also historically discovered that their power is never as great as they hope, which is something Microsoft itself has discovered as well in its position as a quasi-government authority with global PC taxing powers.
One of Microsoft's greatest problems with Vista was that the company attempted to leverage its monopoly position to jack up the price of Vista, making PCs cost slightly more while making upgrades significantly more expensive. The company hoped to leverage its monopoly OEM business into a "first one is free" cartel where users would be forced to immediately upgrade their basic version of Vista to a more premium edition just to do basic tasks. This backfired dramatically, but was not the reason why the PC industry began to first level off and then actually shrink.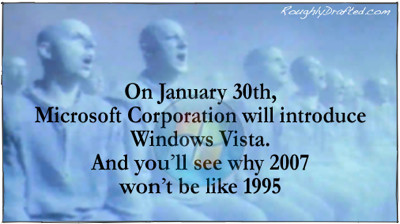 Windows 95 and Vista: Why 2007 Won't Be Like 1995
Windows Vista, 7, and Singularity: The New Copland, Gershwin, Taligent
The Vista Myth
All of this becomes apparent when you compare what pundits were saying in late 2006 with what they are saying now. The world seems to have forgotten that back in 2005 and 2006, as Apple released Mac OS X Tiger and then performed its rapid migration to Intel-based Macs, Microsoft's satellite pundits were unanimously predicting that the appearance of Vista would simply steamroll Apple out of existence.
This prediction was based on faith, not science. Using scientific data, it was clear that generic PC sales were already facing troubles: the average selling price of PCs was dropping like a rock, and competition solely for PC market share between HP and Dell was accelerating that descent into profitless, commodity PCs. That in turn was creating a huge quality gap between the mainstream offerings of generic PC makers and what Apple was selling.
Apple's more expensive models were actually becoming more popular, not because the market had abandoned the basic principles of supply and demand, but because Apple was creating demand for a premium Mac market while PC makers were all chasing rock bottom pricing in a fool's rush toward oblivion. PC buyers were subsequently discovering that $400 computers that lasted for less than a frustrating year or two were simply not a good buy. It didn't really matter if they shipped with Windows XP or Vista.
It also didn't help if they shipped with a distribution of Linux, because the problem wasn't the operating system, but rather the shoddy hardware. Of course, the security problems of Windows XP, the demanding overhead of Vista, and the complexity and limitations of Linux all did nothing to help turn these $400 PCs into something that could look competitive with a $1000-$1500 Mac. What PC pundits failed to grasp is that price isn't the sole determiner of what people will buy. It's only the sole determiner of what cheapskates will buy, and if you look at other industries, cheapskates are not customers that most profitable companies seek to court.
Netbooks killing off sickly Windows PC sales
Faith-based analysis
Ignoring all the scientific facts, PC pundits decided instead to take a faith-based approach to predicting the future. This only requires finding a few data points that can be assembled into a story which can be made plausible-sounding by ignoring all the discrepancies, contradictions and flat out silliness. Tell the same stories over and over, and you can eventually create a following of mindless worshipers who will eventually eat up everything you say, even if everything you say is demonstrably false, hypocritical, and ludicrous.
Having created a unquestioning following of faithful believers, PC pundits assured everyone that Vista would boost PC sales, despite offering no scientific evidence for this claim. Microsoft helped bolster this dogma by releasing false statistics that indicated that millions of buyers were pre-ordering Vista, based entirely upon Microsoft's bundling of free upgrade coupons with sales of PCs that occurred prior to Vista's launch. Many of those machines were simply not capable of running Vista however.
When Vista went on sale it did nothing to excite buyers. More importantly, however, buyers were not looking for big conventional PCs to buy. It's not as if customers flocked to CompUSA or to Dell's web site, looked through the generic PC offerings, and then decided not to buy anything because of Vista! There was simply no real demand for conventional PCs to start with, just as there is similarly no "pent up demand" for conventional PCs today as all of Microsoft's pundits like to imagine.
Why Windows 7 is Microsoft's next Zune
Failure to launch blamed on the liberal media
When Vista failed in its role as the second coming of Windows, Microsoft and its clergy of pundits first assailed Vista's reviewers as unfair, then attacked Apple's ads that called attention to the very problems PC users identified with: compatibility problems with their existing hardware and software, performance issues, security and malware problems, and all of the poor reviews reflecting those issues. Microsoft then embarked on an ad campaign that blamed users themselves with being ignorant of Vista's greatness in the Mojave Experiment.
What Microsoft failed to grasp all along was that Vista wasn't causing a major upturn in PC buyers, not due to the ignorance or malice of users, reviewers, and competitors, but because Vista was not the product users wanted. Throughout 2007 and 2008, it became clear that PC buyers were demanding cheaper and cheaper devices, including netbooks and smartphones and extremely low priced PC systems. They were not in general clamoring for big, conventional desktop PCs that had formed the bedrock for Microsoft's monopoly back in the 90s, when affordable mobile devices and $400 PCs simply did not exist as alternatives to the big dumb Windows PC.
The problem for Microsoft was that it had already invested a reported $8 billion and 8 years into Vista. There was no turning back; Vista had to be recycled until people could be convinced to buy it. The reason Microsoft has dumped so much money into making Windows more like Mac OS X was of course Apple's success with Mac OS X. The problem was that Apple wasn't selling Mac OS X to run on $400 PCs made by a variety of manufacturers. Apple's circumstances were completely different.
Microsoft's Mojave Attempts to Wet Vista's Desert
Microsoft's Mojave Experiment Exposes Serious Vista Problems
Paying attention to climate change
Apple, unlike Microsoft, has spent the last 8 years building up a mobile device business with the iPod which, by the launch of Vista, had blossomed into the iPhone. That had fueled Apple's profits and enabled the company to market its computers as high end, elegant offerings in the range of $1000 or more. Even so, Apple was also suffering from the shift away from big conventional computers; sales of its once flagship Power Mac desktops had been in relative decline for years. Back in 2001, Apple's attempt to sell the PowerMac G4 Cube had failed due to both an economic collapse and a shift in interest toward more mobile systems.
The difference was that Apple took note of the changing climate and launched a major strategy shift toward selling laptops, pushing everyone from its education base to its high end power users to its lowest end consumers toward notebook offerings built specifically for them. Apple's investment in mobile systems has paid off dramatically, with the bulk of its business now centered around notebooks, and now smartphones. That diversification ultimately also helped Apple's remaining PC business to survive and even prosper.
Apple still owns most of the relatively premium all-in-one market surrounding the iMac, and it continues to sell high end Mac Pro systems, primarily to run the company's Pro Apps: Logic Studio, Final Cut Studio, and Aperture. Rather than being a good versus evil showdown complicated by demon imps dealing out tragically unfair fate cards, the success of Apple and the failure of Microsoft has everything to do with Apple responding correctly to scientific data and Microsoft failing to pay heed to the very same data, choosing instead to be entertained with its own superstitious stories about how Windows is infallible and can flout the scientific laws that underly the market.
From Vista to Zune: Why Microsoft Can't Sell to Consumers
Second version, same as the first one
Now that there is no denying that Vista was rejected in the market, not due to Apple's advertising witchcraft or evil spells cast by reviewers, but simply because it did not address the demands of the market, Microsoft and its clergy of pundits have covered up all of the historically relevant data and have invented a new explanation of why Windows 7 will steamroll Apple: as you might have guessed, it sounds suspiciously a lot like what they were saying in late 2006, involving the notion of "pent up demand" for machines that have been in decline for years now, along with other "facts" invented to fit their required beliefs rather than discovered though unbiased observation in order to explain what was actually happening.
The only difference this time around, they claim, is that Windows 7 will not suffer the same fate as Vista because it isn't plagued with problems. Unfortunately for them, Vista didn't ultimately fail because of bugs and incompatibilities. Neither did Windows 98 SE and Windows ME, which were relatively successful in the market despite being terrible software. What Vista lacked and SE/ME didn't was a captive audience with no alternatives. Vista was competing primarily against Windows XP, which was faster and more familiar to users. What Vista offered over XP was security, Mac OS X-like graphics compositing features, and some flashy new features, none of which were relevant to an audience increasingly interested in abandoning the conventional PC for more mobile devices.
The rush to netbooks, while largely an overblown buzzword more than a massive shift in actual PC volumes, distracted momentum away from the boorishly bigger and faster PC boxes. The declining economy also fixed buyer's attention on cheaper systems that were the least capable of deriving any benefit from Vista. Microsoft's Vista was the Ford Edsel: exactly what corporate executives thought everyone wanted, but disastrously far away from what buyers really wanted.
How does Windows 7 address this problem? It does not. Microsoft makes great efforts to claim that Windows 7 will work on netbooks, but does not explain why that matters to users. The features of Windows 7 do nothing to improve users' experience on netbooks, apart from making them slower than identical hardware running yesterdays' Windows XP.
Windows 7 doesn't do anything to make $400 PCs more attractive. All it can possibly do is contradict Microsoft's "PCs are cheaper" ads by attempting to push buyers upscale to the point where Windows 7 starts to deliver some extra fancy polish and, in Microsoft's words, "Wow." That price point is suspiciously close to where Apple sells its machines, making the best hardware for running Windows 7… a Mac.
I'm a PC too… touché
Why Windows 7 on Netbooks Won't Save Microsoft
The war on two fronts
This pushes Microsoft into the unhappy position of having to either drag PC OEMs back up into the range of Apple's hardware, a seemingly impossible task on the level of establishing GM as a luxury brand to compete against Mercedes and Maserati, or having to rethink its entire operating system strategy to fit the facts of the cheapskate plebe market rather than the fantasy world of Microsoft's executives where Windows is both ubiquitously everywhere and premium priced.
Microsoft is facing multiple competitors in the low end arena as well. One is the threat posed by free distributions of Linux and Android, which can potentially stand in place of Windows on low end hardware, resulting in major savings to manufacturers. So far, Microsoft has been able to scuttle adoption of Linux on netbooks by dumping Windows XP licenses on manufacturers for free. That's obviously not a long term strategy, as Microsoft simply can't run the Linux community out of business, nor can it keep giving away software for a growing segment of the PC business.
Microsoft also faces growing defection from the PC pool by users adopting alternative devices like smartphones. If you think there's no way smartphones can replace desktop computers, take a look at Japan, where it already has. Young people in Japan don't have much concept of installing a big PC box on their desk at home, just as kids in the 90s had no concept of using punchcards or time sharing on mainframes.
Japanese "hate" for iPhone all a big mistake
Young Japanese women rank iPod, iPhone, Macs top in design
The web's war on Windows
And now, Microsoft is facing another threat that initially appeared just over a decade ago: the web. Netscape and Sun trotted out the web as a rich platform that would take on the relevance of Windows as an application development platform. Microsoft's monopoly power enabled the company to squelch open web development and tie it to Windows dependance with Internet Explorer nearly 15 years ago. Since then, however, Apple, Google and the remains of Netscape have banded together to form a powerful federation behind HTML 5, which already serves as a very strong alternative to Windows-centric development.
Apple's strength in pushing HTML 5 comes from the iPhone, which has already assumed over half of all mobile traffic. Other serious mobile contenders are all based on WebKit, ensuring that HTML 5 will be the lingua franca of software across mobile devices. Firefox's strength is in desktop browsers, where it has managed to bite off nearly a quarter of all desktop PC web users. It is funded by Google, which has an 80% and growing dominance over web search and advertising.
Google itself is moving into the desktop market with its WebKit-based Chrome browser, and plans to offer a free operating system for low end devices that provides an HTML 5 platform for netbooks and low end computers, enabling them to run web software rather than Windows software, exactly what Netscape promised but did not have the business model to push in competition with the much stronger Microsoft in the mid 90s. Microsoft was lauded as a god for heroically snuffing out the fledgling Netscape, but it has been completely impotent in trying to muscle its way into Google's turf, only slipping further and further into irrelevance in the major market of web search and advertising.
Ogg Theora, H.264 and the HTML 5 Browser Squabble
Faith in Microsoft misplaced
Microsoft's apologists have attempted to invent facts to demonstrate that the company can compete, but these are really just poorly contrived articles of faith. They claim Microsoft's search is on the rebound now that it has been renamed Bing. That is simply a lie. Google's position has never been stronger, and Microsoft has actually lost 60% of its former position in the web search business. Even Yahoo is fading away, giving Microsoft no ability to assault Google directly in a Netscape-style assassination to thwart competition.
They also like to claim Internet Explorer is simply too deeply engrained to face any competition, but it has dropped from claiming a 98% share of the market to todays' figures closer to 60% over just the last half decade. That's still a plurality, but is not enough to stop the trend toward HTML 5 applications that are not tied to Windows. IE will face even greater losses in market relevance if Microsoft continues to refuse to support HTML 5, once new interactive web apps begin to gain traction.
There's simply no arguing that Microsoft's desktop monopoly is at risk, not because Vista failed to impart excitement, but because Microsoft's operating system strategy was firmly rooted in the 90s and assumed that the PC market would never shift away from big immobile boxes connected to a CRT. Microsoft is certainly aware that PCs are shifting to notebooks and mobile devices, but its response has been largely confined to tacking on stupid ideas like SideShow, which were largely conceived to distract users away from the slow boot and wake times of Vista rather than making laptops more usable and desirable.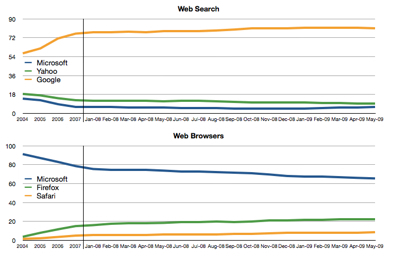 Microsoft Bing share vs Google smaller than Safari vs IE
Apple in the Web Browser Wars: Netscape vs Internet Explorer

The ties that bind
What else does Microsoft have? A closed server software business in an industry rapidly shifting toward open software. A home entertainment business that has rarely made any money despite billions in investment. Its brightest star is an imitative effort to copy the interactive controller that Nintendo debuted for the Wii back in 2006. When you hear vaporware incantations of "Project Natal," it means you've stumbled into a seance of the faithful trying to reanimate Microsoft's relevance as the god of imitations.
The biggest problem for Microsoft is that the company and its strategies all assume the continuation of its monopoly control over the PC, server, and Office markets. These three legs of the table are all tied together, which has been good for the company but is now bad. Microsoft has shown no ability to shift its Office expertise to mobile devices, ignoring the world leading iPhone App Store entirely. As Windows PC users shift toward mobile devices like smartphones and netbooks, there will be increasingly less demand for Microsoft's desktop software monopoly and a similar implosion of the company's server business. Microsoft's own decade-old efforts to build a mobile platform in Windows Mobile are in free fall and don't even garner any support from the most devoted of its followers.
There isn't any silver lining to any of these dark clouds for Microsoft, and the one the company has fancifully invented, that Windows 7 will magically rebound sales and convince everyone to run to the store and buy a big clunky PC to run another new $500 Office suite is simply non-sensical. It's as if Microsoft's solution to the development of the cannon is to patch up the holes of its castle and build even higher walls.
Mr. Ballmer, welcome to 2009. It's not developers, developers, developers that you need, it's customers, customers, customers.