Who's paying Brett Arends to malign Apple?
July 21st, 2009

Daniel Eran Dilger
Brett Arends, the notorious shill who filed discredited attacks on the iPhone launch in Jim Cramer's the Street listing "Five reasons not to buy an iPhone" and attacking the new phone at its launch for supposedly costing buyers "$17,670," is now printing his fully unsubstantiated opinions on Apple in the Wall Street Journal.
.
"Apple is now valued at $1345billion," Arends claims in his "ROI" blog published by the Wall Street Journal. Well, that's off by a factor of ten, but I'll assume Arends just made a typo on accident. Arends says Apple's shrinking low end iPod sales, more than accounted for by new iPhone growth, are a cause for worry, as are its 8% lower revenues from 4% greater sales of Macs, year over year. Perhaps he should look at the PC industry in general, which is shrinking in both units and revenue. Mr Arends, welcome to the global recession.
Arends also complains "Apple stock is now a mobile phone stock. And that's a brutal business." Yes, brutal for pretty much everyone outside of Apple and RIM, who both take away nearly 20% of the industry's profits while only selling a few percentage points of its unit shipments. "Even if the iPhone defeats all takers," Arends then posits, "what will happen to profit margins?" Seriously, that's the best you can offer us Mr. Arends?
Despite Earnings, Apple Is No Investment Opportunity – WSJ.com
Arends got the iPhone wrong, too.
Almost two years ago, Arends wrote, "let's get one thing clear. The iPhone isn't the future. It isn't a revolutionary mobile device ushering in a new era." That comment is now in the same league as Palm CEO Ed Colligan's reaction to Apple's iPhone, which predicted that "PC guys are not going to just figure this out. They're not going to just walk in."
Among Arends' stated reasons for viciously attacking the iPhone, sight unseen at its launch, was its initial lack of third party software. Today, the iPhone's App Store and its catalog of 65,000 mobile titles is exactly what everyone else in the mobile industry desperately wants to have and yet can't approach even after a year of concerted efforts at trying to catch up with iPhone 2.0.
Arends also complained about an inability to play over the air music downloads and podcasts. At the time, the iPhone could already download podcasts and other media on the web, indicating Arends' severely limited understanding of the status quo; today, the iPhone offers paid iTunes downloads with no extra network feeds for mobile store access (common on competing phones), further illuminating Arends' failure to anticipate where the puck was headed.
Back then, Arends was cheerleading for Verizon Wireless' Microsoft DRM-based V Cast service, which cost users $15 per month and then charged $2 for songs, $3-4 per video, and $4-5 per month to rent games (all of which were locked to the phone). The iPhone's iTunes store charges users no monthly fees, and songs, media, and software are all far cheaper to boot.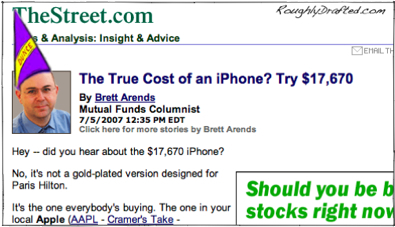 The Street's Flaccid Campaign Against the iPhone
Paid to be wrong.
Of course, Arends wasn't out to get the iPhone just because he had a sketchy understanding of the new device and no capacity for visualizing the future. He was simply disgorging propaganda fed to him by Verizon troll Roger Entner of "IAG Research," a group that represents the interests of Microsoft of mobile phone companies, which are all listed on the 'research' group's clients page.
So who paid Arends to "counter" Apple's blockbuster earnings report by writing for the Wall Street Journal that Apple is a bad stock pick because, he says, there's no way the company can possibly continue to grow? Arends doesn't say. He also doesn't ever say why he thinks there's limited potential for Apple to continue its trajectory of success, an opinion that flies in the face of the general Wall Street consensus to buy Apple.
Surely the fact that Apple currently has less than 10% of the global PC industry and a similar share of the rapidly growing market for smartphones portends some potential for growth. Microsoft and Nokia, the current vendors who dominate those markets, are both losing share as they make major blunders. Both already bring in much less money relative to their market share than Apple does.
The bigger question is: why a newspaper with some remaining legitimacy is hiring a blowhard idiot like Arends to prattle on about Apple with less factual support than the typical PC-centric columnists who appear in the free industry rags?