Windows 7 so great Microsoft is giving it away for free
July 15th, 2009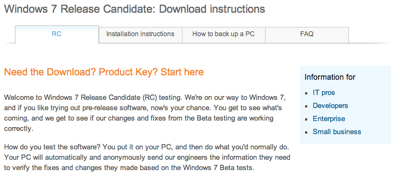 Daniel Eran Dilger

When Microsoft released Windows Vista after 6 years and $6 billion of development, the company was so proud of its new product that it hiked the price dramatically over the existing Windows XP. Two and a half embarrassing years later, Microsoft is showing its pride in the revamped Windows 7 by unprecedentedly giving it away for a year, just to get people to try it.
Launch Panic
Realizing that another failed launch of its flagship Windows operating system would be beyond devastating for the company, Microsoft isn't taking any chances this time around with another highly publicized retail launch that may fizzle the way Vista did.
Back in 2007, Microsoft pulled out all the stops to hang balloons outside of CompUSA and other retailers in hopes that crowds would flock in to pick up a DVD in a box for several hundred dollars. It paid flacks to chat up shoppers in special kiosks, and spent millions on "Wow" ads that fell flat.
When the reviews started to come in, it was clear that Vista wasn't ready for mainstream adoption. It wasn't compatible with lots of existing hardware and software, it was much slower than Windows XP, and it made a lot of arbitrary changes, many for no obvious reason.
Pundits assured their readers that no matter how bad Vista was, it was fated for ubiquitous deployment anyway so they'd better all just buy it and be done with any resistance to progress. They also insisted that Vista wasn't nearly as bad as the liberal press was making it out to be, with all that unfair criticism, don't cha know.
Windows 95 and Vista: Why 2007 Won't Be Like 1995
Microsoft's Mojave Experiment Exposes Serious Vista Problems
Windows 7: buy it or it's free
What a difference two and a half years makes: the Windows Enthusiast pundits who were all once shaking their fists at the less than enthusiastic reviews for Vista are now themselves characterizing Vista as fetid garbage with a dismissive contempt far in excess of what the initial reviewers ever suggested.
What was once the bee's knees is now an arthritic old cow, they say in unison, because Windows 7 is so much better than Vista. One would expect as much, given than hardware has has two years to grow into the increased overhead demanded by Vista/Widows 7 over Windows XP, and that Microsoft has had another two years to fix many of the issues related to Vista/Windows 7 code base.
Unfortunately, Microsoft's target market has also changed. Consumers aren't just buying bigger and faster general purpose PCs anymore. Since the release of Vista in 2007, the price of PCs has plummeted, global growth in the PC market has flatlined, and excitement has largely been associated with low end, low priced, low powered, light duty netbooks, which do not benefit from the fancy, resource intensive, high end gloss delivered by Vista/Windows 7.
There's simply no way Windows 7 can eclipse Vista on an excitement level because the world is now experiencing a jobless recession and people want cheap utilitarian computing devices, not fancy $2000 PCs that show off the sizzle Microsoft baked into Vista/Windows 7. Microsoft's last hope is to buy off consumers the same way that it recruits pundits: by giving them free stuff in exchange for a favorable review.
And so, for the first time in Microsoft's history, Windows is now free, at least for the next year. Anyone can go to http://www.microsoft.com/windows/windows-7/download.aspx and download the software for installation onto any PC, including Intel Macs. They can use it until March 2010, at which point it will begin nagging for payment by shutting down every two hours. This is similar to how heroin is sold.
Why Windows 7 on Netbooks Won't Save Microsoft
Planned piracy
Software piracy has always played a large role in establishing market share, and Microsoft has always been aware of this. In the early days, Microsoft allowed users to install its OS and software rather liberally, knowing that the real money came from its partnerships with OEM PC makers.
However, once Microsoft gained its monopoly position with locked in, guaranteed sales from every PC orifice, it began rigging Windows XP to demand dial-up authorization, locking the license to a specific PC to maximize the number of times a user would have to pay for software. If you own a Windows PC and build your own replacement, you can't simply transfer your valid license to the new machine. You have to buy a new one, and your old license is worthless.
In some markets, Microsoft realizes its potential to grab every last dollar is less important than its ongoing relationship and potential to syphon off future dollars. In corporate circles, for example, the company provides license-verification free media for installing the software liberally, which helps to ensure that they don't get fed up with licensing hassles and start investigating alternatives. In emerging markets, Microsoft is willing to offer totalitarian countries like China extremely low licensing fees to help ensure that its citizens are locked into the same technology deep freeze as the West.
And in netbooks, Microsoft has literally given away Windows XP to manufacturers to prevent them from using Linux, as they had been prior to Microsoft's product dumping. In other markets, this would be illegal, but Microsoft is exempt from the law, presumably because of a long historical precedent of ignoring court orders. Microsoft has repeatedly violated consent decrees with US courts over anticompetitive behavior, and judge after judge has simply issued new ones like the ineffectual parents who warn their out of control children "one more time and something's gonna happen!"
After years of proof were assembled to show how Microsoft has distorted markets and prevented choice in the Netscape-orientated monopoly case, Microsoft simply walked away after the Bush administration dropped any interest in enforcing the rule of law, presumably because Microsoft is an American company. Unfortunately, the administration didn't seem to understand that Microsoft only uses the United States to write off its billions in development costs; worldwide profits are collected through satellite offices in other countries, enabling the company to hide its profits and skirt the payment of US taxes on its monopoly sales.
Bill Gates for President? No Thanks.
Office Wars 3 – How Microsoft Got Its Office Monopoly
Mac Office, $150 Million, and the Story Nobody Covered
There's no competition because of you
If you're looking for who's to blame for Microsoft's sprawling control over technology and the chilling effect on progress its determined assault on competition has caused, blame the same people who supported the US' decline into war crimes and a repudiation of basic civil rights while waving crosses and flags.
It's us. Distracted by shiny baubles, we've become complacent slobs with no sense of righting wrongs and only the most fleeting sense of outrage. We deserve what we get. So go to Microsoft's site, download the latest Windows 7, accept it as not nearly as bad as the last operating system the company pooped into your mouth, and then while you're at it, download Silverlight just for kicks.
Then sit around fighting Windows for the better part of a year before you realize that the reason its shutting down sporadically is because you now owe the company lots of money to continue using its software. Briefly realize that you are part of the problem, then pay off the company and accept that you are powerless and don't matter, a simple pawn in promoting the efforts of a monstrous salesman to prevent any real progress from ever occurring in consumer technology.