Why Windows 7 is Microsoft's next Zune
May 9th, 2009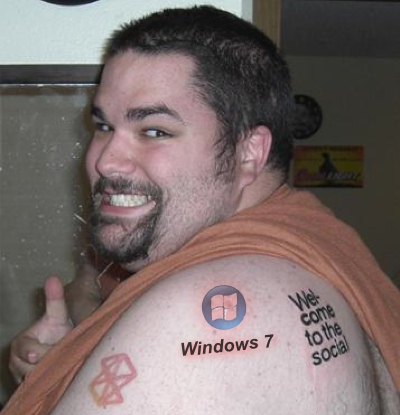 Daniel Eran Dilger

Every once and a while I get the opportunity to appear brilliantly prescient by pointing out something that is blatantly obvious but which has been so obscured by valiant marketing efforts that it makes me look like a grand wizard at detecting emperor nakedness just to say it. In this case, it's that Windows 7 is becoming the next Zune.
.
Consider the Zune.

Over the past couple years, while I enjoyed explaining why the Zune was set up for disastrous failure, I was even more entertained by the caustically religious response that it elicited from Windows Enthusiasts. I was accused of predicting things nobody could yet know and was assailed for being "biased," as if the facts and rationale I presented to outline why I thought the Zune was doomed were all based on wishful thinking and a blind attraction to Apple.
It's almost like having the 22% of inbred Americans who think Iraq was involved in the attack on the World Trade Center point their quivering finger at me and disdainfully accuse me of being against war, all because I'm biased toward presidential candidates who can speak articulately and intelligently.
The problem with the Zune wasn't just that it was from Microsoft, but that it was a copycat product trying to be something Apple already had delivered, which of course does means that the problem was related to being from Microsoft, as that's all the company knows how to do. Despite being congratulated at every opportunity for copying other's successes in a half-assed and often more expensive way, Microsoft's business plan isn't all that cool.
It's not impressive when Korean car makers clone portions of a BMW, or when the Chinese attempt to copy the iPhone using portions of Windows Mobile, or when WalMart releases a suitable clone of Adidas sportswear it can market for ten dollars to the kind of people who live in sweats and drink most of their calories two liters at a time.
Microsoft's attempts to copy the iPod was a store-brand strategy, hardly genius. In further laziness, however, the company didn't just set out to make a copycat iPod but started by building on top of a flawed product that had already failed in the market. The Zune was a Toshiba Gigabeat with slightly different plastics and navigation, where "different" should not be confused with "better."
Imagine Microsoft trying to enter the SUV market by taking a Pontiac Aztec and adding new pin striping and perhaps flames, and its obvious why the Zune was doomed even before considering how terrible Microsoft is at developing consumer software (Songsmith?), how counterintuitively bad the company is at forging relationships with media companies (the Zune was abandoned by MTV's PlaysForSure Urge store in the first year), and how terrifically incompetent the company is at conceptualizing and delivering consumer features (I already cited Songsmith, so I'll just point out the train wreck that Zune "WiFi sharing" was).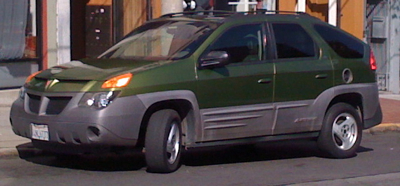 Why Microsoft's Zune is Still Failing

Why Windows 7 is another Zune.

But wait, you may ask, the Zune was an effort by Microsoft to travel well outside its core competency. Microsoft has never delivered consumer hardware products outside of its Microsoft-branded Logitech mice and keyboards (and if you are counting those as innovative or interesting products, please put down the invisible scissors you're using to craft those exquisite invisible clothes for the Redmond emperor before you hurt yourself with them), the company has never been cool, and has never really successfully sold anything to anyone outside of OEM hardware makers and brainwashed IT drones.
Windows is an entirely different story, say Windows Enthusiasts. Microsoft has sold those two categories of customers–PC makers and IT drones–so much "Windows" that it can afford to blow out billions in hobbies that never go anywhere, from Windows CE devices and Windows Mobile to Microsoft TV to SPOT watches to the Surface and the Xbox, which isn't a game console business so much as a multi-billion dollar bribe to prevent video game developers from using open and interoperable APIs.
What Microsoft is really good at is keeping generic PC OEMs and IT drones happy, right? That's where the company makes its money, and back in 2006 when I was pointing out how badly Windows Vista would tank, the conventional wisdom pundits were laughing at me because there was No Chance the company would fail at selling Windows, because it doesn't have to sell Windows, it merely forces the industry to pay for it as a tax on all new hardware.
Even if Vista were terrible, they insisted, companies would still roll it out and PC makers would still force it down the throats of consumers, just as they had for the last fifteen years since Windows 3.1 showed up offering them a way to insist that their generic PCs were just as good as a Macintosh. No amount of terrible Windows software, from 98 to ME, had ever prevented Microsoft from milking the tech industry dry and starving out competitors selling products that actually worked. How could things possibly ever change?
CES: Fear and Loathing in Las Vegas
Scratching the Surface of Microsoft's New Table PC
How Microsoft has become the Beleaguered Apple '96
Vista? Que?

In retrospect, Vista was the Zune. Rather than Microsoft doing what it had been doing all along to please the PC makers and IT drones (that is, releasing a rewarmed version of Windows every few years that did little more than keep the tech industry consumed with keeping up with the latest version), Microsoft looked at Apple and tried to copy it. But what makes Apple interesting and successful as a hardware and software integrator is not transferable to a software monopolist.
The straw that broke Vista's back was Microsoft's attempt to give Windows XP a graphics compositing engine just like Mac OS X's, a technology which Apple had initially debuted in 2000. Microsoft delivered its own version six years later, but the problem was that that feature, which worked so well to breathe new life into the Mac and differentiate it as a platform, was an unwelcome albatross around the neck of generic PCs.
Generic PCs are sold to be cheap. When Microsoft ripped off the Macintosh look and feel and introduced the first version of Windows that PC users could actually use (which was in 1991, six years after the introduction of the Mac and nearly ten years after Microsoft gained access to Apple's technology as a software partner, and not in the early 80s as historical revisionists in Wikipedia attempt to claim in order to shore up some credibility for the company), PC users never claimed that Windows was anything comparable to the Mac environment. Instead, they prided themselves with how cheap they'd acquired their generic PC, and only ever mumbled about Apple's superior user environment in an embittered shrugging off of somewhat out of reach sour grapes.
When Mac development at Apple ran off the track in the late 80s and early 90s and the creative forces behind the Mac jumped to NeXT and Be, Inc and to other efforts that seemed more promising, Windows gained credibility solely from the fact that nobody was around to show how hopelessly behind and conservative Microsoft was. The one-party tech kingdom ended up a Soviet Union of sorts, where everyone hailed the supreme leaders who were really doing so little to accomplish anything. Compare PCWorld from the 90s with Pravda and you'll find lots of similarities.
Windows 95 and Vista: Why 2007 Won't Be Like 1995
Microsoft's Mojave Experiment Exposes Serious Vista Problems
NeXT strikes back.

When Mac OS X broke loose on the scene, Microsoft realized the danger of allowing a competitor to show up how little the company was doing in exchange for the massive profits it was syphoning off of the tech industry. Linux was already indicating how little Microsoft was adding in the enterprise software arena, but now Apple was proving the same thing to consumers, a market Linux didn't have the unified leadership required to woo.
Vista was a desperate attempt by Microsoft to turn Windows into Mac OS X. In 2000, Windows was Windows 2000, aka NT 5. Microsoft had spent the 90s trying to deliver an alternative to Unix with the administrative ease of use of the Mac. In large part, it had succeeded with Windows 2000, but that accomplishment was embarrassed by the fact that a small group at NeXT had already delivered a superior product that did the same thing a full decade prior, albeit without losing any compatibility with Unix.
Bill Gates had used his position to hamstring NeXT and refused to develop for it, which had helped to hide the fact that all Microsoft had managed to do in the 80s was copy Apple's Mac, poorly, and all it had managed to do in the 90s was copy NeXT, badly.
Now, all of a sudden, NeXT was back in the form of Mac OS X. Except this time it had two new features: an open foundation based on open source software (a heretical liberal cancer in the mindset of Microsoft's hard liners) and an advanced compositing graphics engine that promised to do to desktop graphics what QuickDraw had done for the original GUI in the early 80s, what QuickTime did for video in the early 90s, and what NeXTSTEP did for object oriented development in the same period: embarrass Microsoft.
Why OS X is on the iPhone, but not the PC
1990-1995: Microsoft's Yellow Road to Cairo

Rise of the GPU.

Mac OS X's Quartz graphics compositor wasn't just a new feature. Apple was onto a very powerful new concept in computing: the offloading of desktop graphics to the GPU. The company realized that the CPU was no longer the engine that would define the power and usability of a computer. It was being eclipsed by the latent processing power of the GPU. Microsoft and Intel realized this too, to some extent.
In the late 90s, the team of tech monopolists tried frantically to figure out a way to get PC users, primarily running Office, to continue to buy increasingly faster PCs, but ran out of reasons for consumers to keep buying new PCs when their old one ran Word pretty decently already. Their solution was to build 3D visualizations into web pages, so that users would need a faster CPU to look at crap on the web designed entirely to make their CPU hot. This was the extent of their vision.
Microsoft also saw games as a reason for buyers to spend absurd amounts for PC hardware, but Microsoft doesn't sell hardware, so all it could do was devise software to make games that only worked on Windows, further tying Windows to PCs sales. This wasn't so much a strategy as a reaction, a ploy to shore up the moat surrounding its monopoly.
While Microsoft and Intel were in monopoly maintenance mode, a myopic condition that almost always results in a face planting stumble before long, Apple was assembling a GPU strategy that took everything painted on the screen and made it an OpenGL surface. The Mac OS X desktop was now a video game; individual windows could be slurped into the Dock with their contents being rendered live during the animation. Vector art could resize with liquid realism.
Ten Myths of Leopard: 1 Graphics Must Be Slow!

Microsoft tries to clone Mac OS X.

Microsoft wanted to stop the comparisons between Apple's new Aqua-smooth operating system and its boxy Windows 2000, so it renamed the next NT 5.1 service pack Windows XP, in the hopes that consumers would confuse XP and OS X just as quickly as they might equate Mr. Pibb for Dr Pepper.
The problem was that Apple capitalized upon its core technologies to rapidly outpace Windows XP, which despite being a fairly decent operating system fitting the needs of PC makers and IT drones, could not fake the ability to render its graphics using a modern Open GL surface, but was instead tied to the simpler graphics model Apple had originally introduced in the early 80s, which Microsoft duplicated in the flattering imitation of Windows GDI.
In the last few years, Apple rapidly advanced its graphics compositing engine to take increasingly fuller advantage of the untapped power of GPUs. Similar efforts on Windows have been entirely limited to screen savers and video games. However, while this was a source of embarrassment to Microsoft, it did not represent much of a problem for Microsoft's key customers, who are not consumers and end users, but rather PC makers and IT drones.
When Microsoft released its own graphics compositing engine in Windows Vista (NT 6), it hoped to wow consumers sufficiently enough to jack up the price of Vista significantly. However, the PC buyers of 2007 were largely the same cheapskate demographic of 1991 who prized cheapness over utility. Microsoft's attempts to make Vista match the graphics savvy of Mac OS X were like WalMart trying to introduce its sweats-wearing customers to organic vegetables.
Pearls before PC users.

Like the proverbial swine who have pearls thrown at them, they reacted with umbrage and ferocity. They'd grown used to every version of Windows being slower, but Vista was much slower without any advantage apart from looking more like Mac OS X. If they wanted a nice looking computer, they'd have bought a Mac.
PC buyers wanted trough-cheap hardware with the least invasive annoyance of Microsoft possible. Instead, they got a more expensive operating system that demanded greater hardware resources, didn't quite work with their existing software and peripherals, was significantly slower overall, pushed Microsoft into their faces to a greater extent, and attempted to extort Vista upgrade to unlock Ultimate features Apple was offering for free in Mac OS X.
When somebody asks for an iPod and you hand them a Zune, which has no cost advantage, no compatibility with either the iPod nor PlaysForSure, is slow and looks silly, they fail to see any reason to buy it. Connecting the dots between the Zune experience and Vista should not be necessary at this point.

Windows 7's audience problem.

However, what some pundits are still missing is that Microsoft's promise that Windows 7 is some flawless hyper-jump advancement over Vista is a typical Microsoft assurance, with all the utility of toilet paper. Apart from cleaning up an unpleasant mess, there's not much else it's suitable for. Recall that Microsoft has also promised that each version of Windows was its best operating system ever, even as each got slower as it dragged along the legacy required to please its customers, which again is not consumers but PC makers and IT drones.
Windows 7 does offer some real fixes for Vista, which it damn well should a full three years after that high-priced catastrophe was launched. The problem is that Microsoft's customers, those same PC makers and IT drones, do not want another generation of Vista and its Mac OS X-envy imitation. They want a thin layer of supportable software that runs legacy Windows software. That's not at all what Windows 7 is aiming to do.
PC makers are desperately trying to weather the storm of a brutally competitive market that is shrinking globally for the first time ever. They don't want a fancy bunch of glitz that shows the power of GPUs, they want Windows XP as cheaply as possible so they can apply it to netbooks and sell something, anything, before they go out of business.
IT drones don't want a layer of GPU sophistication, they want Windows XP as cheaply as possible so they can roll out centralized services in the pattern of mainframes and dumb terminals, the game they were playing when Microsoft waltzed in and sold them on PCs running DOS and then Windows as an alternative to the terminals they'd been using.
Netbooks killing off sickly Windows PC sales

Bad news: Windows 7 no faster than Vista.

The fact that Microsoft has borrowed its operating system strategy from Apple is also the reason why Windows 7 is no faster than Vista. Anecdotal excitement from Windows Enthusiasts aside, recent testing (by no less than PC World) has shown that Windows 7 does nothing to noticeably speed up PCs over the baseline performance of Vista. That's a huge problem for PC makers and IT drones who have pushed back against Vista adoption in large measure because it was too slow.
It's also a rude awakening to the dreamy illusion that Windows 7 would somehow enable Microsoft to sell a Vista-based operating system for netbooks that was wildly faster than Vista and therefore could bring the company greater revenues on netbooks compared to the Windows XP it had been dumping on netbook makers for next to nothing, just to prevent them from using Linux instead.
Never mind the reality that even if Windows 7 were spry and capable on netbooks, Microsoft wouldn't be able to bleed significant software revenues from the ultra cheap hardware that is now commonly selling for $300 or less. The big problem is that Microsoft can't speed up Windows 7 appreciably because it is Vista, and the reason Vista is so slow is not just because Microsoft didn't have the time to worry about optimizing code in its 6 years of gestation, but centrally due to the fact the Microsoft was copying Apple to deliver a product that is not like the one Apple wanted to deliver.
Speed Test: Windows 7 May Not Be Much Faster Than Vista

Microsoft is no Apple.

Microsoft does not have Apple's audience of sophisticated consumers, and it's ridiculous that the company keeps trying to pretend that it does. Microsoft serves an installed base of cheapskates through a blackmailed array of PC hardware companies who are forbidden from selling alternative software by exclusive licensing contracts. It also services, at very high cost to companies, a large number of corporate cube-holders who have no voice in the technology decisions forced upon them by corporate IT drones.
Both markets are impossibly out of reach to Apple. That's why Apple does not copy Microsoft's development or marketing strategies; they simply wouldn't work at Apple. But the converse is also true; Microsoft can't be successful at its own business by copying Apple, because the two companies serve very different markets.
The Zune clone of the iPod was a good example of this and the results of trying. It's like stealing answers from your classmate during a test, even though you know he's taking an entirely different exam. Don't plan on acing your test no matter how smart he is!
Microsoft's consumer failure is only going to get worse.

The biggest problem for Microsoft, outside of the fact that it is getting ready to release another tepid Zune to follow up the original lead balloon Zune (and if you didn't catch that metaphor, I'm talking about following up Vista with Windows 7), is that the PC cheapskates and IT drones are not as valuable as Microsoft seems to think they are. All the buzzword dropping around netbooks aside, the real value in PC hardware and consumer electronics is in delivering devices that work, which users will pay extra to obtain.
That's a market Apple has locked up. Despite the efforts by Dell and HP and Acer to tiptoe past Microsoft's Iron Curtain and investigate free market ventures using Linux, none are even close to delivering a well-integrated product similar to the Mac. All they can do is cater to cheapskates with unprofitable, low-end hardware that is so problematic and virus-vulnerable that those consumers will be forced to return and buy a new PC within a year and a half.
Having staked out a business that serves PC makers first, IT drones second, and consumers dead last, Microsoft is left only to advertise that its software arrives on cheap hardware that isn't burdened with being cool or sexy like Apple's. As a marketing strategy, that's so blatantly moronic that it's hard to imagine a Fortune 500 company could decide to do that.
This company delivered also Vista and the Zune, and all I'm pointing out is that the company is getting ready to do the exact same thing this year. Now will all those people who insisted that Microsoft would never stop making increasing amounts of automatic money regardless of how badly it performs please post an apology? Thanks!
Did you like this article? Let me know. Comment here, in the Forum, or email me with your ideas.

Like reading RoughlyDrafted? I'd write more if you'd share articles with your friends, link from your blog, and submit my articles to Digg, Reddit, or Slashdot where more people will see them. Consider making a small donation supporting this site. Thanks!