The iPhone isn't coming to Verizon.
April 28th, 2009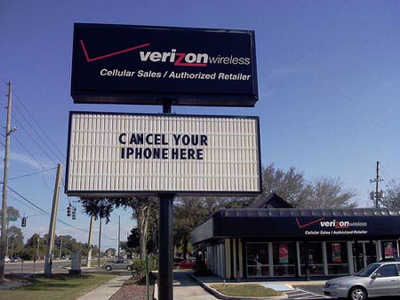 Daniel Eran Dilger
USA Today published a weak bit of sensationalism under the guise of journalism, strongly suggesting there was some basis for believing that Apple would partner with Verizon Wireless to deliver an iPhone capable of working on Verizon's network. That's wrong, here's why.
.
Leslie Cauley based the entire article's premise on a nebulous source only identified as "people familiar with the situation," writing that "they declined to be named because they aren't authorized to speak publicly."
If there were any possibility for Apple to be in even "high level talks" with Verizon, it would not have anything to do with the iPhone appearing on Verizon's network within the next couple years.
Cauley should have grasped that when Apple refused to comment "on the specific question of whether it is talking to Verizon" and instead sent USA Today a transcript of COO Tim Cook saying in the recent earnings conference call that Apple is "very happy with the relationship that we have [with AT&T] and do not have a plan to change it," and that "CDMA doesn't really have a life to it after a point in time."
There is no chance of an iPhone for Verizon. Apple is having enough difficulty delivering optimized UMTS 3G support; rolling out a 3G EVDO version of the iPhone would result in 80 million Americans having the option of switching to the iPhone without changing to AT&T, but that would also ground the high voltage differential that is streaming premium data users to AT&T, a flow that is both sparking free press and higher profits around the iPhone.
What good is it to develop a secondary, parallel development of the iPhone to gain a standing in front of 80 million potential new customers when you lose your existing partner currently promoting the iPhone to 80 million existing customers as well as sucking the life from Sprint and syphoning the cream off the top of Verizon?
Note too that most of Verizon's 80 million customers are not high end data customers interested in the iPhone, but people looking for a free, low-end "feature" phone and a $50 service plan. Why would Apple halve its telephony development efforts to cater to a tiny demographic of the world currently attached to a dead end mobile phone technology?
CDMA/EVDO will essentially be dead in just two years, as far as data-rich smartphones go. Verizon is aiming at building out a new LTE network to deliver a really fast mobile network that can keep up with AT&T's. Currently, Verizon does offer better 3G coverage in certain areas of the US, but that's where the puck is, not where it's going. EVDO will be EDGE two years from now. In 2011, Apple doesn't want to be back in 2007 again.
It would be ridiculous for Apple to spend a year developing an EVDO mobile stack so that it could offer potential AT&T switchers a lazier alternative for another year before everyone began wanting a mobile device faster than EVDO or today's UMTS can deliver. That's tomorrow's 3GPP standard, and both Verizon and AT&T will be building LTE out in the US.
But LTE is still years away from being built out, and between now and then, there is no reason to build a CDMA/EVDO phone when Apple's efforts can be used elsewhere and the exclusively-AT&T iPhone can instead to prove that Apple's product is so good that people are paying extra and making do with AT&T's still-under-construction network just to get it.
Why the story got printed

Well, no, there actually is a reason for suggesting that Verizon will get an iPhone sometime soon. That's to mislead people and make Verizon customers relax from their ready-to-jump poise. Why switch to the iPhone now when you can wait and see if it shows up on Verizon's network sometime real soon now?
It's a Microsoft tactic called vaporware: you announce that you'll soon have what everyone else is selling, depressing sales until you either have a chance to deliver your own version, or more likely, so you can profit on old technology until consumers forget about superior competition because all the superior products in the market are suffocated by your nebulous clouds of vaporware.
Microsoft was able to keep doing it as long as they could huff their fumes into the faces of enough naive pundits, assisted by an army of paid shills who pretended to be both experts and objective, when they were really just idiots on the dole with a core competency for spewing talking points.
The fact that Cauley's article in USA Today–which was uncritically repeated by everyone else as news–was filled out by the prattling of Roger Entner, the phone industry's version of Rob Enderle, should have been a sign. Entner is a paid shill of Verizon. He worked very hard to bad mouth the iPhone at every opportunity at its launch and has ever since.
Now is the perfect time to spread the message that Verizon users don't have to switch to AT&T to get the iPhone, as users sit in disgust over Verizon's crappy selection of phones including the major failure from RIM called the Blackberry Storm, and as all attention swarms around iPhone 3.0. Just wait! We're getting the iPhone any day now, so hold your breath till you pass out. Oh hey, and if not the iPhone, then something from Microsoft or an Android phone that is just as good, just like the G1 was supposed to be so freaking awesome. Wait, don't leave, stay a while!
The news USA Today didn't get.

Of course, the fact that USA Today was played by a shill isn't news. But what might be news is the story Cauley missed. If Apple had nothing going on with Verizon at all, it might have intimated that more forcefully. After all, Verizon executives were total douche bags when given the opportunity to pooh-pooh the iPhone. Why didn't Apple rub their faces back in it?
Apple may well be in talks with Verizon, not about an iPhone (why screw up the deal with AT&T?), but with new Macs set to be released with WWLAN support for mobile networks.
After all, Apple has already learned how to sell a $700 computer for $200; you have a mobile company front you the difference and let them collect their $500 over the course of two years while providing service. Why not make MacBooks $500 cheaper using the same strategy? The iPhone is exclusive to AT&T, but Mac WWLAN support isn't. By talking with both AT&T and Verizon, Apple can extract the best deal for subsidizing Macs using wireless networking service contracts.
That doesn't mean that Apple's Macs will be exclusive to Verizon; it may offer a deal to multiple providers. It may be exclusive to AT&T, with Apple only in talks with Verizon to keep AT&T scared and therefore competitive. Whatever the case, Apple has no interest in revealing its hand and screwing up its opportunity to accelerate Mac sales using its iPhone trick. That means no public comments, just hints that no CDMA/EVDO iPhone is forthcoming.
You got that USA Today? And shame on the rest of you reporters.
Did you like this article? Let me know. Comment here, in the Forum, or email me with your ideas.

Like reading RoughlyDrafted? I'd write more if you'd share articles with your friends, link from your blog, and submit my articles to Digg, Reddit, or Slashdot where more people will see them. Consider making a small donation supporting this site. Thanks!