Stanford to publish free iPhone course on iTunes U
April 1st, 2009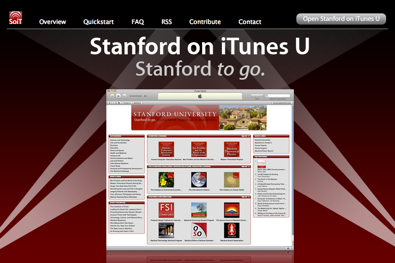 Prince McLean, AppleInsider
Stanford University will be publishing video podcasts and slides from its popular "iPhone Application Programming" course on iTunes U for free to the general public, beginning this week.
Stanford to publish free iPhone course on iTunes U
.
"There's a lot of interest in the iPhone," said Brent Izutsu, Stanford's project manager for Stanford on iTunes U. "This course provides an excellent opportunity for us to show the breadth and depth of our curriculum and the innovation of our students."
For-credit enrollment in the class is limited this quarter, which began two days ago. Students taking the class will also need an Intel Mac and will probably want an iPhone, although Stanford offers loaner iPod touch units. The course lasts for ten weeks, so it will just be finishing up as Apple prepares to release the new iPhone 3.0 at WWDC.
The video podcasts will present the same Stanford lectures on developing for the iPhone and iPod touch to the public using Apple's iTunes U within a couple days of each class meeting, providing easy access to the course materials for iPhone and iPod users as well as desktop Mac and PC users and other devices with the ability to play standard H.264 video.
Last summer, Stanford's announcement that it would begin offering an iPhone development course raised eyebrows among pundits who were busy worrying that Apple would use its iPhone development NDA to stop the classes. Instead, Apple assisted Stanford, relaxed its NDA terms, and is now working to help the school reach an even broader audience. "For Stanford, working with Apple allowed us to focus our energy on identifying and capturing great content while Apple provided us the technology to distribute it globally," Izutsu said.
Apple partnered with a number of universities nearly two years ago to launch iTunes U as a way to expose the public to educational material for free. Eddy Cue, Apple's vice president of iTunes, said at the time that "Education is a lifelong pursuit and we're pleased to give everyone the ability to download lectures, speeches and other academic content for free."
Stanford was one of the first universities to embrace iTunes U. At its launch, Stanford Provost John Etchemendy said, "From its earliest days, Stanford has sought to serve the public by sharing the knowledge generated by our faculty and students. Our partnership with Apple and iTunes U provides a creative and innovative way to engage millions of people with our teaching, learning and research and share the experience of intellectual exploration and discovery that defines our university."