The big 3.0: How iPhone will shift peripheral devices
March 20th, 2009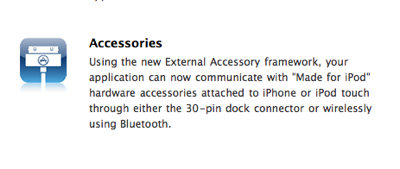 Daniel Eran Dilger
The biggest news to come out of iPhone 3.0 is its new support for external peripherals, a move that will expand the iPhone and its iPod touch sibling into new territory as a central hub for controlling all sorts of embedded devices. It will also bring Apple's new mobile platform even closer to the open-ended premise of the old Newton Message Pad. Here's why Apple's modern mobile platform will work out better than its first attempt in the early 90s, and why competitors will be hard pressed to duplicate its success.
.
Whoosh.

Apple's unveiling of the iPhone 3.0 game plan was received by a crowd of journalists that seemed preoccupied with listening for mention of technology buzzwords: Adobe Flash, MMS, "multitasking," and of course, copy and paste. That left the tech media yawning over the inevitable release of text selection and copy and paste features, unimpressed with the "new" MMS, and mourning Apple's snubbing of Flash and its insistence upon not allowing third party developers to install invisible background processes.
(For what it's worth, the iPhone has always performed multitasking, that's why you can receive text messages and calls while playing a game as the iPod app also plays music. It just doesn't allow third parties to install background software for practical reasons, not some technical deficiency).
What the tech media at large seems unable to grasp is that Apple isn't just marketing a bag of hardware specifications wrapped up in a thin sack of operating system support. Apple is building a long term platform. That's why they keep holding up the device bag of the day against the iPhone (the LG Prada, Motorola Q, anything HTC sells, the TMobile G1, etc), wonder aloud why the specification numbers of its shoddy competitors aren't 'killing the iPhone,' and then rinse and repeat two months later with a new series of bag destined to be soon forgotten as well.
Mobile device makers seem to have no real concept of developing a long term platform. As one of the first companies to successfully release a personal computing platform back in the mid 70s with the Apple II, and as the maintainer of world's longest running graphical desktop platform with the Macintosh, Apple knows something about building sustainable platforms.
iPhone 2.0 SDK: The No Multitasking Myth
Gone in a Flash: More on Apple's iPhone Web Plans
Flash Wars: Adobe in the History and Future of Flash
SCO, Linux, and Microsoft in the History of OS: 1970s
SCO, Linux, and Microsoft in the History of OS: 1980s
The Challenge of Mobile Platforms
It turns out that mobile platforms are more difficult to maintain. Apple's efforts to introduce the original PDA with the Newton Message Pad in the early 90s were complicated by the problems inherent to mobile devices: battery life, size and thermal envelope constraints, limited processing and storage capacity, and the one-two punch of mobile networking expense and bandwidth restrictions.
To work around these problems, Apple delivered advanced mobile hardware with the Newton Message Pad that required the company to develop an entirely new operating system, co-develop a brand new microprocessor architecture (its ARM architecture remains the most popular chip design in mobiles today), and market the device so effectively that a decade later, the thing is still a familiar household name (at least among technically savvy households), unlike most other devices sold in the mid 90s, or even last year's bags.
However, the Newton still failed, for a number of reasons. The primary cause of death was its high price tag; users were expected to drop about $1000 on the Message Pad 1000 to find out whether the Newton would ever become a viable platform (according to the Consumer Price Index, its 1994 price tag would be roughly $1400 today.) Developers were left to wonder if consumers would ever adopt the platform, creating a catch-22 where a lack of necessary software was retarding sales, and slow sales were preventing the device from gaining traction among developers.
Newton Lessons for Apple's New Platform
The Failure of PDAs

The Palm OS arrived on the scene in 1997 just as the Newton stumbled towards the grave. It was met with wild initial success, in part due to the more affordable $300 price target of its much simpler hardware. However, it too could not sustain long term growth as the PDA market fizzled as the dot com bubble of gadget lovers popped, leaving little free cash to throw around on toys.
Microsoft hoped to take over the emerging market for PDAs and handheld computers with the release of Windows CE, following the same software-centric platform strategy that had launched DOS and then Windows into ubiquity. However, WinCE devices were unreliable, expensive, and impractical in terms of battery and processing capacity, and the software was buggy and ugly to the point of being unusable. Additionally, there was no IBM hardware monopoly around to launch Microsoft's new mobile version of Windows, leaving it to rot on the vine even as the company struggled to cultivate a market for it over the next decade.
Microsoft has also scrambled to throw up a series of other mobile computing platforms, from Tablet PCs to HandHeld PCs to Pocket PC to Palm-sized PCs to "Ultra-Mobile PCs," some of which used its desktop Windows OS, but none of which has seen any significant success.
The Egregious Incompetence of Palm
The Spectacular Failure of WinCE and Windows Mobile
Mobile Devices' Launch Failure

The failure of all of these mobile software platforms relates to the reality that artwork needs to be packaged and sold for an artist to be a commercial success. The work of software developers, just like artists, musicians, and actors, can be extremely valuable when appropriately packaged.
However, the talent behind those works has no intrinsic value without the packaging. Artists without effective promotion fail commercially, because nobody can pay them what they are worth without spreading around the cost of supporting their art, something Steve Jobs is very good at orchestrating.
The Newton involved a lot of talent, but wasn't packaged in a way that made it a commercial success. Palm was a one hit wonder without the ability to sustain its fame. WinCE was a talentless flop that couldn't succeed even with the resources of the world's richest and most powerful tech monopoly.
What the next mobile platform needed was a star vehicle. In the late 90s, Jeff Hawkins, Donna Dubinsky, and Ed Colligan of Palm left to form Handspring. They decided that the vehicle for bringing the PDA into the mainstream would be the smartphone. In 2003 Palm acquired Handspring to help migrate its failing PDA business into the smartphone business with the new Treo developed at Handspring. Microsoft also scrambled to copy this by focusing WinCE on the new Windows Mobile brand in 2003.
Rebranding a failed PDA operating system had worked well enough for Symbian (derived from Psion's EPOC PDAs), but only managed to keep Palm OS and WinCE on life support in the half decade between 2003 and 2008. An even better star vehicle for propelling mobile devices into instant fame was instead discovered by Apple.
Origins: Why the iPhone is ARM, and isn't Symbian
The Path to Smartphones

In 2001, Just three years after ditching the general purpose Newton, Apple developed a new mobile device: the iPod. It had some perfunctory PDA features, including a calendar, contacts, and simple games, but it was assigned a primary task: music playback. Attaching the iPod to an existing, wildly successful market for music playing devices turned out to be extremely smart strategy.
The iPod offered to do nearly everything other players could do, apart from recording audio and a few other niche features. However, it also supplied a nice interface and a offered a simple syncing connection to the Mac and PC, something other audio player makers including Sony had not figured out how to do. Once it mastered audio playback, Apple licensed audiobooks through Audible, added podcasting support, and later added video playback. It then got started with iPod games.
Apple succeeded in building an iPod empire, licensing hardware accessory makers and working with select software developers to create game software. The result was an optimal position to launch its new software technology, using smartphones as a second stage vehicle to establish an even more sophisticated mobile platform derived from the desktop Mac OS X.
In 2007, Apple launched the iPhone as a high-end iPod, phone, and web browser device to a large, enthusiastic user base of Mac and iPod users. The iPhone effectively attached all of the iPod's goodwill and content expertise with the technical superiority of Mac OS X to a new market even larger than that of music players, a market dominated by products that were largely based on simple devices trying to operate well out of their league: RIM's sugar-frosted BlackBerry pagers and the glorified PDAs from Palm, Symbian, and WinCE.
Being a smartphone meant that the iPhone could be subsidized by mobile revenues, allowing it to sell at an upfront cost that consumers would swallow, particularly given that the alternatives were rarely any cheaper, if not more expensive. While many comparisons have been drawn between the iPhone and the Newton, the iPhone remained defined as a smartphone with some accessory features, not a general purpose mobile "companion" computer like the Newton.
From Dedicated Smartphone to Central Hub

While the original iPhone was designated entirely as a phone with a WiFi browser and iPod media player, iPhone 2.0 firmware enabled third party developers to add limited new software features, resulting in rich Internet-connected applications and 3D games using the same development tools available on the Mac. However, iPhone 3.0 remakes the iPhone into something far more than a smartphone. It's now a central interface for controlling all sorts of hardware. It's now a general purpose mobile computer.
Apple gave examples of a stereo dock managed by the iPhone, or a radio dongle tuned by the unit. It also brought on stage a demonstrator showing off a Bluetooth-enabled blood sugar monitor and depicted a blood pressure cuff attached to the iPhone. This new capacity signals something bigger than just a new feature. The third generation SDK expands third party support to hardware-based applications. This is very big.
A broad range of accessory devices won't need to be designed with a user interface, but instead only need a USB interface or Bluetooth support, something many sensors and input devices already have. Everything from gym treadmills to medical devices to barcode readers to remote controlled devices to tuning systems to diagnostic components can be made "iPhone-ready" by simply developing an App Store title for them.
Add in Bonjour Bluetooth automatic discovery, and you have a very sophisticated way to connect to accessory devices, provide them with multitouch interface controls, log and chart statistical data over time, and upload that data to a computer or online cloud service in the pattern of Nike+iPod.
Ten Big Predictions for Apple in 2009
The Incremental Road to Progress.

The iPhone is now a general purpose device far more useful than the wide-open Newton could ever have been, expressly because Apple policed its platform and regulated it to develop according to a strict strategy. Had Apple thrown its platform to the open community to "do it themselves" in the manner of Google's Android, we'd have seen a brief flurry of interest followed by its inevitable collapse due to a lack of commercial sustainability, just like other distros of Linux.
Had it attempted to run before it had mastered walking by rolling out a massively ambitious iPhone 1.0, we'd have observed another grandly massive undertaking like the Newton collapsing under its own weight without ever being finished, much like everything else Apple did in the early 90s, from PowerTalk to QuickDraw GX. The iPhone needed progressive packaging that released technology according to a strategy, not to fill a marketing checklist assembled by the sales people who ran the old Apple, and who now run Microsoft and Sony and LG and Nokia.
Apple is now following the same path as every other commercial success: building progress upon incremental steps. It first established a user base, then it opened up third party software, and now it's opening the floor to even more sophisticated uses centered around hardware peripherals. All along, the iPhone has maintained a clear product description and has competed well against the offerings of other companies. That will serve as a general barrier preventing other companies from simply duplicating its efforts. Apple has built too much on too many fronts to replicate in a cloner catchup sense: iTunes, SDK development tools, licensing programs, retail stores, and so on.
1990-1995: Apple vs. Microsoft in the Enterprise: PowerTalk
Platform Problems for Competitors' Hardware Integration

Palm and Microsoft have long allowed their mobile developers to build third party hardware peripherals, but they both lack a secured software market and sales volume similar to the iPhones Apple has distributed over the past year. Microsoft likes to point out that all of its hardware licensees together slightly outsold the iPhone last year, but the problem is that Windows Mobile phones are all over the map, ranging from simplistic devices with tiny displays that lack a touch screen (Microsoft's former definition of "Windows Smartphone") to stylus driven Treo-style handsets, to "Handheld PC" style gadget phones with slide out keyboards.
Windows Mobile devices don't all use the same standard docking connector, don't all have similar processing and storage capacities, and don't have cohesive abstractions for GPS, WiFi, or cell tower location services, but instead all use different components, selectively include or exclude features such as WiFi or Bluetooth, use different screen resolutions, and so on. Windows Mobile isn't a cohesive platform, its an assortment of phones confederated together by marketing fluff.
Many Windows Mobile partners, including last year's phones from Sony Ericsson and Samsung and this year's models from LG, are now putting their own user interface over the top of the operating system to cover up any similarity to other Windows Mobile phones. The Meizu M8 Chinese iPhone knock off actually uses only the WinCE core OS and builds its own layers on top to end up with something resembling Apple's work more closely than Windows Mobile ever could.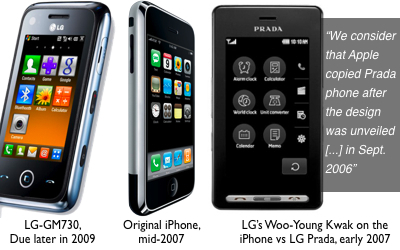 Windows Mobile 6.5 shows clever burst of originality. Haha no.
Did Microsoft kill Android at Mobile World Congress 2009?

When Diversity is Not a Strength.

Google's Android seeks to be a clone of Microsoft's Windows Mobile, and will suffer the same problems as it attempts to pave over all the component diversity that has complicated developers' efforts to build mobile software that works well on more than a few models.
The Symbian platform has similarly been fractured between the three major personalities offered by Nokia (S60), Sony Ericsson (UIQ) and NTT DoCoMo (MOAP). Nokia is trying to unify all that with the Symbian Foundation, but even Nokia uses its own Nokia OS for its feature phones, Linux for its WiFi tablets, and Symbian OS only in its smartphones. And like Windows Mobile devices, Symbian phones are fractured by major hardware differences.
Microsoft, Google, and Nokia all talk about diversity in hardware features as choice, but Microsoft has never valued diversity in the platforms its PC software ran upon. It knew better than to release the Xbox as a software platform that could run on a variety of manufacturer's hardware designs. Its PlaysForSure diversity of music hardware and stores failed in part due to that tyranny of choice.
Will Windows Mobile Play DOS to Apple's iPhone?
Will Google's Android Play DOS to Apple's iPhone?
Myth 9: iPhone Unable to Penetrate Europe Due to Symbian Dominance
The Sorry State of Mobile Platforms.

Microsoft knows this. It also knows it can't release a phone to compete directly against the iPhone because it would get trounced just as soundly as the Zune was. Microsoft has no special hardware expertise. It has no successful media store, no proven capacity to erect a successful third party market for mobile software, no retail operations in place nor any history of retail savvy, and no OS technology well suited for deploying a competitive smartphone.
All Microsoft can offer is a promise to fix its failed platform which has gone nowhere in the last decade. All Google can offer is a hope to beat Microsoft at its own game. All Symbian can offer is rapidly slipping position as the dominatrix of a market that has seen, until recently, very little real sophistication among its competitors. All Palm can offer is a deathbed intention to reinvent itself with a spurt of innovation that it should have put some effort into a half decade ago before it had shriveled up into a frail corpse enslaved to Windows Mobile.
Despite having "only" a 10% share of all smartphones globally, Apple's iPhone is used to browse a plurality of the web's mobile traffic, and about half of America's mobile web traffic. Even more importantly, it has the only functional apps store, which is also tied into the world's largest digital downloads market: iTunes. Combined with its common hardware platform stretching across an installed base of 30 million devices sold within the last year and a half, that makes the iPhone platform ideally positioned to lead as the general purpose device of choice for both users and developers.
Who saw that one coming?
Palm Pre: The Emperor's New Phone
Why Apple's Tim Cook Did Not Threaten Palm Pre
Did you like this article? Let me know. Comment here, in the Forum, or email me with your ideas.

Like reading RoughlyDrafted? I'd write more if you'd share articles with your friends, link from your blog, and submit my articles to Digg, Reddit, or Slashdot where more people will see them. Consider making a small donation supporting this site. Thanks!