Apple Q&A sheds light on iPhone 3.0
March 17th, 2009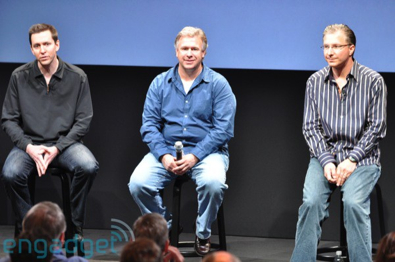 Prince McLean, AppleInsider
Apple executives Scott Forstall, Phil Schiller and Greg Joswiak answered a series of questions from reporters about the iPhone 3.0 platform, providing some addition information outside of that presented in the prepared comments.
.
Copy and paste priority
When asked by a reporter from Time why Apple took so long to deliver "obvious" copy and paste features, Forstall replied that it wasn't that easy, and that security issues needed to be resolved with copying information between applications.
Unlike most other smartphones' operating systems, the iPhone offers real security between applications managed by the operating system, rather than implicitly trusting whatever software a user might load from any source.
Flash panned, again
Asked about support for Adobe Flash, Apple said it has no announcements on that front, instead deflecting attention to the fact that the phone supports H.264 video streams, and adds new support for HDTV streaming for audio and video.
Video playback is the main use of Flash on the web outside of animating advertisements. However, a variety of major sites that use Flash for video on the web, including YouTube, CBS Mobile, and the BBC, now push standard H.264 video to the iPhone directly.
Tethering
When asked about tethering, the use of the iPhone as a gateway for sharing its mobile connection with a notebook computer, Forstall answered, "We're supporting tethering in the client side, we're building that support in. We're working with our carriers around the world. We are building that support in."
Peer-to-Peer and Bluetooth
The new Bonjour-enabled discovery of other devices will use Bluetooth exclusively, Apple said. That will enable the discovery service, used to allow gamers to participate in multiplayer titles for example, to work without disconnecting from WiFi internet, without needing any configuration, and without requiring mobile network access.
When asked if developers could send out audio files over Bluetooth, the group remained stumped for a moment before Forestall answered, "I think probably not — you couldn't move the file."