Why Windows 7 on Netbooks Won't Save Microsoft
February 26th, 2009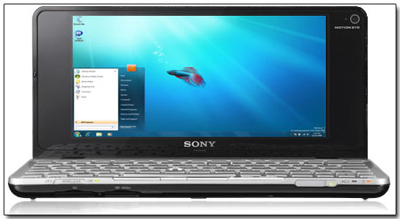 Daniel Eran Dilger
Microsoft plans to profit from the interest in netbooks by bundling them with a crippled version of Windows 7, forcing users to pay extra to unlock its features. The problem: that was also the company's strategy for squeezing more money from PCs with Vista. It did not work; here's why and what it means for Microsoft's future.
.
Microsoft's Netbook Problems.

The company's strategy aims to solve a series of problems related to the expansion in sales of low cost mini laptops. The first problem is that these netbooks can't run Windows Vista because they lack sufficient resources. That means most netbooks currently ship with Windows XP. That's not good for Microsoft because the company charges its licensees less to bundle the now eight year old XP than it does the more recently released Vista.
Even worse, about a third of netbooks ship with Linux. Microsoft makes nothing from those machines. Microsoft also recognizes that while Linux has offered desktop PC users a less attractive product compared to Windows on the PC (largely due to Linux' lack of support for Windows games, commercial desktop apps, and some specialized drivers), the barriers holding back Linux on the PC aren't nearly as significant on netbooks, which don't play games, aren't expected to run apps outside of basic things like web browsing and word processing, and have a smaller subset of hardware needs to support.
But the biggest problem with netbooks is that they don't cost enough to invisibly hide the fees of a Windows PC license. It's much easier to accommodate a $40 software license into the bill of materials for a $1000 PC than it is into the cost of a $300 netbook designed to sell at razor thin margins. That problem is also becoming an issue for the entire PC market as the average selling prices of PCs decline, with the current PC ASP now down near $500.
Netbooks killing off sickly Windows PC sales
When the Solution Itself is a Problem.
Microsoft's only options at this point are:
1) lower the price of Windows licenses, greatly reducing the company's profitably and revenues.
2) leave prices where they are and risk both losing PC sales to netbooks and netbooks to Linux.
3) pretend to lower prices but then force users to pay more fees to use Windows after the PC sale.
Option number three sounds much better than the first two, and that's why Microsoft is pursuing it. The problem is Microsoft built its software empire upon the idea of not having to sell software to end users. Option three forces Microsoft to actually sell Windows upgrades to PC users, a strategy that did not work when the company tried to do it with Vista, and has never really worked for the company.
Windows 95 and Vista: Why 2007 Won't Be Like 1995
Why OS Software is Impossibly Difficult to Sell.

Software is notoriously difficult to sell, particularly utilitarian software such as an operating system. Part of the reason nobody could compete against Microsoft in the PC OS market was because no consumers wanted to pay for OS/2, NeXTSTEP, or BeOS.
Nobody wanted to pay for Windows either, but Microsoft had the advantage of being able to hide Windows sales in the hardware purchase itself. Very little of Microsoft's revenues come from retail sales or upgrades of Windows (less than 20%, according to Microsoft's own revenue reports, despite the fact that retail copies cost many times more than the OEM licenses that PC makers buy when they bundle Windows on a new PC, roughly $30 vs $300).
The OEM contracts Microsoft set up with PC makers at the beginning of the PC era thus gave the company an inside track to selling its software invisibly. This is called the Microsoft Tax, because the company has achieved the authority and power to levy a fee on every PC sale, just like a government can. This powerful position makes up the other reason why competitors couldn't sell alternatives to Windows: there's no functional market for another desktop PC OS because Microsoft has saturated the demand with ubiquitous supply.
SCO, Linux, and Microsoft in the History of OS: 1980s
SCO, Linux, and Microsoft in the History of OS: 1990s
Why Microsoft Can't Compete With iTunes
The Microsoft Tax.

Imagine trying to sell drivers access to your private toll road when the local government has built a competing, parallel freeway paid for by gas taxes. Unless that competing freeway becomes clogged with traffic, you'd be trying to market a slice of the full and considerable expense of maintaining your road against an alternative that is "free" to drivers who already pay for that freeway's maintenance in their inescapable fuel taxes.
In Microsoft's case, it can't ever run out of free capacity because it's selling a product that is extremely cheap to mass produce. While competitors can also create software copies at minimal cost, they have to amortize their total development costs with revenues from the much small minority of users they can win over. Microsoft spends billions developing Windows, knowing that the hundreds of millions of PCs sold each year will have to pay for it via the Microsoft Tax.
Linux vendors quite literally can't even give away their software to desktop PC users beyond a very small subset of tinkers who go well out of their way to obtain Linux. Many of those users end up paying the Microsoft Tax on the PC they buy to run Linux anyway. This is the wonderfully lopsided game that has kept Microsoft rolling in software profits, indirectly paid for by hundreds of millions of PC users, few of whom even realize they're also buying a Windows license when they buy a new PC. Those users are certainly not going to pay anything significant for an alternative OS, and haven't demonstrated any real interest in even looking at a free alternative.
SCO, Linux, and Microsoft in the History of OS: 2000s
The Game Unravels

Falling hardware prices and PC market maturity are both killing Microsoft's game, however. Over the last three decades of Microsoft's DOS and Windows sales, the company's software has actually gone up in price as its sales volumes have been pushed into the stratosphere by the regular growth in PC sales. That perfect storm of rising prices and rising PC volumes which delivered Microsoft's soaring profitability is now dissipating.
PC market growth in developed nations is tapering off as the market matures (and the current recession has stalled growth entirely and resulted in actual PC market contraction). Additionally, hardware prices, which have been dropping regularly over the three decades, are now reaching the point where they can't hide Microsoft's license fee. The vast potential for PC sales growth in emerging developing nations isn't ever going to drive the price of the PC back up; those markets are now demanding low cost PCs and are more open to alternative software than developed nations ever were.
That's why Microsoft has worked hard to push PC prices back up. PC gaming is part of that strategy. Somewhat ironically, the Windows Enthusiasts who complain about Apple's hardware prices are the same ones who go out and buy $3500 Alienware gamer PCs and then add a $150 video card upgrade every couple months. Microsoft loves this demographic because they buy anything. They don't even bat an eye at paying a top dollar premium for Vista Ultimate.
The Apple Video Game Development Myth
Video Game Consoles 2007: Wii, PS3 and the Death of Microsoft's .Xbox 360
The Encroachment of Apple.

That market segment is the same one Apple is after: premium buyers who care more about performance than cost. Apple has been gobbling up the high end of the PC market with premium MacBook notebooks, high end consumer desktops with the iMac, and prosumer markets related to publishing, digital video, and music. Like Microsoft, Apple has software to sell that it bundles into hardware sales (because software is impossibly difficult for Apple to sell as well).
Unlike Microsoft, Apple also builds the hardware. That enables Apple to survive on sales to a smaller base, something software-only OS vendors couldn't manage. Sun and Cisco have set up a similar business in enterprise server and router sales, respectively. Apple's iPod and iPhone also bundle hardware and software together to pay for software development via hardware sales, and conversely, promote those hardware sales via that highly developed software.
Microsoft has tried to do something similar with its Xbox franchise, because the video game console market isn't big enough to support software-only OEM licensing. The problem with the Xbox is that console hardware sales aren't profitable. Microsoft's Windows Embedded CE, Windows Mobile phones, and Windows Media Player efforts are also failing because those markets are similarly not big enough to pay for the continued development costs of the operating system. In ten years, Microsoft has sold 50 million licenses for Windows Mobile, but sells north of a quarter billion Windows PC licenses every year. It's no wonder why the Windows software model works on the desktop but not on phones and other devices.
The Spectacular Failure of WinCE and Windows Mobile
The House of Cards.

And that's why the failure of Windows on the desktop due to falling PC prices will kill Microsoft as a consumer company; the rest of Microsoft's consumer-facing business (media players, smartphones, game consoles) isn't sustainable. To cover over this clear and present danger, Microsoft has announced that future netbooks will be able to run a new stripped down version of Windows 7, as if that would solve the problems it faces. It doesn't. It merely replaces one low-cost license (Windows XP) with another (Windows 7 Starter). What Microsoft hopes to do is then force Windows 7 Starter users to upgrade to a functional version of Windows 7; there are plenty of Editions to choose from!
The problem there is that few users will buy software unless there's a huge and compelling reason to upgrade. As Vista proved, asking users to pay extra for OS features they were denied in the stunted version that came with their computer isn't feasible. It just makes users mad that they were ripped off from the start.
Apple has managed to figure out how to get users to pay for software upgrades: market serious new advances in technology that dramatically improve upon previous releases. Even so, that only works when selling to moderately high-end users, the same type of market Microsoft has with its serious PC gamers. The Mac and Premium PC/Gamer market are both relatively small however: something around 30 million users. The rest of the world is not nearly as interested in buying software updates. People who buy $400 netbooks are going to be particularly resistant to paying a large fraction of that just to update their software to work as expected.
Windows Vista, 7, and Singularity: The New Copland, Gershwin, Taligent
Windows 7 vs. Snow Leopard: Microsoft's comeback plan
Exploring Windows 7 for Mac users
The Low-End Sales Tourniquet.

Apple has framed its market by refusing to build cheap PCs or netbooks. That has resulted in Apple retaining a higher-end market, which it cultivates with low cost applications that demand "greater than netbook" performance, things like iPhoto and iMovie. By pinching off low end sales, Apple maintains a sustainable business of selling premium PCs. That's also why it opposes other hardware makers trying to muscle into its business and steal away its sales with cheap hardware paired with its own software. If that model were sustainable on a smaller scale than Microsoft's quarter billion per year market for Windows, Apple would have pursued it itself by selling Mac OS X to PC users and licensing it to other OEM hardware makers. It is not.
Microsoft can't do what Apple is doing because it doesn't make PC hardware sales decisions. It could only watch as its hardware partners pursued a downward spiral of ever-lower PC prices, achieved by offering low-end performance and features. Netbooks are just the latest example of this long running trend. The same hardware makers that built Microsoft into a big government empire with tax collecting powers are now staging a revolution in hardware that will make the ornately dressed, elite royalty class that Microsoft represents simply irrelevant.
That will force Microsoft to offer cheaper versions of Windows to fit within the budgets of low-end PC hardware products, products that are rapidly eating into the already cheap end of conventional PCs. Those low-powered devices also offer an opening for Linux and likely Android, Google's "value-added Linux" platform that pairs the free underlying OS with a free Java VM-like development layer and Google's free (and Windows-free) apps.
While Apple may eventually be impacted by ultra-cheap PCs and netbooks, it has resisted hardware price erosion successfully for years by deliberately competing in higher end markets of its choosing. The day Apple begins selling netbooks that rival the features of its own MacBooks is the day Apple will be in Microsoft's current position. Which is why the company isn't at all interested in doing that.
Did Microsoft kill Android at Mobile World Congress 2009
Getting Around Without Microsoft.

Essentially, Apple is competing against Microsoft's gas tax subsidized freeway by deploying a parallel network of company-supplied electric cars that run on a toll road. Users pay directly for access to the road instead of paying for fuel. Apple doesn't attempt to directly compete against Microsoft's model (that's too hard), but instead offers a model that successfully appeals to the higher-end segments of the PC market. Meanwhile, Linux and Android offer drivers the use of free bicycles they can ride without a highway and without paying for fuel.
Both alternatives are draining away Microsoft's fuel-buying customers, and will eventually make the PC market small enough so that Microsoft won't be able to maintain its freeway system. The more it crumbles, the more users will be attracted to driving Apple's electric cars on the company's well maintained competing highway (Mac OS X), or alternatively, picking up a free bicycle (Linux) and riding to their destination instead of trying to drive on Microsoft's increasingly potholed freeway.
Microsoft hastened this migration by building a brand new freeway that users refused to drive on: Vista. It's now trying to address the problems that made Vista unattractive with Windows 7. Neither effort will stem the tide of drivers flowing to alternatives offered by Apple or Linux, and users who have opted out of that tax system won't be in a hurry to return. Additionally, the cost of Microsoft's fuel is now being forced so low that the company's fuel taxes are becoming conspicuously apparent.
The only way to make up for this is to lower taxes (reducing its ability to maintain its crumbling freeways) or to impose tolls on its freeway on top of slightly lower gas taxes (by expecting users to pay additionally fees to upgrade to a more expensive Edition of Windows Vista/7). That didn't work in the 90s for Microsoft's hapless OS competitors, it didn't work for Vista, and it won't work with Windows 7.
The government game was fun while it lasted though, wasn't it Mr. Ballmer?
Did you like this article? Let me know. Comment here, in the Forum, or email me with your ideas.

Like reading RoughlyDrafted? I'd write more if you'd share articles with your friends, link from your blog, and submit my articles to Digg, Reddit, or Slashdot where more people will see them. Consider making a small donation supporting this site. Thanks!