The Case of the Top Secret, Missing Windows Mobile Phone
February 21st, 2009


Daniel Eran Dilger
Stories of a top secret Windows Mobile phone being stolen have started making the rounds, suggesting that Microsoft is worried that its latest technology contained on the phone might be appropriated by its competitors, particularly Google's Android and Apple's iPhone. Is it a case of incompetence, marketing, or inventive journalism?
.
Secure remote wipe?

To be sure, Windows Mobile has its flaws. But the reason why so many Windows-centric IT shops, including the White House, have invested so much money into the mobile platform that the rest of the world is abandoning is its promise of air tight security … from the company that invented security with all the tightness of air.
When compared to the iPhone at its original unveiling, Microsoft representatives bragged that Windows Mobile phones had the inside track on secure management, allowing administrators to remotely wipe phones that might contain sensitive information (except for any data that might be on memory cards, where most data would actually be).
That makes it curiously puzzling that a development model containing Microsoft's latest software, managed by the company itself, could possibly involve any threat of revealing its secrets. If Microsoft can't manage its own phones, how can shops paying Microsoft to deliver a secure platform expect to not lose their own corporate data when phones end up missing?
Of course, Windows Mobile's secure remote wipe is no longer a competitive advantage over the iPhone, given that Microsoft licensed that feature to Apple for use in iPhone 2.0, without the limitation on memory card wiping. Any enterprise-managed iPhone can be securely remote wiped.
Gartner approves iPhone for limited enterprise use
Secret features revealed?

Given the failure of the Windows Mobile phone to live up to its security hype, what top secret features might industrial spies obtain? Microsoft didn't have much to show off at Mobile World Congress in Windows Mobile 6.5 apart from a new honeycomb app launcher and a less brain damaged version of Pocket Internet Explorer. The rest was just marketing fluff: a promotional deal with LG to not talk about Android, and an official expression of intent to eventually launch a software store and cloud services just like Apple's.
Commenting on a Slashdot thread discussing the theft, user Cornelius the Great wrote, "This is pretty much non-news. WM 6.5 beta has been leaked in various iterations and some of the guys at xda-developers have already cooked these into roms for several devices.
"I've even flashed it onto my HTC Touch Pro just to see what it's like. Guess what, (surprise!) it's slower and even more bloated than WM 6.1. It didn't last for more than a couple hours before I got fed up and rolled it back. Honestly, 6.5 didn't add anything useful to 6.1. Just a honey-comb UI that looks crappier/more jerky than TouchFlo/Manilla or Spb Mobile shell.
"I don't really think MS has to worry about trade secrets about its 'new and improved' mobile OS being leaked to Apple, RIM, or Google. The only benefit a competitor would gain is a quick laugh."
Slashdot | Microsoft Secret Prototype Phone Stolen
Embarrassment or pride?

A report on Telegraph.co.uk stated that Microsoft "fears that leaks regarding the features and early bugs in the software could mar the launch of Windows Mobile 6.5 which the company hopes will give it the edge over the iPhone and the new Google Android operating system. The new product includes support for touch-screen technology similar to that found on the Apple iPhone."
Of course, the first problem is that Windows Mobile 6.5 doesn't really have touch support 'similar to the iPhone,' but instead supports stylus-oriented resistive screens rather than finger-savvy capacitance sensing technology used on the iPhone. That results in users needing to press methodically and deliberately on the screen, an entirely different experience compared to the iPhone. Resistance-stylus screens are required to keep alive the fantasy of Bill Gates' future of Tablet PCs, where everyone walks around writing on electronic pads with big screens using a fake pen.
Never mind that that approach has failed to take off for twenty years now, pioneered by GRiD, developed graphically by Apple in the Newton, briefly sold successfully by Palm before it moved into smartphones with mini keypads, and replicated by a series of Windows CE devices that never went anywhere. Stylus touch screens are another videophone, something everyone anticipates for the future despite a long history of deliberate rejection in the market.
Windows Mobile 6.5 shows clever burst of originality. Haha no
Newton Lessons for Apple's New Platform
The Egregious Incompetence of Palm
The Spectacular Failure of WinCE and Windows Mobile
Pay no attention to the OS behind the curtain

Without having anything really new to expose, apart from an apparent "global opt out" program on its remote wipe feature, is the missing Windows Mobile 6.5 phone only a threat in that it might expose how little progress Microsoft has made in its efforts to catch up to the iPhone?
How could that be the case when it is common knowledge that Windows Mobile 6.5 is only a placeholder for the version that was "really" supposed to take on the iPhone: Windows Mobile 7. Recall that it was originally supposed to come out by early 2009, just two years and change after Apple unveiled the iPhone. Microsoft not only couldn't get that together on time, but couldn't even fake a vaporware version that could be convincing enough to parade out at MWC.
Or more likely, as Windows Mobile 7 slipped further into a Longhorn-style cattle drive to an unforeseen destination around 2010 or later, Microsoft realized that blowing its feature load in early 2009 would simply leave the company's advocates fantasy-free as Apple trampled the company's future roadmap with its predictable series of iPhone updates executed with the same brutal regularity as Mac OS X.
Microsoft's Zune, Vista, and Windows Mobile 7 Strategy vs the iPhone
Microsoft plans "Skymarket" apps store for Windows Mobile 7 in 2009
If you like Copland, you'll love Gershwin!

It was back in December of 2007, a year after the iPhone was first shown, that Microsoft publicly outlined in Copland-esque vagaries what Windows Mobile 7 ("zooming, scaling and a new suite of Win Mobile apps, including Internet Explorer, email, SMS and photo/music management, […] 'there's talk about doing some sort of collaboration with the Zune team, but that's still up in the air.'") and Windows Mobile 8 ("This is the version you've been waiting for, implementing a completely redesigned user interface, 'revolutionary' features like global search, and new concepts such as automation and connections within the phone, ideas borrowed from other smartphone operating systems. This means that you'll be able to go from viewing a person's address info in his contact card to seeing where he lives in map view in one click [just like the iPhone].") were envisioned to offer. Essentially, they would catch up to iPhone 1.0.
A year later in September 2008, several months after Apple deployed iPhone 2.0, Microsoft was assuring the faithful that, while Windows Mobile 7 had again been delayed, this time from early 2009 to late 2009, there would be a minor release in the interim while the company spell checked the names of its own products, like "Internet Exlorer" (below).
With iPhone 3.0 now on the horizon, that interim release of Windows Mobile is now expected toward the end of 2009, and Microsoft isn't even talking about 7 and 8 any more. Not to worry! "Customers don't have to sit back and wait," Microsoft product manager Scott Rockfeld said in one report. "There's tons of stuff coming from us and our partners."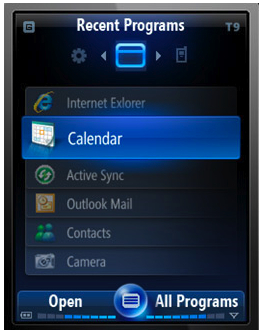 Microsoft outlines what's coming in Windows Mobile 7, 8
Windows Mobile 7 release delayed
Vista II: This Time It's Mobile

Not wishing to relive the Windows Vista debacle in the mobile world, a market where Microsoft doesn't even have a monopoly to leverage, the company has clearly opted to keep its Windows Mobile 7 plans as tightly under wraps as possible and throw out a meaningless distraction in the form of Windows Mobile 6.5 in the interim.
In other words, Windows Mobile 6.5 is a stalling placeholder along the lines of Windows Me, designed to serve as the lightning rod for marketing hype until the company can manage to push out the next Windows XP for its mobile platform. The problem, of course, is that Microsoft doesn't have the time to throw away another year or two.
As much as the company would like to think of the iPhone as another Macintosh that it can slowly overwhelm using its corporate presence, the fact is that the iPhone has already moved decisively into corporate use and has also firmly entrenched itself in the minds of consumers as 'the smartphone to have,' particularly in the US, the only region where Windows Mobile ever had any real presence.
Microsoft should have figured out by now that Apple isn't the same company it 'black widow-partnered' with in the early 80s. Today's Apple is a consumer company with retail outlets, not a high-end print and multimedia niche solutions provider. That's why Apple trounced Microsoft with the iPod; Microsoft was simply far outside of its element with the Zune. Similarly, Windows Mobile doesn't solve unique problems for corporate users that the iPhone doesn't; instead the reverse is true.
Windows 95 and Vista: Why 2007 Won't Be Like 1995
Windows Vista, 7, and Singularity: The New Copland, Gershwin, Taligent
Separated at Birth: the Apple and Microsoft Story

If Microsoft's Windows Mobile division weren't part of Microsoft, it would be a frail underdog not unlike the Apple of the late 90s. While Microsoft was large enough back then to where it didn't face much threat in pushing out Windows Me as a weak placeholder in advance of XP, Apple's parallel efforts, to coast on its re-warmed versions of System 7 (shipped as Mac OS 8 and 9) in advance of its ability to launch Mac OS X, were the best the company could hope to do given its circumstances.
Apple gambled it all and ended up with a struggling win, but Mac OS X only really hit the mainstream in 2002 and it took until 2005 before Microsoft began taking it serious as a competitor. It's taken another three years for Apple to really leverage Mac OS X's strengths to create major new growth in desktop Macs, as well as to use its OS software to deliver the iPhone, iPod touch, and Apple TV. And some of Apple's success can be attributed to slack competition from Microsoft related to its inability to push out Vista over that same half decade.
Microsoft doesn't have a decade to plug away at Windows Mobile. Unlike Apple ten years ago, Microsoft faces intense competition, not from a bungling monopolist asleep at the wheel, but from Apple, Android, Symbian, RIM, Linux, and now even Palm. When faced with real competition from peers on equal standing, Microsoft does not have a great track record. Each of Microsoft's competitors in the mobile space have key and striking advantages to wield as weapons against it: Apple has consumers; Android has cost advantages; Symbian has entrenched, mature business worldwide; RIM has an edge in enterprise messaging; and Palm has something new and flashy to show.
SCO, Linux, and Microsoft in the History of OS: 2000s
Zune II: Phone Edition

Of course the reality is that Microsoft doesn't have too many options. It has no Windows Mobile 7 to ship. Like Apple in 2007, the company has chosen priorities for this year, and in Microsoft's case it has needed to focus on shipping Windows 7 to put out the Vista fires. Two years ago, Apple had the luxury of delaying Leopard for several months to finish the iPhone, because Tiger was doing well enough, Mac sales were booming after the Intel transition, and the iPhone offered the company more sizzle.
For Microsoft, Windows Mobile 7 does not offer much hope. By the end of 2009, the company will have similar market share in the smartphone market as it once claimed with the Zune among hard drive MP3 players. No new software release is going to bump "Windows Phone" sales back up into the air after another year of iPhone advancement and the onslaught of every other smartphone maker working claim a portion of the smartphone pie.
And once the few remaining advocates of Windows Mobile discover that the interim placeholder release of Windows Mobile 6.5 isn't even compatible with their existing phones from 2008 (just as Windows Mobile 5 killed backward compatibility with earlier devices), who will be waiting for Windows Mobile 7?
Did you like this article? Let me know. Comment here, in the Forum, or email me with your ideas.

Like reading RoughlyDrafted? I'd write more if you'd share articles with your friends, link from your blog, and submit my articles to Digg, Reddit, or Slashdot where more people will see them. Consider making a small donation supporting this site. Thanks!