Did Microsoft kill Android at Mobile World Congress 2009?
February 18th, 2009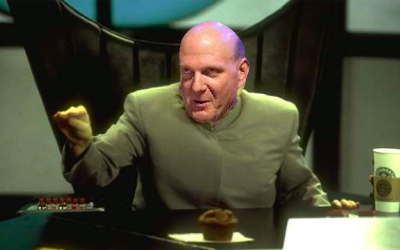 Daniel Eran Dilger

Despite racking up a big list of top-tier phone set manufacturers in its Android Open Handset Alliance, Google's mobile operating system was nearly non-existant among OHA members' announcements at the GSMA Mobile World Congress. Is Microsoft to blame?
.
Android is clearly a threat to Microsoft's plans for Windows Mobile. After all, how does one sell an aging mobile operating system lacking the multitouch sizzle of the iPhone and the addictive messaging savvy of the BlackBerry in a world where Google is butting in with a free, open source alternative that allows manufactures to freely customize it as they like?
Microsoft's Linux torpedos

Microsoft has regularly worked hard to kill other Linux-based competitors. Microsoft has long used its OEM licensing leverage to force PC makers to exclusively advertise that they "recommend Windows XP," relegating Linux on the PC desktop to special order models that are never promoted in competition to Windows. Microsoft also funded SCO as it stirred up legal problems for Linux, effectively funneling its own DR-DOS infringement settlement into funding a war on Linux.
SCO, Linux, and Microsoft in the History of OS: 2000s

When Linux made an appearance on the One Laptop Per Child XO-1 for emerging markets, Microsoft jumped into action to ensure that models were packed with enough RAM to run Windows XP and worked to push Linux into a secondary optional install. When Asus began shipping Linux on its new netbooks, Microsoft similarly raced to put pressure on Asus to backpedal on Linux in favor of Windows XP.
After Nigeria set up an order for Linux-based Classmate machines, the Wall Street Journal reported that "Microsoft proposed paying $400,000 last year under a joint-marketing agreement to a government contractor it was trying to persuade to replace Linux with Windows on thousands of school laptops."
Microsoft Battles Low-Cost Rival for Africa – WSJ.com
Microsoft has also issued broad, unspecified patent threats against Linux designed to kill interest among any developers who might lack the resources to survive a patent war with the company. Had Microsoft been only interested in protecting its intellectual property, it would have clearly cited infringements so the community could fix them. Microsoft wanted to simply silence Linux as a competitive threat.
Microsoft's Unwinnable War on Linux and Open Source
Why Microsoft hates Linux

In 2001, Steve Ballmer referred to Linux as a "cancer," specifically citing its open source license as the most troubling part. Software that allows manufacturers to customize it themselves anyway they choose is more threatening to Microsoft than software offered for free.
That's because Microsoft's power comes from its software licensing deals which force manufacturers to use its software in very specific ways and prevents them from freely adding their own modifications. Microsoft pressures its licensees to include its own software components and stops them from making deals with competitors, a strategy it has used to push Internet Explorer, Windows Media Player, and Live Search when competing alternatives were both more mature and more popular.
The proprietary control Microsoft exerts over its Windows PC licensees has allowed the company to increasingly bind them tighter with new Microsoft offerings, raising competitive barriers so high that the company can now freely raise prices and drop features as it did when rolling out Windows Vista in a series of artificially-limited editions designed to squeeze more revenue from the maturing PC market. Their only available alternative was to beg for the privilege to continue to sell Windows XP.
Android and the Smoking Gun

Nobody expects Microsoft to encourage hardware makers to use Google's Android over its own Windows Mobile. However, one might expect that OHA members who are already committed to Android would actually express some support for the operating system more than a year after joining the group.
Samsung says its Android plans are not delayed, but that the company "never planned to show an Android phone at MWC," according to PC Mag article citing spokesperson Kim Titus, who also added, "we're on track to launch [Android phones] later this year as expected." So Samsung, unlike every other vendor at the show, can't show phones it plans to release later this year, at least none that have Android on them.
Samsung: Android Phones Aren't Delayed
HTC, the first company to ship an Android phone and a vocal proponent of the free operating system, could only talk up Windows Mobile 6.5 at MWC. It showed off two Windows Mobile phones, the Touch Diamond2 and Touch Pro2. When asked about Android, a report by mocoNews in the Washington Post said that company president Peter Chou told reporters, "Google Android is part of our product portfolio" and that new phones "were coming out in the future."
The report also stated, "For now, however, they 'remain focused' on Windows, and especially Windows Mobile 6.5, which Microsoft is unveiling at the conference." Is that because Windows Mobile 6.5 is ready now and Android isn't? Well no, Android is shipping now and Windows Mobile 6.5 won't ship till the end of the year.
It's because HTC's fortunes currently ride entirely upon its relationship with Microsoft. The new Android-running Magic, built by HTC, had to be released exclusively by Vodafone, the day after HTC promoted its new Windows Mobile 6.5 phones with Microsoft.
MWC: HTC Says Android Handsets "Coming In the Future"
MWC: Vodafone to Offer Google Android on HTC Magic
LG, another founding OHA member, also has Android phones planned for launch this summer but none were at MWC. Instead, LG was also prominently plugging Windows Mobile 6.5, which won't be out until much later. Is there any possibility that LG simply decided on its own to stay quiet about Android at MWC? No, money was involved.
Microsoft announced an "enhanced partnership with LG," with a Washington Post report stating that "Microsoft said it will also be working closer with LG, a company it had agreed to a partnership with in advance. LG is committing to developing 50 new Windows Mobile phones by the end of 2012 and both companies, Microsoft and LG, are committing to increasing their investment in Windows Mobile by five-fold."
MWC: Microsoft Unveils Windows Mobile 6.5
Motorola, the other founding OHA member, had nothing to show apart from a $7000 diamond-encrusted gimmick designed externally and only sporting the company's logo. How much longer Motorola will stick around in the mobile business is uncertain, but Microsoft apparently sees no value in spending money on a dead horse who has nothing to say about Android anyway. Motorola also continues to offer some tepid Windows Mobile offerings, but has nothing new to show.
Why are Android's OHA partners unable to say anything about Android at the place to talk about the future of mobile phones? And why are HTC and LG, which have the most to gain from adopting a free operating system, all touting Windows Mobile instead?
The Windows Mobile Bug.
Perhaps they've been bitten with Microsoft's Nigerian Bribe Bug. Once infected, companies have to exclusively chat up Windows, just like all the generic PC Makers who are deeply indebted to Microsoft's "We Recommend Windows" co-marketing money.
In the mobile arena however, it turns out that companies who have been infected with Windows Mobile usually shake it off within a year. Last year, Samsung introduced the Omnia running Windows Mobile. This year, Samsung announced the OmniaHD, a new model that ditches Windows Mobile for Symbian.
Similarly, Sony Ericsson showed off its high-end new XPERIA X1 running Windows Mobile 6.1 at last year's WMC, giving Microsoft a prominent new Windows Mobile partner to tout. That phone took most of 2008 to ship, but this year, Sony Ericsson showed of a whole new flagship model, code-named Idou. Like Samsung, the fancy new phone runs Symbian, not Windows Mobile. A couple months ago, Sony Ericsson also joined the Android OHA. Partnering up with Microsoft was apparently not worth any amount of co-promotion money.
Palm discovered the same thing after dumping its own Palm OS for Windows Mobile in 2006, although it took Palm three years of deathly fevers before the company could put together then funding and talent to introduce the Pre's webOS as its own strategy for the future.
Raising the flag.

With Microsoft losing major smartphone partners faster than it can replace them, how can if afford to throw marketing money around in an effort to kill off Android talk at MWC? It apparently can't afford not to.
Without paying off LG and putting the gag on HTC's excitement about Android, Microsoft wouldn't have had anyone to flog its new Windows Mobile release, which isn't due until the end of the year.
Without that flag waving distraction, someone in the tech media might have also noticed the fact that the top three Windows Mobile vendors are scrambling away from the platform as quickly as possible, rather than just reprinting Microsoft PR that suggests Windows Mobile is back and ready to take on the iPhone, despite being neither. When Windows Mobile 6.5 does show up, it will be competing against the second or third update to iPhone 3.0, as well as Android and Symbian, both sporting nearly another year of improvements.
The Death of Windows Mobile.

Microsoft's desperate measures to kill Android at WMC likely won't have much lasting impact as LG and HTC compare the option of paying Microsoft for Windows Mobile in comparison to using Android or Symbian as they like, for free.
The company's marketing efforts to rebrand Windows Mobile phones as "Windows Phones" is also unlikely to do much to turn things around, although it calls to mind Apple's Get a Mac ad where PC is counting out money for advertising versus "fixing Vista."
It also calls to mind previous renaming stunts that didn't do anything to solve the actual problems in the products themselves, from its QuickTime competitor (Video for Windows, ActiveMovie, ChromEffects, DirectMovie, Advanced Streaming Format) to its iPod competitor (Media2Go, Portable Media Center, PlaysForSure, Zune) to its Mac OS X competitor (XP, Vista, Windows 7).
The problem with Windows Mobile isn't that it lacks a catchy name or a layer of cheesy UI frosting (Sony Ericsson and others have already tried to solve that problem themselves), but that it's a really terrible platform. It has a weak foundation in Windows CE and gross technical deficiencies that run up from its feeble graphics architecture through its brain-dead, archaic Win32 APIs and its horribly designed desktop windowing system shoehorned into a mobile screen.
The only thing Windows Mobile is good for is distracting IT shops already tied to Windows from discovering a functional mobile web platform that could be saving them time and money.
That's not going to keep Microsoft alive in the consumer market, where users expect things to work, not just give a flashy demo or keep them busy browsing through TechNet. And that's why Microsoft's mobile efforts are dying in a far more lethal sense than its temporary blows to keep Android out of the spotlight.
Windows Mobile 6.5 shows clever burst of originality. Haha no.
Did you like this article? Let me know. Comment here, in the Forum, or email me with your ideas.

Like reading RoughlyDrafted? I'd write more if you'd share articles with your friends, link from your blog, and submit my articles to Digg, Reddit, or Slashdot where more people will see them. Consider making a small donation supporting this site. Thanks!