Windows Mobile 6.5 shows clever burst of originality. Haha no.
February 17th, 2009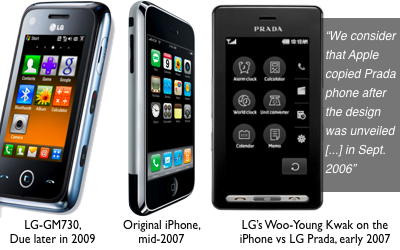 Daniel Eran Dilger
To everyone who took Microsoft at its word that it would catch up to the original iPhone's multitouch user interface within just three years, the demonstration of Windows Mobile 6.5 is breath of fresh air, or at least another desperate gasp for oxygen before being submerged in development for another six to nine months.
.
To begin with, Microsoft has redesigned its lock screen to double as an inscrutable mystery game along the lines of the Myst franchise (below). Unlock the code, and you can check your voice mail or place your call!
I wonder if Rob Enderle will fantasize about bizarre rape scenarios involving a panicked woman struggling to make a call for help with her Windows Mobile 6 phone and not being able to figure this out, as he did in trying to demonize the iPhone.
With an iPhone involved, Enderle's fantasy woman was doomed "because she didn't remember her iPhone password," ignoring the conspicuous "Emergency Call" button on the iPhone's passcode entry screen. Windows Mobile 6.5 presents a series of icons that look like a really hard Mensa idea association quiz. It seems to beg for more than just a password. Perhaps Microsoft can add a rape whistle to the hardware specification for Windows Mobile phones as a special gift to its prized consultant at the Enderle Group.
Why Dan Frommer and Scott Moritz Are Wrong on iPhone Sales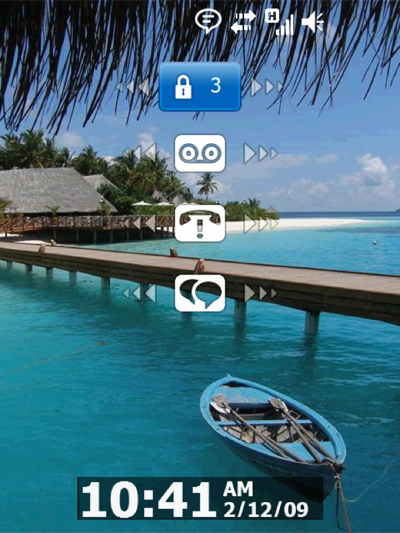 Assuming you can eventually arrive at the main Start screen, you'll find Microsoft improved upon the iPhone's grid of 20 icons by presenting a honeycomb of nine. This automatically makes it easier to hit the buttons, because they are bigger: Homer Simpson dialing wand bigger.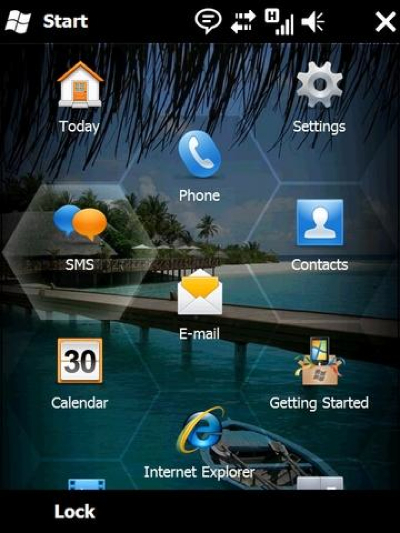 There's also no chance of becoming confused with a finger swipe action that presents additional pages of icons, allowing users to be potentially inundated with 148 potential targets as they might be on the iPhone. Of course, there's also not 148 apps for Windows Mobile that anyone would want to buy.
Remember the $450 of top Windows Mobile software that either solved problems that shouldn't exist, or should have been included, as it is on the iPhone?
Microsoft's SkyMarket equivalent to the iPhone App Store isn't around yet anyway. And it won't be before Apple sells well more than its first billion iPhone apps. And yes, that's a B, as in the total number of Windows PCs estimated to be in use worldwide.
Microsoft plans "Skymarket" apps store for Windows Mobile 7 in 2009
The Sincerest Form of Flattery

Microsoft also seems to be hoping to court Mac users, or at least make them feel at home by directly ripping off Apple's Mac OS X icons (again). In its months of gestation within Microsoft, the Mac OS X home icon swiped wholesale for use in the Windows Mobile 6.5 beta (below top) has been edited down to where it now looks subtly different (above, no chimney!).
The Task Manager, a kluge required in Windows Mobile to kill crashed processes and manage background apps that are stealing all available RAM, also lifts Mac OS X's Activity Monitor icon (below bottom, thanks to Patrick Tassos for the image).
Perhaps it's just a case of Microsoft employing Mac users to develop its graphics, as the company acknowledged when it was caught creating its anti-Apple ads on Macs because Windows software wasn't up to the task.
Microsoft's 'I'm a PC' Ads Created On Macs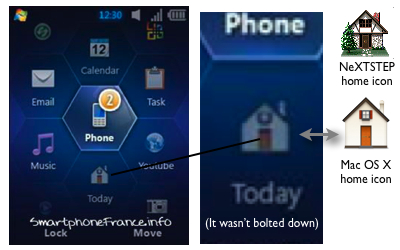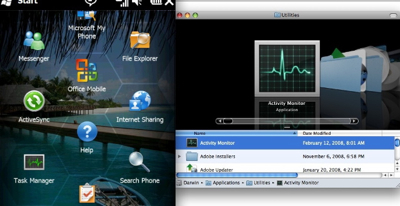 Copy Protected.

There's still a number of things missing in Windows Mobile 6.5 in comparison to the iPhone that debuted two years ago. Those feature omissions are due to the patents Apple filed to keep Microsoft from firing the rest of its internal research and development staff and simply photocopying the iPhone interface wholesale, as it did to the original Macintosh in the early 90s after it weaseled its way around Apple's weaker copyright protections.
For example, users won't be able to touch and hold icons to move them around as they squiggle underneath; instead they have lame text popups (below). There won't be a four conductor, iPhone/MacBook-style audio jack for headset-headphones with an integrated remote control packaged with any new Windows Mobile phones either. Apple patented that, too.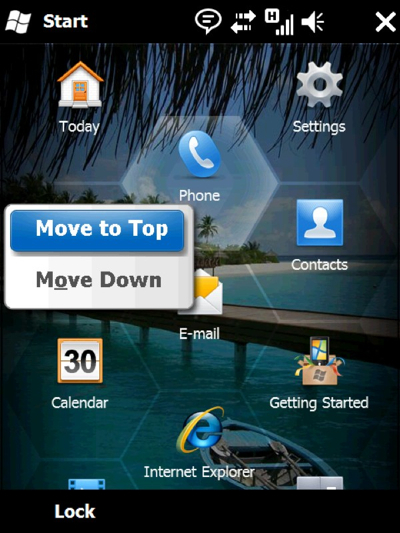 There won't even be an approximation of iPhone multitouch navigation, so no double tap to zoom into the web and no automatic heuristics to determine if you intended to scroll up and down or around the web page you're navigating. This will strictly be a "touch" device in the most plain-jane, unsophisticated sense possible.
The iPhone Multitouch Patent Myth
It's not just user interaction that will be poor. Windows CE lacks the sophisticated Quartz Core Graphics compositing layer Apple uses in both Mac OS X and on the iPhone. Vista has something like Quartz now (more than a half decade after Apple first debuted Mac OS X), but that product struggles to run on full sized PCs.
Windows Mobile will be stuck with the same basic 2D graphics of Windows XP, firmly rooted in the technology of the 90s. It also lacks anything like Apple's Core Animation (originally developed for the iPhone and released for Mac OS X Leopard as well) for making fluid, animated interfaces easy for developers to build.
Spin pundits to the rescue!

That won't stop Windows-enraptured pundits from attempting to imply that Windows Mobile has caught up to the iPhone, however. Never mind that the creaky Windows CE foundation underneath the clunky facade of Windows Mobile isn't any good, or that many of Microsoft's partners (including Sony Ericsson and LG) will be covering up the official Windows Mobile interface with their own flashy but thin layer of cheesy frosting. In LG's case (below), it's attempting to make its next Windows Mobile 6.5 phone look like iPhone 1.0.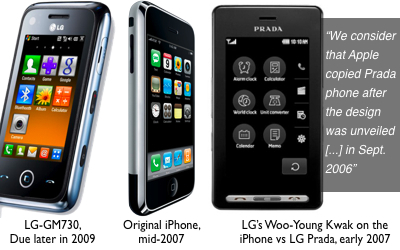 Microsoft will need all the help it can get in flogging its high-cost, low-usability Windows Mobile devices, which despite a years-long head start now only represent a tiny fraction of actual mobile web traffic (PDF). In the US, Windows Mobile trails the iPhone in web traffic share 14% to Apple's 51%, despite the iPhone only being available on one carrier. In Western Europe, Microsoft's platform represents 5% of all web traffic compared to Apple's 52% share. In the UK, it's 4% to 44%.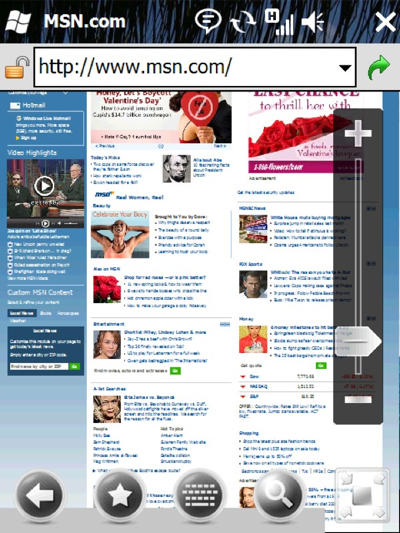 Windows Mobile 6.5 hopes to, later this year, replace the nearly worthless Pocket Internet Explorer with a browser than can actually render web pages, but it's a bit late to that game. Nokia, Google's Android, Palm's new Pre, and the BlackBerry Storm are all on board with WebKit-based browsers that already work. Who will pay to license Microsoft's lagging mobile operating system with so many more advanced, free alternatives available?
That's a good question for Steve Ballmer, who at the release of the iPhone scoffed that Apple could only hope to get a couple percentage points of the smartphone market, while his company had its sights on 80% market share domination in licensing contracts with OEMs.
Since then, Android began offering once loyal Microsoft licensees like HTC a free alternative to paying for Windows Mobile; Palm has reversed its Windows Mobile strategy (which initially doubled Microsoft's market share in the US at the expense of its Palm OS) to set out on its own with the Pre's new webOS; and Nokia has put together plans to release Symbian for free as open source.
That leaves Microsoft stuck with proponents like Sony Ericsson and Motorola, both of whom might likely jettison the smartphone market this year because they can't compete. It also means that in a tough economy, Microsoft has no viable product offering in the still growing smartphone market but is instead tied to the dying, low-end desktop PC market, which is being eaten alive by Vista-phobic netbooks.
Netbooks killing off sickly Windows PC sales
Did Microsoft kill Android at Mobile World Congress 2009?
Did you like this article? Let me know. Comment here, in the Forum, or email me with your ideas.

Like reading RoughlyDrafted? I'd write more if you'd share articles with your friends, link from your blog, and submit my articles to Digg, Reddit, or Slashdot where more people will see them. Consider making a small donation supporting this site. Thanks!