The iPhone Multitouch Patent Myth
February 13th, 2009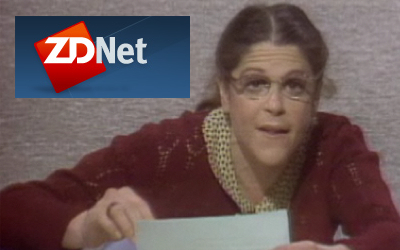 Daniel Eran Dilger

According to a wide range of frothy mouthed pundits, Apple has announced patented ownership of "multitouch," and will now destroy the future we deserve by forcing all competitors to stop using a basic concept that was already in wide use long before Apple ever demonstrated the iPhone. They're wrong, here's why.
.
Emily Litella Journalism.

In large part, the brouhaha over Apple's multitouch patent is a simple matter of ignorance combined with lazyness on the part of blogger-journalists who, like Gilda Radner's Emily Litella, weigh in on subjects with their opinion when they really have no idea what they're talking about and don't bother to to do a basic sanity check of their facts before rattling off their gut feelings on what they think is the issue at hand.
Back in the 70s, this made for entertaining Saturday Night Live sketches. Today, it's the new standard of blogger-journalism, where big media conglomerates give real life idiots a prominent platform to spew their ignorance from, and uninformed knee jerk tools respond to these unedited, uninformed rants as if they were worthy of any attention.
Back when we only had a few channels and news came out daily written on paper, we had editors with journalistic integrity who looked over what their writers said in order to prevent their publication from being shamed out of business. Today, with web traffic earning impressions per eyeball, there's no shame in printing profoundly uninformed conjecture or even straight up lies, because it can supposedly be corrected at some point in the future, doubling the potential for inadvertent audience ad clicks. Perhaps the solution is to slap "beta!" on masthead of these outfits.
Teen reported Steve Jobs' fake heart attack
Zune vs. iPhone: Five Phases of Media Coverage
The Multitouch Patent.

Anyone who has ever glanced over a patent filing knows that one can't simply patent a word like multitouch. Patent filings require making specific claims that define an invention and describe why it is new and useful in some original way that hasn't been done before.
And yet sites like ZDNet are still filing Emily Litella opinions on the "multitouch patent," including a recent rambling diatribe by Jason Perlow, a "technologist" with "with over two decades of experience integrating large heterogeneous multi-vendor computing environments in Fortune 500 companies." How does being a PC installer since the late 80s qualify a person to speak about intellectual property? Clearly, in Perlow's case, it doesn't.
Perlow came up with, of all things, the Microsoft Surface as prior art (he consulted Wikipedia, as does apparently everyone else gushing with an uninformed opinion on the matter). The problem here is that Apple didn't patent the idea of putting two fingers on a table. Apple can't patent how users interact with a product; it can only patent specific technologies it develops.
In this case, Apple has patented specific claims regarding how it implements touch screen behaviors to deliver a significantly improved user interface. The name of the patent gives that away: "Touch screen device, method, and graphical user interface for determining commands by applying heuristics." It's specifically claiming a unique method of determining how the user's fingers hit the screen in order to decide whether to scroll only up and down, or to scroll around in any direction. This enables the iPhone's Safari browser, for example, to intelligently lock into scrolling up and down on a column of text when it appears that the user is intending to only scroll up and down, but to allow the user to freely scroll all over the page when they begin by touching the screen in a different way.
It's so smart and intuitive, few users will even notice that Apple has developed special software just to figure out what they want to do and do it for them. Now that Apple has released the iPhone with all these smart behaviors, it's far easier to copy its behaviors than to develop a smartphone that works just as intelligently, just as Microsoft copied many of the nearly imperceptible smart behaviors that made the original Macintosh innovative and original over previous graphical interfaces such as those developed at Xerox PARC before it.
Perlow's clever by half rant jumped to the conclusion that Apple was just patenting the idea of "putting one's hand on a screen and doing something with it" because he was too lazy to bother actually looking at the patent to understand what was involved. That made it easy to associate the iPhone with Microsoft's bathtub Surface, which is only related to the iPhone by buzzword.
Yikes link: Google: Go tell Apple to shove it. | Tech Broiler | ZDNet.com
United States Patent: 7479949
Scratching the Surface of Microsoft's New Table PC
Office Wars 3 – How Microsoft Got Its Office Monopoly
The Patent Game.

There are clearly patents that are granted that are not innovative. Apple has a significant full time legal team devoted to shooting down frivolous patent attacks against the company. Few would argue that the current patent system doesn't need any reform.
However, without patents, Apple would be in the position it was back in the late 80s, when its work was ripped off by its closest software partner after it failed to patent original inventions that cost the company millions of dollars to develop. Back then, Apple patented hardware inventions but didn't consider it necessary to patent other intellectual property because the company didn't anticipate that other companies could simply clone its work and get away with it.
The company also thought that its software was protected by copyright, as the courts had seemed to rule in an earlier case where Franklin had flat out stolen the Apple II ROM software to make clone hardware. Apple won against Franklin, but it later turned out that the courts didn't agree about copyright protection for all intellectual property in the digital world. It also turned out that Apple had granted Microsoft a weakly worded license to various Mac inventions, which had muddied the situation further.
As that case slowly ground through the courts, everyone in the industry became aware that contention over original ideas needed some more efficient method for resolving things than the pre-computer era court system. Documenting original ideas in excruciating detail (with enough leeway to prevent close duplicates) became the basic solution. Using corporate attorneys to deliberate over the legalese and negotiate deals came along as part of the package. On both sides of every patent dispute, there are parties that want to either assign incredible value to specific wordings or to invalidate them as worthless.
In many cases, patent disputes involve two companies with overlapping patent portfolios, involving a complex matrix of negotiations. Both Microsoft and Apple, for example, have patented all manner of aspects of the computing desktop, requiring amicable patent pooling agreements to prevent the two from ending up in gridlock. In order to negotiate the most favorable outcome however, companies avoid intentionally violating another's patents and giving the owner the upper hand in negotiations.
Why Apple's Tim Cook Did Not Threaten Palm Pre
The iPhone's Patents.

That also means that Apple's iPhone patents are valuable, even when (or perhaps, especially when) dealing with other companies in the smartphone industry. Other smartphone makers will have it in their best interests to avoid violating any patents that seem to be unique and potentially enforceable. The iPhone has a lot of these, and that will ensure that the product Apple developed won't be cloned to the same degree that Microsoft copied the Macintosh.
That's outrageous to the simple end of the pundit pool, which sees no value in invention and innovation, and has long celebrated Microsoft's rise on the back of other companies it had ripped off. To them, the only value-add in electronics is making specifications bigger and price tags cheaper. They have no appreciation for good design or intuitive behavior.
They claimed to be content with DOS and called the Mac a toy until their PC looked the same, at which point they decided they liked the GUI. They claimed the iPod was ridiculously priced until Microsoft came out with a close-as-it-dared version, at which point they celebrated paying the same amount for something nearly as good without an Apple logo. And they remained contemptuous of the iPhone until another company copied enough of it to allow them to relax and decide that an intuitive interface that didn't look like a shrunken PC desktop was perhaps something they might want.
However, now that they've found out that Apple has patented many of the smarter aspects of the iPhone, they're enraged and, in Perlow's case, demand that Apple be punished for seeking to protect its innovative developments. Others have suggested that Apple's patents should be invalidated on a technicality for not citing prior art developed by Wayne Westerman.
Never mind that Westerman has worked at Apple ever since the company hired him away from Fingerworks (which itself was under attack by patent trolls), and is actually cited as an co-inventor on that same iPhone patent. Why is PC-centric punditry such a bunch of Neanderthal knuckleheads?
SCO, Linux, and Microsoft in the History of OS: 1980s
SCO, Linux, and Microsoft in the History of OS: 1990s
If PCs were cars

No other industry seems so devoid of appreciation for creativity, aesthetics, and smart design. How is it that auto magazines praise vehicles' bodywork styling, clever instrumentation, and sporty handling on the same level as (or even greater than) the engine's displacement and the size of the rims? How is it that expensive cars can be spoken of as being worth the premium when they actually are, rather than being demonized for being any amount more than the cheapest vehicle available?
My theory: the auto industry has plenty of knowledgeable people that actually care about cars who are available to write about them intelligently, while in the tech industry, anyone who has half a brain can apply their talents at actually working in a tech company, leaving only unqualified blow hards to take positions writing about stuff they really don't appreciate or understand, people who have accomplished so little in the last twenty years that they have to refer to themselves as a "technologist."
Imagine opening up Car and Driver and finding some writer blowing off the new BMW and instead bragging up loud ugly knock-off he had imported from China because it was 10% cheaper and had two tailpipes with blue neon underneath. Who cares if it lasts half as long and the airbags might deploy viruses and advertising instead of saving your life in a crash?
Did you like this article? Let me know. Comment here, in the Forum, or email me with your ideas.

Like reading RoughlyDrafted? I'd write more if you'd share articles with your friends, link from your blog, and submit my articles to Digg, Reddit, or Slashdot where more people will see them. Consider making a small donation supporting this site. Thanks!