How Apple TV can score at the big 3.0
February 5th, 2009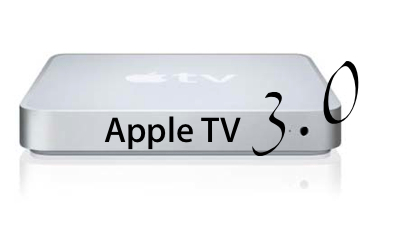 Daniel Eran Dilger
Steve Jobs' Apple TV hobby, the box that brings iTunes content into the living room, is getting ready for its third revision. What will the company do to leverage the recent spurt of interest in the device and boost sales even further? Here's what the company will and won't do to push Apple TV.
Apple moves iTunes into the living room.
Apple TV uncharacteristically debuted months before Apple was ready to ship it. That teaser introduction in the fall of 2006 served two goals. First, it indicated that Apple had a strategy for pushing iTunes' digital media content into the living room, and wouldn't simply be blind-sided by efforts announced by rivals, including Amazon's UnBox (since renamed to Amazon Video on Demand) and Microsoft's Xbox.
Secondly, the early introduction of Apple TV (at the time referred to under the code name iTV) allowed the company to distract the tech media into a frenzy of chat over the new device while it scrambled to introduce an even bigger story: the iPhone.
Apple TV ended up quietly floating out between the colossal legs of the iPhone at Macworld 2007, and then served as a product Apple could sell while the iPhone was readied for sale, keeping the company perpetually in the headlines as it expertly oscillated attention between the two.
The Apple iTMS vs Amazon Unbox Rivalry Myth
It's a Mac, not an iPod.

In 2006, the iPod appeared to be eclipsing Apple's Mac lineup as being the new focus for the company. That led analysts, including yours truly, to think that Apple TV would be a glorified iPod dedicated to playing content to a TV rather than to its own built-in screen, and that the rumored iPhone would be a fancy iPod with phone features.
Instead, Apple surprised everyone by revealing that the iPhone was actually running a mobile version of Mac OS X running on the ARM processor, news shocking enough for Slashdot to famously insist that Apple was lying and that it couldn't possibly be true. It was then discovered that Apple TV was also a stripped down Mac running on a low power Intel CPU. Rather than building the simple iPod into a more sophisticated line of devices, Apple was adapting its desktop Mac platform to serve both the mobile and home video markets.
By the end of the year, Apple's flagship iPod touch would make it clear that the company wasn't abandoning the Mac, but rather embracing its core technology portfolio to deliver a new family of products that would each share lots of technology. Apple TV was effectively a Mac scaled down to do little more than play music, videos, and photos.
How Apple's iTV Media Strategy Works
iTV: the Killer App for Wireless N
Apple TV, Take Two.

From the start, Apple described the home video market as a challenge, and called its initial entry in the race a hobby. Analysts ignored this appeal to cut the device some slack, and instead set monumental sales targets for it in its first year. As a consumer device, Apple TV apparently just hit the million unit per year barrier of failure (based on pessimistic forecasts of analysts; Apple didn't reveal actual sales figures).
Apart from a TV ad that implied that Apple TV was essential to anyone with a Mac and an iPod, Apple didn't do much to promote the new device. That changed at its one year anniversary, where the company released Take Two, a new software release that gave the box the ability to access the iTunes Store directly to download or rent movies, buy music and music videos, and listen to or watch podcasts. The update also supplied built-in support for 5.1 Dolby Digital audio, delivered with HD video content from iTunes.
Jobs began calling Apple TV a "DVD player for the Internet," and the company subsequently released an update that allowed the system to play YouTube videos just like the iPhone, and also access Flickr photos and .Mac (now MobileMe) photos and video galleries. Those updates juiced sales of Apple TV, with the company reporting a three fold increase in sales during the fourth quarter compared to the previous year.
Apple TV sales up threefold, will see continued investment
Third times the charm.
On the cusp of Apple TV's third update, what will Apple do to cultivate that growth? Analysts have voiced a lot of terrible ideas that would actually dismantle or saddlebag Apple TV, converting it from a fun hobby into a burdensome money pit failure. Here's some of their worse ideas:
– Add a DVR, perhaps by buying up TiVo. The only thing worse than jumping into a dead market long after the lights have been turned out is buying out the leading failure in the market in order to do so. Not only are there no real signs of life in the DVR market (it's the PDA of the living room), but trying to convert Apple TV into a DVR would be like converting a motorcycle into a pickup: pointless, absurd, and an evidence of strategic failure.
Apple TV exists to sell iTunes content. Unlike the company's other products, which use software to sell hardware, Apple TV is loss leader hardware that supports Apple's iTunes software and services. The company isn't trying to distribute boxes as a public service, it's trying to draw attention to iTunes, Macs, iPods, iPhones, and other devices as an ecosystem.
Converting it into an entirely different product by adding TV tuners to make it capable of recording live TV would not only do the opposite by distracting attention away from iTunes as a content source, but would also make it twice as expensive (and therefore half as attractive) and make Apple dependent upon cable TV providers. DVRs pan for gold in the stream of broadcasted programming. If you want to return to the 90s, that's a great product strategy because cable was the only option for programming back then. Apple wants to sell next generation digital download content in its store. No DVR required for that.
However, the biggest problem Apple would face in selling a DVR is that it would have to court the favor of cable and satellite providers to even get its hypothetical DVR-box installed, or directly compete against the cheap subscription boxes they already provide their users. That's why TiVo is losing millions. It can't sell its boxes in competition with provider's own, and it struggles to remain relevant even as a parter with various providers. It's a loser's game, which Apple wisely chooses not to play.
Apple's iTV & The Case of the Missing DVR
Should Apple TV Copy Tivo and Media Center?
– Add an optical disk, perhaps Blu-Ray. Talk about snatching defeat from the jaws of victory: Apple has been pushing digital downloads as an alternative to the DVD for years now, with pretty decent success. The entire industry's push behind Blu-Ray had taken the format nearly nowhere, with consumers unimpressed by the slight bump in quality over DVD and irritated by the new format's DRM restrictions and higher prices. Should Apple trade its early lead in order to bailout Sony, the company that managed to merge two wildly successful franchises, the DVD and the PlayStation 2, into a struggling successor?
Adding an optical drive would bump up the cost significantly, and adding a BR disc would elevate the device into an entirely new price category. In addition to the extra hardware costs (and remember that Apple is selling this thing as a loss leader to support iTunes, not as an exercise in distributing the company's resources to support the strategies of its competitors), adding the ability to actually play DVDs or BR discs would incur additional licensing costs.
That's why Nintendo's Wii, which uses a DVD mechanism for its games, can't actually play DVD movies. Adding that ability would have bumped up the company's costs and raised the price of the Wii, when the device was designed to play games, not movies. While Nintendo makes money on the licensed Wii games, it wouldn't make anything were users to play DVD movies on the Wii. Anyone with an Apple TV already has at least one DVD-playing computer. Why not allow that to stream DVDs to the Apple TV for TV playback? Because the DVD licensing terms don't allow it. Sorry, blame the DVD cartel for that problem.
Why Low Def is the New HD
Origins of the Blu-ray vs HD-DVD War
Apple TV Digital Disruption at Work: iTunes Takes 91% of Video Distribution Market
Lessons from the Death of HD-DVD
– Add an HDTV screen. This one takes the cake for ridiculous. Recall when everyone and their dog demanded Apple take the display off of the iMac and sell it "headless?" Those same experts now think the way to expand the allure of Apple TV would be to bundle it into an HDTV so that rather than selling a cheap box that works with any HDTV a user has, it would require truck delivery and be tied to whatever screen sizes Apple decided it could stock in its small retail stores. Mind blowing.
The only way a partnership with HDTV makers might work is if Apple got them to bundle the Apple TV with sales, or license the components so they can integrate the box into their sets. The problem there is that many TV makers already face tough competition without adding a couple hundred dollars of extra parts to their displays.
RoughlyDrafted: Beyond Luxo Jr.
More sensible directions for Apple TV 3.0.

Apart from those top three ideas for wrapping an albatross and a millstone around the neck of Apple TV, there are a variety of smart things Apple could add to their box to make it far more valuable.
– Add iTunes radio features. Where are music visualization and Internet radio playback? Plug Apple TV into your speakers and have streaming radio with graphics. But wait, isn't that just as bad as promoting cable with a DVR or adding Blu-Ray? Well, while Internet radio does potentially compete for attention with iTunes music sales, it doesn't profit any of Apple's competitors. Add a way to identify and purchase songs being played back, and you have a way to use radio to promote iTunes sales while also making Apple TV more desirable.
– More alternative content. While Internet radio is fairly popular (albeit under assault from Big Music with oppressive licensing deals), the other big free content source is podcasting. That market is well supported by Apple TV, although it could use some interface refinement. It's fairly easy to find, subscribe, and play both audio and video podcasts on Apple TV.
So now add the ability to play iTunes U content and make it really easy, easy enough to promote the device as a virtual visit to a wide selection of universities. In addition to podcasting, make it easy for broadcasters to stream video feeds to Apple TV users as an alternative to watching podcasts, similar to Internet radio. Apple already sells QuickTime Broadcaster and Streaming Server, now it just needs to make it easy for users to pump their video out to an Apple TV audience.
– Add an iTunes Store, and an SDK for interactive content. The other obvious thing missing from Apple TV is a way for third parties to build modules that run on the device. The box is nothing close to being a conventional game console in terms of video or processing capacity, but there are lots of things it can do which third parties could provide for a nominal iPhone-like fee or for free. Apple could make it an ideal box for playing Keynote presentations, installed alongside a video projector in a conference room, for starters.
Third parties could write HDTV mini-games that let users interact using an iPhone or iPod touch, perhaps even multiplayer titles that borrow some of the casual family and party gaming allure of the Wii. Sure it's not going to play Call of Duty, but how about multiplayer Scrabble, electronic versions of other board and card games, along with the other titles that developers can think up?
Make it easy to download little $5 games and app, and Apple TV will explode with the same software interest as the iPhone, perhaps with lots of crossover titles, such as iPhone games that interact in special ways when they discover an Apple TV. Enormous potential for fun and revenue.
With an SDK, third parties could offer their own DVR systems via USB. This would satisfy the niche market without requiring Apple's resources to support things. Apple could also partner with third parties to offer their products in an online HDTV store, next to Apple TV apps and other iTunes content.
– Additional support for user created content. There's already support for viewing MobileMe galleries, so how about a custom client for also accessing me.com email, contacts, and calendar on the big screen, navigated by the iPhone's keyboard? And how about a tie-in to iWork.com, so users can pull up posted documents and comment on them? Or collaborative writing tools so that multiple people can write or draw on a shared HDTV blackboard, either using iPhones or a Bluetooth keyboard or trackpad (which would only require support for a USB Bluetooth dongle)?
Apple TV would make a great core system for digital signage and interactive kiosks, particularly when paired with a USB touch screen. Make it easy to create automated motion graphics and sell the device as a way to turn a standard HDTV into an animated window display, campus information system, or other navigation device. At home, turn the TV into a visualization center for calendar, to do events, posted reminders, streaming news headlines, and so on.
– Consider the controversial. While I'm quick to dismiss DRVs and DVDs as competing distractions, there are a variety of competitive services that Apple might benefit from partnering with, including ad-supported Hulu and subscriber-supported Netflix. Apple doesn't favor either model, sticking to its guns as a pay-per-view digital media store. Making it possible to view third party content with ads or through a subscription would enable Apple to accommodate the fringes of demand in addition to pursuing an iTunes-centric model itself.
Adding provisional support for those services would make Apple TV more attractive, while also enabling Apple to recommend its own products. For example, it could offer to sell ad-free content at higher quality to Hulu watchers, or non-skipping, modern titles to users sifting through Netflix's Instant Viewing catalog. Apple could also make a deal with Netflix to get subscription affiliate income from users who sign up with its service from Apple TV.
By making Apple TV the preferred way to stream any content to the living room TV, Apple would directly benefit from having a wider audience to offer its iTunes content and MobleMe services.
Review: Netflix Player vs Apple TV
Five Ways Apple Will Change TV: 5
Five Ways Steve Jobs Can Turn On Apple TV Sales
– Hardware advances? Does Apple TV need a hardware update? It's survived two years on the market without one, apart from a simple hard drive capacity boost. The device's hardware is fast enough to do what it it was intended to do, which is to play back iTunes content. It was designed with future capabilities in mind. HD playback, digital surround sound, and DRM support to pacify the studios was all included from the start, even though all three weren't unlocked immediately as the software struggled to catch up to the hardware.
In many ways, Apple TV is more like a games console than a computer, and was similarly designed to last for a long time on the market rather then being immediately obsolesced by a faster unit. Rumors suggest Apple may be eyeing a move to NVIDIA's Ion platform, which pairs a dual core Intel Atom (low power x86) processor with the company's high performance integrated graphics chip and system controller that first debuted in the MacBooks last year.
Whether that would enable Apple to deliver a similarly equipped box at a lower price, or slightly more capable box at the same price, remains to be seen. It does not appear that Apple TV really needs a hardware boost. The addition of Bluetooth might be nice, if Apple decides to provide support for keyboards and other peripherals, but the USB port can do that on today's model.
What Apple TV really needs is a sharper 3.0 software update that keeps the box on par with advancements in the iPhone and iTunes. And if it can deliver that in the first half of the year, Apple TV will definitely keep pace with the success of Apple's other products rather than boiling dry on the back burner as a neglected hobby.
Apple rumored to adopt NVIDIA's Ion platform
Did you like this article? Let me know. Comment here, in the Forum, or email me with your ideas.

Like reading RoughlyDrafted? I'd write more if you'd share articles with your friends, link from your blog, and submit my articles to Digg, Reddit, or Slashdot where more people will see them. Consider making a small donation supporting this site. Thanks!