Exploring Windows 7 for Mac users
February 2nd, 2009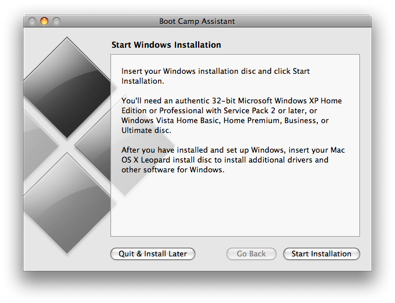 Daniel Eran Dilger

Microsoft is getting ready to relaunch Vista under the new "Windows 7" brand, in the hopes that Windows XP users find it worth the upgrade. Will the new version make sense for Mac users who currently have some need to run Windows?
.
We installed the Windows 7 beta to find out. This article, the first in a series, will look at the features Windows 7 offers to Mac users, and what is involved in moving from XP. This initial segment looks at how Windows in general differs from Mac OS X as a retail product, and how Microsoft plans to learn from its experience with Vista in its launch of Windows 7 later this year.
Mac and PC switchers
Unlike Apple, Microsoft doesn't have to convince Mac users to switch to new hardware in order to run its latest version of Windows. All Intel Macs sold since 2006 can run Windows either in a virtual environment mingled into the Mac OS X desktop (as examined in the previous article, "Installing Windows 7 beta on a Mac with Sun VirtualBox"), or run it natively on their Mac hardware once the system is set up using Apple's Boot Camp tool.
Apple may have an easier time persuading PC users to switch to the Mac than Microsoft faces in trying to get today's Windows users (including those on Macs) to shell out money for Windows 7.
Apple's "Get a Mac" campaign cites loads of reasons Windows PC users would want to upgrade to a Mac, from sleek hardware designs with tightly integrated features, to ease of use, to backward compatibility with Windows and Office, to an escape from the plagues of viruses that regularly attack Windows (as long as you don't actually use your Mac to run Windows, that is).
Microsoft faces a tougher upgrade challenge with Windows 7. It is entirely a software upgrade, so it can't dazzle buyers with sexy industrial design the way Apple's retail stores present the Mac. But the biggest hurdle for Windows 7 may be that 2001's Windows XP works well enough for most people that they don't see any need to upgrade. That may particularly be the case for Mac users with casual needs to run Windows apps.
While the new Windows 7 appears to be an improvement over Vista, the simpler Windows XP still remains faster and less demanding of resources than Windows 7, and it continues to offer fewer compatibility problems. Windows 7 inherits the same architectural changes from Vista that caused many using (including those using Macs) significant upgrade grief with their existing hardware and software.
Mac OS X versus Windows editions at retail
The difference in sales models between Apple and Microsoft also impacts Mac users who may be evaluating the move to Windows 7 on their Mac. Apple is the only major PC vendor to not license Microsoft's operating system, so Mac users who need Windows must buy a retail box version.
Apple doesn't sell its Mac OS X for use with generic PCs from other makers or assembled at home from components. Instead, Apple positions its operating system as a tantalizing reason to buy its custom hardware, using the same model Sun and Cisco use to market their high end servers and network routers, respectively.
Microsoft doesn't sell different versions of PC hardware, so if the company packed in all its features into a single version of Windows, it couldn't get any more money out of premium buyers than it gets from the cheapest of consumers.
To solve that problem, the company began making artificially differentiated versions of Windows, one for low-end Home users and another to sell to Professional business users. With Vista, the company came out with an even greater range of handicapped versions:
Home Basic: lacking the new Vista look, Media Center, DVD authoring, and all the limitations of Home Premium
Home Premium: limited to a single processor, no Directory Services features for accessing corporate networks
Business: limited to two processors, lacking drive encryption and other features in the Enterprise edition
Enterprise: tied to high end corporate accounts
Ultimate and Ultimate Extras: Business and Home Premium features together in the most expensive package, equivalent to Apple's single Mac OS X desktop offering.
Apple doesn't have different versions of Mac OS X, it has different versions of Macs. Apple also doesn't tie its software license to a specific hardware box, nor does it use serial numbers or phone-home authorization as Microsoft does to prevent Windows from being installed promiscuously.
For Apple, Mac OS X sells Macs. For Microsoft, Windows has to sell itself. Apple funds Mac OS X development in part by charging a $129 retail upgrade fee ($110 mail order) with each new major release. New Mac buyers get the new software installed at no additional cost.
Microsoft makes 80% of its Windows revenue through bundling deals with PC makers, where it sells Windows licenses for much less (typically around $30), but in much greater volume. It has no real competitors in the desktop operating system market, so anyone who needs a copy of Windows (including Mac users) is forced to pay whatever Microsoft wants to charge.
For Vista Ultimate, that means $399 retail ($230 mail order), well more than twice the cost of Mac OS X. Since 2007, Microsoft has released one free service pack update to Vista, with a second in the works.
Mac users generally expect to pay for Mac OS X upgrades about every year and a half, and receive far more regular free updates in between. Since 2007, Apple has released three free updates to Tiger and six free updates to Leopard.
That's nine free updates and one paid reference release, compared to one free update and one paid release at twice the price on the Windows side. Both Mac and Windows users can expect to again pay for a major upgrade this year, but it appears the Windows side will again cost twice as much, and take far longer to be updated to the point of solid reliability with its first service pack or two.
Microsoft's much slower release cycle serves to explain why many Windows users are content to stick with XP, which is now quite stable at the release of its third service pack, rather than continually upgrade. On the other hand, Apple's rapid release cycle keeps Mac users accustomed to regular upgrades with features that incrementally build upon past releases, rather than attempting to overshadow them with a monumental new version, as Vista did.
Lessons from Vista
The failure of Vista to sell as well as expected has resulted in some reevaluations of how Microsoft plans to market Windows 7, particularly on the features side. In other respects however, the company is sticking to its guns by carrying forward many strategies related to the Vista launch.
For example, Microsoft originally hoped to ship a stripped down Vista Home Basic on new PCs, pressing users who needed full functionality to upgrade their software to a more premium version directly through Microsoft.
Those plans failed as consumers rejected Vista and its upgrade cycle, and as PC makers recoiled at the thought of shipping neutered software on their PCs that would immediately require a paid upgrade to be functional.
Despite that poor reception, Windows 7 appears set to follow the same marketing plan. The beta being distributed represents the Ultimate version with none of the artificial restrictions that will appear in the final editions. Once the artificially limited versions hit the market, critics will likely have more to complain about.
Rethinking the User Interface
One area where Microsoft appears to be making real policy changes with Windows 7 over Vista relates to its user interface. Competition with XP was one of the biggest problems for Vista, so Microsoft originally attempted to make Vista a flashy upgrade. That strategy didn't work so well, as most PC users just wanted something simple and familiar.
Microsoft doesn't do particularly well when it faces real competition. The lack of competitors in the PC desktop operating system market has historically meant that the company could shoot out pretty much anything and still sell Windows licenses to PC makers.
Sales of PCs bundled with Windows 98, 98 SE, and then ME seemed to be completely immune to the increasingly horrible software Microsoft pushed out in the late 90s. However, after Windows 2000 and then XP launched, Microsoft raised the quality bar fairly high, giving itself a fair amount of competition to sell against.
In the new decade, rather than just issuing incremental updates for customers, the company retrenched to fix some of the more serious security problems in XP. By the time Vista arrived in early 2007, XP was working well enough to question the need to upgrade to something different.
That forced Microsoft's marketing into overdrive to explain to users why they needed to get Vista. Despite those efforts, Vista launched two years ago as if it were a lead balloon. Individuals, businesses, and even PC makers insisted on returning to XP.
Critics who at first were in awe of the new system's Aero looks quickly turned on the software upgrade as they discovered new layers of annoyance and complication in the interface, incompatibilities with existing hardware and applications, performance problems, and a general lack of any compelling reason to upgrade. Vista was not only significantly slower than XP on the same hardware, but also more expensive than XP had been.
Rather than working to "wow" users with more flashy marketing of surface features, Windows 7 actually sets out to tone things down and makes efforts to be more familiar, simple, and intuitive. It also intends to be faster than Vista across the board, from startup to resuming from sleep to overall operations and shutdown speeds.
In the following segments, we'll explore the how Windows 7 sets out to make itself more attractive to potential upgraders and explore how well it seems to have achieved this. In particular, we'll look at how familiar and usable Windows 7 will be to Mac users who currently have a need to boot into Windows XP.
Previous Windows 7 vs. Mac OS X Snow Leopard articles
Windows 7 vs. Mac OS X Snow Leopard: competitive origins
Windows 7 vs. Snow Leopard: Microsoft's comeback plan
Windows 7 vs. Mac OS X Snow Leopard: Apple ups the ante
Did you like this article? Let me know. Comment here, in the Forum, or email me with your ideas.

Like reading RoughlyDrafted? I'd write more if you'd share articles with your friends, link from your blog, and submit my articles to Digg, Reddit, or Slashdot where more people will see them. Consider making a small donation supporting this site. Thanks!