Why Apple's Tim Cook Did Not Threaten Palm Pre
January 23rd, 2009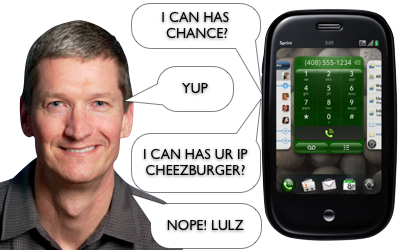 Daniel Eran Dilger

Bloggers jumped on comments from Apple COO Tim Cook to suggest that the company is planning legal action to shut down Palm's webOS Pre phone before the device can even make it to the market. They're wrong, here's why.
.
In order to create an appearance of legitimacy, bloggers contributing to the "Apple will sue Palm to kill off Pre before it can destroy the iPhone!!" meme carefully edited Cook's comments to remove his flat rejection of the idea that Apple has any specific plans to sue Palm. Here's what was really said during the conference call:
Question: "Now a number of competitors coming for iPhone. Their own variance on customer experience, Palm Pre, Android, Windows. How do you think about sustaining your leadership in sector?"
Cook: "I would say, first of all, it's difficult to judge products that are not yet in the market. The iPhone has sold over 17 million units thus far. It's received the highest overall customer satisfaction from many different surveys. And we've said since the beginning software's the key ingredient, and we believe we're still years ahead on software. I would include with software the Applications Store ad you've seen the explosion with half a billion downloads.
"When you think of having multiple variations of displays, of resolutions and input methods, and of hardware, it's a big challenge to a software developer and it's not very enticing to build a different app for every one of these things. But we'll see what people will do. We approached this business as a software platform business, so we've approached it fundamentally different than those who approached it only from a hardware point of view.
"We are confident with where we are competitively. We're watching the landscape, we like competition. As long as they don't rip off our IP, and if they do, we'll go after anybody that does. I thought that might be your next question, so that's why I wanted to get that out."
Question: "Are you referring to Palm when you say ripping off IP?"
Cook: "I'm not talking about any specific company. I'm just making a general statement. We think competition is good, it makes us better. But we will not stand to have our IP ripped off. We will go after them with every weapon at our disposal. I don't think I can be more clear than that."
So what really happened was that Cook was asked how Apple will retain leadership against the eroding, obsolete Windows Mobile; the fledgling, unproven Android; and the vaporware Palm Pre. Cook's answer was that Apple is confident in the software platform-centric strategy it had developed, and thinks it is still years ahead of what other companies are trying to do.
Cook also noted that Apple is confident in its ability to compete, as long as other companies don't simply rip off its intellectual property. It's wasn't Cook who brought up the Palm Pre, it was a purposely leading question invented by a analyst. Rather than reinforcing that idea however, Cook specifically backed away from making any comment on Palm's new demoware.
To announce that Apple "hinted at plans" to sue Palm is simply disingenuous trolling. Even so, a variety of pundits have now started running with this idea as if it were established fact. This is why some bloggers and even web writers related to certain quasi-journalism sort-of-magazine brands are getting so difficult to take seriously anymore.
Suing for Look and Feel

The last time Apple famously sued over "look and feel" to protect its platform, things backfired. Contrary to popular belief, Apple didn't indiscriminately sue everyone who copied the Mac desktop. It ignored the Commodore Amiga, BEOS from Berkeley Systems, and even the Atari ST, which shamelessly cloned the Mac UI in its GEM DOS without even attempting to be original at all.
Those Apple did sue were the companies threatening to lift the entire Mac OS and copy it on IBM PCs, so that IBM's equipment monopoly could be used to trample Apple using the company's own creation. Apple successfully stopped HP's NewWave package as well as DRI's GEM/1 for the PC (the same UI Atari had licensed, but was not sued over). It also sued Microsoft over Windows.
Apple wasn't suing to stop competition, it was suing as a last resort to stop the shameless lifting of its work to benefit IBM's hardware sales, which were already dominant and benefitted from economies of scale that Apple couldn't survive against, were it to be stripped of all the effort it had invested into building a unique product.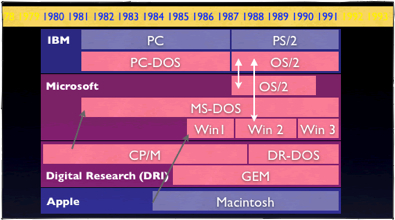 SCO, Linux, and Microsoft in the History of OS: 1980s
Apple's Billion Dollar Patent Bluster
Unintended Consequences

The company failed to win its suit against Microsoft because of a 1985 deal that granted the company unspecified rights to concepts in the Mac OS. Microsoft had pushed Apple to sign the deal in exchange for not canceling Excel for Mac, and not porting Excel to the PC for another two years. That ended up being a very expensive contract for Apple once the two year period of Excel exclusivity expired but the loosely worded free license to Mac intellectual property didn't.
Even worse than losing its suit against Microsoft was the fact that Apple had effectively destroyed all of Microsoft's competition on the PC. By the early 90s (the case wasn't fully over until 1994), Microsoft effectively had no competition outside of its jilted partner IBM and the company's OS/2, which Microsoft had all but destroyed itself.
Microsoft's strongest competitor in terms of technology was Steve Jobs' NeXT, and Apple had sued it into a niche role as well. Apple's IP-lawsuits not only ensured that Microsoft faced no competitive distractions from alternative software, but were also based upon shaky interpretations of copyright, which had never really been applied to software before. The courts effectively determined that software development wouldn't be protected automatically (the same way artwork generally is) unless its originators explicitly patented their ideas.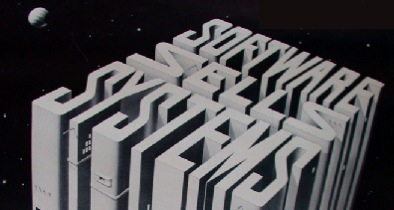 Office Wars 3 – How Microsoft Got Its Office Monopoly
Why OS X is on the iPhone, but not the PC
Patent Pounding

At the time, Microsoft's Bill Gates announced that software makers shouldn't be threatened by intellectual property restrictions. He opposed software patents and copyright law that might prevent Microsoft from pursuing its imitative "copy and paste" style of development, which allowed the company to outsource its research and development to the industry in exchange for nothing.
It didn't take long for Gates to change his mind however. Once Microsoft became the leader in desktop operating systems and office productivity suites, Microsoft began patenting everything, making it impossible for third parties to implement even basic interoperability with Microsoft's file systems, file formats, network protocols, or APIs without facing an avalanche of patent lawsuits.
Microsoft famously threatened open source development with hundreds of patents in its portfolio, suggesting that any companies that might dare to fund or support open source development related to Linux could end up buried in an expensive legal fight with Microsoft's well armed attorneys. Having built his empire upon stolen ideas, Gates now wanted to protect it from any competitive threats that might rival it.
Microsoft's Unwinnable War on Linux and Open Source
Mac Office, $150 Million, and the Story Nobody Covered
iPhone Patents

At the release of the iPhone, Steve Jobs announced that it, too, had filed for hundreds of patents related to its unique features as a warning to other companies hoping to clone the device rather than develop their own independent competitors. At the same time however, every aspect of the iPhone was not patented nor could be.
There was nothing completely new about multitouch in itself, as the technology had already been widely demonstrated. Apple did have key patents protecting its specific implementation of multitouch features and supporting technologies however, as well as aspects of its development frameworks, industrial design features, and other unique inventions proprietary to the company.
When pundits reduce this patent production down to the "multitouch" buzzword and suggest Apple will sue new upstarts out of business before they can enter the game, they're forgetting that Apple has already learned a thing or two about patent lawsuits already. Not just from its own failed efforts to sue companies porting the Mac interface to the PC, but also in the last decade of protecting itself from a flurry of patent trolls who have sued the company over a variety of patented concepts.
Apple has become masterful at negotiating deals with patent owners and disputing illegitimate patent attacks. Many in the industry were ecstatic over the prospect that Creative might be able to sue the iPod out of production using dubious patents, but Apple instead created a partnership with Creative that allowed the company to begin making money as an iPod accessory maker. When lawyers from Burst came after Apple using the huge war chest of patent troll funding they had extorted from Microsoft, Apple invalidated half of their portfolio, threw them a disappointing settlement, and kicked them to the curb. Apple knows how to play the complex patent game.
Pre and the iPhone

Palm's new webOS Pre likely does more for Apple than it does to threaten the company. Palm's new platform has the potential to resurrect Palm as a credible competitor in the smartphone industry. Without it, Palm would simply be another Windows Mobile licensee. But pushing its own new platform, Palm can both jettison its dumpy old Palm OS and reclaim territory it ceded to Microsoft with its Windows Mobile-based Treos, a stupid move which served to rapidly double Microsoft's market share at Palm's expense.
Palm's history of incompetence may be tempered by its biggest partner: Sprint. That provider, America's third largest, is the nation's new Cingular: desperate for a comeback and needy for some positive press. In 2007, Cingular was launched back into credibility by Apple's iPhone, which helped positively rebrand the company as AT&T. Sprint now needs an iPhone of its own, and is eyeing the Pre as just that.
Sprint is currently hemorrhaging customers to other providers, principally Verizon Wireless; if it can get behind the Palm Pre and help market and promote the new phone, it will not only put Palm back on its feet as a viable manufacturer, but will also shove a stick into the eye of Verizon. Both things would help Apple's iPhone and its AT&T partnership, because Verizon is also AT&T's biggest competitor. If Sprint can syphon off some of Verizon's growth, it will help AT&T remain in front.
The Palm Pre isn't really a strong, direct competitor to the iPhone in that it lacks the same media features and high performance apps (including console-style gaming) that distinguish the iPhone. It is a strong competitor to the variety of forgettable phones from LG, Samsung, Motorola, and other makers that Verizon is shipping with Windows Mobile, which like Palm's existing Palm OS and Windows Mobile phones, can't run significant games or provide strong media features either.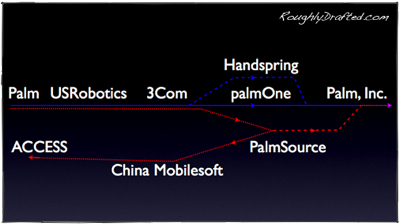 The Egregious Incompetence of Palm
Palm Pre: The Emperor's New Phone
Splitting up the Competition

The Palm Pre also distracts attention from Google's Android, splintering the iPhone haters between two groups: those that like any alternative that might be "more open" than the iPhone, and those that flock to anything that might be "more shiny" than the iPhone. The Palm Pre divides up the Apple-haters in the smartphone market the same way Apple haters in the PC market are split between advocating Linux and advocating Vista. Split your competition, and both halves will begin competing with each other.
By allowing competitive platforms to flourish without legal threats, Apple will be able to contrast its technology against rivals on a level playing field. The company is much more comfortable in that position rather than taking on a single monopolist such as Microsoft, or a coalition of big industry partners such as Symbian or Android.
Symbian and Android are already competing over supremacy in open platforms, while Windows Mobile and RIM duke it out as proprietary alternatives to Apple. Having Palm's webOS Pre join the fray will only take that much more market attention away from existing competitors, while Apple continues to build its position as the leader in mobile apps within iTunes, and the maker of the most famous smartphone on the planet.
Will Windows Mobile Play DOS to Apple's iPhone?
Myth 10: RIM's BlackBerry Will Contain iPhone Expansion
Myth 9: iPhone Unable to Penetrate Europe Due to Symbian Dominance
Will Google's Android Play DOS to Apple's iPhone?
Myth 6: iPhone Developers will Flock to Android
Myth 7: iPhone Buyers will Flock to Android
How Competition helped the iPod

With the iPod, Apple's strongest two adversaries were initially Microsoft's PlaysForSure platform, which leveraged the company's PC monopoly to push Windows Media DRM in places Apple couldn't reach, and Sony, which had the very strong Walkman brand and a reputation for making good hardware. After the iPod started taking off, competition from other companies helped Apple rather than hurting it.
Companies that introduced their own non-Microsoft players (including Sony) helped to marginalize the PlaysForSure platform. Cheap players helped make Sony's gear look overpriced, pulling away buyers. Microsoft's own Zune delivered a lethal stab to PlaysForSure itself, scattering Microsoft's partners and turning them into embittered rivals. Independent companies such as Archos funneled attention away from Apple's competitors, even as the iPod brand itself advanced as the household word for MP3 player.
If the iPod had only faced a solitary platform from Microsoft that everyone in the industry supported, Apple would have had a much harder time competing for attention, just as it had a very hard time getting the Mac recognized in a sea of Windows PCs. That's largely the reason why Windows Enthusiasts hate any competition to Microsoft; they know that the company just doesn't do well when facing real competition. Take away competition, and Microsoft always wins!
Why Microsoft's Zune is Still Failing
Steve Jobs and the iTunes DRM Threat to Microsoft
How Competition helped the Mac

A similar effect is occurring within the desktop PC market, thanks to the increasing mindshare of Linux. As the idea of alternatives to Windows is increasingly accepted, Apple gains from having an additional audience of potential switchers. Many of the company's first adopters to Mac OS X were Linux users who wanted a Unix-like operating system that "just worked" and came with vendor support.
New systems shipping with Linux or other free operating systems further question the need to depend upon Microsoft. A similar principle is at work within desktop software segments as well. OpenOffice suggests the possibility of alternatives to Office, providing auxiliary support for also considering Apple's iWork as an option. Firefox and Opera suggested that Internet Explorer could use some competition, opening the field for Safari.
As s smaller rival seeking to erode Microsoft's domination over the industry, Apple desperately needs active competition from as many parties as possible. Microsoft, in contrast, prefers to have individual rivals it can target and destroy. Back in the late 90s, it could take over the browser space by simply killing Netscape; in today's climate of multiple browser options, that isn't possible any longer. It could kill Sun's Java on the web, but is today struggling against competitive web app platforms, with Silverlight facing both Macromedia's Flash and HTML5 developments from Apple and Google. It could once scuttle SGI, but is now having a hard time keeping ahead of all of the OpenGL partners.
The more fractured the PC, MP3, and smartphone markets are, the better Apple looks as the vendor of simple, integrated solutions with differentiated technologies. In contrast, any competition in any market is viewed as a threat at Microsoft. So while Apple will attempt to stop other companies from stealing its work, it has no interest in removing any specific competitors from the marketplace, particularly Palm's new Pre. Microsoft, on the other hand, would like nothing better than to kill the Pre before it arrives. Will it? The next article takes a look.
Flash Wars: The Many Enemies and Obstacles of Flash
Apple's open secret: SproutCore is Cocoa for the Web
Symbiotic: What Apple Does for Open Source
Did you like this article? Let me know. Comment here, in the Forum, or email me with your ideas.

Like reading RoughlyDrafted? I'd write more if you'd share articles with your friends, link from your blog, and submit my articles to Digg, Reddit, or Slashdot where more people will see them. Consider making a small donation supporting this site. Thanks!