Ten Big Predictions for Apple in 2009
January 16th, 2009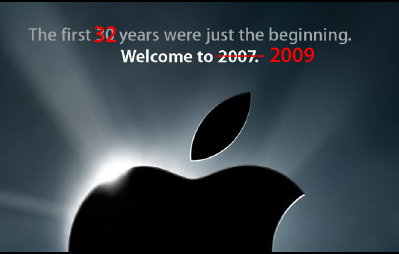 Daniel Eran Dilger

Two years ago, Apple teased Macworld Expo audiences with the line, "the first 30 years were just the beginning. Welcome to 2007." Since then, the company has has regularly embarrassed naysayers by repeatedly reinventing itself and successfully adding major new lines of business, although the market has failed to recognize any net appreciation in the company over that period.
.
Throughout 2006, Apple had aggressively resisted any encroachment into its iPod territory that it had built up over the previous half decade, while it also turned Mac OS X into a credible enough alternative to Windows to woo a new generation of Mac buyers away from Microsoft's faltering PC monopoly. What would the company do for an encore in 2007? Release a mobile Mac in the shape of a cell phone, and immediately redefine and raise the bar for the largest and fastest growing electronic product category in the world: the smartphone.
The following year of iPhone mania was assaulted at regular intervals by mainstream pundits with derision and skepticism, but their myopic outlook was ultimately crushed into the ground by Apple's steamroller juggernaut, leaving an obvious path for competitors to follow, even if none have actually been able to chase the company down over the last two years since the iPhone was unveiled.
What a difference a year makes: 2008.

For 2008, the company had seemingly little left to do. Apple did just the opposite of what pundits expected; rather than roll out a cheap 'nano' feature phone and a Mac branded netbook mini laptop, the company instead enhanced the iPhone and revamped its entire laptop lineup into a high performance, aluminum unibody design that brought it further upscale rather than reducing its notebooks into the level of the wildly hyped, low margin, poorly performing netbook segment.
In addition to hardware, Apple rolled out software technology for the iPhone and iPod touch that enabled developers to add value to the new mobile platform. One of the first apps was Apple's own Remote, which fulfilled the second prediction I levied for the year (the first was an easy one, a mini MacBook: "With a full resolution 13" screen and multitouch trackpad, the unit could even do without a mechanical hard drive and optical drive reader and instead use a Flash RAM based system").
"WiFi goodness" and "bonjour remote ready" ended up features of Remote and (independently) in few third party apps, but Apple hasn't yet turned discoverable, embedded web apps into a serious product strategy yet. Last year I recommended, "Apple could first roll the idea out in software by adding a simple web server listener in Mac OS X with modules to allow third parties to advertise services to iPhone devices and interact and respond with them. That would enable input features such as remotely controlling interfaces such as FrontRow/Apple TV, or alternatively output features such as watching a streaming video new podcast, movie, music video from your iTunes library on the iPhone or similar devices."
Apple's notification server for iPhone software, unveiled at WWDC, was an alternative mechanism to solve a different set of problems, but Apple still hasn't completed that system either; it was intended for delivery back in September.
Third party apps in general did follow the course I predicted. "Once the iPhone SDK arrives, Apple's OS X platform will be inundated with the largest surge in developer interest ever. Imagine something bigger than pairing the Mac market with NeXT technology: visualize the opposite of the Windows Vista yawn."
Apple hasn't followed my suggestions for developing a Wii iTunes channel for selling music to family gamer yet, nor has it done anything public to push Ubiquitous AirPort WiFi. It also has yet to deliver anything like the Xserve mini concept, although the Airport Extreme now has basic file and backup server features. Other branding efforts I pointed to as having potential were either left out in the cold or backed away from; Apple has done little to promote Bonjour, Image Capture, or FireWire.
The other big omission was development of the iPhone's latent, hibernating Bluetooth. No wireless speakers or stereo headphones, nor any third party developer access. If Apple had no interest in developing Bluetooth, it would make sense for it to open it up for other developers to target. Clearly, the company has plans of its own, still deeply up those turtleneck sleeves of Mr. Jobs.
Ten Big Predictions for Apple in 2008
Next for 2009.

So what about this year? The iPhone likely will get cheaper for China and India, probably without WiFi. But it won't be limited otherwise, with the same full resolution screen and the same software SDK. This will dramatically increase Apple's market share and visibility in emerging markets. If you're wondering why this wasn't shown at Macworld, consider the disappointment that would have emanated from its Western audience upon finding that the new hardware was targeted at China. This is something that will only please investors and people on that side of the globe.
Apple needs to release Bonjour discovery for mobile Safari to make the iPhone's web browser more than just a way to read the web. It has the potential to make the iPhone the touch screen display and control pad for literally millions of devices with just a cheap embedded web server, from kitchen appliances to cars to stereo equipment to security systems. Everything will simply advertise itself, initiate a secure connection, authenticate, and then allow for ubiquitous control from a single, pocket sized device with a standard, intelligent human interface.
Additionally, the company appears ready to deliver a mechanism for creating and syncing self contained web apps. I assumed this would appear before Apple released its Cocoa SDK, but the pressure to deliver high performance apps that would differentiate the iPhone (and iPod touch) clearly impacted the company's priorities. Being able to create simple offline web apps that can work on the iPhone even without an active network connection would result in a flurry of HyperCard-like development of simple, useful applets built using HTML and JavaScript, taking advantage of the HTML5 support Apple has built into Safari and WebKit.
Apple's Secret iPhone Application Business Model
What else? IP Telephony. Apple needs to add an analog phone jack to its Airport Express, Extreme, and Time Capsule products that allows users to place internet calls at no extra cost via the phone they already own. The company could also release actual WiFi IP headsets that allow for Internet calls and video conferences between users on a local network. The iPhone and iPod touch also need native (as in Apple-supplied) IP telephony apps, as third party apps lack the ability to seamlessly bridge incoming calls from the cell network over IP. Apple needs to convince AT&T and its other partners that the best way to provide great phone service is to allow users to set up their own WiFi IP telephony at home. This would also help take some of the iPhone burden off of AT&T's cell towers, particularly in places where the company's 3G service is weak or terrible. Market data from AdMob indicates that the iPhone demands up about half of the data traffic on AT&T's network.
Apple has been deafeningly silent on Bluetooth since it upgraded its Macs to the latest 2.0 EDR spec. Why isn't anything happening on the iPhone? Clearly there's a strategy that just hasn't come together enough to be released. Hopefully, this will be the year that Apple squeezes out a functional support for stereo headphones, its own wireless keyboard, and Bluetooth printing, file transfers, and so on. Third parties would be happy to contribute great innovations here, too. The iPhone with a Bluetooth keyboard would be more practical than a netbook, which can't fit in a pocket nor serve as a full performance notebook. It Apple afraid that an iPhone with functional text entry would eat into its notebook sales? It shouldn't be, and the company probably makes as much selling an iPhone as selling a notebook. And, of course, iPhone users need to sync to something.
From iDay in SF: A Finer EDGE and New Bluetooth Info
Apple's got a foot in the water with online apps, but needs to jump in with an Online Apps Store. It's got the MobileMe apps under its belt, and now it has the iWork.com viewer with collaboration features. Add some simple editing features to iWork.com and you have the online office suite everyone has been anticipating will be a big deal, except in Apple's case it will further sales of iWork rather than attempt to replace desktop software with an online equivalent. Things would really get interesting if Apple opened a store selling access to the online apps of third party developers. The company already has the billing infrastructure in place; all it needs to do is set up an expansion of MobileMe that allows users to try and buy online apps usable from any modern browser. They might even work well enough in Internet Explorer.
Of course, anyone can host web apps; Apple is fairly unique in that it can offer a web services store, tied into MobileMe, which syncs data to its mobiles and associated Mac or PC desktops. Apple has already developed a suite of server apps for Leopard Server, which includes its open source CalDAV Calendar Server, soon to be joined by Snow Leopard's Address Book Server, as well as the slick Wiki services that support "click to edit in place" updates. The company needs to coordinate its MobileMe online web apps and services with its server tools, allowing companies to host their own MobileMe-style web apps on one hand, while also hosting its Mac OS X calendar collaboration and wiki services in a business version of MobileMe.
Cocoa for Windows + Flash Killer = SproutCore
Inside MobileMe: Web 3 and Web Client-Server apps
While Snow Leopard Server promises to bring customized wiki themes to the iPhone, Apple hasn't been vocal on when it will support basic task and to do sync. The iPhone needs help in the PIM area. Mac OS X's Mail got to do and event support in Leopard, and MobileMe already syncs todo data between computers. It just needs event and todo sync to mobile devices.
Apple's incrementally improving Mail, iCal, and Address Book could also benefit from either baked in support for Getting Things Done tools, or the provision for software module support in Mail that would enable third parties to add additional functionality. The company seems reluctant to deliver plugin-style APIs to its applications, perhaps in the fear that it will have to maintain those extension APIs and police them for security threats, while being tied down by third party software and unable to either add its own version of the same features in the future without hearing complaints from the community.
Using iPhone: Notes, ToDos, Attached Files, and Mac OS X Leopard
Outside of its free apps bundled with Mac OS X, Apple has already started 2009 off with a software bang in introducing iLife and iWork (and Apple's FileMaker subsidiary also released a new version of its applications as well). Also due this year is a likely update to Aperture, Final Cut Studio, Logic Studio, and the new compositing app intended to replace Shake, code named Phenomenon. And of course Mac OS X Snow Leopard, Snow Leopard Server, and a new iPhone 3.0 update are planned for arrival this year.
WWDC 2008: Future UI Designs in Mac OS X 10.6
Ten Big New Features in Mac OS X Snow Leopard
Is Apple Shedding its Final Cut Pro Apps at NAB?
On the Mac hardware front, 2009 appears to be the year that 64-bit, multi-core, multiple-processor, GPGPU processing erupts all together into a volcano of number crunching potential. Being able to harness and coordinate all those engines is the job of Snow Leopards Grand Central. Together with its 64-bit kernel and OpenCL, Snow Leopard will enable a shift in computing architectures for Apple, allowing the company more flexibility in how it builds and designs systems, from conventional computers to mobile devices to dedicated appliances like Apple TV and Airport Extreme.
Rather than a single hot CPU with a dedicated GPU for running games, Apple's PCs will be able to take advantage of multiple CPU and GPU cores in parallel for all kinds of tasks. Add in Apple's uniquely processor agnostic Mac OS X operating system, which happily runs on both Intel x86 as well as embedded mobile ARM processors, and the potential for all kinds of new silicon designs from its acquisition of PA Semi, and the company's potential over the next five years becomes simply impossible to chart. It will be fun to observe it in motion however, and I'll certainly be working hard to keep up with new developments.
What do you see (or hope) is on the horizon for Apple this year as the company prepares to enter a new decade on sitting comfortably on top of digital media distribution, mobile device sales, software platform development, and poised for dynamic growth in whatever areas it chooses to target?
Road to Mac OS X Snow Leopard: 64-bit to the Kernel
OpenCL and OpenGL take on DirectX
Did you like this article? Let me know. Comment here, in the Forum, or email me with your ideas.

Like reading RoughlyDrafted? Share articles with your friends, link from your blog, and subscribe to my podcast (oh wait, I have to fix that first). It's also cool to submit my articles to Digg, Reddit, or Slashdot where more people will see them. Consider making a small donation supporting this site. Thanks!