Palm Pre: The Emperor's New Phone
January 12th, 2009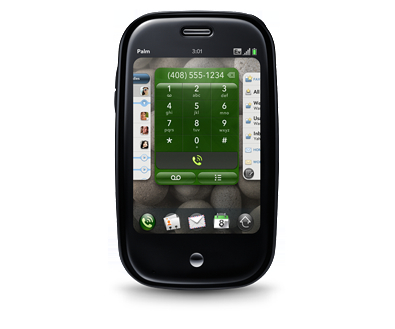 Daniel Eran Dilger
Palm impressed CES attendees this year with the unveiling of a new smartphone OS and prototype hardware called the Palm Pre. Given the low expectations set for the firm, the demos drew applause. But why?
Imagine a company announcing a new smartphone that blew away the current state of the art and ushered in a totally revamped user interface with intuitive touch control. That would merit applause. Now wait two years and duplicate the same demo, with missing functionality and lots of important details still unreleased, including the phone's price. Why should this receive any applause at all, pity?
Palm simply showed up with a copycat iPhone interface two years late. But that isn't the most egregiously lame part of the Pre's introduction. Imagine now a different scenario: a new phone with a radical new approach to UI and mobile software is given an open, web standards-based SDK and developers are invited to write cool new applets for the device. Everyone groans and registers a wintery volley of discontent, complaining that without a native SDK, they'd rather develop for other platforms.
That of course was the iPhone in the fall of 2007, before Apple released its Cocoa-based development tools that allowed developers to write actual apps, not just Widget-like JavaScript applets.
Steve Jobs Ends iPhone SDK Panic
Palm's webOS.

So now Palm scrambles out a demo of a Linux phone running what is essentially a Dashboard layer of browser widgets written in HTML and JavaScript, and CES pundits hail the project as a phenomenal wonderful development, even though the company hasn't released any details on how to actually develop those supposedly wide open apps outside of a small, closed subset of developers.
This is just another gagging example of how the tech media can complain about the downsides of getting Christmas ponies from Apple while marveling at the potential of diamonds from the chunks of coal thrown at them by other tech companies.
At the same time, Palm's supposedly marvelous Pre has been associated with the fact that a handful of Palm's employees once worked at Apple, which they suggest should help make the new Palm device magical. What's up with these schizophrenic sycophants?
Inside the iPhone: Third Party Software
An iPhone SDK? Predictions for WWDC 2007!
How Open will the iPhone Get?
The software
Palm calls its web development framework Mojo. It has revealed enough information to make it clear that this is plainly widget level development. There's nothing really wrong with that; I suggested that Apple's best bet in delivering early apps for the iPhone would be to create a widget sandbox for its web developers so they could run standalone widget-like web apps.
The development community laughed that idea off the table. They demanded nothing short of full access to the Cocoa frameworks Apple itself was using on the iPhone to build its own apps. Apple delivered, creating what has since come to be a blockbuster development program that has attracted massive development resources and resulted in the kind of revenues that are sustaining the development of hundreds of significant new apps from major publishers and indies alike.
Palm is playing a different game, relying on HTML5-style, freestanding web applets that can talk to the device's internal contact, calendar, and location services via JSON messaging. The web browser Palm showed off on the Pre is based on WebKit, and borrows a lot of the UI and behavior from Mobile Safari. It's great Palm has joined Nokia and Google's Android to avail itself of the existing WebKit code that is quickly emerging as the standard for mobile devices, but clearly Palm's browser is not a JavaScript plus HTML applet; it's a native app just like the iPhone's Mobile Safari. In fact, it appears that the Pre's entire public SDK environment is based upon its WebKit browser engine.
The apps

The Pre applets Palm is trying to all but pass off as equivalents to iPhone apps are not real applications at all but just a mobile version of desktop widgets. If you're wondering why Palm didn't trot out EA, Sega and a series of other developers to show their games for the new Pre, suffice it to say they're not going to be building anything approaching the more demanding iPhone apps as HTML widgets for the Pre.
That might not upset Palm's user base, which is used to running fairly simple, single-tasking cell phone software apps for the archaic Palm OS. The move to an widget environment that can run "multiple widgets at once" might be seen as an improvement for Palm OS users who have never been able to run two apps concurrently, but sorry I have to throw up a little at the painfully strained attempt by Palm to present the Pre as more advanced than the fully multitasking, but third party-restricted iPhone OS environment.
The iPhone runs real apps and processes concurrently, it just doesn't allow third parties to install background servers and apps that refuse to shutdown when the user hits the home button. That's not a "missing feature" that can be improved upon with competitive bullet point marketing fluff, it's a purposeful engineering decision Apple made that might someday be answered by the availability of greater resources. Palm's Pre doesn't solve any new problems in multitasking, it just does less while advertising that it does more.
iPhone 2.0 SDK: The No Multitasking Myth
iPhone 2.0 SDK: Video Games to Rival Nintendo DS, Sony PSP
The user base

Legacy Palm users might be entirely happy with basic widget-like applets. It also may be a significant improvement for owners of Windows Mobile-based Palm devices. The biggest problem for Palm is that its installed base has shrunk to the point of embarrassment. It has no excited, loyal group of customers to upgrade.
Imagine if Apple had lost its iPod empire to Sony and other MP3 makers back in 2005. Had that happened, Apple would never have been able to win back dominance in that market. The same story is there for Palm. It might bounce back from relative obscurity to become another Motorola, but it will never win back its one-time position as the dominant maker of smartphones, at least in the US, which it had in the nearly part of the decade. The company voluntarily abdicated that position through sheer incompetence.
Palm is a lot like Apple in some ways. And Apple did rebound from a pathetic Palm-like position in the mid 90s to become a hardware powerhouse today. However, Apple's Mac sales never went away, they just remained static and therefore began to pale in significance with the explosive growth of PCs sold around them. Apple bounced back in part by augmenting its Mac sales with the iPod, and it continues to branch out in new areas, adding to its core businesses while strengthening its Mac position.
Palm has not only suffered from the emergence a wider, more diverse smartphone market like Apple did in the PC market, but has lost all relevance as a proprietary hardware vendor because everybody stopped buying Palm devices. The company has no sales to rescue its future. It has now obsolesced its existing Palm OS and Windows CE platforms, rather than augmenting them with a separate successful product. The last attempt to actually add to its core business was last years' failed Foleo concept.
The Egregious Incompetence of Palm
The hardware

Now take a look at the Pre itself. It's just over twice as thick as the iPhone 3G. If that doesn't have you drooling, perhaps you're not among the smartphone users who value clunky crap built by HTC. Again: the iPhone is .33 inches thick, the Pre is .67 inches. Wow. In weight, the two are about the same however. That means the iPhone feels solid and is well built, while the Pre is the typical HTC smartphone design where large amounts of dead air are engulfed by a cheap plastic fenders.
In part, this kind of construction is there to accommodate the Pre's replaceable battery, which Palm hailed as an implied improvement over the iPhone. It's not. In years of Palm Treo ownership, the only time I ever needed to replace the battery was after yanking it out to kill the thing after it crashed. Apple is progressively proving that the pundits are wrong: replaceable batteries are really a feature only in the mind of people who can't accept new ideas.
The Pre's screen has the same resolution as the iPhone but is slightly smaller. There's a slide out Treo-style chicklet keyboard, but apparently no provision for onscreen input at all. That means, like Android, every time you ever want to enter a character, you'll need to slide the keyboard down and start thumb typing, except your key targets will be far tinier than even the mini-keyboards of phones like the Android-based G1.
There's no stylus, so all existing Palm OS owners considering the Pre will have to forget everything they know and learn how to use an iPhone, without the iPhone's software library, without its media playback, without its industrial design, and so on. Why not just get an iPhone? Is the allure of the Pre solely tied to Sprint's amazing customer service or Palm's long history of competitive software update prowess?
Stick to your knitting

Remember when the tech media fawned over the BlackBerry Storm, assuming that if RIM could build those popular BlackBerry pager devices, it must also be able to deliver an full screen, touch-based iPhone clone that its satisfied pager customers would flock towards to upgrade? The problem was that RIM wasn't very good at building an iPhone clone because its core competencies lay elsewhere, and its current BlackBerry users didn't rush to the Storm because they were BlackBerry owners, not aspiring iPhone users.
Well get ready for the same thing to happen again. Palm makes stylus PDAs with mobile phone features. So now its going to crank out an iPhone clone and suddenly deliver an experience comparable to Apple, despite having no particular experience in digital media sales or media playback, no history in developing a sophisticated operating system, no business acumen in challenging the status quo of the smartphone industry, no proven ability to maintain desktop software, and a developer relations program that has been on life support for years, without any real forward momentum in development technology despite its doodling with Linux, PalmOS enhancements, Windows Mobile tailoring, and even the purchase of BeOS?
Palm has to do something, and the Pre is a nice demo from the company. It isn't anything very novel or pioneering though. It smacks a lot of last year's Microsoft Surface: an attempt to take credit for existing technology in a desperate bid to restore some shine to a battered brand. However, it comes across as a bald man's combover. Who is Palm trying to fool with this nonsense that the Pre is amazing because it accommodates a battery and runs multiple widgets "at once," just not at the same time?
Even worse, more than a few pundits have been duped into gushing accolades over the Pre, as if there's a lot to be impressed about. It's more than a bit early to suggest that Palm has caught up to Apple, since all the Pre is so far is a nice demo. At the same time, there are a few clever innovations on the Pre, including its gesture bar, which replaces the typical, unimaginative, and clumsy joystick navigation common to clunky HTC-style smartphones with a touch sensitive panel outside the screen that responds to swipes in order to go back.
Palm suggests this helps make the Pre more suitable for one-handed operation, but then how does one type on those tiny chicklet keys with one hand? Like the Surface, the Pre demo shows off a lot of things very carefully in a fashion that skips over some important details. What about the serious omissions this phone doesn't handle?
Scratching the Surface of Microsoft's New Table PC
Microsoft Surface: the Fine Clothes of a Naked Empire
Copy and paste
Palm has remixed a few iPhone features to make them different and arguably improved (such as a fancier view of tabs in the browser, or integrated mail and instant messenger inboxes), but it isn't so tough to tweak an existing system that already defined how the standard human interface should work; Microsoft essentially did the same thing when it introduced Windows as 'almost as good as a Mac.'
The difference then was that the Mac of the mid 90s was too expensive, and Microsoft held a monopoly with DOS. In this version, Palm is intending to sell the Pre for more, not less, than the iPhone, and it has no position of market power to force its clone into the mainstream. Good luck with that, Palm.
And the Pre is a shameless clone; Palm has copied the iPhone's design down to even minor details, from oval number badges to many of its icons. This isn't innovation as much as imitation. The iPhone is a good starting place, so there's nothing really wrong with copying the elements it got right. What's really wrong with the Pre is that in areas where Palm has introduced something new, it has created a bland, flat interface that appears minimal but is really just lacking.
Everything on the iPhone is action oriented. It's very easy to know what to do because every screen only offers to do a few things with large, distinctive targets. The Pre's demonstrated user interface tends to overload the screen with layers of icons and fields that are not sharply outlined, but instead all blandly grey so nothing jumps out as actionable, while everything actually is. It's minimal looking, but really just busy in a quietly noisy sort of way. It's the kind of interface where you have to read the entire screen to figure out what to do next.
And now the tricky part

Even if this was an amazing device, how could Palm possibly sell it successfully? Who is going to pay a premium (rumored to be $399) for an iPhone clone that doesn't do much of what the iPhone does?
How is Palm going to find any attention for a new mobile software platform in the shadow of the iPhone when RIM's BlackBerry, Google's Android partners, Nokia's Symbian, and Microsoft's Windows Mobile licensees are already desperately hungry for any remaining market share in the emerging mobile software business that Apple brought to life?
Palm has accomplished step one in defeating Apple: introducing copycat hardware that apes some of the iPhone's features. Considering the waves of similarly ineffectual iPod-killers that washed up dead on Apple's shores over the last 7 years, that's not enough to claim victory.
The real test will come when Palm reveals how well it can execute in copying Apple's business acumen, marketing savvy, customer support, ongoing software development, security refreshes, and industrial design enhancements. In those areas, Palm's track record is worse than the American car makers. Perhaps the company should proactively hit up President Bush for a billion dollar bailout before he leaves office.
Did you like this article? Let me know. Comment here, in the Forum, or email me with your ideas.

Like reading RoughlyDrafted? Share articles with your friends, link from your blog, and subscribe to my podcast (oh wait, I have to fix that first). It's also cool to submit my articles to Digg, Reddit, or Slashdot where more people will see them. Consider making a small donation supporting this site. Thanks!