Macworld 09: Apple blows expectations
January 6th, 2009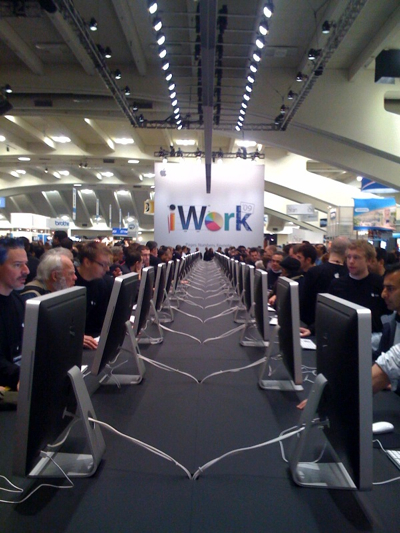 Daniel Eran Dilger
Predictably, there was great disappointment with Macworld Expo 09. But when has there not been, outside of the iPhone announcement (which many pundits tried their best to blow off as too expensive and likely to be immediately copied by more entrenched smartphone competitors)?
Rather than rolling out the expected Mac mini and a new iMac and that wildly improbable Apple tablet UMPC or cheapo netbook that the pundits thought might happen, Apple instead set expectations low by announcing that Phil Schiller rather than Steve Jobs would be presenting the keynote. This show couldn't possibly humiliate CES, unless that show were equally tepid.
Innovation: Apple at Macworld vs Microsoft at CES
CES: Fear and Loathing in Las Vegas
It's All About the Software.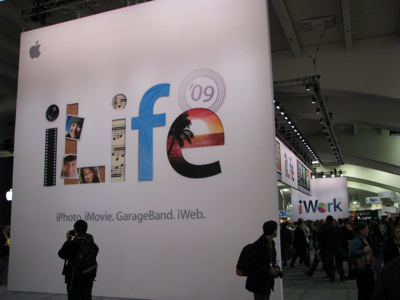 Schiller spent seemingly forever touting the new features of the new iLife and iWork. The web complained even as the keynote was going on: where is the hardware? Never mind that iLife's iPhoto geotagging Places and faces recognition Faces features are pretty cool stuff. Integration with Facebook's identity tagging is also cool.
GarageBand's new Learn to Play is also not just cool, but a wildly new, innovative way to deliver something that's not only a new product category (Apple is now selling music training to consumers) but also a great way to get people interested in both learning and music.
Apple's Office Goes Online.

The new features in Pages, Numbers, and Keynote are also nice, but the really big news is iWork.com, which delivers upon the SproutCore promise first suggested by MobileMe. Apple just assumed the position of Google Docs, tied to a real office suite that is arguably the most significant competitor to Microsoft Office, certainly on the Mac.
Cocoa for Windows + Flash Killer = SproutCore
Apple's open secret: SproutCore is Cocoa for the Web
Apple has taken its productivity apps online, first in a beta program, but will eventually start charging money for it, just like MobileMe. This is big stuff, but it's not hardware so punditry is yawning. What could catch their attention? An impractical gadget like the UMPC that nobody would buy just as the recession is starting?
Mobile EEE PC, UMPC, and Internet Tablets vs the iPhone
Or how about a $300 mini-laptop netbook to compete with both the iPhone and the MacBooks for sales and developer attention? Yeah that would be freaking brilliant.
New Hardware, Or At Least Part of It.

No, instead Apple popped out the 17" unibody MacBook Pro we all knew was coming eventually, except that this high end model delivers a matte screen option for $50 that should draw in those pros who hate the consumer-glossy screens, as well as new battery technology that delivers a huge boost in battery life and in battery life time, so great that the new model sports an Air-like integrated battery that doesn't come out. No replaceable battery on a high end, full size 17" laptop? That's crazy… like a fox.
It's also the smartest hardware product Apple could release right now. It also suggests that the new Mac mini and iMac based on NVIDIA graphics and sporting a Mini DisplayPort will be released in a separate Mac event this spring. Apple didn't even mention Snow Leopard, indicating there's going to be yet another event for that later this year.
No need to overload the Macworld Expo keynote with rich releases; Apple is indicating that the January event doesn't matter too much any more. The company will now release products when it wants rather than the awkwardly positioned January event, right on the tails of December holiday sales.
Why Did Apple Bail On Macworld Expo?
There's much more to be said about iWork.com and the new iLife and iWork (which is already available), so stay tuned.
Did you like this article? Let me know. Comment here, in the Forum, or email me with your ideas.

Like reading RoughlyDrafted? Share articles with your friends, link from your blog, and subscribe to my podcast (oh wait, I have to fix that first). It's also cool to submit my articles to Digg, Reddit, or Slashdot where more people will see them. Consider making a small donation supporting this site. Thanks!