Why Did Apple Bail On Macworld Expo?
December 17th, 2008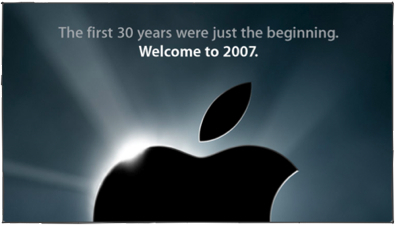 Daniel Eran Dilger
Sometimes it feels odd to have to explain why a company such as Apple, which can generate tremendous waves of publicity by simply sending out "event" post cards as a press release at any point throughout the year, might want to bail out of Macworld Expo, an event it does not control, does not really benefit from, is poorly positioned within the year for new product announcements, and has limped along on life support for years just like every other trade show in the terminally ill industry, even before the economic crisis really hit.
Who exactly could be surprised by Apple's move, apart from the pseudo-journalistic tech punditry circle that has for so long confused the role of reporting events in the tech industry with trying to mold public opinion through its tiresome cacophony of forcefully stated, but poorly thought out opinions?
Revolution 9.

Pundits raced to pull out that broken record they love to play backward, the one that suggests in muffled scratchy tones that Steve Jobs is nearly as dead as Paul McCartney was in 1966. It didn't seem to matter that Apple explicitly told reporters clamoring to write up another story speculating about Jobs' health, that "Phil [Schiller] is giving the keynote because this is Apple's last year in the show, and it doesn't make sense for us to make a major investment in a trade show we will no longer be attending."
While the tech punditry tirelessly try to explain why the iPod must be doomed, why record Mac sales are worrisome due to market share numerology, and how the iPhone phenomenon might be eclipsed by a desperately reanimated Symbian, imitative futureware from Microsoft, beta Android freeware, or even possibly the last gasp out of Palm, the reality is that Apple's competitors are the ones looking increasingly inept and sickly on every front, while Apple is virtually printing money as it expands its retail footprint and rolls out impossibly successful new categories of products.
Microsoft has repeatedly stabbed itself in the face to spite its own monopoly; none of the world's electronics companies have been able to churn out a salable iPod replacement of any commercial relevance; and the mobile phone industry has turned into a series of iPhone me-too attempts. All Apple needs to do is maintain its current heading through the turbulent economic crisis, which is not nearly so difficult for Apple as it will be for the Windows-bound PC cloners and the phone manufacturers who are all only differentiated on price in a market where profits are razor thin and competition is cutthroat.
What Apple doesn't need is an annual dog and pony show, hosted by a third party and held just after the winter holiday, where expectations are raised to astronomical heights that predictably manipulate Apple's stock price in absurd directions no matter what sort of brilliantly futuristic, highly profitable products the company trots out on stage from its black box of R&D.
Microsoft's Zune, Vista, and Windows Mobile 7 Strategy vs the iPhone
Tech Trade Shows Are Dead.

Just like the dead tree trade magazines that organize them, tech trade shows are terminally ill. With the Internet, who needs to travel across the country to browse the wares of software and gadget vendors? The concept of tech trade shows made loads of sense in the infancy of the computing world, when Silicon Valley was abuzz with new things that magazines could only report on after their three month press delay. Today however, organizing regular conventions to look at stuff is less relevant than even the magazines themselves, which are still three months behind the times in a world where the web announces the news every few minutes.
Comdex and E3 packed it up as a public trade show years ago. CES, once held twice a year, is now just once a year. Over the last couple years, CES itself has been a sad shadow of boredom where the PC crowd travels to Las Vegas to invariably end up just watching Steve Jobs' far more interesting Macworld keynote via satellite. The only reason anyone cares at all about Macworld Expo is because it has been the only place to get Apple's state of the company speech.
The problem for Apple is that the company doesn't need to coordinate with IDG's Macworld Expo in order to deliver such a speech. Apple pulled out of the summer Macworld Expo after the company that ran it decided to move it from New York to Boston, against the interests of Apple itself, which wanted the event held closer to its big publishers in the Big Apple. Once Apple untied the knot, the summer Macworld deflated like a loose balloon.
Is Apple Shedding its Final Cut Pro Apps at NAB?
Something in the Air: Anticipating Macworld 2008
WWDC vs Macworld Expo.

In place of the summer Macworld, Apple began advancing WWDC from a small gathering to a significant convention with a public keynote. The company folded in its former QuickTime Live conference earlier this decade and turned WWDC into its own big summer event, which it has the freedom to schedule and organize and secure as it sees fit. Apple also earns money from attendees, which it can reinvest into providing the best sessions possible.
WWDC isn't a trade show. There are a few vendors showing off products, but the event is all about building knowledge for developers and sharing glimpses of Apple's future directions. That event continues to be relevant in the Internet age, particularly as developers new to the Mac and iPhone are drawn together to discuss ideas with Apple's engineers and their peers.
In contrast, Macworld Expo is just an albatross around Apple's neck. As reader Michael Lynch noted, "The timing could hardly be worse for a company highly dependent on consumers and largely selling discretionary items. The first week of January! It's the worst possible time to introduce new items – especially those who replace, update or cannibalize a prior product. The amount of buyers remorse that is generated within recent purchasers by such an act is incredible.
"The flip side is that the annoying repercussion of not introducing exciting new consumer products is a barrage of negative press. This places Apple in a no win situation – which either way causes harm to the brand. Now why would you want that? Well – as a company – Apple didn't. But IDG sets the dates – not Apple. IDG's interests are not really Apple's interests at all."
WWDC 2008: New in Mac OS X Snow Leopard
Thaaat's All Folks.

So why did Apple just now announce 2009 would be its last appearance at IDG's Macworld Expo? For starters, the economic crisis has already lead many major exhibitors to abandon the expensive and minimally effective trade show already. It would be poor form for Apple to announce a pull out just weeks before the event, after attendees had already purchased their tickets. But signaling the end of Macworld's future now shows that the company is making a planned decision, not just reacting to events at the last minute as Adobe and others have.
If Apple announced its departure after the Expo, it would appear as if the company was recognizing its own failure at the venue rather than plotting out an independent course well in advance, one its partners and ecosystem of developers can use in making their own plans. Apple basically decreed that Macworld Expo was finished this year. Without Apple, there is zero reason to hold the show; the same goes for IDG's sister event in Paris.
Freed from a compulsory attendance at IDG's obsolete trade show, Apple will be able to schedule its own events whenever it wants to; anyone who thinks the company will have any problem in showcasing its new gear simply hasn't been paying attention. MacBooks, the iMac, iTunes releases, Snow Leopard plans, and the new iPhone 3G were all released last year without any connection to a trade show keynote.
Apple also now has a constellation of retail stores to reach its customers and new potential buyers. So why are pundits jumping on the death of Apple's Macworld Expo bondage as bad news for the newly liberated company? Perhaps they're worried that they now have one less opportunity to cantankerously announce their great disappointment with the new products Apple releases. Might I suggest CES as a replacement for their contempt? It has always worked for me.
Innovation: Apple at Macworld vs Microsoft at CES
CES: Fear and Loathing in Las Vegas
Did you like this article? Let me know. Comment here, in the Forum, or email me with your ideas.

Like reading RoughlyDrafted? Share articles with your friends, link from your blog, and subscribe to my podcast (oh wait, I have to fix that first). It's also cool to submit my articles to Digg, Reddit, or Slashdot where more people will see them. Consider making a small donation supporting this site. Thanks!