What an Obama Presidency Means for Technology
November 6th, 2008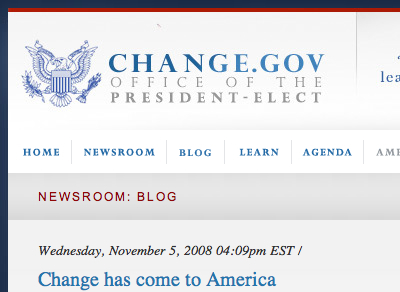 Daniel Eran Dilger
President Elect Barack Obama won't actually take office for several weeks, but he's already given an early glimpse of what he will accomplish in terms of technology. The remaining question is how far he will go to use technology to solve issues under his agenda for the nation.
.
Power From the People.

Obama's office has already set up Change.gov, a new website outlining to the public his agenda, the planned transition process, and suggesting the beginnings of a chief executive blog. It also presents a form for directly submitting ideas, inviting citizens, "tell us your ideas and help us solve the biggest challenges facing our country."
As a candidate, Obama swept past not just John McCain and the incumbent Republican Party, but also the powerful Clinton-led front of the Democratic Party, in both cases using the web to organize support and collect tiny donations from millions of supporters.
While McCain had focused on addressing soft money contributions and in regulating free speech and public funding dollars in the Bipartisan Campaign Reform Act (McCain–Feingold Act) back in 2002, Obama changed how elections of the future will be funded, skirting reliance on big contributors all together and taking his issues directly to people.
Rather than answering to big contributors, Obama now faces a different constituency: the people of the United States. The new president will now face an expectation for the same level of support that individuals have come to expect from companies on the web.
A High Tech Revolution.

While the mainstream media has latched onto Obama's race as the big headline of his victory, the more interesting story of America's first African-American president is that race simply didn't matter in Obama's campaign.
While the Republicans constantly referred to Sarah Palin's gender and repeatedly complained of sexism whenever she was called out for releasing another avalanche of nonsensical idiocy, Obama's campaign made very little of his ethnicity and did not use it as a defense.
His opponents tried to bring up race, such as when they said former US Secretary of State Colin Powell's Republican endorsement of Obama was only made because both men were black. That rabble-rousing was studiously ignored as Obama campaigned on a high tech platform that hovered well above the din of 20th century race-baiting going on below it.
Obama's platform outlined a series of promises to revolutionize government. Rather than demonizing "Washington" and suggesting that government was a bad idea that needed to be drowned in a bathtub, Obama said he wanted to make government work for people and return it to being relevant to their needs and open to their inspection. That marks a sea change from the Bush Administration, which Obama described as "one of the most secretive, closed administrations in American history."
"Our nation's progress has been stifled by a system corrupted by millions of lobbying dollars contributed to political campaigns, the revolving door between government and industry, and privileged access to inside information-all of which have led to policies that favor the few against the public interest," Obama's agenda outlines. The solution presented to this problem: technology.
A Transparent and Connected Democracy.
Obama says his presidency "will use cutting-edge technologies to reverse this dynamic, creating a new level of transparency, accountability and participation for America's citizens."
It won't take very much to radically improve things on that front. Bush's presidency has been marked by such dramatic failure that experts in playing the devil's advocate have already challenged themselves to begin making excuses for his legacy before he even leaves office.
One pundit cited by CNN, Harvard political history scholar Barbara Kellerman, said "I think it's possible when people have stopped being as angry at the Bush administration as they are now … that they will realize that some of this is just … the luck of the draw."
The Unfortunate Executive.

Kellerman said Bush "has been a quite unlucky president. Certain things happened on his watch that most people don't have to deal with — a 9/11, a [Hurricane] Katrina, the financial crisis, being three obvious examples."
Somebody tell Kellerman that Bush's approval ratings were in the doldrums before 9/11, and that his response to that national disaster was to spend the years between 9/11 and Katrina gutting FEMA, the very group that should have been preparing for those kinds of disasters in the future. Instead, he appointed unqualified people to run it, resulting in unnecessary death due to incompetence, not bad luck.
And the financial crisis? That wasn't an unlucky accident either; it was the direct fault of the Bush Administration's deregulation policy in regards to the kinds of financial instruments that Warren Buffett called "financial weapons of mass destruction" back in 2003!
Will Kellerman also make excuses for Bush having to face the consequences of starting a war on the false pretense of WMDs that never existed, while ignoring the real WMDs that were poised to wreck havoc on the national economy when handled without proper oversight?
Historians: Bush presidency 'battered,' 'incompetent,' 'unlucky' – CNN.com
BBC NEWS | Business | Buffett warns on investment 'time bomb'
Sunshine is the Best Disinfectant.

Bush wasn't misunderstood and unlucky, he was simply a terrible president. The larger problem was that Americans weren't aware of how terrible his policies were until it was too late because every decision was, like Winston Churchill's take on Russia, "a riddle wrapped in a mystery inside an enigma."
Bush's administration pushed for war without due diligence in examining the options available by drumming up militant hysteria and calling all critics "unpatriotic." He passed the Patriot Act under the cover of darkness with demanding urgency. Like any dark, dank corner of shadows, the Bush Administration has come to stink to high heaven. Obama's remedy is to open up the American government to expose its inner workings to the sunshine of public examination.
Technology will allow that to happen. Starting in 2006, Obama began work with Republican Senator Tom Coburn to pass the Federal Funding Accountability and Transparency Act, known as "Google for Government," which set up a searchable web site at USASpending.gov to provide the public with access to information on federal grants, contracts, loans, and insurance payments.
Where will Obama Take Tech?

From Obama's first law as a US Senator two years ago addressing web access to government spending, to his high tech campaign harnessing every tech tool from the web to the iPhone, to the current transition website, Obama has exploited technology to spread information effectively. What's next?
Hire a CTO: Obama will appoint the nation's first chief technology officer to manage the use of technology in federal agencies "to ensure that they use best-in-class technologies and share best practices." Rumored for consideration is Sun founder Bill Joy.
John Doerr's Advice for Barack Obama: Hire Bill Joy – Bits Blog – NYTimes.com
Invest in Science: While Bush dictated a policy of religious-based dogma covering matters of science long before ever appointing a science advisor, giving the position little room for actually offering any advice on climate change or stem cell research, Obama has already committed to investing in research and "changing the posture of our federal government from being one of the most anti-science administrations in American history to one that embraces science and technology."
The federal government is about to be snatched from the 13th century and thrown headlong into the present day. That will mark a dramatic new course for everything the government does. Critics worry that investing in the nation will have a perilously high price tag, apparently unaware that Bush's spending on 'faith-based initiatives,' the war, and handouts to Dick Cheney's defense profiteers offer plenty of opportunities for re-prioritization of existing funds.
Begin Intellectual Property Reform: rather than just the usual extension of copyright terms, Obama's staff recognizes the "need to update and reform our copyright and patent systems to promote civic discourse, innovation and investment while ensuring that intellectual property owners are fairly treated." That includes "opening up the patent process to citizen review [to] reduce the uncertainty and wasteful litigation that is currently a significant drag on innovation."
Obama's running mate has been criticized for supporting current policy on copyright, but an exposure of government policy to sources of light outside of the lobbyists currently illuminating the dark caves of Washington is likely to change things dramatically.
Knowing The Unknown.

While Obama has outlined a number of other ways he plans to use technology to further the nation's interests, the biggest factor in applying technology in the new administration relates to Obama's own intelligence and how he carries it. While Bush and even Palin may have the functional intelligence to carry out an agenda, both demonstrated an arrogant overestimation of their own capacity to make decisions and have ignored the advice and counsel of experts.
Obama carries the even temperament and liberal decisiveness of an intellectual, but he has also shown a welcoming interest in surrounding himself with people who have greater experience and knowledge about specific topics. The most intelligent response to dealing with critically important issues is to recognize that one can accomplish more, more effectively by joining together with other highly qualified people than one can when isolated in a faith-bag that is hermetically sealed off from outside expertise.
Rather than castigating the "elite," looking down upon intellectuals as a threat to his preconceived notions about the world, and immediately calling his victory a windfall of political capital he was giddy to spend recklessly in partisan policies, Obama has assembled experts from Warren Buffett, the world's wealthiest, advising him on financial issues to a team of 300 people working on foreign policy.
Obama shows no hesitancy in relying on experts to help him develop policy and solve problems, an outlook clearly evident in his selection of Joe Biden as his running mate. McCain picked an unknown governor with little more than charismatic skin appeal to help him govern.
It nearly seems like a joke to ask what frontiers are left for technology to improve upon the status quo of science-hostile, dark age, anti-intellectualism in today's American government. Where would you start?
Other articles on current events:
What Prop 8 Means to America
Mormons, Fundamentalists, Islamists Back Prop H(8) with Big Bucks
Former FCC Chair Reed Hundt: Issues the next president faces in technology
McCain vs. Obama Presidential Pop Quiz: Socialism
McCain, Palin Push Ashley Todd into Limelight. Oops.
Apple gives $100,000 to fight California gay marriage ban
Terrorist Criminal Links to the Presidential Candidates
Obama-Biden, McCain-Palin: Scandals by the Numbers
Terrorist Criminal Links to the Presidential Candidates
The Big Fannie Mae & Freddie Mac Attack
Osama Bin Laden's Dream of US Economic Collapse
You Know the Drill?
Ten Striking Parallels Between Microsoft and John McCain
Obama's Apple, McCain's Microsoft: the Politics of Tech
Did you like this article? Let me know. Comment here, in the Forum, or email me with your ideas.

Like reading RoughlyDrafted? Share articles with your friends, link from your blog, and subscribe to my podcast (oh wait, I have to fix that first). It's also cool to submit my articles to Digg, Reddit, or Slashdot where more people will see them. Consider making a small donation supporting this site. Thanks!