Three Disruptions in Technology, and How to Benefit
November 3rd, 2008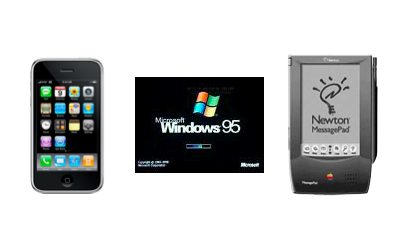 Daniel Eran Dilger
Every once and a while, a new technology platform surfaces that disrupts the status quo, crushing existing business models and reconfiguring how the world works, what new expectations consumers now have, and how investment decisions will be made in the future. Frequently, nobody sees it coming, and those who think they can are often wrong. There are actually three types of disruption, and being able to identify them can set you apart from your competitors.
.
In two weeks, I'll be discussing the subject of disruption in my presentation at Øredev, titled "Surviving Software Platform Disruption." Here's a look at the issues I'll be addressing; I invite your comments on them. The synopsis of the presentation:

"In competitive markets, new technologies that disrupt the status quo can serve as either frightening challenges or incredible opportunities. How developers manage their legacy dependancies and whether they can remain current is deeply impacted by their ability to correctly identify key technology trends and cut through the vapor of marketing hype. Here's a look at disrupting factors on the horizon and how their potential can be harnessed."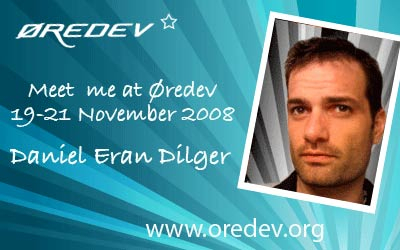 Meet me at Øredev in Malmö, Sweden

This segment looks at three kinds of disruption that occur in technology. The first is:
1: Conventional Disruption.
In hindsight, conventional disruptions are always obvious. Examples include the personal computer of the late 70s; the graphical desktop debuted by the original Macintosh; the rise of Windows as a common platform for PC makers; the emergence of the commercial web; and today, the emergence of the smartphone as a new platform of ubiquitous handheld computing.
We take all of these milestones along the road of computing to be inevitable discoveries because once time passes, the past seems like the only way things could have possibly occurred. At the time however, the dominant leaders of the day often failed to recognize the significance of all of these events, and in many cases, so did the mainstream tech media.
• IBM didn't recognize the home computer market as a possible threat to its minicomputer business machine market for nearly half a decade. Once it did by 1981, it only delivered a placeholder product that was really designed to direct attention upward to the company's existing business machine products.
• When Apple released the Macintosh, IBM, PC cloners, and even the broad PC media failed to grasp its significance. Those who did see the beginning of what all computing systems would one day emulate were often written off as the delusional fans of a toy system.
• When Windows began to gain in market share in 1990, Mac users scoffed at its rough edges and shoddy appearance while commercial UNIX vendors didn't see any market for a crashing, pathetic clone of the Mac running on inferior hardware. Microsoft did however get the backing of the same media sources that had called Apple's system from nearly a decade prior a toy, and leveraged its new platform into a massive new force that would assault both Apple and Unix.
• Microsoft completely failed to anticipate the significance of the new commercial web as an open platform that would rival proprietary API development. Only after Netscape and Sun clearly outlined why the web would be the end of Windows did Bill Gates suddenly recognize the urgency of the situation and hastily retarget the web as a critical platform to dismantle and replace with freeze dried Windows-flavored crystals that smelled like a Java-enabled web without the open interoperability.
• Finally, while everyone sees the smartphone industry as large and growing, the media has clung to the established notion that this market will always be ruled by Nokia and perhaps Microsoft as a pantheon of hundreds of phone models ranging from Flash Lite 'feature phones' and touch-insensitive Windows Mobile Smartphone units to expensive fold-out gadgets loaded with a Swiss Army knife assortment of bells and whistles. At some point, they will discover that's not where the current disruption is streaming capital towards, nor will it be.
1990-1995: The Rise of Windows NT & Fall of OS/2
Why OS X is on the iPhone, but not the PC

2: Dropped Ball Disruption.

While conventional disruption gets discussed a lot, there's a second aspect of technology disruption. It comes, not from the emergence of a disruptive new product or concept, but from the Earth shattering destruction of the status quo caused by a face-planting failure of an existing leader, resulting in fertile ground for innovative competitors to rush in, redraw the playing field and rewrite the rules of the game.
This happened to Apple in the mid to late 80s. It handed away its technology lead to Microsoft (quite literally, when CEO John Sculley volunteered a free license to Mac technology to Gates in exchange for two years of exclusivity of Excel on the Macintosh), and then subsequently ignored the high volume consumer and small business markets while suing Microsoft and its other PC competitors for copyright infringement of the Mac's unique concepts.
That resulted in Apple's own sales imploding while it also polished the petri dish for culturing graphical PC operating systems clean for Microsoft, which itself was vaccinated from Apple's litigation by the poorly worded licensing agreement Sculley had delivered.
Apple's decade-long head start in selling graphical systems shattered and scattered on the ground while Microsoft's third-rate product not only took over Apple's core business, but expanded upward into the UNIX market and downward into cheap PC market inhabited by Commodore and Atari.
The disruption of Windows 95 wasn't created by Microsoft, but instead enabled by the dropped ball disruption of Apple. Similar balls were dropped by IBM with its failed PS/2 hardware and OS/2 software partnership with Microsoft, Sun in disastrously licensing Java to Microsoft; and today, with Microsoft's inept introduction of Windows Vista.
Who could have predicted that Microsoft would fail so thoroughly in deploying Vista that two years after its launch the installed base would be only about twice as big as Mac OS X in the enterprise? Apple's incredible success in selling its systems between 2005-2008 is as much Microsoft's fault as Microsoft's success in selling Windows PCs from 1995-1998 was Apple's fault. The ball is simply now being dropped on the other foot.
Office Wars 3 – How Microsoft Got Its Office Monopoly
Jean-Louis Gassée Returns from Obscurity… to Talk About MobileMe
Report: Mac adoption expanding in the enterprise
3: Fantasy Disruption.

There's also a third type of disruption: the highly anticipated disruptor that never materializes. In the early 90s, the Newton PDA and series of Pen Computing initiatives were widely hailed as systems that would rejigger the computing world. The stylus would replace the bulky keyboard and computing would go mobile. Gates issues a series of predictions about how rapidly this would happen, but it never really did. Outside of a few limited applications, the concept of pen computing died completely.
Sometimes a disruption can appear to occur and then fizzle into obscurity. Sun's Java of the mid 90s promised to turn software into a molten quicksilver of portability that could trickle from the desktop to web applets to handheld devices and even non-computing devices like TVs, stereo systems, and home automation devices. Despite inflating a massive buzzword balloon that left stretch marks upon the coding community and influenced server side development, Java all but failed to deliver its "write once, run anywhere" promise of widespread disruption.
The PDA similarly erupted in a brilliant flash of light and heat before trailing off without even casting a meaningful footprint in the boulevard of technology. After Apple's Newton fizzled, Palm exploded within 3Com and then spun off in an IPO that valued Palm's potential as far greater than the rest of 3Com's actual business that it left behind. Palm's 2000 IPO assigned the new company twice the market value of Apple, despite having a tenth the revenues and an even smaller fraction of Apple's profits at the time.
After the expectation of the disrupting effect PDAs would have propelled Palm up into dizzying heights in the atmosphere, the company promptly began falling back to earth after it became clear that there was a very limited market for PDA gadgets. Microsoft confidently moved into Palm's turf, only to discover what the market already had stumbled onto: there was no future for PDAs.
Palm struggled to attach the PDA to the mobile phone, which kept the company on life support. However, neither Palm nor Microsoft have successfully been able to create any significant disruption with the PDA, or even to parlay their investment into a viable bid to disrupt the smartphone world.
Newton Lessons for Apple's New Platform
The Egregious Incompetence of Palm
Origins: Why the iPhone is ARM, and isn't Symbian
What the Three Disruptions Mean for the Future.

Pundits are quick to identify every new product or concept as the next big disruptor, but as history teaches us, real disruption is rare. Well funded efforts to shake things up may excite the media or even consume the public's attention for several years, but these fantasy disruptions are only bankruptions: Taligent, Itanium, HD-DVD, and Blu-ray are all examples of massive efforts to create disruption that simply flopped.
The only two disrupting events that developers can really take advantage of are the truly new disrupting products and technologies that shake things up by introducing new efficiencies valuable enough rewrite the rules of how things will work in the future.
This can occur due to collective action by a series of entrepreneurial pioneers, as was the case with early personal computing; or due primarily to the significant investment of one company, such as was the case with the Apple Macintosh; or due to open, collaborative contributions, as was the case with the web; or due to a demand originating with consumers, as is typified by the smartphone today.
While all of these events trigger a rapid evolution of change that disrupts the landscape, it is dropped ball disruption that most often creates the greatest and most revolutionary ripples in the fabric of technology. That's because monopolistic or at least dominant control over a technology has a damming effect that holds back the potential for change until a dropped ball event unleashes it into a flood of new disruption.
The Secrets of Pink, Taligent and Copland
Road to Mac OS X 10.6 Snow Leopard: 64-Bits
Lessons from the Death of HD-DVD
Why Low Def is the New HD
Disruption Requires Key People, Position, and Timing.

Creating disruption from scratch requires a similar alignment of circumstances. Shaking things up demands talented people working together in an effectively managed, well positioned organization with the capacity to affect change, and acting at a time when change is possible.
• Apple was well staffed, organized, and positioned at a critical juncture to ride the initial wave of personal computing. However, after developing the Macintosh, Apple's organization began to falter. Once it recognized the direction it needed to take, the time window had passed for competing against generic PCs. Microsoft had additionally poached much of its talent.
• At NeXT, Steve Jobs had collected the talent, but had problems with both effective sales positioning and with timing. The company was first squeezed into a difficult niche by its non-compete agreement with Apple, then similarly missed the window of opportunity for shipping a new operating system before the computing landscape was monopolized by Microsoft.
• The distributed development of the web involved lots of talent, effectively networked that talent using the IETF model, and delivered an alternative to proprietary online services at the perfect time.
• The similarly distributed development effort of Linux on the desktop has not shared the same success, because its talent has not been effectively managed to produce a product consumers can use. While the timing for Linux to deliver an effective competitor to Windows has been generously extended for a decade now, the unfocused community has failed to deliver the expected disruption.
Apple's Open Source Assault
Apple in the Web Browser Wars: Netscape vs Internet Explorer

Preventing Disruption.

While many people may benefit from disruption, new events are, by definition, disruptive. For the leader, disruption is often viewed as a threat to be restrained.
In the 80s, Apple worked to contain the Macintosh to prevent unauthorized duplication as well as rejecting a possibly cannibalizing effort to expand into the high volume, low end market or even potentially lucrative licensing or franchising efforts. This resulted in a pent up demand that helped push the ball out of Apple's hands, breaking the market wide open for Microsoft's Windows.
Microsoft has worked diligently ever since to prevent disruption from impacting the dominance and permanence of its Windows API, battling threats from the web, from Java, and from alternative operating systems such as Linux. It now faces a new threat from Apple, this time in the highly profitable but broad consumer market that Apple not effectively harnessed previously.
Can Apple Take Microsoft in the Battle for the Desktop?
Microsoft's Zune, Vista, and Windows Mobile 7 Strategy vs the iPhone
Disruption is Not Inevitable.

Disruptions don't happen because they are inevitable however. They happen because of the choices made by key people in key positions at key moments. The same factors can also hold back disruption. Apple of the late 80s lacked the talent needed to prevent the disruption of its Macintosh platform.
Rather than conservatively trying to hold back the reins to control costs, the old Apple, hindsight tells us, should have allowed Steve Jobs to drive the Mac platform aggressively into the future, delivering the fresh new product he had to leave Apple to create. Had NeXT developed within a savvier Apple, the company wouldn't have suffered dropped ball disruption, but would rather have disrupted the landscape itself in a progressive series of advancements that Microsoft never could have competed against.
Instead, by 1990 Apple had created a hungry demand for its technology but only sold its products to a high end market. That prompted DOS PC makers led by Zenith to sign up to begin installing Microsoft Windows 3.0 on their systems for the first time, so they could offer something that appeared similar to the Macintosh, which at the time was killing them, particularly in education markets.
Had Apple satiated that demand with consumer friendly products, there would have been no market for dumpy PCs running the laughingstock that Windows 3.x was. Apple had made so little actual progress in Mac development in the second half of the 80s that the only way it could effectively offer low end machines, which it only began offering in 1990 as a reaction to the new Windows PC, was to offer repackaged versions of its old technology. The 1990 Mac LC was actually the 1987 Mac II in a new box. The Mac Classic of the same year was a rewarmed version of the ancient 1986 Mac Plus.
Had Apple instead invested in new technology in the second half of the 80s rather than coasting along collecting money for its past accomplishments, it could have offered a range of fresh technology products that would simply have left no room for Microsoft's shoddy competition.
Steve Jobs and 20 Years of Apple Servers
Beyond Luxo Jr.
What If… Has Worked.
That's exactly what Jobs has been doing at Apple ever since. The company has invested in technology and deployed a series of desirable products that simply can't be competed against. Pundits insisted that Microsoft would commodify the iPod, but that never happened. The reason: Apple kept the iPod a moving target that snowballed interest and sales until no upstart, not even the product entries of heavyweights like Sony and Microsoft, could make a dent.
The iPhone is the latest example. Commentators first shrugged it off as a potentially disrupting force, then announced that the next few products in line from rivals would simply disrupt the iPhone in turn: "iPhone killers." But that hasn't happened. Apple has resisted disruption of the iPhone fabric by keeping it a moving target and weaving it into the past success of the iPod and iTunes.
Apple's investment in its own operating system software not only enabled the company to deliver a very unique and difficult to clone product in the iPhone, but also set the company up to be able to take full advantage of Vista's face planting, dropped ball disruption. If the Apple of 2006 had been trying to resell the Mac OS of 1996, the same way the Apple of 1996 was attempting to sell the Mac OS of 1986, the company would not have been well positioned to sell PC uses disgruntled by Vista a new Mac.
Apple has also invested in hiring key talent, and has banked its gradual success to end up with a $24 billion kitty right as global markets are falling into a credit-tight recession. Apple now has the perfectly timed opportunity to cherry pick talent from other companies that are struggling, just as Microsoft could do in the 90s.
How Apple Is Changing the PC Software World… Back
Windows 95 and Vista: Why 2007 Won't Be Like 1995
Understanding Disruption Lets You Benefit From It.

Rather than assuming, rather simply, that everything in the past will work out for the same companies in the same way as it previously has, it's important to recognize that disruption comes from talented people, well positioned, at the right time to control disrupting factors.
The factors that enabled Microsoft's success in the 90s have changed. Its people are complacent and comatose from corporate asphyxiation, its position is slipping, and its timing is simply unfortunate. It failed to develop its mobile environment to take advantage of the smartphone boom, causing it to slip behind RIM and Apple domestically and additionally behind Nokia's Symbian on a worldwide scale, despite having had an early advantage.
Microsoft's desktop operating system, despite maintaining monopoly control over the PC for nearly two decades, has now stumbled so badly that plan B(7), still a year or two away, can't possibly make up for the fact that it now faces a credible threat from Apple in the highly visible consumer market as well as erosion from Linux in servers and in low end but higher volume systems.
Conversely, Apple's problems of the 90s are also addressed. It is gaining, not draining, its talent pool; it is effectively aimed at creating desirable, progressive products; and its timed to climb in the smartphone market as well as in the desktop and laptop market where the flop of Vista has recharted demand in Apple's direction.
Pundits don't seem to have figured any of this out. That elasticity between reality and perception offers developers a window of opportunity to invest in Apple's platform before everyone else realizes that's where they should be investing.
Myth 8: iPhone will lose out to Steve Ballmer's Windows Mobile 7
Myth 10: RIM's BlackBerry Will Contain iPhone Expansion
Did you like this article? Let me know. Comment here, in the Forum, or email me with your ideas.

Like reading RoughlyDrafted? Share articles with your friends, link from your blog, and subscribe to my podcast (oh wait, I have to fix that first). It's also cool to submit my articles to Digg, Reddit, or Slashdot where more people will see them. Consider making a small donation supporting this site. Thanks!