McCain vs. Obama Presidential Pop Quiz: Socialism
October 30th, 2008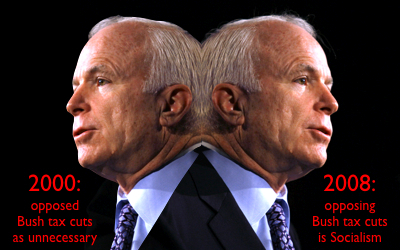 Daniel Eran Dilger

This election has done little to upgrade the intellectual level of debate in this country, with both sides seeking to pander to a lowest common denominator audience by reducing everything to simple word association. Here's a series of questions that go beyond the buzzword, in this case, socialism. See if you can answer them correctly. Hint: the answers are all TRUE.
.
Socialism
McCain has promised to continue the Republican's War on Socialism that has been led by George W. Bush over the last 8 years. Which socialist programs will McCain continue to dismantle?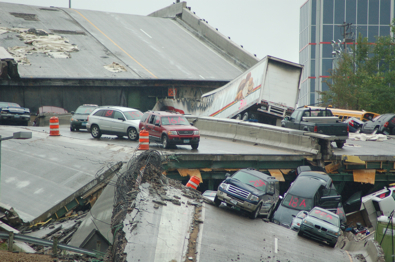 President Eisenhower's Socialist Interstate Freeway System, which takes money from individuals and redistributes this wealth to rebuild failing bridges and other "critical" infrastructure across the nation, such as the I35W bridge in Minneapolis (above).
This dismantling of socialism will apparently not involve the federally financed 'Roads to Nowhere" demanded by Alaska's convicted felon (R) Ted Stevens and his associate, McCain running mate Sarah Palin, as Alaska already has so much wealth that its citizens don't pay taxes, but rather get over $3000 in windfall payments per capita from the state. For Republicans, socialism is only socialism when it benefits people who actually need it: people who God never intended to live productive, long, or liberated lives.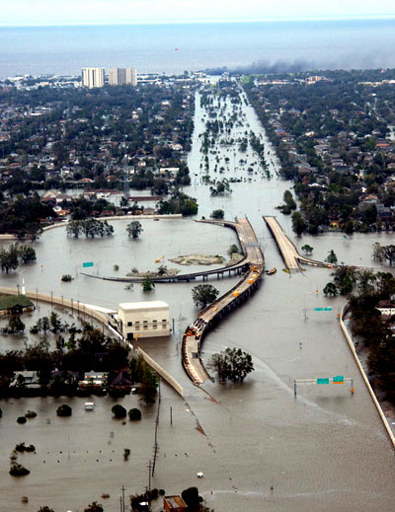 The socialist Federal Emergency Management Agency, created by a Presidential Order of Jimmy Carter, is a group that goes around rescuing people from disasters caused by God (usually for the unrepentant actions of their neighbors, such as sex). Sometimes, FEMA has cleaned up after right wing freedom fighters, such as in the case of the Oklahoma City Federal Building bombing, where many families of injured children refused to handle their own crisis (such as could be addressed locally by the Free Market) and instead demanded that FEMA fly in to help them with socialist handouts from the government.
To get the ball rolling on killing this flagrant socialism, President W. Bush followed the advice of Grover Norquist, a Christian Coalition lobbyist for Microsoft with ties to Jack Abramoff, who said "My goal is to cut government in half in twenty-five years, to get it down to the size where we can drown it in the bathtub."
President Bush courageously appointed Michael D. Brown, who had lost his job at the International Arabian Horse Association, as FEMA's director in January 2003, and subsequently continued the cuts to shoehorn FEMA into the Department of Homeland Security. This ensured that FEMA was small enough to drown thousands in the bathtub of Hurricane Katrina (above), well ahead of Norquist's 25-year plan.
Grover Norquist: 'Field Marshal' of the Bush Plan

Socialist Security and Medicare: McCain/Bush would have these programs invest their socialism funds in Free Markets, where they'd be able to dramatically lose value (above, the NASDAQ composite), not only enabling these socialist programs to also be 'drowned in a bathtub,' but also providing a valuable lesson to old people who demand to get federal handouts based on the earnings the government has forced them to share with themselves in the future, rather than seek insurance from the Free Markets, where others can profit from their contributions.
For Bush/McCain, sharing the wealth with yourself is Socialism. Sharing your wealth with corporations until you have nothing left is the American Way.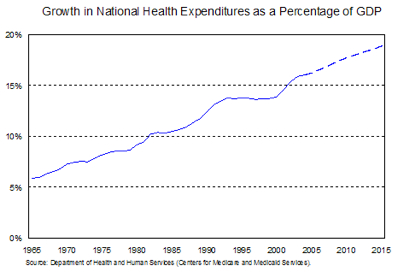 Socialist Health Care is something that neither Bush nor McCain have needed to scuttle, as Republicans have resisted any effort to put Americans on the same level as the socialist countries in Europe, where everyone can get willy-nilly health care without Free Market insurance companies profiting.
There are some socialist elements remaining in America however, including those socialist disability programs where perfectly healthy people are forced to "spread the wealth around" to pay for the congenital birth defects or accidental injuries of others, such as war veterans.
McCain came back from Vietnam with two broken arms; he didn't dick around with his similarly crippled wife and demand government socialism payments; he dumped her and hooked it up with a new, younger, and far richer woman, with whom he could trade political favors (including exemption from prosecution for her drug offenses) in exchange for access to top dollar Free Market medicine.
That's the American Way, and a lesson to all those people demanding support from the government to pay for the things God gave them, such as cancer. Those people should find out what caused their problems (such as Asbestos) and sue in class action cases instead of demanding federal health care socialism.
Distribution of wealth from corporations to individuals in class action suits via the courts isn't socialism, but when the legislative branch spends money on accident prevention and proactive health, that's a different story. Socialism!
The big difference is that lawyers can't profit in the Free Market of the courts when the other branches of government get involved. McCain will do everything in his power as an executive to help the federal government set up a series of profit taking middle men to prevent outbreaks of socialism.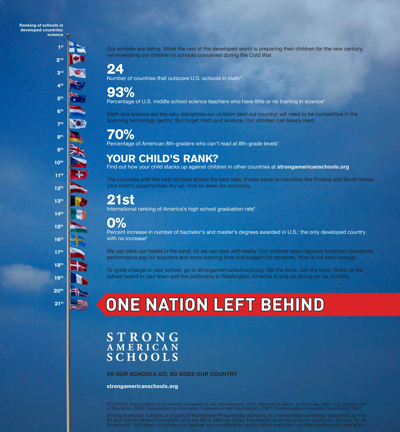 Education is also a dangerously socialist idea, as it means the government is spreading around wealth to ensure that children have basic skills and understand science, something that socialists teach in place of faith, because socialists have a lack of faith.
Bush's No Child Left Behind Act ensured that government schools were teaching children to score well on tests, a measurable function, rather than having a liberal education that might cause them to be too informed and subsequently less than patriotic in supporting the leader.
Or perhaps too well educated to support ideas such climate change doubting, faith in intelligent design, or the contempt for science that Republicans have positioned as a key platform issue in place of its former principles such as small government and fiscal responsibility.
A recent series of conservative Pew polls indicate that the more education individuals have, the greater their demographic lead in voting for Obama. The only lead McCain had in Pew's latest poll within education breakdowns was among whites with only high school or less education. Those people have no idea they won't benefit at all from a McCain administration, and if they had an education they'd know better.
Donklephant » Pew: Obama Leads By 19 Among Already Voted
Obama and Socialism.

And Obama? While McCain and Palin have tried to pin socialism on Obama because he wants to end Bush's tax breaks for the highest tax brackets, bringing them back to the rates in effect during Clinton prosperity, lower than they were under Reagan, and at the levels McCain was supporting back when he was a Maverick and not a Bush clone.
Now that McCain has flip-flopped to support the Bush tax cuts for the rich, he's calling Obama and logically, McCain's former self in 2000, a socialist.
Back in 2000, McCain, after being asked why a wealthy doctor should be "penalized" for being in a higher tax bracket, answered, "wealthy people can afford more," and that, "the very wealthy, because they can afford tax lawyers and all kinds of loopholes, really don't pay nearly as much as you think they do."
When subsequently asked, "Are we getting closer and closer to, like, socialism and stuff?" McCain replied, "Here's what I really believe: That when you reach a certain level of comfort, there's nothing wrong with paying somewhat more."
McCain is now calling Obama a "socialist" for supporting the same level of taxation McCain himself supported in 2000, before Bush's failed policies over the late eight years dramatically proved that lower taxation on the richest 5% didn't result in trickle down wealth, but actually resulted in lower domestic job creation, a huge increase in American poverty, and a widening between the rich and the working class.
Like, Socialism: The New Yorker
Socialism Isn't About Taxes.

The larger problem? Progressive taxation isn't socialism. Instead, the concept of variable tax rates based on income comes from Adam Smith, who literally wrote the book on capitalism in the 1776 "The Wealth of Nations," where he explained, "It is not very unreasonable that the rich should contribute to the public expense, not only in proportion to their revenue, but something more than in that proportion."
Actual socialism is when the government takes collective ownership and administration of the means of production and distribution of goods. Taxation of any kind, progressive or regressive, is redistribution of wealth, but not socialism. Government policy decides how to redistribute wealth and services.
Bush has racked up trillions of debt that Americans will have to pay, transferring that wealth to war profiteers, the military industrial complex, oil interests, and other Republican beneficiaries. That redistribution of wealth from the majority of Americans and their children to Bush and Cheney friends wasn't socialism, just cronyism and national theft.
Most recently however, the Bush Bailout transfered even more deficit spending to give banks another trillion dollars and in some cases, took over portions of those industries. That was socialist enough for leftist Venezuelan president Hugo Chávez to say "Bush is to the left of me now," because "Comrade Bush announced he will buy shares in private banks." Chávez added, "I am convinced he has got no idea what's going on."
If the timing of McCain's socialism remarks isn't odd enough given Bush's actions, consider Palin's comments, made just prior to her invitation to join the Republican ticket, that "we're set up, unlike other states in the union, where it's collectively Alaskans own the resources. So we share in the wealth when the development of these resources occurs."
McCain supported Obama's Clinton-era tax rates before he was against them. Palin distributed collective state ownership and distribution of resource wealth. And they're screeching about socialism? How ridiculously absurd.
Chavez says Comrade Bush turns left in crisis : Reuters
Other articles on current events:
Former FCC Chair Reed Hundt: Issues the next president faces in technology
McCain vs. Obama Presidential Pop Quiz: Socialism
McCain, Palin Push Ashley Todd into Limelight. Oops.
Apple gives $100,000 to fight California gay marriage ban
Terrorist Criminal Links to the Presidential Candidates
Obama-Biden, McCain-Palin: Scandals by the Numbers
Terrorist Criminal Links to the Presidential Candidates
The Big Fannie Mae & Freddie Mac Attack
Osama Bin Laden's Dream of US Economic Collapse
You Know the Drill?
Ten Striking Parallels Between Microsoft and John McCain
Obama's Apple, McCain's Microsoft: the Politics of Tech
Did you like this article? Let me know. Comment here, in the Forum, or email me with your ideas.

Like reading RoughlyDrafted? Share articles with your friends, link from your blog, and subscribe to my podcast (oh wait, I have to fix that first). It's also cool to submit my articles to Digg, Reddit, or Slashdot where more people will see them. Consider making a small donation supporting this site. Thanks!