McCain, Palin Push Ashley Todd into Limelight. Oops.
October 25th, 2008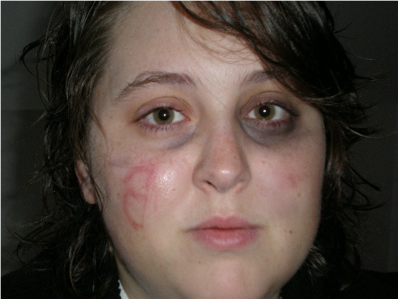 Daniel Eran Dilger
It's not really extraordinary or newsworthy that a young white girl, working away from home, fabricated a story about being attacked and sexually assaulted by a larger black man she invented in a bid to get attention. It is newsworthy that her sketchy story garnered so much outrage and political spin before being almost immediately recanted. What is most newsworthy however is that John McCain's campaign worked to make it newsworthy in an effort to divide Americans, bait racial conflict, and inflame outrage at great risk to Americans themselves.
.
Ashley the Faker

Ashley Todd, a College Republican National Committee volunteer from Texas acting as campaign aid for McCain in Pittsburgh, said she was robbed by the invented black man at an ATM. He returned, she claimed, after noticing her McCain bumper sticker, to tell her, "You're with the McCain campaign? I'm going to teach you a lesson," and supposedly carved the letter B in her face with a knife while fondling and roughing her up some more and delivering lines including, "you are going to be a Barack supporter."
Todd's story was absurd. Why would an attacker scratch the letter B for Barack rather than the more obvious O that is used by the Obama campaign as its logo? Remember when Obama spoke in Ohio and conservative radio lit up in a frothy lather, thinking that Obama had created his own "O" flag, seemingly unaware that they were speaking of the Ohio state flag?
Todd's "B" was backward, because she did it herself using a mirror. An letters carved by an angry attacker would have been more than a light scratch, and probably not designed to be read in a mirror. While the scratch, described by conservative websites as a "mutilation," clearly wasn't serious, why wouldn't she seek medical attention after being beaten, kicked, and fondled?
Mediaing Without Preconditions.

The police were immediately suspicious of Todd's story, but not McCain's Pennsylvania campaign communications director, who delivered sensationalized reports to the media that turned the girl's report into national news.
That rash decision was followed up by John McCain himself, who along with Sarah Palin made publicized calls to Todd's family. Fox news covered the story with intensity, with its Executive Vice President writing, "this incident could become a watershed event in the 11 days before the election. If Ms. Todd's allegations are proven accurate, some voters may revisit their support for Senator Obama, not because they are racists (with due respect to Rep. John Murtha), but because they suddenly feel they do not know enough about the Democratic nominee."
The police spent significant resources investigating Todd's claim. Once Todd confessed to having made the whole thing up, Maurita Bryant, the assistant chief of the police department's investigations division issued a statement saying, "It's been a huge waste of time and man hours."
But rather than being apologetic about having lied and potentially having set off further confrontation with her race-baiting, politically polarizing story, Todd was simply annoyed to be bothered with the ordeal. "She just opened up and said she wanted to tell the truth," Bryant said. "She was upset with the media for blowing this into a political firestorm." No doubt she was also irritated about having her face scratched with a prominent backwards B for Barack.
Palin' around with Scandals.

Todd's great burden of being forced to carry around a crisis of her own making sounds a lot like Sarah Palin, who has been incensed to find herself the victim of her own inane talking points, from not knowing what she reads to not knowing anything about the Supreme Court apart outside of Roe v Wade, to not knowing anything about foreign policy apart from how to pronounce a half dozen leaders' names.
Palin doesn't see any of these problems as her fault, but rather blames the "gotcha media" that pointed at camera at her as she proudly and arrogantly babbled lines of overconfident nonsense.
Palin has also been angry to have the media notice the disconnect between her fake persona as a folksy 'Joe Six-pack,' and the reality of her being worth $2 million and having been dressed up over the last two months in elitist clothing worth over $150,000. Or the fact that she calls herself an intellectual despite having shown no curiosity of the world around her outside of pushing her evangelical religion on it.
Or her angry sigh delivered in expressing her hesitancy to call modern day abortion clinic bombers "terrorists," while building her campaign on top of the idea that a youth radical in the 60's, who placed attention getting bombs that were blown up only after delivering warnings ahead of time, was today still a dangerous "terrorist" in the same sense as modern day religious fundamentalists, who try to kill as many 'infidels' as possible to satiate their warped religious views, thinking that a high body count for God will earn them a place in heaven. Ayers' actions were wrong, but were targeted to call attention to the illegal carpet bombing slaughter that US was carrying out, a significant difference over today's fundamentalist terrorists who seek to slaughter in order to call attention to their targets.
Or what about Palin's irritation in having to testify in an ethics investigation originated by her own party, based on her own conduct as an executive that was deemed to be in violation of state ethics rules? Palin was so inconvenienced by her guilty verdict that she simply pulled a Todd: she released her own exonerating story of the events where she herself was the victim and that the blotch she scratched into her own public face was the fault of a big black boogeyman somewhere out there.
McCain't have it Both Ways.

Todd's fabricated story, the work of a young and delusional girl who reportedly suffers from mental health problems, says nothing about McCain's campaign itself. However, the willingness of McCain's campaign to thrust it into the spotlight and try to introduce more questionable doubt and fear and division about raw issues that include race and privilege and sex and honesty and morality is only a reflection of the rest of his campaign.
McCain would no doubt liked to have some counter-evidence to use to defend or at least distract from the hateful torch and pitchfork-swinging hysteria he and Palin have encouraged in their fear-centric campaign, which says little about the issues and lots about Obama's ethnic background. McCain supporters have made headlines with their echoing of "kill him" and "terrorist!"
McCain is practicing the same divisive politics Richard Nixon used in his Southern Strategy to convert racist white Democrats into the angry racist white Republicans who have colored the South red ever since.
Nixon used fear and outrage over federal efforts to dismantle American segregation to appeal to racists and appease them with Confederacy slogans such as "states' rights," a euphemism for allowing and preserving local racism. McCain and Palin are waving the same "states' rights" flag to promote the localized pockets of ignorance in our country. They insist the federal government needs to police a failed drug policy, yet fail to see any need for the federal government to involve itself in civil rights, something that supposedly can be better handled through "state's rights." This idea is conveniently only applied in cases where the federal government isn't pushing an extremist right wing agenda.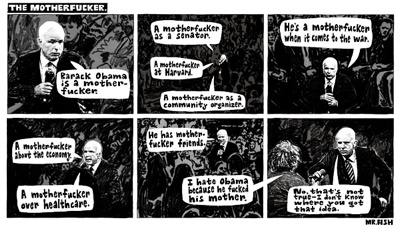 Divided we Fall.

McCain's poorly vetted Palin divided the nation into Pro-American and, apparently, Anti-American regions, the height of absurd hypocrisy coming from a woman married to an Alaska Independence Party supporter. What group could be more 'Anti-American' than the party Palin warmly welcomed earlier this year, which seeks to dissolve the country she would supposedly hope to run? It is unconstitutional for states to leave the union.
McCain's unraveling campaign is falling apart due to his own rash and erratic decisions. McCain is not demonstrating conservative values, he's displaying a shortage of values. The depths his campaign sinks into in efforts to stir up anger and resentment, to divide the country rather than unite and heal it, makes it clear that McCain is unfit to lead. Even worse, his cynical decision to prop up an attractive face covered in thousands of dollars of makeup and tens of thousands in elitist clothes will put the nation into extreme jeopardy if he is elected, because his age and history of cancer makes his chances of suffering incapacitating health problems very significant.
Palin has no experience outside of taxing windfall profits Alaska and distributing wealth she did nothing to help generate. In less than two years, she has racked up a scandalously long list of questionable behavior, from spending state money on personal entertainment, to hiring unqualified friends into critical positions, to taking inappropriate gifts from constituents, to claiming per diem expenses to live at home and then failing to pay taxes on them.
Palin is not only corrupt at home, but has demonstrated a willing ambition to be used by the Republican machine to dial the US back into the Dark Ages, pursuing more religious war Crusades, more Inquisition torture, more scientific ignorance, and more nationalized religion and scapegoating of minorities.
Like Todd, the McCain-Palin campaign needs to come clean and give up the false stories that project victimization as a coverup for simple bad behavior. And rather than being upset by the media's coverage of their corrupt shenanigans, they need to account for their errors, apologize for their specious attacks on anyone who doesn't agree with them, and step aside for real leaders to take their places and bring America the change it needs.
Other articles on current events:
Former FCC Chair Reed Hundt: Issues the next president faces in technology
McCain vs. Obama Presidential Pop Quiz: Socialism
McCain, Palin Push Ashley Todd into Limelight. Oops.
Apple gives $100,000 to fight California gay marriage ban
Terrorist Criminal Links to the Presidential Candidates
Obama-Biden, McCain-Palin: Scandals by the Numbers
Terrorist Criminal Links to the Presidential Candidates
The Big Fannie Mae & Freddie Mac Attack
Osama Bin Laden's Dream of US Economic Collapse
You Know the Drill?
Ten Striking Parallels Between Microsoft and John McCain
Obama's Apple, McCain's Microsoft: the Politics of Tech
Did you like this article? Let me know. Comment here, in the Forum, or email me with your ideas.

Like reading RoughlyDrafted? Share articles with your friends, link from your blog, and subscribe to my podcast (oh wait, I have to fix that first). It's also cool to submit my articles to Digg, Reddit, or Slashdot where more people will see them. Consider making a small donation supporting this site. Thanks!