Teen reported Steve Jobs' fake heart attack
October 23rd, 2008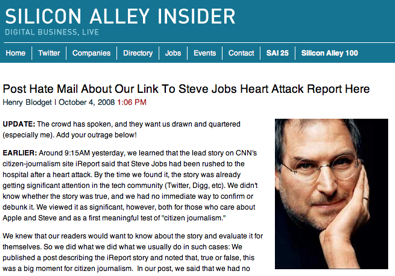 Daniel Eran Dilger

The fraudulent report of Steve Jobs' heart attack that never actually happened was originated by an 18 year old with unclear motives. The motives of those repeating the story were very clear however.
.
A Bloomberg brief noted that the teen's fraudulent report was uploaded to CNN's iReport website and then immediately published without any fact checking by SiliconAlleyInsider blogger Henry Blodget, a former Merrill Lynch analyst who was charged with civil securities fraud by the SEC in 2003.
The false report and subsequent syndication caused Apple's stock to plummet, erasing $4.8 billion in market capitalization in an hour. The stock later rebounding somewhat after the piece was retracted. The SEC has opened an investigation into the motives behind the report, the results of which are still inconclusive.
Blodget defended his publishing of the rumor without any credible substantiation or fact checking in a piece that claimed "online journalism occupies a new and unique niche in the media continuum," and encouraged web viewers to "post hate mail about our link to Steve Jobs heart attack report."
"Most of our readers were grateful that we drew their attention to the iReport story," Blodget wrote. "You, our readers, are smart enough to know the difference between rumors and facts, and you are smart enough to evaluate what we tell you. As long as we are clear about what we know, where the information came from, and what we think of it, we are confident that you will give it the weight it deserves."
"'Evaluate it for themselves'…," one reader responded, "How can a reader be expected to evaluate this story? You reported a lie."
In his own SEC investigation, Blodget reported that he "settled the charge without admitting or denying the allegations, agreed to pay a fine and 'disgorgement' totaling $4 million, and agreed to a permanent prohibition against working in the securities industry."
"Given the current state of my reputation," Blodget wrote in Slate, "along with the other considerations laid out below, readers may want to take everything I say with a grain of salt."
Merrill Lynch > Securities Fraud Lawsuit
Some preliminary conclusions. Part 13 – By Henry Blodget – Slate Magazine
Did you like this article? Let me know. Comment here, in the Forum, or email me with your ideas.

Like reading RoughlyDrafted? Share articles with your friends, link from your blog, and subscribe to my podcast (oh wait, I have to fix that first). It's also cool to submit my articles to Digg, Reddit, or Slashdot where more people will see them. Consider making a small donation supporting this site. Thanks!