SF Chronicle's Andrew S. Ross is unintentionally funny on Macs
October 22nd, 2008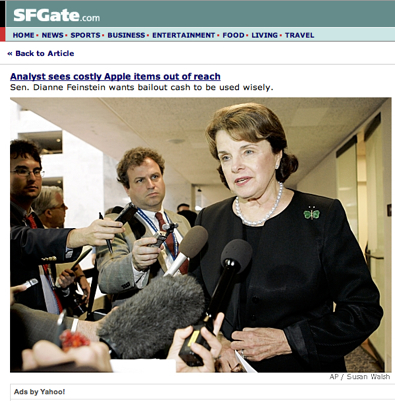 Daniel Eran Dilger
The website of the San Francisco Chronicle oddly juxtaposed an image of Senator Dianne Feinstein, apparently doing an impression of Janet Reno, under the headline "Analyst sees costly Apple items out of reach" paired with a tag line saying that the Senator "wants bailout cash to be used wisely." What could possibly be happening here?
.
The simple explanation: some poorly paid columnist at the (as we locals call it) SF Comical, who has managed to not get fired in the last decade of the newspaper industry's Intenet-induced killing field layoffs, thought it newsworthy to express how he saved money buying a Dell because he found the new MacBooks to be too expensive before relating any actual news in the same piece, including Feinstein's legislation seeking to ban Bush Bailout recipients from using the windfall money to lobby the government… perhaps asking for more money, or less regulation? Oh the irony.
Analyst sees costly Apple items out of reach
In any case, Feinstein wasn't worried about 'the cost of Apple items,' unlike some needlessly cited analyst who lives on the coast in a tourist town, who has decided that "Apple is selling Cadillacs to people who can no longer afford them." Perhaps if that analyst read any newspapers or ventured out of Half Moon Bay to visit one of Apple's retail stores, he'd be aware that Apple is on track to sell ten million Cadillac Macs this year during an economic downturn that has continued for more than just a year.
Back in January, Apple's stock tanked on the hysterical fears that the economic downturn would be particularly bad for Apple. However, in the nine months since, the company has reported a series of records sales quarters of more than two and a quarter million Macs each, and most recently set a new record of over 2.6 million Macs sold in a quarter, well above the two million high water mark set last year. Between 2002 and 2004, the company didn't record a single quarter where it sold more than a million Macs.
The reporter wagged his finger at Apple over charging $1299 for the entry level unibody MacBook, apparently unaware that Apple is also selling the $999 White MacBook as well. "Will the 'premium Apple experience' matter compared with $400 rivals that, in this age of cloud computing and so forth, aren't so very different? May we yet see, after the next quarter's results, Apple swallowing its hubris?" he wrote.
Which $400 laptop is comparable with the new MacBook, and how did the "cloud computing" buzzword find its way into this sentence? More importantly, are the bailed out banks buying cheap Dell laptops to lobby the government before the door slams shut on the Bush administration?
Perhaps if the Chron was anything more than an AP news regurgitation engine and the employer of sassy yet uninformed wags, it could tell us.
Did you like this article? Let me know. Comment here, in the Forum, or email me with your ideas.

Like reading RoughlyDrafted? Share articles with your friends, link from your blog, and subscribe to my podcast (oh wait, I have to fix that first). It's also cool to submit my articles to Digg, Reddit, or Slashdot where more people will see them. Consider making a small donation supporting this site. Thanks!