New Unibody MacBooks get new CFL, but not QuickTime X
October 21st, 2008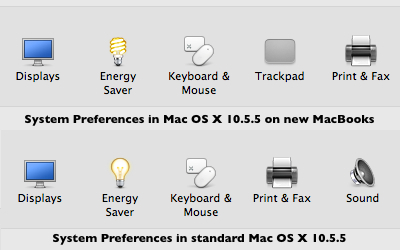 Daniel Eran Dilger
The Energy Saver icon in System Preferences has changed from a light bulb to, appropriately, a CFL on the updated software that ships with new MacBooks. However, the slight update is not a significant operating system change. The system reports itself as still being Mac OS X 10.5.5, albeit build 9F2114 rather than the 9F33 that shows up as the latest update on other machines.
Rumors say Apple has slipped portions of QuickTime X into the build of Mac OS X shipping on the new laptops in order to unlock GPU hardware codec acceleration, but that's not the case, here's why.
.
New MacBook Pro H.264 decoding improved via plugin, not QuickTime X.

The new MacBook's NVIDIA 9300M chipset controller supplies a GPU core that can accelerate H.264 in hardware. Taking advantage of NVIDIA's "PureVideo HD" support for H.264 GPU hardware acceleration is not at all dependent upon QuickTime X however. It only requires a plugin to QuickTime that replaces the standard software codec with code that spins the work off on the GPU. There are several hardware accelerators already being sold that do just that.
QuickTime X is a cleanly rewritten media playback-only software stack based on code originally developed for the iPhone. It does not really have anything to do with H.264 hardware acceleration on GPUs, and certainly not NVIDIA's, which is not even similar to the PowerVR MBX 3D GPU embedded in its ARM processor.
QuickTime supports extension through a "component" plugin architecture to support virtually any codec, so writing a codec that optimized encoding via available GPU features shouldn't come as a surprise.
A closer look at Apple's move to NVIDIA chipsets, DisplayPort
iPhone 2.0 SDK: Video Games to Rival Nintendo DS, Sony PSP
WWDC 2008: New in Mac OS X Snow Leopard
Did you like this article? Let me know. Comment here, in the Forum, or email me with your ideas.

Like reading RoughlyDrafted? Share articles with your friends, link from your blog, and subscribe to my podcast (oh wait, I have to fix that first). It's also cool to submit my articles to Digg, Reddit, or Slashdot where more people will see them. Consider making a small donation supporting this site. Thanks!