Myth 10: RIM's BlackBerry Will Contain iPhone Expansion
October 13th, 2008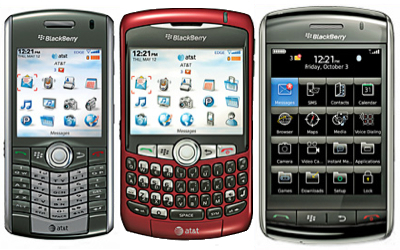 Daniel Eran Dilger
Research in Motion, the Canadian company behind the BlackBerry, has served as the smartphone industry's darling ever since the company emerged from years of research to set two-way pagers in motion around the new millennium.
As a proprietary platform, RIM offers the closest parallel to Apple in the smartphone business. But will RIM and Apple remain in isolated independent market niches or battle each other over sales? Will RIM check Apple's growth or be left shattered in the wake of the iPhone? Here's a look at what's involved.
iPhone Myths
Five More iPhone Myths
Myth 6: iPhone Developers will Flock to Android
Myth 7: iPhone Buyers will Flock to Android
Myth 8: iPhone will lose out to Steve Ballmer's Windows Mobile 7 in 2010
Myth 9: iPhone Unable to Penetrate Europe Due to Symbian Dominance
Myth 10: RIM's BlackBerry Will Contain iPhone Expansion
.
Cousins, Identical Cousins.

Apple and RIM have more in common than just owning a successful proprietary platform. Both have emerged as unlikely success stories in a market once confidently ceded by pundits to Microsoft. The meteoric rise in the stock valuation of each company has also ascended in striking parallel.
Both really began to take off in 2004 and experienced exponential growth through the end of 2007, before being dragged down temporarily by economic worries, then rebounding mid year only to subsequently crash back to nearly identical troughs again this month that yanked both companies down to their market cap valuations of mid 2007.

Different as Night and Day.

The two companies achieved their rapid growth along very different paths however. RIM's success stems from its entry into the enterprise market. The company began selling basic pagers around 2000, which grew in sophistication around the company's BlackBerry Enterprise Server software, designed to relay corporate email messages through RIM's Network Operations Center and then securely over the mobile network to BlackBerry devices.
After becoming the de facto mobile messaging device among corporate users, RIM pursued a second major expansion among consumers with a line of popular mobile devices with thumb-driven messaging.
Apple's corporate turnaround came from the opposite direction, building upon its consumer iPod phenomenon to boost Mac sales, construct a retail store empire, then expand into the smartphone business just last year with the iPhone, followed up with an enterprise-friendly push that began just this summer.
Inside MobileMe: Apple's Push vs Exchange, BlackBerry, Google
Opposite Product Strategies.

RIM's success is built upon a slow expansion upon solid simplicity: the company started with two-way pagers that evolved into simple messaging phones running RIM's basic BlackBerry OS and then slowly expanded into a Java platform. RIM is now making deliberate steps toward a more sophisticated platform and an expansion into mobile software sales.
Apple did just the opposite in its smartphone game plan: the company secretly nurtured the development of a sophisticated platform built upon its desktop OS over a three year period, then dramatically unveiled the iPhone as a fully functional smartphone with industry-leading media playback and web browsing features that left rivals gasping for air.
After hitting the ground running with iPhone 1.0, Apple followed up with a dramatic upgrade in iPhone 2.0 a year later which addressed the platform's most significant deficiencies and propelled it directly into a new market for commercial and corporate third party software. That similarly left competitors scrambling to copy it with mobile software stores of their own.
That means while RIM is working to make its corporate-friendly BlackBerry devices more palatable to a consumer audience with offerings such as last year's Nokia-like Pearl and Treo-like Curve and next year's iPhone-like Storm, Apple is working to make its wildly popular, single iPhone model as broadly attractive to corporate markets as it has been with consumers.
The Smartphone's Dark Horse.

RIM has achieved impressive sales; the company doubled its quarterly shipments from mid 2006 (over 1 million) to mid 2007 (2.4 million), then sold 3.1 million BlackBerrys in calendar Q3, and continued the same pace of growth in the fourth quarter of 2007, jumping from 1.8 million to 4.4 million year over year. RIM sold 5.4 million units in the second quarter of 2008 ending in June, and has sold around 30 million BlackBerrys over the last eight years.
Apple only started selling the iPhone in mid 2007, but it sold 1.1 million in its first quarter, 2.3 million in its second, and is expected to announce sales of 5 million for the quarter ending in September, for a total of around ten million iPhones in its first five quarters.
Apple has ramped up to nearly match RIM's worldwide sales volumes in just one year, reaching figures that were considered blockbuster for RIM to achieve across more than eight years of smartphone business development (note that calendar Q208 is Apple's FQ308 and RIM's FQ109).
Remember when everyone made excuses for Microsoft's inability to sell the Zune in volumes comparable to the iPod, and tried to instead compare 2007 Zune sales to the first year of iPod sales in 2001 out of pity? Apple has done to RIM in one year what Microsoft was unable to do to Apple.
Zune Sales Still In the Toilet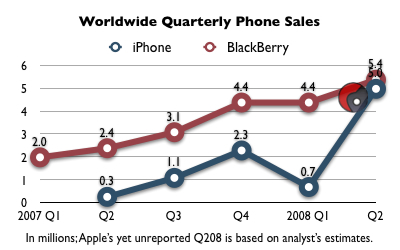 Update: Actual numbers:

Apple iPhone 3G sales surpass RIM's Blackberry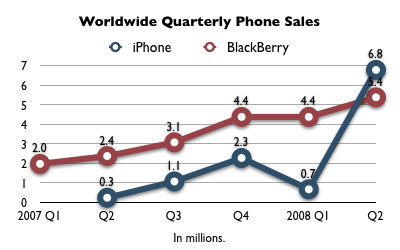 TMF: The Smartphone Market in Q1 2008
RIM Shares Plunge On Q2 Miss, Weak Outlook
RIM Financials Q3 | paidContent.org
Research In Motion F1Q09 earnings transcript
Apps and OS Technology
If Apple's handy outpacing of RIM's already record setting sales growth seems like a temporary fluke of good fortune, consider where both lie in terms of technical viability and future potential.
RIM is essentially selling a Java platform on a proprietary OS foundation. BlackBerry apps run in a Java VM. The current BlackBerry OS 4.x platform corresponds to the fairly basic MIDP 2.0 specification, which includes only a simple 2D gaming API. That means the BlackBerry can't support any of the rich 3D games of the iPhone, and can only support typical "cell phone games."
RIM hasn't revealed all the details of its upcoming Storm model yet, but its web browser is apparently based on WebKit, making it far better at rendering than the barely usable browser of existing BlackBerrys. Even so, the Storm's browser will lack the iPhone's tabbed browsing and overall interface polish in mobile Safari.
Vodafone was sufficiently embarrassed about the Storm's browser that it replaced it in its marketing materials with a screenshot taken of the iPhone's mobile Safari, citing Cingular as the carrier and announcing the 2006 New York Times headline "Democrats Take Control of Congress."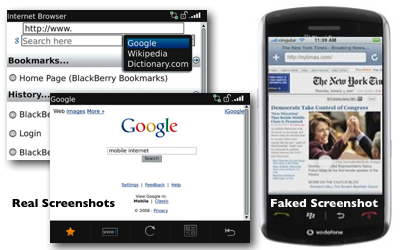 Vodafone's BlackBerry Storm art department all soon to be fired – Engadget
The real Storm browser is a bit basic, without the flashy bookmarks and tabs and with a nostalgia for WAP. That leaves the future of BlackBerry's platform a core messaging product with a simplistic media player and web browser and weak gaming features.
Apple markets the iPhone as a phone, iPod, and Internet device, with corporate messaging support added just in the last several months. Apple has built its user base among consumers, and is now branching out to broaden the iPhone's popularity. It delivers more sophisticated development APIs for everything from its hardware-accelerated 3D gaming support to its UI Kit for creating a consistent, slick user interface across applications.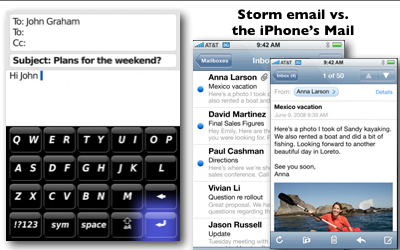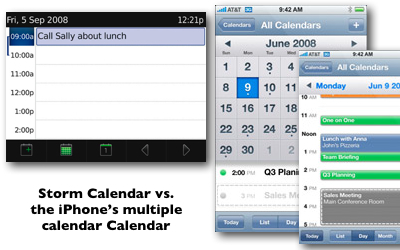 Rival Software Platforms.

Outside of the Storm, the rest of RIM's product line, which will make up the bulk of its sales, is even simpler, with a button interface, a barely usable browser, and weak media integration. The result is a fractured software development platform that requires users to select between more than three dozen models before viewing the software their specific BlackBerry can run.
While RIM is planning to introduce its own BlackBerry software store in the model of the iPhone's App Store, there are only a smattering of apps now available for the BlackBerry (RIM reported 650 last summer after years of third party development) in comparison to the thousands of iPhone apps.
The BlackBerry apps that are available are not only weaker than their iPhone equivalents (particularly among games), but typically start at $15 rather than being $5 to $10 like most of those in the App Store.
Developers wanting to create new apps that target the touch screen interface of the Storm will be selling to a small initial audience, not the installed base of BlackBerries (RIM counts 16 million subscribers in addition to individual owners who don't subscribe to its messaging service). In contrast, Apple has one platform that runs all iPhone titles and currently boasts a ten million installed base, not including millions of iPod touch users.
Just like Symbian, Palm, Windows Mobile, and the other smartphone platforms with receding market share, RIM touts its broad range of BlackBerry devices as offering users a choice in features and form factors that Apple doesn't. This 'tyranny of choice' didn't help Sony compete against the iPod, and it hasn't helped Dell and HP match the growth or profits of Apple's much simpler Mac product line.
Apple's iPhone vs Smartphone Software Makers
Apple's iPhone vs. Other Mobile Hardware Makers: 5 Revenue Engines
Divided We Fall.

What choice will do is prevent any model of BlackBerry from gaining the traction of critical mass the iPhone is snowballing for itself, aided in part by the iPod touch. A historical glance at successful platforms points out that what often poses as choice is often really just a scattering distraction.
Consider the DOS PC of the 1980s. While many saw choice among the various DOS PC vendors, all of those models were really just one platform that could all typically run the same software (albeit not without issues caused by certain choices in video cards and related differences).
In contrast, Apple was selling the 8-bit Apple II line, the Macintosh, and the Apple IIGS, each of which was a different development platform. That shattered Apple's ability to focus on selling the Macintosh, leaving all three to end up as niche products. Commodore similarly sold its 8-bit C-64 alongside the Amiga, and Atari sold its own 8-bit machines alongside the Atari ST. The market worked to reward the largest platform, not the companies offering the most variety for users to choose between.
Apple began to recognize this during the development of the Newton OS, and purposely worked to deliver it as a differentiated product from the Macintosh rather than an overlapping, general purpose computing platform as originally intended. Even so, pushing development of both the Mac and the Newton OS served as a painful distraction for Apple in the early 90s.
Choice regularly loses in the market when a strong platform asserts itself. RIM's distraction of offering some phones with buttons and some with a touchscreen is not just a choice for consumers but also a choice for RIM in deciding which to invest its efforts. However RIM chooses to appropriate its development resources will incur opportunity costs that Apple doesn't have to pay.
Third party developers will also incur the same opportunity costs: target the wide, ultra-basic, general BlackBerry installed base and deliver a less compelling product, or target the more sophisticated but far smaller Storm population? Either way involves risk that isn't there for developers targeting the iPhone and reaching iPod touch users as a free bonus.
Newton Lessons for Apple's New Platform
SCO, Linux, and Microsoft in the History of OS: 1980s
SCO, Linux, and Microsoft in the History of OS: 1990s
Pundits are Usually Wrong.

The tech media apparently rarely consults its archives. And when it does, it seems to assume that differences in circumstance won't matter. Critics have insisted that Apple couldn't possibly succeed in the long term with the iPod because rivals would work together to create a wider platform under Microsoft's Windows Media PlaysForSure. The problem was that the choice Microsoft offered created a series of problems for users that prevented PFS from becoming a platform that could rival the iPod's in size.
With the iPhone, pundits are again insisting that Android, Windows Media, and Symbian will somehow succeed in the pattern of PlaysForSure when the real dynamic growth among smartphone manufacturers is coming from RIM and Apple, which are not licensing their platforms.
And specifically between RIM and Apple, pundits are willing to bet that RIM's high variety of sub-platforms will win out over the single iPod-like platform of the iPhone because choice delivers customers the options they want with no drawbacks… apart from the compatibility, consistency, and simplicity that consumers have always chosen over variety.
Apple vs RIM in the Future.

Going forward, RIM may be able to sell as many BlackBerrys as Apple sells iPhones, but RIM's phones will be fractured into incompatible segments that will prevent it from experiencing the same critical mass of demand for third party apps. That reality will also hold back developers from investing the same efforts in building BlackBerry apps, both those specific to RIM's new Storm and those general enough to run across a wider range of BlackBerry models.
It's also useful to consider that RIM is delivering its answer to last year's iPhone a year and a half late. While the Storm offers a nicer camera and a unique feedback screen, it still does not deliver the interface polish, simplicity, and iTunes integration that attracted users to the iPhone.
RIM will have to decide if it wants to maintain its existing corporate messaging empire of cheap and simple devices, chase after the iPhone with an imitative high-end product, or split its resources between the two different efforts. Apple will be hitting back with one product that does both.
Did you like this article? Let me know. Comment here, in the Forum, or email me with your ideas.

Like reading RoughlyDrafted? Share articles with your friends, link from your blog, and subscribe to my podcast (oh wait, I have to fix that first). It's also cool to submit my articles to Digg, Reddit, or Slashdot where more people will see them. Consider making a small donation supporting this site. Thanks!