Obama-Biden, McCain-Palin: Scandals by the Numbers
October 10th, 2008

Daniel Eran Dilger
Scandalous accusations are so hard to process without a smattering of numerical context. Here's a look at brewing scandals by the numbers for each ticket in the 2008 Presidential Election: Barack Obama and Joe Biden vs. John McCain and Sarah Palin.
.
Number of links to individuals or groups supporting violent terrorism: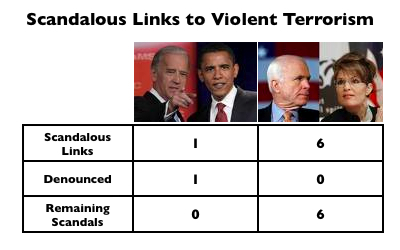 Obama: 1

Obama worked next to William Ayers on the Chicago Annenberg Challenge, a public school reform project funded by Republican billionaire Walter Annenberg. Ayers had been part of the former Weather Underground 40 years ago, which violently opposed the Vietnam War; Obama was never a member of the Weather Underground, but Ayers "in 1995 hosted a campaign event for Obama and in 2001 gave him a $200 contribution."
Terrorist Criminal Links to the Presidential Candidates
Biden: 0
McCain: 2

Considers Watergate burglar G Gordon Liddy, who served four years in prison for crimes against the Constitution and who plotted to kill journalists and kidnap anti-war protest organizers, as "an old friend"; "Liddy's home was the site of a McCain fundraiser. Over the years, he has made at least four contributions totaling $5,000 to the senator's campaigns — including $1,000 this year."
McCain was also a member of the "U.S. Council for World Freedom," which backed terrorism connected with the Iran-Contra scandal and served as "a haven for extremists, racists and anti-Semites."
With friends like these … — chicagotribune.com
McCain didn't report ties to Contra group – Politico.com
Palin: 4

Palin has directly allied and supported Mark Chryson, a variety of anti-government militias, and the Alaska Independence Party, a group supported by the Islamic Republic of Iran to demonstrate Anti-American sentiments to the UN. Its founder is tied to violent terrorism and espousing of the use of nuclear weapons to destroy glaciers in Alaska before being killed by a fellow secessionist.
Palin also encourages and condones violence and death threats against her political rivals on the campaign trail, implying to her crowds that Obama is himself a terrorist.
Salon.com News | Meet Sarah Palin's radical right-wing pals
Number terrorism links denounced by candidate:
Obama: 1

Has denounced Ayers' violent past as "detestable acts."
Biden: 0
McCain: 0

Still calls Liddy a close friend despite his inciting violent attacks on Federal agents. Has not denounced Libby's criminal past or recent terrorist threats.
Left the U.S. Council for World Freedom after "questions were raised about its activities." Prior to leaving, McCain had failed to disclose his membership in his personal financial disclosures to the US House. Has not denounced the group or its use of terrorism in Central America.
Palin: 0

Warmly welcomed the Alaska Independence Party this year; has never condemned its anti-American activities or its violent past. Continues to support separatists and militia groups seeking political favors.
Continues to fan terrorist threats against Obama.
Number of links to serious criminal investigations: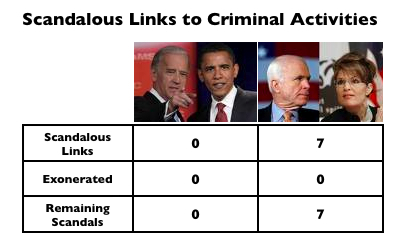 Obama: 0
Biden: 0
McCain: 4

Keating Five scandal, which found McCain had acted in poor judgement in supporting Keating's S&L fraud
Cleared his second wife, Cindy McCain, of felony drug abuse investigations from the DEA after she stole illegal drugs from her charity.
Ongoing allegations of failure to report gambling winnings as taxable income since at least 2000.
A series of shady actions taken on the part of lobbyists, including at least one with romantic involvement: lobbyist Vicki Iseman.
McCain Has Two Standards on Drug Abuse
For McCain, Self-Confidence on Ethics Poses Its Own Risk – New York Times
Palin: 3
Ongoing Troopergate Scandal related to abuse of power.
Ongoing scandal related to gifts from constituent special interests.
Ongoing tax evasion and fraud related to state paid per diem fees to live in her house and the failure to report these as income.
Number of links to inflammatory religious extremists: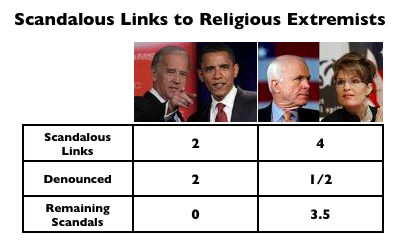 Obama: 2

Obama's former preacher Jeremiah Wright fumed that the US was to blame for 9/11.
Nation of Islam's Louis Farrakhan has voiced support for Obama despite the fact that Obama "did nothing to solicit Farrakhan's support."
Biden: 0
McCain: 1
McCain's preacher John Hagee fumed that God had sent Hurricane Katrina to ravage New Orleans because a gay pride event was planned there, and preaches anti-semetic and anti-Catholic messages. Televangelist Hagee heads the 18,000-member Cornerstone Church and reaches a TV audience of millions. McCain actively sought the endorsement of Hagee.
CJR: The McCain-Hagee Connection
Palin: At least 3

Current pastor Larry Kroon prophesied in June that "God, instead of responding by granting spiritual renewal and sustained prosperity could just as easily… it's conceivable that He could just as easily, for example, raise up a revived, prosperous and powerful Communist Russia with a web of alliances across the Middle East. And our gas pumps would go dry. The dollar would collapse. And the markets would crash. The kayak could go upside down. And it could happen in a matter of weeks. That could happen. It could happen by this fall."
Palin's Pastor: God "Is Gonna Strike Out His Hand Against…America"
Credits Bishop Thomas Muthee, revered as a witch hunter at Wasilla Assembly of God, with helping push her ascent as Governor of Alaska. Video from 2005 revealed Muthee preaching "take the economy back from Jews" rhetoric, saying "The Bible says that the wealth of the wicked is stored up for the righteous. It's high time that we have top Christian businessmen, businesswomen, bankers, you know, who are men and women of integrity running the economics of our nations. If you look at the – you know – if you look at the Israelites, that's how they work. And that's how they are, even today." Palin joined Muthee on stage moments later.
Sarah Palin has appeared to condone anti-Semitic remarks – guardian.co.uk
The Witch Fighter Anoints Palin
Christian Broadcasting Network vice president Jim Bramlett wrote to his evangelical audience, "Sarah [Palin] is that standard God has raised up to stop the flood. She has the anointing," and described Palin as someone "gifted with prophetic command," in contrast to Obama, who Bramlett described as being propelled only by his "eloquent oratory and his race."
Jim Bramlett @ inJesus.com
The Crusaders : Rolling Stone
Birth Pangs of a New Christian Zionism
Number of inflammatory religious extremists denounced by candidate:
Obama: 2

Called Wright's rhetoric "divisive and destructive," and said "they end up giving comfort to those who prey on hate, and I believe that they do not portray accurately the perspective of the black church. They certainly don't portray accurately my values and beliefs."
Tim Russert of NBC News and Washington Post columnist Richard Cohen both drew attention to Obama's unsolicited endorsement from Farrakhan, and Russert "asked Obama to reject Farrakhan's support" during the democratic nominee candidate's debates.
Biden: 0
McCain: Half

Said of Hagee's Katrina comments "it's nonsense. I reject that categorically," although McCain actively sought Hagee's [support] and appeared on stage with him, and has not been pressed to reject his support by the media or in debates.
Palin: 0
Has fully supported her preachers' radical fundamentalist ideas and expresses the same ideas herself, entwined with her political policy aspirations. Has never spoken out against their comments or distanced herself from it.
Has not been pressed to reject the support of any radical preachers by the media or in debates.
Reports of voter fraud: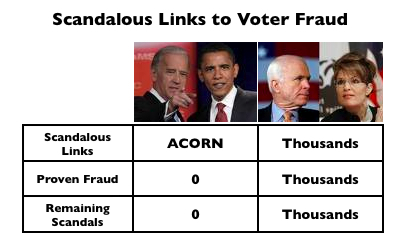 Obama-Biden Ticket: suggested
Reports allege problems with ACORN voter registrations among poor citizens, voters who would mostly likely benefit the democratic ticket. However, false registration are fraud against ACORN, which pays volunteers to register voters. The hundreds of alleged fake voters that have been registered are not going to show up to vote. Rather than voter fraud, there has been fraud against ACORN as an organization, which has ended up paying for invalid voter registrations. Police have raided ACORN offices and taken equipment.
Another look at the ACORN furor – War Room
McCain-Palin Ticket: documented
The Montana GOP pushed to remove 6,000 voters from democratic counties, often related to University populations that would favor Obama. The GOP backed down after being challenged. This fraud would have directly disenfranchised voters. Police have not raided the Montana GOP offices nor taken equipment.
Conservative reporter John Stossel, a critic of global warming science, has prepared a segment for 20/20 that suggests young voters are not informed enough to vote. Titled "Maybe It's Your Civic Duty Not To Vote," the segment compares voting with brain surgery and concludes "maybe instead of telling people things like 'Rock the Vote,' these groups should say 'Rock or Vote.'" Stossel didn't suggest vetting voters' knowledge of the issues in general, but does suggest that young voters, who overwhelmingly favor Obama, should not be allowed to vote.
John Stossel To Run Hatchet Piece on Young Voter Engagement
Along those lines, "Young voters at Drexel University in Philadelphia, Penn. have already been targeted, with students reporting that flyers have been posted around campus warning that undercover police will be at the polls on Election Day looking to make arrests."
ABC News: 'Tis the Season of Election Dirty Tricks: Scaring Student Voters
"Tens of thousands of eligible voters in at least six swing states have been removed from the rolls or have been blocked from registering in ways that appear to violate federal law, according to a review of state records and Social Security data by The New York Times."
States' Actions to Block Voters Appear Illegal – NYTimes.com
Did I miss any scandals? Let me know! Send in links worthy of mention.
Other articles on current events:
Terrorist Criminal Links to the Presidential Candidates
The Big Fannie Mae & Freddie Mac Attack
Osama Bin Laden's Dream of US Economic Collapse
You Know the Drill?
Ten Striking Parallels Between Microsoft and John McCain
Obama's Apple, McCain's Microsoft: the Politics of Tech
Did you like this article? Let me know. Comment here, in the Forum, or email me with your ideas.

Like reading RoughlyDrafted? Share articles with your friends, link from your blog, and subscribe to my podcast (oh wait, I have to fix that first). It's also cool to submit my articles to Digg, Reddit, or Slashdot where more people will see them. Consider making a small donation supporting this site. Thanks!