Rebrickulous: Cutting Through The MacBook Rumors
October 9th, 2008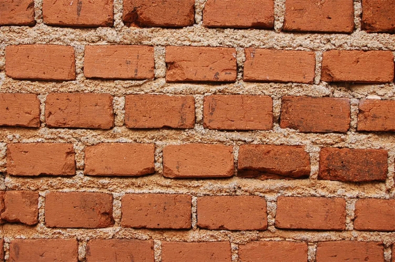 Daniel Eran Dilger
After hearing about the "brick," supposedly an Apple code-name for an unreleased something, the web has gone wild with pundits trying to attach their personal visions for the future with Apple's capacity to deliver them. These visions make it clear why Apple does not use focus groups to create its products.
.
The idea got started by 9to5mac.com posting the suggestion that the word Brick was a meaningful part of something connected to Apple's upcoming MacBook refresh.
It followed up with a "clue" that presented a photo of a laser pointer on a sci-fi novel (sourced from a web search) with aa Apple logo superimposed over the target of the beam. What did Apple have to do with Bricks and Cryptonomicon? It seemed everyone was in a panic to find out.
OhGizmo! » Archive » OhGizmo Review: Dragon Lasers 250mW Hulk
Ginger II.

This rather thin slice of buzz, despite lacking any attribution to an authority or even an anonymous source of reliable information in the past, was subsequently attached to a series of tired old ideas that have been relentlessly flogged over the last decade in a desperate bid to lend them some fresh credibility, including:
A powerful new Mac mini, despite the fact that the mini has a very limited role in Apple's sales or strategy. It serves as a placeholder product. The rumors that it will go away are no more or less credible than those saying it will become an important product.
Something between a mini and an Apple TV, despite the fact that the Apple TV has been described as a hobby. As with the Mac mini, the rumors oscillate between reports of fantastic new revisions and its being dumped, when in reality neither is likely.
A cheap new Mac Pro, despite the fact that, while being lusted after by Internet thinkers, a headless PC replacement with much better hardware than the mini and a dramatically lower price than the workstation class Pro would only lower Apple's margins while having very little impact on selling more machines.
If there was any money to be made chasing Dell and HP down the profitless rabbit hole of low margin, middle of the road desktops, Apple would be pursuing it. In reality however, the desktop PC is a dying market with little potential for growth and scant possibility for differentiation or profitability. Apple sells iMacs and laptops, and builds Mac Pros so as to be taken seriously by professionals. Even the Xserve is a minor part of Apple's business.
The Long Retail.
The reason Apple isn't copying HP and Dell and other PC makers struggling against the tide of failure? There are two: first off, dramatic new growth in traditional desktop PC market is dead and there aren't any signs of a potential for resurrection. It has matured, and PC makers are now scrambling to figure out how to make a cheaper, portable generation of PCs that can survive in emerging markets outside the US.
The second reason is that Apple has something the PC makers don't have: classy boutique retail stores. Apple has no interest in competing in the commodity market for PC boxes because it has a hungry market for all the growth it can supply in its own retail stores. People don't walk into an Apple Store looking to buy a WalMart-style PC box. They buy laptops and iMacs, almost exclusively. Mac Pros and minis account for a small portion of Apple's retail sales.
The voracious demand for classy retail Macs is what is fueling Apple's growth. That growth is in turn creating new retail stores, which fuel more growth. Apple has a lot of runway ahead of its current position for gaining speed in retail before it needs to lift up and aggressively target the enterprise or other future destinations.
That retail miracle has gone unmatched by PC vendors, which have no brand nor any well designed products to sell. The closest has been Sony, which hasn't been able to get much mileage from its Style stores, in part because it is only selling lifeless commodity Windows PC. Retail is hard; just ask Microsoft or Palm, both of which threw in the towel on flashy retail stores. The success of Starbucks doesn't mean that its easy to sell coffee.
Apple's Retail Challenge
Apple's Adventures in Retail
The Globalization PC Myth.

Apple's wild success in retail means the company isn't scrambling to find a way out to jump start the heart of the aging commodity PC before it flatlines, as everyone else in the PC business is.
Apple has the circumstances to eat into rival's market share by replacing their commodity PCs with premium PCs called Macs. If Dell and HP could do this, they certainly would be. They can't.
Pundits who haven't grasped this reality are left thinking that Apple has to follow what everyone else in the PC world has to do in the PC end game, and so are suggesting something else that Apple has to laser from the Brick:
The netbook is a favorite concept among Windows Enthusiasts who are contemptuous of Apple but like to link-bait Mac readers. When has Apple ever chased after failed product categories with imitative zeal? Never mind reality; they just desperately want to position Apple as the follower.
The EeePC, OLPC, UMPC and similar products are favorites of the crowd who like to chase buzzwords, but these products are selling in extremely small quantities at razor thin profits. UMPC and OLPC devices failed to sell as many units as the Zune last year; OLPC sold less than 700,000 in 2007.
The EeePC is described as a relative success, selling 1.7 million devices in the first half of 2008, despite being a $300 to $700 product. There's no profits to be made in selling toy laptops in that kind of quantity. In the last year, Apple sold eight million Macs, ten million iPhones, and 60 million iPods.
Apple is not going to trade any of those profitable markets away for the chance to design and market ultra-cheap toy laptops that it will then have to compete against commodity makers with in order to slice off part of their 4 million per year potential market at cutthroat margins.
Mobile EEE PC, UMPC, and Internet Tablets vs the iPhone
Here We Are Now, Entertain Us.

Despite the fact that Apple is currently working hard to take back the computer market with the Mac, defend its dominant position with the iPod, and eat its way into the huge and rapidly growing smartphone market with the iPhone, many pundits are demanding that Apple reserve significant efforts in order to dabble in failed product categories that have made no progress for years, apparently just to entertain them.
They pout in dissatisfaction after every product announcement, fretting that Apple hasn't done enough to wow them with copycat versions of the loser dead end product visions offered up by its rivals. Where is Apple's version of the joke called the Surface? Where is its rental music subscriptions, its DVR, its HD optical disk, its $8 billion investment in game consoles?
Scratching the Surface of Microsoft's New Table PC
Video Game Consoles 2007: Wii, PS3 and the Death of Microsoft's Xbox 360
Lessons from the Death of HD-DVD
CES: Fear and Loathing in Las Vegas
Apple hasn't created an entirely new category of devices since the Newton, which isn't exactly regarded as a successful venture. What Apple has done is devise competitive and differentiated new form factors and feature selections for existing product categories that show real potential, such as the iPod or the light but full sized MacBook Air.
The company has intentionally avoided jumping into shallow, stagnant markets with little consumer interest, including the Tablet PC and the Media Center PC or Tivo.
When it has cautiously entered unproven new markets as it did with the Apple TV, it has done so with unique products that attempt to target a new facet that existing players haven't tapped. Apple has little to offer in a netbook, and of course, there's also nothing brick-like about a netbook.
How the MacBook Air stacks up against other ultra-light notebooks
Apple TV Digital Disruption at Work: iTunes Takes 91% of Video Downloads
Cutting blocks of metal with freaking lasers.
The original product linked to the magic Brick word is the MacBook. The revealed intention: rather than stamping laptop shells out of aluminum, Apple would supposedly be cutting up solid blocks of metal using lasers.
Never mind that lasers only cut through large blocks of metal in James Bond movies (manufacturers might use high pressure water jets to prototype models, but not to build mass produced laptop shells by the millions); the rumors have now jumped from 'pin your code-word on my existing idea' into the realm of '1960s fantasy novels as business models.'
Continuing on that same Jeopardy category is the idea that Apple would invest in manufacturing facilities in the US. The idea of building large scale domestic manufacturing in the US was too late even back in the late 80s when Steve Jobs envisioned a high tech, automated factory for assembling NeXT computers. Two years after building the 40,000 sq ft Fremont factory with over 100 precision assembly robots, the plant was only pushing out 60 machines a day.
The benefits of building an automated assembly plant in the US related to higher quality logic board fabrication than was available overseas and rapid, customizable, 'just in time' construction to minimize inventory problems. NeXT wasn't building mass production consumer gear.
However, these motivations all related to the pioneering NeXT Computers in late 80s in a world before commodity PCs could even work a mouse, before the modern world of mass assembly, and when NeXT's workstations were selling for nearly $10,000 each.
THE ULTIMATE COMPUTER FACTORY
AUCTION IS PLANNED FOR NEXT COMPUTER'S FACTORY – New York Times
More Problems than Solutions.

None of those same motivating factors are relevant today. NeXT's factory was expected to eventually reach a capacity of 600 machines a day, but even that would only be able produce a quarter million units in a year of non-stop production. Apple now sells two to three million Macs per quarter.
Building, staffing, and running acres of factories in the US is no longer an economic reality. The US is no longer an industrial economy, which is why we are bailing tens of billions of dollars upon the auto industry. It makes no sense to build computers in the US. Jobs was the last person to try. Apple knows what is possible, and manufacturing in the US is unquestionably not feasible now, twenty years after the failure of the high tech NeXT factory.
It is particularly 'not possible' to manufacture computers by carving blocks of metal with lasers in the US. The future of new MacBooks is not carved blocks of metal, but rather precision stamped metal. That is demonstrated pretty clearly in the design of the MacBook Air.
Cited as the rationale behind laser cutting blocks of metal: no weak spots from bends! Laptop shells don't have weak spots. Where are these weak spots in the bent metal on the Air? People aren't using laptops as load bearing walls or as personal aircraft.
Another: no seams. Does the Air has obvious seams that offend in some way? Another: a more creative design if you don't have to machine it. The Air is creative; a laser cut block would have a lot more design constraints than a curvaceous stamped metal shell as well as higher costs and greater waste.
Seriously?

BusinessWeek maintained a straight face in examining the Brick rumor seriously, quoting Kevin Keller from iSuppli as saying, "If you're working with one single unit of metal, you're reducing a lot of the materials costs and also a lot of labor time on assembly."
Does that mean laptop shells laser cut from a "brick" of metal would somehow already have the logic board inside it? Would the savings in material be related to the portion of the block incinerated by the laser? It's almost like reading an iSuppli take apart estimate of a device they haven't actually taken apart.
This is all so breathtakingly stupid that bears some resemblance to the election. Why is the tech media so ready to sell its credibility and chat up an absurd honking nose as if it were a serious subject deserving attention? And why is it ignoring the more interesting actual story?
Apple's Brick: A Radical New Laptop? – BusinessWeek
New MacBooks
Instead of cutting into metal bricks to deliver the promised "state of the art new products at prices competitors can't match," Apple is going to continue shipping revised new laptops that share design elements of the MacBook and MacBook Pro. This will likely include:
the same recessed keyboard of the Air and the standard MacBook on the MacBook Pro
a revised set of ports that appears likely to drop FireWire 400 for FireWire 800 or even FW-3200
a mini DVI video port to save room
the movement of all ports to the right side, allowing for a left side loading optical drive
the use of the vacated front edge to store a full width battery bay, also supplying hard drive and RAM access like the MacBook
Further, if Apple is really pushing the envelope, we'll see an integrated display incorporated into the trackpad.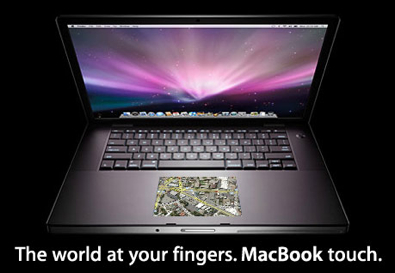 A Product Transition: Giving MacBooks the iPhone Touch
Articles in this Series:
What's Next from Apple: New iPods Sept 22, iPhone OS 2.1, iTunes 8.0
Two Decades of Portable Macs: 1989 – 2009
The iPod Power Behind Apple's Big Mac Push
A Product Transition: Giving MacBooks the iPhone Touch
Did you like this article? Let me know. Comment here, in the Forum, or email me with your ideas.

Like reading RoughlyDrafted? Share articles with your friends, link from your blog, and subscribe to my podcast (oh wait, I have to fix that first). It's also cool to submit my articles to Digg, Reddit, or Slashdot where more people will see them. Consider making a small donation supporting this site. Thanks!