Myth 8: iPhone will lose out to Steve Ballmer's Windows Mobile 7 in 2010
October 5th, 2008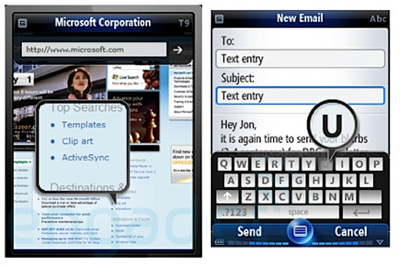 Daniel Eran Dilger
Continuing upon the previous seven iPhone myths, this one insists that Apple will lose its iPhone platform to Microsoft's Windows Mobile 7 as Steve Ballmer rears his head and comes into the airspace of Apple's mobile platform. That's wrong, here's why.
iPhone Myths
Five More iPhone Myths
Myth 6: iPhone Developers will Flock to Android
Myth 7: iPhone Buyers will Flock to Android
Myth 8: iPhone will lose out to Steve Ballmer's Windows Mobile 7 in 2010
Myth 9: iPhone Unable to Penetrate Europe Due to Symbian Dominance
.
8. iPhone will lose out to Steve Ballmer's Windows Mobile 7 in 2010
Microsoft's CEO has promised that Apple's early success with the iPhone is only temporary. Addressing the Churchill Club in Silicon Valley, Ballmer warned that Nokia, Research in Motion and Apple would all lose out as the market expands over the next five years, because they control their own proprietary software tied to their own hardware.
Speaking of Nokia's 30% share of the smartphone market, Ballmer said, "If you want to reach more than that, you have to separate the hardware and software in the platform," suggesting that the Windows PC software licensing model was the destiny for smartphones.
Never mind that Symbian software is already separate from Nokia's hardware business; Symbian is currently a partnership between Nokia, Sony Ericsson, NTT DoCoMo, and a variety of others, and it will continue to remain an independent software platform even as Nokia takes it over and releases it as an open source software platform.
What Ballmer was trying to say is that the future for smartphones would not come from today's leaders. Nokia happens to be at the top globally, while RIM and Apple lead in the US market. According to Ballmer, these all need to make way for Windows Mobile so that Microsoft can monopolize smartphones the same way that it monopolized PCs in the 90s. Rather than elucidating a genius strategy for making progress among mobile devices, Ballmer was simply decreeing that Microsoft would win because it wants to win.
Ballmer changes tune while dancing around Apple's success
Symbian reports slow growth in front of iPhone 3G launch
Ballmer vs Ballmer.

Of course, Ballmer had also earlier told his own employees that Microsoft was seeking to copy Apple's business model of integrated hardware and software so it too could offer "great end-to-end experiences" as Apple has with the Mac, iPod, and iPhone. The problem is that Microsoft can't focus on doing both. The company's recent experiences indicate that it can't do either one:
It failed to take on the iPod with both the PlaysForSure software platform and its own integrated Zune hardware.
Windows Mobile has actually lost market share dramatically in the smartphone market, from 23% in 2004 to 12% today. It has no official plans for its own integrated phone.
Even PC sales are falling from Microsoft's grasp, with Apple grabbing an increasingly large chunk of high growth laptop sales: 20% of retail US unit sales and a whopping 35% dollar share of that market now belong to Apple. Microsoft has no plans outlined for an integrated PC.
In video games, Microsoft has rapidly fallen from its early head start with the integrated Xbox 360. Conversely it has no plans to license the Xbox to commodity hardware partners.
Will the release of Windows Mobile 7 reverse Microsoft's trend toward failure in the smartphone market? Certainly not before it can hit the shelves in 2010. Even then, it won't have much to offer outside of catching up to iPhone 2.0, which will be a problem because by then Apple will likely be deep into its third major revision of iPhone software, with many months of $40 million in third party software sales under its belt and years of worldwide deployment of iPhones.
The Spectacular Failure of WinCE and Windows Mobile
Microsoft's Zune, Vista, and Windows Mobile 7 Strategy vs the iPhone
Outlook Not So Good.

Over the next year, Apple is likely to distribute a billion mobile apps in a market that is growing even faster than the exponential growth in song sales Apple managed with iTunes. While observers expressed confidence in Microsoft's ability to bring down iTunes with its consortium of PlaysForSure partners in 2004, the company's miserable failure to even make a dent in iTunes sales has changed the opinion of those now considering whether Microsoft can catch up in mobile sales after entering the market years behind Apple.
Even Gartner, which has served as a cheerleader for all things Microsoft over the last two decades, is recommending mobile manufacturers side with Android or Symbian in a curious statement that makes no reference to Microsoft's Windows Mobile at all. In February 2006, Garner was insisting that Nokia dump Symbian and adopt Windows Mobile if it wanted to be taken serious in the enterprise market.
"In the enterprise market, Nokia should expand its smartphone portfolio past Symbian to include Microsoft-based products. Nokia is in danger of making the same mistake again — trying to force end users to take its preferred solution rather than giving them what they want. In North America, enterprises will demand Microsoft-based products. Nokia should not discontinue Symbian devices, but it should focus Symbian products on the consumer and prosumer market, while offering Microsoft-based products to the enterprise market."
Gartner says to Nokia : start making Windows Mobile phones
Will Windows Mobile Play DOS to Apple's iPhone?
Windows Mobile is not Windows.

Microsoft's rise to monopolize the PC market began when it was granted control of the software side of IBM's PC in 1981. Microsoft leveraged IBM's brand to vault MS-DOS as the real value of the PC, and was allowed to license that basic software to the PC-compatible competitors of IBM. It then forced Apple to sign a 1985 deal that licensed Mac technologies to Microsoft at no cost, enabling it to upgrade DOS PCs into Windows PCs at a time when Apple's "look and feel" lawsuits helped to stifle competition on the PC, and as Microsoft's own OEM licensing contracts forbade PC makers from assisting any competition to DOS or Windows from gaining a foothold.
Things are vastly different in the smartphone industry today. While Microsoft was able to leverage its brand to take an early lead among the impractical prototype smartphone market of 2003, its product simply wasn't very good and didn't progress fast enough to avoid being marginalized by faster moving competitors. Even Microsoft's deal to replace the Palm OS with Windows Mobile on certain popular smartphones sold by Palm did little to shore up the market share of Windows Mobile.
When RIM's BlackBerry entered the scene in the US market, it rapidly outpaced Windows Mobile sales. Other major smartphone manufacturers defended their home turf markets from entry by Windows Mobile, including Nokia and Sony Ericsson in Europe and Sharp and NTT DoCoMo in Japan. Microsoft has brokered deals with lots of smartphone manufacturers, including Sony Ericsson. Despite wide distribution, Windows Mobile phones haven't remained very popular, as evidenced by Microsoft's tumbling market share. The problem is that Windows Mobile just isn't very good.
Office Wars 3 – How Microsoft Got Its Office Monopoly
Mac Office, $150 Million, and the Story Nobody Covered
Why Windows Mobile is So Very Rotten.

The desktop PC Windows wasn't very good in 1990 either, but nobody offered a strong competitor that was ready to compete with it and broadly available. IBM's OS/2 was technically superior as an operating system, but it lacked the graphical interface and the applications that were becoming available for Windows, in large part due to the fact that OS/2 cost a lot of money as a retail purchase (nearly $300) on top of the Windows license new PC users got "for free." Windows never had any serious competition, so it never had to be a very good product.
Microsoft delivered an equally bad product for smartphones. The problem is that smartphones demand a better operating system than PCs do. Smartphones with a bad user interface, lethargic performance, security holes, crashing instability, and long boot times can't be rationalized around with a Ctl Alt Del or fed RAM until they work acceptably. Symbian isn't the greatest developer platform, but it does offer a solid operating system. The Palm OS offered a weak OS, but made up for that in part with a stronger user interface. RIM delivered specific strengths in messaging. Windows Mobile offered nothing but a placeholder product riddled with weaknesses.
When Apple released the iPhone with a stellar user interface and a strong operating system foundation, followed up by 2.0 features that included rapid development tools and stronger messaging features, the remains of Windows Mobile were blown out of the water. The deepest cut however came from the iPhone's highly usable web browser, which immediately obsolesced the "Pocket Internet Explorer" offered by Windows Mobile.
Windows Mobile 7 plans to catch up to the iPhone with a better browser, a revamped and largely imitative user interface, and support for accelerometers and multitouch just like the iPhone offered in 2007. Microsoft's version will ship in 2010, and it won't do anything for existing Windows Mobile phones, few of which offer any hardware support for the new accelerometer and multitouch features. That means the market for Windows Mobile phones will continue to be rotten over the next year or so, and then start fresh from zero with a rewarmed platform that attempts to clone the iPhone.
Microsoft plans "Skymarket" apps store for Windows Mobile 7 in 2009

Windows Mobile vs Android, Symbian.
If Apple and Microsoft were the only two major platforms competing in the smartphone arena, we may have had the opportunity to observe another PlaysForSure vs iPod unfold. However, this time around Microsoft is also competing against two major alternatives: the soon to be open sourced Symbian and Google's Android, both of which are gunning to be the next "DOS" for smartphones. Both have lined up as many credible partners as Microsoft. The main difference is that both lack a direct profit motivation.
Symbian is throwing in the towel on charging licensing fees for its software, and Android will be free right out of the gate. Manufacturers of both alliances will still be paying for the software indirectly by supporting that software development. That makes Symbian and Android closer to Apple's integrated model of the iPhone, except that the former two will have hardware competition among their partners and will undoubtedly offer a greater variety of form factors than Apple will. On the other hand, Apple will have the only cohesive platform where the software and hardware are custom-designed to fit together, resulting in less effort to support all those variables on included features and differing form factors.
Apple will be unique in offering the differentiation of tight integration versus Android, Symbian, and Windows Mobile, while Windows Mobile will be unique in offering the only platform partners have to pay direct licensing fees to use. It will also be unique in offering a proprietary web browser. The other three will be pushing a WebKit based browser, meaning that the mobile world's contributions will go into maintaining WebKit's lead as the superior mobile browser engine. No wonder Microsoft hates open source.
Will Google's Android Play DOS to Apple's iPhone?
Google's Android Platform Faces Five Tough Obstacles
Microsoft's Unwinnable War on Linux and Open Source
iPhone vs Microsoft.

The damage caused to Microsoft by the iPhone will go far beyond Windows Mobile. If the world thought that the iPod delivered a halo effect over Mac sales, imagine what the iPhone will do over the next year. Unlike the iPods, the iPhone and iPod touch deliver a software platform based on Mac OS X's Cocoa. Besides generating tens of millions in software revenues for third party mobile developers every month, the iPhone App Store will also direct loads of interest into the Mac software platform as well.
The impact on Mac sales is already clearly visible. As Apple ramps up iPhone sales internationally and builds out retail stores in the wake of its sales, Mac hardware will also force its way into the cracks of the Windows PC monopoly and expand to break open the computing landscape. Thanks to the web and a new push to create platform-agnostic web apps led in part by Google, the barriers imposed by Microsoft to stifle competition and technological progress are rapidly becoming irrelevant in desktop computing.
If HP, Dell, Acer and other top PC manufacturers were faced with Windows as their only alternative, there might be cause for concern that 2010 would usher in a push for Windows 7 that would return the PC world to the monoculture imposed by Windows 95. However, all of the top PC manufacturers are pushing back on Vista and investigating alternatives, with Acer pioneering Linux sales, Dell experimenting with Linux-based netbooks, and HP reportedly working to deliver its own OS, like a Linux variant. PC makers owe no loyalty to the company that has been taxing their performance with licensing fees. The only way they can compete for hardware sales is to differentiate themselves, something Windows 7 won't help them do.
Similarly, Windows Mobile 7 will be too little, far too late. Google's free Android replacement faces some of the same problems as Windows Mobile, but lacks the need to provide any direct commercial return on investment. What about Symbian? Will the iPhone be unable to penetrate Europe due to Symbian dominance? Myth 9 will investigate.
Myth 9: iPhone Unable to Penetrate Europe Due to Symbian Dominance
Did you like this article? Let me know. Comment here, in the Forum, or email me with your ideas.

Like reading RoughlyDrafted? Share articles with your friends, link from your blog, and subscribe to my podcast (oh wait, I have to fix that first). It's also cool to submit my articles to Digg, Reddit, or Slashdot where more people will see them. Consider making a small donation supporting this site. Thanks!