Myth 7: iPhone Buyers will Flock to Android
October 3rd, 2008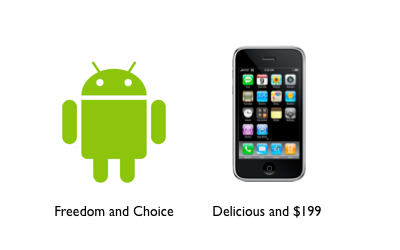 Daniel Eran Dilger
Continuing upon the previous six iPhone myths, this one insists that Apple will lose its iPhone platform to Android as iPhone users defect to non-Apple phones seeking freedom and openness. That's wrong, here's why.
iPhone Myths
Five More iPhone Myths
Myth 6: iPhone Developers will Flock to Android
Myth 7: iPhone Buyers will Flock to Android
Myth 8: iPhone will lose out to Steve Ballmer's Windows Mobile 7 in 2010
Myth 9: iPhone Unable to Penetrate Europe Due to Symbian Dominance.
7. iPhone buyers will flock to Android
The idea that iPhone users will rush to buy Android phones is even more delusional than the idea that developers will flock to Android in myth 6. That promises to keep Android's users vs. software Catch-22 firmly in place as a barrier to the rapid, mass adoption that the iPhone experienced.
The last thirty years of consumer electronics tell us that the primary influence on purchasing decisions relates to price: either a simple low cost or a high perceived value for the money.
Ideological factors not related to price, including technical superiority or Android's primary appeal of "openness," have historically had very little impact on the success of products in the marketplace, particularly when compared to price-related factors, much to the chagrin of those of us who prefer to see better and more interoperable products rather than just cheap ones.
Android's Cost Problem.

Android offers mobile handset manufacturers a free alternative to Windows Mobile, which explains the great deal of interest demonstrated by existing Windows Mobile hardware partners. HTC, Motorola, Samsung, and LG all make Windows Mobile phones, but would obviously be better served to have access to a software platform they can use without paying Microsoft royalty fees.
However, phone buyers don't see themselves as paying for Windows Mobile, and Android does not save its hardware partners enough in royalties to result in cheaper phones. In the PC arena, computers sold without a Windows license can be significantly cheaper, but royalty payments for licensing Windows Mobile are much lower. That means that while the royalty fees have an aggregate impact on manufacturers, they aren't large enough to show up in the retail price consumers see.
That means users won't have the same incentive to get excited about Android as hardware makers. Users who bought the Motorola Q or Samsung Blackjack didn't make their decision related to the phone OS, but rather on the the value of their hardware features and the cost of the phone. An Android version of the Q or Blackjack won't make them any more attractive to users than the Windows Mobile version.
Apple: iPhone Now Costs Less than Ballmer's Lame Motorola Q
A Step Across, Not Up.

Android will only replace Windows Mobile and perhaps Motorola's current version of Linux on some of its phones. This will have little positive impact on end users, as Android doesn't offer many new features over Windows Mobile, apart from a usable, WebKit-based browser.
On the other hand, Android currently lacks many Windows Mobile features, including support for more advanced Bluetooth options and the ability to run existing Windows Mobile software titles. While Windows Mobile is not highly regarded as quality software, Android has only just recently reached 1.0 status. It will take some time to become clearly superior to Windows Mobile.
That all adds up to mean significant trouble for Microsoft, but no real impact on Apple because anyone interested in Android-type phones already has a wide assortment of Windows Mobile phones to choose from, none of which approach the iPhone in areas where the iPhone excels.
Breakdown: Android G1, iPhone share little in common
Freedom and Choice.

Anyone who foresees a mass migration from the iPhone to Android based on "freedom and choice" should stop to contemplate why those factors have had so little impact in making Windows Mobile phones competitive against the iPhone over the last year and a half.
The reasons people are buying iPhones relate to simplicity, ease of use, elegant design, and integration into Apple's iTunes media and mobile software sphere, which neither Android nor Windows Mobile address. These are all features that enhance the iPhone's obvious value to users, differentiating it on price-related factors that consumers care about.
Additionally, with the release of the $199 iPhone 3G, Apple has moved beyond its high value phase and entered a new low cost push that further erodes the capacity of any competitors to beat Apple in price. Apple's ability to aggressively compete in the music player market on price indicates that it has figured out the key importance of pricing factors to push beyond a niche luxury market.
Jobs and Pricing.

In the mid 80s, Steve Jobs worked to push the original Macintosh at the lowest price possible, despite its expensive pioneering technologies. Instead, Jobs was pushed out of Apple by CEO John Sculley, who added a huge marketing budget tax on the Macintosh and continued to resist the strategy of selling Macs in volume to a mainstream audience at low prices until Apple's window of opportunity closed in 1990.
Jobs sold high value NeXT workstations at very competitive prices in the early 90s, but was unable to enter the consumer market until Apple bought his company and eventually put him in charge of fixing Apple. The result was a new push to lower prices while delivering more value to users.
The iPod and now the iPhone show that Apple clearly understands the importance of accessible prices in targeting a large mainstream audience. The iPhone in particular has a special edge in that mobile phone prices are disguised in the shell game market of mobile operators' subsidies.
Steve Jobs and 20 Years of Apple Servers
Can Apple Take Microsoft in the Battle for the Desktop?
Jean-Louis Gassée Returns from Obscurity… to Talk About MobileMe
No Room For An In.

With the iPhone, Apple has raised the bar by offering features with clear value, including a vastly superior human interface, a secure software deployment mechanism, strict quality control on hardware and software (exempting the current low point in stability plaguing the iPhone system software), and tight integration with iTunes. At the same time, Apple has given competitors, including Android phone makers, no breathing room to undercut it on price.
This will leave Android phone makers to churn out the same phones we've seen running Windows Mobile, except that they'll be running open source software rather than Windows Mobile. Open source software has not demonstrated sufficient market appeal among consumers to effectively compete, even when offered for free. That's because ideological features only appeal to a small niche of buyers.
Take a look at how well products do when their main features are, like Android, freedom and choice. Google effectively pays for the development of Firefox so users can download it for free, but the browser has seen limited adoption over the last half decade despite its technical superiority over Internet Explorer in many areas.
Safari has taken a share of the market roughly a half third as large as Firefox in just the last several months [Net Applications reports Firefox has a 19.46% share cross platform, while Safari has 6.65%; this proportion has been in place over the last year since Safari went cross platform in June 2007.], and it decisively leads Firefox in mobile use. Open source alternatives to iTunes have gone nowhere. Linux on the desktop has had very little impact. Freedom and choice sound good, but don't result in sales.
Without the ability to fuel significant price savings for consumers or to add substantial, tangible value, Android will similarly not be able to match the high value, low cost impact the iPhone is experiencing, and Android's focusing on freedom and choice simply won't matter. That in turn will hold back the market for third party Android development, making the platform even less appealing to users.
Market share for browsers, operating systems and search engines
The Spectacular Failure of WinCE and Windows Mobile
Will Google's Android Play DOS to Apple's iPhone?
The Web Browser Renaissance: Firefox and Safari
Could An Alliance of Big Name Manufactures Possibly Fail?

Advocates for Android cite the big names behind it. Motorola is currently failing, but LG and Samsung are strong leaders, and HTC is desperate to prove its ability to move past selling clunky phones running Windows Mobile. Google itself is also a powerful force in the industry.
Major alliances have failed spectacularly before however. All of the Android partners are also Windows Mobile developers backed up by Microsoft, which is itself reason for pause in cheerleading for Android. Most of them also participated in Microsoft's failed PlaysForSure effort. Other examples:
Sony put together an impressive roster of Blu-ray partners, but that product alliance won a battle with HD-DVD only to lose the war of pushing better-secured DRM discs as an alternative to DVDs.
PowerPC formed a grand alliance of heavyweight supporters that were unable to materialize the goal of updating the crufty old PC desktop with modern, interoperable technology open to a variety of operating systems.
Taligent and OpenStep lined up impressive partners, as did Intel and HP's Itanium disaster.
Efforts to create alliances to support commercial Unix, including the rival X/Open and OSF and then their combined efforts as the Open Group, largely only acted to observe its fall from relevance as it was blindsided by the rise of Linux.
Linux has been supported by a series of alliances, both on the desktop (OpenLinux, United Linux LSB) and for mobiles (MLI, CELF, LiPS, LiMo, and now Android). While absorbing the role of commercial Linux among server applications, Linux has had little real impact in consumer electronics and PC applications apart from providing cost savings for manufacturers.
Among mobile manufacturers, Java ME and Flash Lite have largely failed as middleware despite wide deployment across nearly every major manufacturer, while the Palm OS and Symbian are falling apart as partnership OS alliances between major manufacturers.
Origins of the Blu-ray vs HD-DVD War
Lessons from the Death of HD-DVD
Why Apple Hasn't Used Intel Before
The Secrets of Pink, Taligent and Copland
Road to Mac OS X 10.6 Snow Leopard: 64-Bits
SCO, Linux, and Microsoft in the History of OS: 1990s
Will Google's Android Play DOS to Apple's iPhone?
The iPhone Threat to Adobe, Microsoft, Sun, Real, BREW, Symbian
The Egregious Incompetence of Palm
There are nearly as many failures in tech alliances as there have been tech alliances. That doesn't bode well for Android. What about the prospects for the partners involved in the upcoming Windows Mobile 7? The next segment will take a look.
Myth 8: iPhone will lose out to Steve Ballmer's Windows Mobile 7 in 2010
Did you like this article? Let me know. Comment here, in the Forum, or email me with your ideas.

Like reading RoughlyDrafted? Share articles with your friends, link from your blog, and subscribe to my podcast (oh wait, I have to fix that first). It's also cool to submit my articles to Digg, Reddit, or Slashdot where more people will see them. Consider making a small donation supporting this site. Thanks!