Grading on a Curve in America: the VP Debates
October 3rd, 2008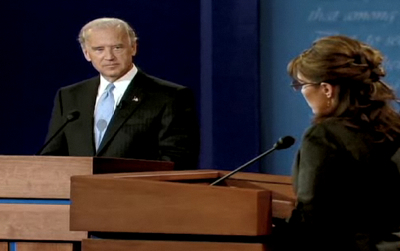 Daniel Eran Dilger
America is torn between two identities. We like to think of ourselves as smart when laughing at the foolish behavior of others, but we also express disdain for the smug elite. We like to think of ourselves as fair and compassionate team players while also being rugged free market individualists. What exactly are we, apart from being wildly contradictory? The carefully prepared vice presidential debates highlighted and mirrored our nation's identity. Was it flattering?
.
The Science of Opinion.
Americans struggle to express faith and reason at once. It is political suicide to express a lack of religiousness, yet we also demand that leaders be rational and base their decisions on facts.
A recent scientific study suggested that political opinions and our general outlook on world affairs is not simply learned behavior, but is strongly associated with physiological traits present at birth. We are, in effect, born with a moral framework that structures how we will see the world. It is therefore no surprise that, just like other aspects of personality, political views are often expressed as sharp contrasts between generations.
The benefits of diverse political views are essential to survival. If everyone in a community were wildly liberal, experimental risk takers, society could easily fall prey to unrecognized lethal threats. If they were all rigidly conservative control police, everyone would be locked in a perpetual stalemate of panicked fear and drawn guns.
And so it is that we blend and balance our liberal dreams with our conservative fears to make sure that society doesn't rush outside of the boundaries handed down to us by our parents without thoughtful caution, but that we also measure and challenge and question our beliefs and our understanding of the world to make sure what we know is based on reason and not just a perpetuated historical error.

The Strength of Weakness in Democracy.
This interplay of conservative values and liberal reexaminations culminated in democracy as a grand political experiment. Extreme conservatives have ruled as cool, ruthless dictators that perpetuated unconscionable crimes; extreme liberals have destroyed order in society to introduce horrific experiments in inhumane chaos.
In a democracy, liberal and conservative leaders must work together through shared efforts that challenge each other's views in order to balance power and hold extreme policy shifts in check. This system is inherently weak. The United States can't decree the construction of massive public works projects with the brutal efficiency of communist planners, nor can it make decisions on the use of natural resources and industry and the military with the cold authority of fascists.
Instead we have a squabbling government that deliberates and compromises to find complex solutions to difficult problems, balancing the needs of urban and rural areas, rich and poor people, workers and managers, renters and homeowners, factories and farms. It's messy and complicated, slow and inefficient, easy to complain about and hard to understand sometimes, but the alternatives are simply unthinkable, as the past century has presented in tragic detail.

The Strongest Threat to Democracy.
The American system is easy to exploit. Elected officials can lose sight of the people they are supposed to represent when money gets in the way. Conversely, elections can be dumbed down into marketing slogans so that voters are only selecting an image that does not reflect policy and viewpoints and substance, so that they end up electing a series of figureheads who are then played by unelected ventriloquists behind the scenes.
In order to elect representatives that the population collectively can reach a consensus on in an aggregated vote, those voting must be informed about the people they are selecting between so they know what actions they will take and how they will guide the economy, prepare for future risks, and balance the demands of citizens.
Not knowing the truth or being given false information about candidates is the worst possible threat to democracy. As our political system gathers cruft and as special interests subvert the government to serve the needs of moneyed stakeholders rather than serving the people, democracy shifts from lofty political experiment in the balance of power into a sham formality layered on top of an increasingly rotten system. Decayed democracies provide a fertile bed for the rise of radical dictators and rabid revolutions.
What Did the Debates Say About America's Democracy?

Heading into the vice presidential debates, many expected fireworks, with both Senator Joe Biden being known for making clumsy misstatements and Governor Sarah Palin as having a reputation for giving glassy eyed blank stares interrupted only by nonsensical strings of prepared phrases that bear little relation to the question asked.
Neither managed to embarrass themselves badly during the debate. Biden seemed to cut his comments too short, but appeared to deliver the message the Barack Obama campaign wanted to get across: John McCain would be four more years of George Bush. Biden pointedly avoided direct criticisms of Palin and instead repeatedly directed his complaints at McCain's voting record. At one point, Biden responded to Palin's talk by saying, "I didn't hear a plan."
Palin worked hard to present herself as capable to go head to head with a more experienced politician, someone who she had earlier described as giving speeches while she was in grade school. She turned on the folksy charm and described herself repeatedly as a small town mother. She even made the comment that fundamentalist enemies present a threat to "women's rights," a curious comment from an evangelical fundamentalist who had just days before told her interviewer that she would oppose a woman's right to morning after contraceptives even if the woman had been raped by her own father.
When speaking on social issues, Palin describes her views as personal opinions, and has become increasingly insistent that her own opinions would not impact her ability to "tolerate" the views of others. At the same time, Palin is also clear that she wants to overturn Roe v Wade, indicating that her personal views are not simply convictions, but her intended policy for the nation. Why the cagey subterfuge? Because Palin and McCain are working to court the favor of right wing extremists who favor Dominionism: the overthrow of the secular US government with a religious one.
McCain is hardly religious. He's a craps gambler and a philanderer who had a falling out with the Reagans after he dumped his first wife after cheating on her with a much younger model, who he then married only to have to cover up her drug use and get her off on drug-related felony charges. His original stance on social issues, including abortion, put him at odds with the religious Republican base and cost him the nomination in 2000 when he ran against Bush.
Make-Believe Maverick : Rolling Stone
That's the Ticket.

Eight years later, McCain recognized that he could not run on the Republican ticket without accommodating the religious right, which clearly played into his pick of Palin as his running mate. Palin turned out to be more than McCain bargained for. Her small town religious roots were tied up in a church where the pastor she credited with getting her elected as governor excises demons and brands individuals as witches who must be chased out of town.
Palin is embroiled in multiple scandals from an active investigation of her Troopergate allegations of improper use of executive power to taking expensive gifts in the model of indicted Alaskan Senator Ted Stevens.
As for her qualifications, Palin lacks any record outside her state. She has served as governor for 20 months over a state with just 650,000 people, fewer than the inhabitants of the 7×7 mile city of San Francisco. During that time, Alaska was awash in oil money to the point where the state pays its residents annual dividends rather than collecting taxes. Palin has no foreign policy experience and demonstrates little curiosity about the world outside her small town, where she continued to live even as governor.
Palin's mysterious selection as McCain's running mate leaves a lot unanswered. Besides being an attractive and folksy figurehead to "energize" the religious base excited about her pentacostal background, what does Palin offer McCain? Deep insight into where 4.3% of the country's oil comes from? An outsider perspective of average Americans, where "average" means being millionaire in a state that pays every citizen and their children thousands of dollars annually in oil money dividends?
Open to Debate.
Political pundits were quick to shower Palin with praise for not delivering any confused gibberish or lengthly blank stares during her debate as she regularly has in her interviews with the press. But in reality, Palin only delivered carefully rehearsed segments that often bore little correlation with the questions she was asked. The format of the debate had also been simplified for Palin so she could avoid being presented with any direct challenges or questions to respond to from Biden.
All Palin had to do smile and deliver prepared lines, something she was qualified to do with her background as a sportscaster. However, as vice president, or acting in the role of an emergency president, Palin will be called on to do more than deliver carefully rehearsed lines she's had the time to practice for weeks. This wasn't really a debate expressing the mind of Palin, but a sham presentation of what the McCain ticket wants to show voters.
Biden was quick to answer moderator questions and articulated his ticket's platform, ranging from tax policy to explaining his position on the Iraq war, diplomacy in the Middle East, economic regulation, and investment in the country's future. He challenged McCain's position in foreign policy and economics, repeatedly pointing out that there was little real difference between Bush and McCain.
Palin delivered a series of prepared responses including the complaint that Biden was focusing on past mistakes rather than future plans. She sidestepped comparisons with Bush without presenting any real policy differences, only acknowledging that mistakes were made and that her ticket promised change described only in generalities that sounded like they were written by Ned Flanders.
Palin also avoided any strong comments on social issues, managing to agree with Biden on support for gay rights to hospital visitation, insurance, and other civil matters. In an earlier interview, Palin spoke of a female friend who was gay but "not her gay friend," whom she described as having made "a decision I wouldn't have made" to be gay. If Palin disagrees with the scientific and medial community on the nature of sexual identity, how can she be qualified to make policy decisions on civil rights? Would she be taken seriously if she had said 'African Americans choose to be black, a decision she tolerated but wouldn't have made herself'?
Palin also talked about wanting to limit spending and the size of government, only to go off on a tangent about the importance of education and paying teachers well. You can't have small government taxes and big government services at the same time, unless you live in oil-subsidized Alaska, or ring up massive deficits, or both as Palin has as a small town mayor. Palin doesn't seem to see the problem in speaking enthusiastically about shrinking and growing government in the same breath.
Palin also spoke of a 'passion for diplomacy' she got from meeting Henry Kissinger, only to denigrate Obama for considering the idea of starting or continuing talks with enemy nations, something Kissinger has supported since the presidency of Richard Nixon, where he pursued a policy of détente involving talks with the Soviet Union and China in the early 70s. Palin also delivered the line, "Some of these dictators hate America and what we stand for. They cannot be met with. That is beyond bad judgment. That is dangerous."
How about saber rattling with Russia: is that dangerous?
The War

On the war in Iraq, Biden stated, "Barack says its time for them [Iraq] to spend their own money, have the 400,000 military we've trained for them begin to take their own responsibility, and gradually over 16 months withdraw. John McCain, this is a fundamental difference between us: we will end this war; for John McCain there is no end in sight to end this war. Fundamental difference: we will end this war."
Palin briefly hit bottom in a four second pause before responding, "your plan is a white flag of surrender in Iraq. And that is not what our troops need to hear today that's for sure and it's not what our nation needs to be able to count on." Palin voiced support for having no plans to leave Iraq until "the Iraqi government can govern its people, and when the Iraqi security forces can secure its people, and our commanders on the ground will tell us when those conditions have been met."
The commanders "are knowing again that we're getting closer and closer to that point, that victory that's within sight," Palin said. She also seemed to describe Vietnam as a victory in stating that McCain "knows how to win a war."
Mavericks Outside the Law

Palin also repeatedly sought to brand herself and McCain as mavericks, but Biden replied, "Look, let's talk about the maverick John McCain is. And again I love him, he's been a maverick on some issues but he's been no maverick on things that a matter people's lives. He voted four out of five times for George Bush's budget which put us half a trillion in debt this year and over three trillion in debt since he got there. He has not been a maverick in providing healthcare for people. He voted against including another 3.6 million children in coverage of an existing health care plan in the United States Senate. He's not been a maverick when it comes to education. He has not supported tax cuts and significant changes for people being able to send their kids to college, he's not been a maverick on the war, not been a maverick on virtually anything that generally affects the things people really talk about around the kitchen table."
Palin also made odd references about looking into ways the power of the vice presidency could be expanded, and endorsed Dick Cheney's description of the vice president as being outside the executive branch and therefore above the law regarding rules pertaining to the security of classified information. That controversial comment by Cheney last year was later backpedaled by the Bush administration, making Palin's agreement with it even more embarrassing. In contrast, Biden described Cheney as "the most dangerous vice president in American history."
When interviewed earlier about the worst thing Cheney has done as vice president, Biden answered, "I think he's done more harm than any other single elected official in memory in terms of shredding the constitution. You know — condoning torture. Pushing torture as a policy. This idea of a unitary executive. Meaning the Congress and the people have no power in a time of war." Palin's answer to the same question: "I guess that would have been the duck hunting accident — where, you know, that was an accident."
Presidental Questions, – CBS News
Eh for Effort

After two humiliating weeks of increasingly bad poll numbers along with the embarrassing interviews Palin gave where she consistently talked in circles to fill space while ignoring questions, spoke around issues with strings of simple prepared political jingles, and found herself at a loss to name any Supreme Court case other than Roe v Wade and separately to name any newspaper she's ever read, her carefully prepared performance at the debate was a high point for the Republican ticket in comparison.
The folksy charm was no doubt injected intentionally, but it could only have been a distraction from her performance as a vice presidential candidate to anyone who wasn't already sold on her. Is America really finding it acceptable to replace serious candidates who are informed and aware of the world around them with a celebrity figure who can barely recite her lines?
The debate revealed a few new perspectives into Palin: her desire to expand the power of the vice presidency and her intent to keep playing up the role as a Middle American, middle class soccer mom in an after school special farce about running with a man twice her age for the highest office in America. How exactly she plans to usher in her maverick changes and "clean up Washington" is hidden away in piles of folksy talk about generalities. It's almost if we're being treated at too dumb to know.
What is most disturbing isn't that Palin has extremist religious or conservative views, but that American as a whole isn't outraged that their system of democracy is being mocked by a flippant candidate who is quick to toss out snappy sitcom style insults at her opponents, who chooses to speak in a grating tone that comes across as insincere populist pandering, and who issues contradictory blather without any cues that suggest either embarrassment or an awareness that she's saying nothing.
America seems to be stuck within a reality TV contest, viewing Palin as just another eccentric character looking for an American Idol break or a Bravo channel modeling gig. As the economy enters crisis, serious diplomatic challenges loom, and the country staggers away from eight years of a disastrous presidency, an illegitimate war started on a lie, the international embarrassment of war crimes, torture camps, and a president who acts like a hungover dropout on probation, it's not just scary that Palin could potentially win, but a national disgrace that she is on the ballot.
Other articles on current events:
The Big Fannie Mae & Freddie Mac Attack
Osama Bin Laden's Dream of US Economic Collapse
You Know the Drill?
Ten Striking Parallels Between Microsoft and John McCain
Obama's Apple, McCain's Microsoft: the Politics of Tech
Terrorist Criminal Links to the Presidential Candidates
Did you like this article? Let me know. Comment here, in the Forum, or email me with your ideas.

Like reading RoughlyDrafted? Share articles with your friends, link from your blog, and subscribe to my podcast (oh wait, I have to fix that first). It's also cool to submit my articles to Digg, Reddit, or Slashdot where more people will see them. Consider making a small donation supporting this site. Thanks!