Ideas for Apple: AirPort Mobile Tethering
September 30th, 2008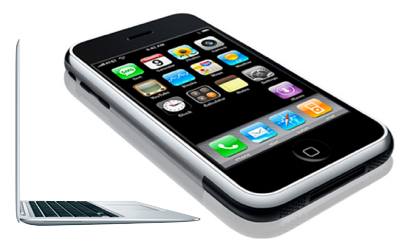 Daniel Eran Dilger
The previous segment looked at how Apple is uniquely situated to deploy ubiquitous WiFi by offering iTunes affiliate commissions to encourage casual AirPort sharing. A second issue Apple is poised to solve relates to iPhone tethering. Here's what the current problem is and how it could be solved.
Ideas for Apple: AirPort Mobile
.
AT&T doesn't allow tethering on the iPhone, or other phones it supports apart from some that come with special data plans. Tethering shares the mobile's network access with a computer. The iPhone's increased data use is already taxing AT&T's network, particularly in urban areas where the increased demand for data service combines with limited data capacity.
At last year's Macworld Expo, the high number of iPhones in attendance destroyed any capacity to receive even an EDGE signal.
AT&T barely has the current ability to support unlimited 3G data for the millions of iPhone 3Gs that have been sold. Attempting to offer free, all you can eat access for an attached laptop would be far beyond feasible, as laptops can easily consume far more bandwidth than a mobile phone, thanks to the ability to run many concurrent applications, none of which were designed to limit bandwidth consumption.
The Easy Part of the Problem

Making tethering work is easy. Apple already can support certain mobile phones plugged in via a USB cable, recognizing them as phone modem and using their mobile network connection to connect to the Internet.
It's also already possible to connect over Bluetooth using a phone that supports a dial up networking profile. Thirdly, one can set up a WiFi relay and share a mobile connection with a laptop; this is what the NetShare app momentarily offered before Apple pulled it from the App Store.
None of these things are technical barriers to Apple, because it already supports all of them. The problem is one of bandwidth. Without AT&T's buy-in and support, Apple can't allow iPhones to access the network, leaving Macs strangely unable to do something that's easy to do if you have an EVDO phone or even a GSM phone on certain other carriers.
Solving the Difficult Part.

The utility of being able to casually check email or perform some other network action on the desktop that can't be done directly on the iPhone is too great to resist not solving. What Apple needs to do is make it cost effective to use the mobile network via an iPhone, but cost prohibitive to abuse it. Fortunately, Apple has all the access it needs to deliver this.
Tethering needs micropayment system that allows users to initiate a simple connection and buy a cheap block of access. Market pricing "excess" data access could enable users to jump on for an hour to accomplish a task at a trivial cost of something like 99 cents an hour or for a certain amount of data transfer.
A smart network could even sense network congestion and allow free tethering in areas where network demand would have no impact, but charge minor prime time fees to throttle use while many people were trying to use the network.
With such a system in place, Apple could deliver a sophisticated automatic connection system that allowed mobile systems to wirelessly connect to and relay networking through the iPhone, presenting a cost menu when needed that would charge the fee to the user's iTunes account or alternatively add a fee to their AT&T bill if the phone company has the savvy to handle additional charges.
Such a pay per use system would benefit users who have no need for tethering, allow users who want to casually tether to do so a minor extra cost, and preclude a few people from taking down the network to perform excessive data demands.
Along with an expanding presence of AirPort Mobile ubiquitous WiFi, this would help make mobile Macs more mobile just as Apple is seeing its Mac business move toward laptops and expand to displace PC laptops.
Amazon.com: Apple Airport Express
Amazon.com: Apple AirPort Extreme Base Station (Gigabit)
Amazon.com: Apple Time Capsule
Did you like this article? Let me know. Comment here, in the Forum, or email me with your ideas.

Like reading RoughlyDrafted? Share articles with your friends, link from your blog, and subscribe to my podcast (oh wait, I have to fix that first). It's also cool to submit my articles to Digg, Reddit, or Slashdot where more people will see them. Consider making a small donation supporting this site. Thanks.