Ideas for Apple: AirPort Mobile
September 29th, 2008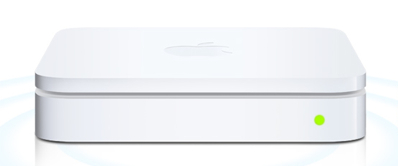 Daniel Eran Dilger
Until Apple introduces its new MacBook line there's no new official hardware to talk about. That can't stop us from considering major new areas of business available to the company though. One of the most promising relates to its AirPort wireless products and the potential for sharing ubiquitous WiFi service.
.
Apple owns a significant chunk of the retail market for 802.11n wireless base stations. How can the company leverage its market position while making its AirPort devices even more attractive? One way is to link in iTunes.
Apple's AirPort grabs 10.6% share of 802.11n WiFi market
A Global Upgrade for Bonjour: AirPort, iPhone, Leopard, .Mac
Apple's secret "Back to My Mac" push behind IPv6
Integrating iTunes with AirPort

The company has already dabbled with iTunes integration and WiFi in the Starbucks program unveiled a year ago. That system provides WiFi access to the iTunes Music Store for any iPhones that come into range and discover the Starbucks presence using Bonjour. Apple needs to think bigger, because it already has far more significant integration dots in line that it simply needs to connect.
1. Apple has an iTunes affiliate program open to anyone; set up an account, and you can generate content links that anyone can click to direct them to iTunes in general or to specific items in iTunes. When a use visits the store and makes a purchase, the linker gets a small commission.
2. Apple has a significant presence in WiFi with its AirPort base stations, and has full control over the firmware. It also provides and manages the WiFi driver and interface software for desktop users. This gives the company wide open and unique abilities to offer end users new WiFi features that no one else has. Microsoft doesn't sell WiFi base stations, and other base station makers rely on users to either use the default software on Windows or Macs, or install some troll junk that often works badly.
3. Apple of course has iTunes, which is the leading source for paid downloads in music, video, and mobile apps. It also has 65 million accounts of users, tied to a billing system.
Offer Free WiFi for Affiliate Links

Add this up: the company could rather easily offer an extremely simple system that allows anyone, from coffee shops to hotels to individuals, to install turn key AirPort devices, register them with an iTunes affiliate account, and offer free WiFi service supported in part through automated affiliate commissions paid for any mobile users who access the system and make any purchases through iTunes.
This isn't going to generate vast amounts of money for everyone who plugs in an AirPort base station, but it accomplishes two things: first, it provides an alternative to setting up free WiFi without any financial support potential at all. Second, it provides a viable alternative to the failed commercial efforts to extort $8 per hour WiFi service. Users get more free WiFi access, WiFi suppliers get a business model to support their rollout of WiFi service in addition to the attraction of users, and Apple sells more AirPort hardware.
All Apple has to do is develop and release a firmware update for AirPort that allows end users to enter their affiliate account information, and then create a secure login system that enables AirPort clients (including Macs, PCs, iPod touch, and iPhones) to find and connect to participating AirPort systems to share their AirPort WiFi signal. As with existing systems, this could easily be kept separate and secured from the home user's internal network.
Fon is already doing part of this; it sells a mini router that participating users can attach to their existing network, which then gives them the ability to freely share their network to other participants. Others can pay a small fee to connect to this gradually expanding, worldwide network. Apple has the capacity to add millions of nodes to a similar network, and can even work in participation with companies like Fon and community efforts like San Francisco's Meraki project.
Amazon.com: La Fonera Wireless Router
FON
Meraki
Smart Ubiquitous WiFi

Like Fon and Meraki, Apple isn't selling WiFi; it would be acting as a catalyst to build out connectivity, offering iTunes commissions to induce users to share their existing network. Apple also has the ability to add a client-facing system for would-be signal borrowers to ensure that there isn't abuse going on. First, it could link users by their iTunes account, so using the network would not be completely anonymous; Apple could ensure that borrowers could not hog bandwidth or perform untraceable, illegal activities.
Apple could set up smart limits that only give borrowers casual access, such as a limited amount of bandwidth per day, per network node. That would enable iPhone users to casually jump on available WiFi hotspots to check their email without allowing wardrivers to suck up significant bandwidth for things like unlimited file sharing or to set up spambot networks. Anyone abusing the system could have their account suspended from using the network.
There's a second application for "AirPort Mobile" that I'll address in the next segment.
Ten Big Predictions for Apple in 2008
Amazon.com: Apple Airport Express
Amazon.com: Apple AirPort Extreme Base Station (Gigabit)
Amazon.com: Apple Time Capsule
Did you like this article? Let me know. Comment here, in the Forum, or email me with your ideas.

Like reading RoughlyDrafted? Share articles with your friends, link from your blog, and subscribe to my podcast (oh wait, I have to fix that first). It's also cool to submit my articles to Digg, Reddit, or Slashdot where more people will see them. Consider making a small donation supporting this site. Thanks.