The Japanese iPhone Failure Myth
September 26th, 2008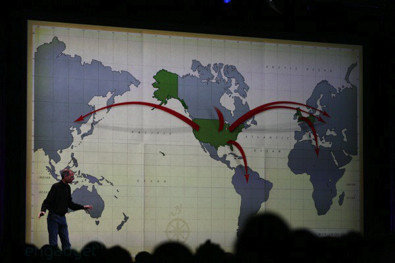 Daniel Eran Dilger
According to a Wall Street Journal report, the iPhone has completely flopped in Japan due to high prices and consumer apathy. This story has been widely syndicated, but its basis is questionable and its logic is strained. Here's a look at why.
.
After documenting the wild excitement that met the iPhone at launch, Yukari Iwatani Kane, writing for the Journal, noted that he didn't have access to actual sales numbers from Apple or Softbank, the iPhone's sole mobile partner in Japan.
Instead, Kane cited a single market research firm, MM Research Institute, as saying that the iPhone 3G sold 200,000 units in its first two months and that demand has "been falling steadily" since.
The article then mentioned unnamed analysts who "widely believe sales are unlikely to reach a total of 500,000 units. That is half the one million units that they previously thought Apple could sell."
Apple's Latest iPhone Sees Slow Japan Sales – WSJ.com

A Million Units Expected at Launch… Hmm.

If that line sounds familiar, it is probably because The Street insisted the exact same thing last year at the original launch of the iPhone in the US. Apple sold 270,000 phones on the launch weekend, but Scott Moritz printed a story that announced, "iPhone missed a 1 million unit sales target and rivals are rejoicing."
That was a lie. Apple didn't even have a million iPhones in stock over the first several days of the original launch, so it couldn't have planned to sell a million iPhones on opening weekend even if it had a million customers to service. In reality, actual expectations were far lower, and no rivals were rejoicing about the iPhone's big launch.
Bloomber's Connie Guglielmo had reported before the launch that "Apple may sell as many as 200,000 iPhones in the product's first two days on the market this week and as many as 3 million in the second half of the year, according to the most optimistic analyst estimates." Apple not only sold 270,000 in the first two days, but actually went on to sell nearly four million units by the end of 2007.
Unraveling Anti-Apple Panic: the iPhone Launch Success
Where Do the Japanese iPhone Numbers Come From?
According to Andrew Sheppard, a reader in Japan, "MM Research Institute's website does not suggest it has any definite figures for iPhone sales, only that it conducts an annual survey of mobile phone sales in Japan." The Journal had to base its article on that figure because Softbank only "said the iPhone continues to be popular, but declined to provide details."
If Apple actually sold 200,000 iPhones over the first two months, that would represent 2.4% of the Japanese smartphone market with sales of 50 million phones annually. The Journal reported that Nokia has less than 1% share in Japan, and that the market leader was Sharp, which still only had a 24% share.
Did "analysts" really believe Apple should have sold a million units in those first two months? Two months would amount to around 8.2 million smartphones for Japan in total, making a million iPhones 12% of the country's sales, despite the fact that only one provider was offering the iPhone.
In contrast, at the end of August just two weeks before the Journal story, The Australian reported, "Gerhard Fasol, of telecoms consultancy Eurotechnology Japan, estimates they [Softbank] shifted between 75,000 and 125,000 units in July. At that rate, he thinks 2008 sales could total between 645,000 and 1 million." So rather than being a failure, iPhone sales appear to be right in line with actual expectations.
Apple iPhone is having success in Japan against local internet mobiles | The Australian
Softbank's Hard Sell.

Last month, Softbank was reported to be leader in new subscriptions, grabbing more than half of the country's new activations during July. A company representative said at the time, "We believe our large net growth was an iPhone effect."
The Journal's widely publicized representation of the Japanese market cited an MM Research analyst as saying, "The iPhone is a difficult phone to use for the Japanese market because there are so many features it doesn't have." The article also insisted that "Japanese consumers have also shied away from the phone because of its high price," but then related that the 16GB iPhone, selling for the equivalent of $320 US, is only $21 more than the $299 iPhone 3G here in the US.
Is this WSJ article really worthy of being the seminal reporting work on the iPhone in Japan? The story even managed to downplay the iPhone App Store by dismissively saying it "hasn't taken hold as much in Japan, where consumers tend to be more cautious about making purchases online." Kane offered no factual basis for this claim either.
iPhone Affects KDDI's Net Subscription Growth
AppleInsider | iPhone 3G rocks Japanese smartphone market
Complex Phone Deals

With the Japanese market saturated in mobile phones, competing mobile companies try to lock users into long term contracts just as in the US. Our reader in Japan notes, "Softbank is trying to lead the industry in Japan away from the model of 'get a 'free' mobile phone, pay huge phone bills,' to one of 'pay for a mobile phone, pay reasonable phone bills,' so Softbank is not offering 'subsidized' iPhone pricing."
Instead, the company has users pay for their phone in installments over the two year contract. "A regular Softbank mobile phone," the source notes, "including the granny-phone but excluding most of those mobile TVs, will cost about $12.50 for the phone and $12.50 per month" for service.
In shopping for the iPhone 3G, the source reported being given two figures from Softbank: "$19 x 24 and $33 x 24," representing a contract installment price of roughly $330 for the hardware, and a full price of roughly $800 for the iPhone without a contract, comparable to the pricing in Europe. "This is for the 16GB version," the source said. "They don't recommend the 8GB since at that rate it is only a few yen less per month."
The service contract price outlined a "$10 'White Plan,'" which includes service "to cover all calls between Softbank phones and some others, an additional $3 for e-mail and other services and an all-you-can-eat internet access charge with a minimum of $10 and a maximum of $60." That makes phone service between $37 and $87 per month on top of the $19 per month hardware payment.
Also complicating iPhone deals are fees on number portability. To migrate his existing phone plans, "it will cost $21 to transfer each phone number from NTT DoCoMo, plus $100 to cancel each phone's current 2-year contract with NTT DoCoMo, plus $28 to transfer the numbers to Softbank. That's almost $450 to switch my 3-phone family account. But Softbank will then give me $150 worth of department store gift coupons if I do."
Barriers to iPhone Entry.

"It is worth noting that Softbank is not offering any special deals to its current customers to change from their present Softbank mobile to an iPhone, so they do not seem to have a mountain of unwanted iPhones to unload," the source observed.
"New mobile phone customers, by contrast, can get a mobile phone, an internet access device and an iPod all rolled into one for zero yen plus the bills, compared to getting a different mobile phone, not much internet access and no iPod for zero yen plus the bills. And if your village or university has WiFi, the bills won't be much different. So for teenage kids in Japan who do not have an iPod and do not have a mobile phone, Softbank is basically offering free hardware. Those that do (i.e. most teens in Japan) are waiting for their contracts and/or their iPods to expire."
"The real message should therefore be that, with a densely-installed base of mobile phone users in Japan, expectations of a rapid escalation of iPhone purchases following the iPhone's initial release were unrealistic. If the reports from MM Research Institute of approximately 500,000 units sold during the first 2 months were accurate, then the expectation that this would slow to 200,000 units per month were clearly not realistic."
Missing Features?
What about the missing features such as emoji and 1seg that are always cited as critically important to the Japanese market? Commenting on the country's phone market, Toshiyuki Oomori wrote in TechOn, "There is no doubt that Japanese mobile phones are also well-made. Many of their functions such as 1seg, e-payment and camera modes are even superior to the iPhone's. Nevertheless, they lack the iPhone's intriguing charm that makes people feel like using it."
"It isn't a case of it 'being no good,' but rather 'that's too bad.' Something is not right with Japanese handsets. The iPhone has a lot of shortcomings, but hardly gives the impression of 'being too bad,' which Japanese mobile phones do."
Takeshi Natsuno, the inventor of Japan's i-mode mobile web service and former Senior Vice President NTT DoCoMo, said in an interview, "I believe the iPhone is closer to the mobile phone of the future, compared with the latest Japanese mobile phones." Natsuno also said uses the iPhone 3G himself.
The reports of the iPhone's tragic failure in Japan, its inability to compete against existing sophisticated Japanese phones, and the widely distributed tale that initial sales fell dramatically short of expectations all appear to be fictions based on a rather one-sided hit piece that was short on hard data.
iPhone Sheds Light on Weakness of Japanese Handset Makers — Tech-On!
Update: Reader Aristotelis offered a link to Smule, an iPhone virtual lighter app that tracks users on a global map. Half of the top ten cities reporting use are in Japan, indicating that the country isn't quite as terrified by online purchases and befuddled about mobile software as the Journal tried to suggest. Zoomed out, the map shows Alaska twice, as well as the remote ice-covered corner of Russia that it neighbors. There's also plenty of flames across the part of western Russia that is actually populated, despite the fact that the iPhone hasn't officially gone on sale there yet.
Smule Flames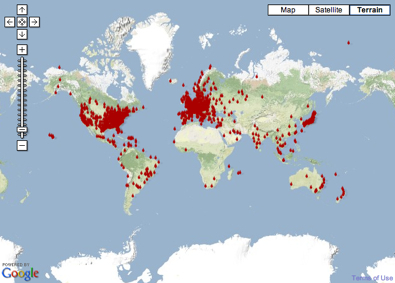 Did you like this article? Let me know. Comment here, in the Forum, or email me with your ideas.

Like reading RoughlyDrafted? Share articles with your friends, link from your blog, and subscribe to my podcast (oh wait, I have to fix that first). It's also cool to submit my articles to Digg, Reddit, or Slashdot where more people will see them. Consider making a small donation supporting this site. Thanks.