You Want the Truth? You Can't Handle the Truth!
September 25th, 2008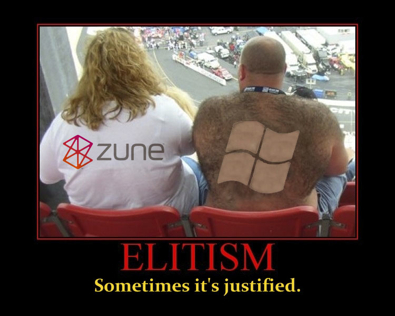 Daniel Eran Dilger
Someone who I am no longer allowed to name has reported that my scoop about Microsoft's "I'm a PC" ads using Macs was non-noteworthy, while also reporting that Microsoft's canceled third Seinfeld ad was. The problem is that I reported both publicly a week ago, and the 90,000 visits to RDM on that first specific article (and untold traffic to other web sites who syndicated my reports) say otherwise.
[graphic thanks to reader KG]
Microsoft $300 Million Ads
Microsoft's Mojave Attempts to Wet Vista's Desert
Microsoft's Mojave Experiment Exposes Serious Vista Problems
Paul Thurrott calls Apple "the Bad Guys" of Microsoft's $300 Million Ads
Gates, Seinfeld and the $300 Million Ad to Nowhere
Microsoft's $300 million ad campaign tumbles with new PC ads
Microsoft's "Windows vs Walls" Ad Tries to Think Different, Fails
Microsoft's "I'm a PC" Millions Actually Promoting the Mac
Microsoft's 'I'm a PC' Campaign Keeps Getting Stranger (With Videos
I'm a PC too… touché
.
"I don't care about the fact that the ads themselves were produced on Macs," the writer said. "I think you'd be hard-pressed to find any major ad agency that doesn't produce their creative work on Macs. Making fun of Microsoft for this would be like making fun of Apple because they use Windows PCs for things like SAP."
Or more precisely, it would be like finding that Apple was advertising the Mac to do things that nobody needs a PC for, and then using a PC to say that. Apple doesn't advertise Macs for use in SAP or industrial design or for retail handheld EasyPay devices. There is nothing ironic about Apple using PCs or Windows-based products for tasks that Apple does not compete against.
In stark contrast, the "I'm a PC" ads clearly represented that there is nothing special about Macs and obviously implied that a generic PC is just as good, if not preferable, to ever using a Mac. That fact that the ad work was done using Macs is therefore very relevant, and the 90,000 people who hit that article on my website over the last week indicate that most people saw some clearly hysterical irony involved with that.
Parroting Microsoft's damage control spin that "As is common in almost all campaign workflow, agencies and production houses use a wide variety of software and hardware to create, edit and distribute content, including both Macs and PCs" is silly enough for news organizations to see through.
As Asher Moses wrote in the Sydney Morning Herald, "The revelation is ironic because the ads are part of a broader $300 million campaign designed to spruce up Windows Vista's image and tout the PC's advantages over the Mac."
Moses may have connected all his dots independently of my reporting, which had identified last week the obscure detail that Jerry Seinfeld was featured in a Think Different ad, but the fact that the news I broke was indeed newsworthy is impossible to argue against.
'I'm a PC' made on a Mac – smh.com.au
That Secret Third Ad.

"What's interesting to me is the report of a third, never-aired Seinfeld spot," the same person wrote. "I heard the same thing last week, privately, from a friend in Seattle. But now here it is in print. If true, it's proof that Microsoft's claim that they'd only ever planned to run two Seinfeld ads and for just two weeks is, in fact, a crock."
I reported this fact last week. Of course, you don't have to read my work, but don't suggest you have special knowledge conferred to you by friends in Seattle when a couple hundred thousand of my readers were informed of this six days ago.
And as long as I'm poking fun at my pariah status granted by certain members of the Mac establishment (and yes, there are plenty of Mac personalities who loathe me as much as Paul Thurrott, Rob Enderle, and apparently most of Nokia do for daring to point out the nudie bits on their emperor of world view on occasion, something everyone is quick to do whenever I say something they disagree with), I should also call out a number of commercial Mac news organizations (ahem) who syndicated my article without providing any attribution, not only to me but also to my source who presented the embarrassing details that Microsoft is now trying to deflect.
Something else that is unchallengeable: Microsoft's $300 million campaign is clearly funneling lots of extra free publicity to Apple's Mac platform, which is obviously not what Microsoft had in mind.
Microsoft's $300 million ad campaign tumbles with new PC ads
Did you like this article? Let me know. Comment here, in the Forum, or email me with your ideas.

Like reading RoughlyDrafted? Share articles with your friends, link from your blog, and subscribe to my podcast (oh wait, I have to fix that first). It's also cool to submit my articles to Digg, Reddit, or Slashdot where more people will see them. Consider making a small donation supporting this site. Thanks.