The iPhone Store Impending Disaster Myth
September 25th, 2008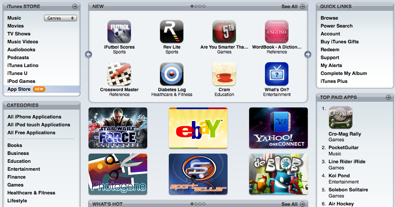 Daniel Eran Dilger
According to the predictable opinion scribes, Apple is risking disaster in the iPhone App Store by imposing critical authority over the mobile software it chooses to sell. If it doesn't stop turning ideas down, all that creative energy will abandon Apple and prop up other mobile platforms. They're wrong, here's why.
.
Critics charge that Apple's rejections are arbitrary. They also say Apple has no business choosing what software customers have access to, and that the company should instead allow the market to decide. The third major argument is that Apple is being unfair in voting down titles that may compete with its own offerings. Everyone is saying the same thing, so here's the facts they're missing about why Apple is taking the actions it is.
Developers, Developers, Developers.

Before taking on these three ideas, take a look at Apple's third party development philosophy compared to the biggest platform on Earth: Microsoft's Windows monopoly. Ostensibly, Microsoft rose to power by attracting developers to its platform and keeping them happy. That's why CEO Steve Ballmer danced on stage in a sweaty fit screaming his famous "developers" chant.
Ballmer might actually believe that, but history tells a different story. Developers certainly helped DOS take off, but the first killer app in early home computing was actually VisiCorp's VisiCalc on the Apple II. That software title did so much to boost Apple's sales that the entire industry took notice. Obviously, third party software was going to be critically important in selling hardware.
At the same time however, VisiCalc on the Apple II only mattered until IBM cast a shadow over the infant computing industry with its PC in 1981. Apple's killer third party app was eclipsed by Lotus 1-2-3 on the PC, not because Microsoft or IBM was catering to third party software developers better than Apple, but because developers were attracted to the PC as a more viable platform that would make them greater money with less risk.
Once Lotus began printing money by selling its software to PC users, competition to the PC platform began to quickly dry up. Alternative home computer platforms either filled a specific niche or evaporated. At the time, Apple's strategy was to create a superior platform that would attract more attention using sophisticated technology, while IBM, Microsoft, and the PC cloners were working to sell third rate, old technology at low prices.
Office Wars 3 – How Microsoft Got Its Office Monopoly
Macintosh vs the PC

Apple's first stab at delivering its high road strategy was the Lisa, which shipped just as Lotus 1-2-3 was taking off on the PC. It was too expensive to find a mainstream audience, but Apple knew that. The goal of the Lisa was to be first to market with new graphical technology. The Macintosh project was aimed at making that technology affordable.
When the Macintosh shipped the next year, it put a new burden on developers. They had to follow Apple's Human Interface Guidelines or their software wouldn't sell. They also had to master a new way to program, making calls to Apple's own toolbox libraries to build their software. In exchange for this, developers got prebuilt functionality "for free" and could work within a framework that took care of many of the details that PC developers had to write on their own.
Steve Jobs' Mac team worked make the new machine as cheap as possible while they crammed in as much forward thinking technology as possible. Their main competitor was Apple's CEO John Sculley, who tacked on a $500 (or 25%) tax, roughly $1000 in today's dollars, to fund the Macintosh's ad campaign. This last minute price hike deeply impacted the appeal of the new Mac, which called into question the platform's viability to potential developers.
Jobs wanted Apple to push the Mac hard in business, and to continue to invest in making it a more attractive platform by harnessing new technology, including laser printing and easy to use networking. Instead, Sculley followed a conservative plan of pushing the systems that were already earning Apple money. In 1984, he famously declared "Apple II forever!" and within two years, had managed to successfully push Jobs out of Apple.
Without Jobs, Apple made minimal efforts to push the Mac platform ahead or to deliver the technology advances that would make it more broadly attractive to users. While Apple leisurely took money for past products, the PC platform grew at an astounding rate, leaving Apple behind as a marginalized alternative with increasingly less allure to users, and subsequently to developers.
Steve Jobs and 20 Years of Apple Servers
Jean-Louis Gassée Returns from Obscurity… to Talk About MobileMe
Mac vs Windows vs NeXT.

Jobs left to found NeXT, where he continued his strategy of building a superior platform that would attract more attention using sophisticated technology. Apple actively thwarted his efforts by suing NeXT to stop it from entering the consumer market. Apple also sued Microsoft for appropriating the technology fields it had left fallow in order to collect Conservation Reserve Program checks.
Microsoft's strategy to sell third rate, old technology at low prices stayed intact, too. The company had successfully resold CP/M from the 70s as DOS during the 80s, and was now preparing to sell the Mac desktop from the 80s throughout the 90s.
Rather than competing, Apple chose to stop Microsoft in the courts, a wildly ineffective strategy given the massive growth and profits Microsoft was earning. Even if Apple had won, it would have still lost due to the staggering opportunity costs of failing to compete.
NeXT also failed because it simply lacked the resources to stay in the game. By 1990, NeXT was delivering the software Microsoft announced it would eventually copy, but NeXT didn't have the market power to sell it.
Why OS X is on the iPhone, but not the PC
Microsoft's DOS Developer Massacre.

Meanwhile, the supposedly developer friendly Microsoft was formulating a plot to not just steal Apple's first party desktop operating system, but also the third party software market from Lotus, WordPerfect, and other top DOS developers.
Microsoft convinced its DOS developers to go to work building apps for OS/2, which Lotus and WordPerfect dutifully began to do in the early 90s. The company then took the Mac software titles it had ported to Windows during the same time period and tied them together in a marketing coup that choked off DOS competition, third party app competition, and Mac competition all under the banner of Windows 95. New PCs would now be sold with a Windows 95 license and in many cases, a bundled license for Word and Excel as well.
Within a very short time, the largest DOS third party developers were strangled to death while Apple was left stabbed in the back by its own platform technology. Microsoft had succeeded in selling its old Mac Office from the 80s to PC users in the 90s by using its DOS PC monopoly power to crush its own third party application developers. For the next decade, Microsoft would sell reheated versions of the same stuff over and over again with nearly no competitive pressure. Windows actually got even more expensive.
Office Wars 4 – Microsoft's Assault on Lotus and IBM
Apple's Developer Strategy.

When it bought NeXT in its final gasp of breath in the last days of 1996, Apple paired the scant remaining market power it controlled with the technology NeXT had developed to create a superior platform. With Jobs at the helm, Apple raced back to health and pleaded with its third party developers to support its new platform. They refused.
Apple was ultimately only able to string along Adobe and Macromedia and Microsoft by investing in efforts to keep their old software running on the Mac. That was enough to get Apple into the new decade, where it rapidly began developing its own apps, from Mail, Address Book and iCal on the desktop to its iLife suite, Pro apps, and iWork software. Apple is now the primary developer of the most important Mac apps for consumers.
More importantly however, Apple's investments in building a superior platform that would attract more attention using sophisticated technology finally began to pay off, and increased visibility of the Mac platform has drawn more developer interest that any amount of begging ever could have.
Why Apple Bounced Back
Is Apple Shedding its Final Cut Pro Apps at NAB?
The iPhone Money Machine.

With the iPhone, Apple similarly built a superior platform designed to attract attention using sophisticated technology. It didn't even open the doors to third party developers until a year after launch, at which time there was already pent up demand from a large installed base of iPhone users, a preexisting expectation of what "iPhone software" was, and a well oiled machine for distributing new software and collecting micropayments for it.
The first thirty days generated $30 million in software development funding paid for by willing iPhone users. In just a few months, Apple's technology and the potential for developers to make money at little risk had sucked the air from the sails of established mobile platforms, including Palm and Windows Mobile.
Developers' contributions to the iPhone software market attracted new iPhone buyers who in turn funded new development. The iPhone was Jobs' original vision for the Macintosh and what his team had attempted to introduce with NeXT. This time, Jobs had the market power to deliver the platform he envisioned, and kept it going until it could attract a critical mass of development.
Apple's efforts were not easy, but were simplified by the fact that all of its competitors were following the conservative Microsoft strategy of selling third rate, old technology at low prices. Symbian is a creaky old PDA OS from the 90s, as is the Palm OS. RIM sells a creaky old pager OS from the 90s. Microsoft sells a poor copy of Palm and the Newton. The roots of the iPhone OS can be charted back into the 80s at NeXT, but in reality, its value comes from new technologies, including a Core Animation interface and a brand new set of mobile human interface guidelines.
Origins: Why the iPhone is ARM, and isn't Symbian
The Egregious Incompetence of Palm
The Spectacular Failure of WinCE and Windows Mobile
Why Platforms Win.

if you were taking notes, you'd notice that Microsoft didn't come upon its fortune by reaching out to developers, but by winning market power in the IBM DOS lottery and using that influence to destroy its own developers to sell its software in their place. I didn't recount the history of Microsoft's use of Windows to destroy competing Windows utility developers such as Stacker or todays antivirus vendors, Windows web browser developers such as Netscape, Windows media developers such as Apple's QuickTime, or similar attacks on any other segment of the market Microsoft wanted to own.
You probably also noticed that Apple didn't win when it pleaded with developers to support the Mac, or when it pleaded with developers to support Mac OS X, or when it offered open source alternatives such as mkLinux or Darwin, but only when it delivered a platform that developers were profit motivated to invest their efforts in.
Also notice a complete lack of openness or egalitarian market freedom in the success of any computing platform. Now look at every other success in business, and note that whether following the Microsoft strategy of selling third rate, old technology at low prices (such as Walmart, Ikea, or McDonalds) or the Apple strategy of delivering superior platform designed to attract attention using sophisticated technology (Amazon, Google, or BMW), success has a lot to do with attracting buyers and very little to do with sucking up to third party partners.
Now let's hammer away at the sappy pleading on behalf of developers who want Apple to cater to their whims due to the attractive populist concept of fairness in doing so.
Arbitrary
If you made it this far, you may have forgotten that the first argument against Apple vetoing apps from the iPhone app store is that its decisions are unpredictable and arbitrary. In outlining how the Apps Store would work this spring, the company presented "porn, privacy, bandwidth hog, malicious, illegal, and unforeseen" as factors that would cause Apple to deny the title. That did tend to leave things open.
Jobs said, "so there are gonna be some apps that we're gonna say no to, but again, we have exactly the same interest as the vast majority of our developers, which is to get a ton of apps out there for the iPhone."
Apple hasn't banned any apps for arbitrary reasons. Some critics refused to recognize the merits of Apple's decisions, but in every case that has become public, the reasons are pretty clear. Apple is managing the user experience in the iPhone App Store to prevent the iPhone from becoming a target of lawsuits or boycotts, to preserve its simplicity and ease of use, and to safeguard both users and the viability of the platform itself.
Some have tried to turn each decision into a dramatic case filed with court of public opinion, but Apple runs the App Store, not a popular vote. A platform is not a democracy. End users can complain that design of a company's cars are ugly, or that a restaurant chain's food is too boring, or that a Blockbuster doesn't carry X-rated movies, but in the end the decisions of a business must come from those managing the company.
Calling Apple's recent vetos "arbitrary" is just wrong. The company has approved thousands of apps within just the first couple months using the most efficient review process it can. Plenty of junk apps have slipped through, and a very small number of apps with arguable merits have been denied. The tech media is trying to turn this into a dramatic conflict to inflate their own importance here, but there is no real crisis as the very small fraction of apps Apple has stomped on do not really matter in the health of the App Store.
SDK 3.3.3: The iPhone Podcaster Surprise Myth
Banned iPhone Apps and the John Gruber Podcaster Defense
The Market Decides

The second argument against Apple's managing of the apps it chooses to sell is that Apple should sell everything and simply allow the market to decide what works and what doesn't. After all, Apple has unlimited virtual shelf space.
The problem is that Apple also has unlimited liability in the minds of lawyers. Additionally, Apple's cut isn't big enough to deal with significant complaints or boycott threats (such as the horror title or porn), return demands (such as "I am Rich"), or even the difficult to quantify impact of cheapening the iPhone brand with software that is less than classy (like the fart joke app). Apple also refuses to stock many stupid products in its retail store, as every retail store does.
The market does a good job of selecting where capital should flow, rewarding success and punishing failure with aggregate demand transactions, but it does not serve as a good replacement for editorial control. Look at the media in this nation: we've become a country of morons being fed inane junk news because the market is deciding instead of journalists. Look at Walmart and McDonalds, where the market is deciding to stock Chinese junk and ground up beef hearts because low cost appeals to uninformed consumers more than getting informed.
For Apple to maintain its platform, it needs to maintain its image. That practice worked well for Nintendo in video games up until the point where it went too far and the GameCube generation was lost due to begin typecast as a kid console. In a market where bad software titles are cheaper to produce than good titles, Apple has not just a right but a duty to protect its image by decreeing editorial control over the apps it represents to users. If anything, Apple has not gone far enough to shoot down lame apps.
This is certainly a problem for developers who want to sell fart jokes and porn, but those people don't care about Apple's platform health, so Apple can't be interested in their demands either. Incidentally, anyone who is worried about a lack of porn on the iPhone has failed to realize that the device is an Internet browser and that a Cocoa Touch interface is not really needed to deliver commercial pornography. Compare the assortment of web porn sites with porn desktop apps on the PC and that fact might become more obvious.
How Apple Is Changing the PC Software World… Back
iPhone Apps Store Growing Twice as Fast as iTunes Music
Unfair Competition

The third complaint about Apple's veto power surrounds apps like NetShare, Podcaster, and MailWrangler, which were denied not because of editorial decisions but because they potentially impacted the health or future of the platform. NetShare exposed Apple to liability for enabling users to violate their service contract with AT&T. Apple is negotiating with AT&T to find a way to offer tethering support, but it can't simply sell an app that is expressly designed to violate users' licensing agreements without incurring Napster-style liability.
Podcaster competes against Apple's podcast business, while MailWrangler offers an alternative to Mail. In both cases, Apple thinks that consumer confusion will cause problems for its platform, and so it's simply outlawed them both. Podcaster creates confusion by allowing two independent sets of podcasts to be downloaded and fall out of sync with each other. This would make the iPhone look stupid and the blame would go to Apple. If this sounds improbable, consider that Paul Thurrott blames Apple's MobileMe for bugs in Outlook and Exchange Server and limitations in Windows Calendar. It doesn't matter that this is ridiculous, it still happens.
MailWrangler is basically a specialized browser shell for Gmail that makes it easier to switch between multiple accounts. It not only acts as a replacement for Mail, but had another issue Apple raised about having no way to edit an account after being set up. Rather than taking steps to solve the problems and reapply, the developer posted a complaint in public about how he didn't want to "deal with Apple's messy bureaucracy. I guess I should just write another flashlight or glowstick application to actually get published. That's the only apps Apple seems to want in the store."
Competition in Utilities.

There are two things to consider in the competition debate. First is that Apple needs to maintain certain platform infrastructure itself. The company has bundled apps into the desktop Mac OS X because competition wouldn't really serve the Mac platform, but instead just hold it back. This is the same reason why cities grant monopolies to power companies or transit operators or cable providers; competition in such a small scale would cause more problems than it would solve for users.
Apple has effectively limited any competition for Mail, Address Book, iCal, Safari, or the Finder by making those apps good enough that nobody would pay any significant amount for a replacement, outside of some small niche cases. Mac users wouldn't be better served to have a handful of companies trying to all sell competitive mail apps, because it would really just expend a lot of duplicative effort needlessly.
On the iPhone, things are even smaller. Apps typically cost less than $10, so the barrier to entry in creating an app that might duplicate Apple's efforts without adding any substantial value and really just cause confusion for users is not worth it for Apple to promote. It is certainly controversial where Apple draws the line, but developers building apps should exercise some forethought about how much value their app offers compared to the risks Apple might incur in support costs and platform devaluation, and use that to make development decisions.
Beyond the limited value of competition in certain areas, the second factor is that it is far easier to prevent a small developer from setting up shop in the path of development planned by Apple than for the company to steamroll or buyout the developer's potential profits at some point in the future. Anyone who thinks Apple can afford completely unfettered competition on its limited platform should take a deep breath and reevaluate that opinion in the face of reality.
I have no doubt Apple will eventually veto an app for reasons I can't understand or agree with, but one might expect that in a business environment where one app in thousands might slip into error. When that happens, the developer involved might be better served in working with Apple to hammer out a solution rather than trying to badmouth the company publicly in their blog. I'm sure Apple would happily send that type of developer packing to Windows Mobile or Android, because its far easier to deal with thousands of profit motivated, rational partners than a single hot head who chooses to vent complaints in public.
As for the tech media outlets who have developed a knack for reporting one side of every issue involving Apple: if the story sounds too good to be true, perhaps it is. If you exercised some effort to tell both sides of the story, I wouldn't always have to describe in detail why you're wrong. I also wouldn't have to look so one sided for always having to tell the side you refuse to cover.
Did you like this article? Let me know. Comment here, in the Forum, or email me with your ideas.

Like reading RoughlyDrafted? Share articles with your friends, link from your blog, and subscribe to my podcast (oh wait, I have to fix that first). It's also cool to submit my articles to Digg, Reddit, or Slashdot where more people will see them. Consider making a small donation supporting this site. Thanks.