Imagine Steve Jobs for President
September 23rd, 2008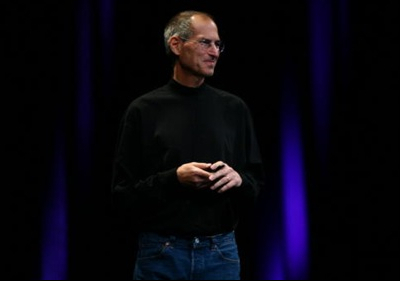 Daniel Eran Dilger
In the final days of 1996, Apple signed the deal to acquire NeXT. Within six months, the company was effectively taken over and began to dramatically change course. America needs a similar transformation today.
.
In 1996, Jobs wasn't regarded as a turnaround CEO reformer. He had little recognized experience running a huge corporation. At Apple, Jobs had hired John Sculley to run things in the early 80s, and nobody gave Jobs much credit for running NeXT; essentially, Jobs' role appeared to be one of a technical community organizer, recruiting smart people and putting their ideas together to build futuristic products. Pixar was just beginning to put out its first films.
Once he took over the reins at Apple, Jobs immediately worked to slash pointless spending, restore confidence in the company, end a costly war with Microsoft, and set up new regulations outlining how new products would be created and financed. He took over leadership of Apple and transformed it into a competitive, dynamic, capable company despite great odds, not by trying to smooth talk his way inside the enterprise market, but by bringing his product campaign directly to consumers.
Imagine Jobs running for president.
Of course, Jobs isn't running for president and has shown no interest in a political career. However, there is somebody who is regarded as lacking in executive experience and who has only really managed hands-on organizing work in the trenches. He similarly lacks the Gil Amelio reputation for rashly firing lots of people to solve institutional problems. Instead, he seeks out smart people and combines their efforts under leadership with a purpose-driven vision.
Billionaire investor Warren Buffett supports him and said earlier this year that he 'could run a business,' a significant difference in opinion over that of disgraced HP CEO Carly Fiorina, who described both of his rivals as unfit to run the company she was also unable to run.
Buffett says Clinton, Obama could run a business | Politics | Reuters
Of course, that man is Barak Obama. In this video addressing Green Bay Wisconsin, he outlines how exactly he will make changes in America reminiscent of those Jobs' brought to Apple, with specifics on how he will cut waste, restore confidence in the nation, end a costly war, and set up no-nonsense, transparent regulation of markets that have for so long been gamed to serve the few and leave the majority of Americans behind. And like Jobs, Obama's campaign is being offered to end users, not the enterprise of elite special interests that make their buying decisions behind closed doors.
His opponents may scoff, but people doubted Jobs could keep Apple afloat, too.
Other articles on current events:
The Big Fannie Mae & Freddie Mac Attack
Osama Bin Laden's Dream of US Economic Collapse
You Know the Drill?
Ten Striking Parallels Between Microsoft and John McCain
Obama's Apple, McCain's Microsoft: the Politics of Tech
Did you like this article? Let me know. Comment here, in the Forum, or email me with your ideas.

Like reading RoughlyDrafted? Share articles with your friends, link from your blog, and subscribe to my podcast (oh wait, I have to fix that first). It's also cool to submit my articles to Digg, Reddit, or Slashdot where more people will see them. Consider making a small donation supporting this site. Thanks!