Microsoft's 'I'm a PC' Campaign Keeps Getting Stranger (With Videos)
September 22nd, 2008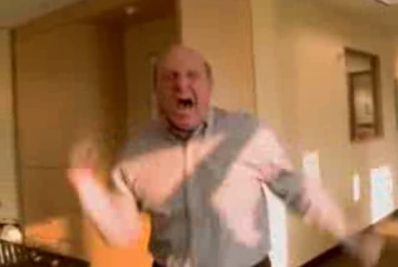 Daniel Eran Dilger
If subliminally advertising Apple's Macs through implied comparisons wasn't bad enough, Microsoft's subsequent ads make the case of Apple's Get a Mac message even harder in an expanded series of "I'm a PC" ads: "I am Not Alone," "Stereotype," and "Our CEO is a Raging Nutcase."
Microsoft $300 Million Ads
Microsoft's Mojave Attempts to Wet Vista's Desert
Microsoft's Mojave Experiment Exposes Serious Vista Problems
Paul Thurrott calls Apple "the Bad Guys" of Microsoft's $300 Million Ads
Gates, Seinfeld and the $300 Million Ad to Nowhere
Microsoft's $300 million ad campaign tumbles with new PC ads
Microsoft's "Windows vs Walls" Ad Tries to Think Different, Fails
Microsoft's "I'm a PC" Millions Actually Promoting the Mac
Microsoft's 'I'm a PC' Campaign Keeps Getting Stranger (With Videos)
I'm a PC too… touché
.
I Am Not Alone: Of Course You're Not.
Do generic PC users feel alone in the world? Proactively worried about this possibility, Microsoft has rushed to assure users that there are a billion others just like them. In fact, everyone on earth with a PC has a PC. Of course, we already knew that before Microsoft decided to blow $300 million to say the obvious.
The new "I am not alone" ad edits down the series of characters presented in the first "I'm a PC" ad to the point where they appear to just be chanting "PC" "PC" "PC." Then, at the end, it jawdroppingly juxtaposes Deepak Chopra saying "we're all a PC, inseparably one" with a fighter holding down his opponent yelling angrily, "you got a problem with that?," leaving a weirdly intense Borg message of conformity.
Apparently, you're either with us or against us, and if you're against us, Microsoft will be coming after you to assimilate you into the Borg hive. Strange, bizarre, unsettling, and above all, a pointless commercial message.
Stereotype: Right Back At Ya.

A third ad "stereotype," takes issue with John Hodgeman's PC character, with a variety of "PCs" complaining that their suit isn't tweed and their office is really an outdoors setting. This one is slightly better in terms of actually trying to attack the Get a Mac ads, but Microsoft is again really only defensively drawing attention to Apple's original campaign and inviting users to think about Macs, hardly an effective strategy.
I mean really, does Microsoft think that advertising the "PC" will encourage new sales of computers, or cause people to have a less favorable view of Macs? The only mention of Windows is a tiny logo at the end that isn't clearly visible or even immediately identifiable because Microsoft changes the logo more often than it introduces a new version of Windows.
Also, while the Sean character complains, "I've been made into stereotype!", that word really just refers to a general perception. Apple didn't invent the idea that PCs were buttoned up business types that flock together in a monoculture herd and view creativity and diversity as flaws; that's what corporate America and Windows Enthusiasts has been saying all along.
In reality, they're the ones who have been stereotyping, calling Macs 'not ready for business,' despite the fact the Microsoft Excel first appeared on the Macintosh and that Apple pursued a decade long lead in graphical computing ahead of Windows, and that Apple helped pioneer mobile business computing, and laser printing, and trackpads, and easy to use networking, and wireless networking, and Gigabit Ethernet with auto-configuration, and plenty of other features that businesses now take for granted.
Office Wars 3 – How Microsoft Got Its Office Monopoly
Two Decades of Portable Macs: 1989 – 2009
Steve Jobs and 20 Years of Apple Servers
Having Microsoft insist that it is the victim of an unfair stereotype is a bit rich coming from a big empty monopoly that was so devoid of creative ideas that it had to steal some advertising concepts from Apple, and then use Apple's computers to complete the campaign.
Steve Ballmer: The WTF CEO LOL.
If the "I'm a PC" ads it had professionally produced were a questionable use of $300 million, the company's CEO managed to erode the company's brand value and any remaining hint of charm, class, sophistication, or intelligence that might be associated with it, apparently for free.
The Thrower of Chairs demonstrated his personal vision for winning friends and influencing people in a short clip where he states his preference for using generic computers and his appreciation for a company that can't fire him no matter what he says or does.


Did you like this article? Let me know. Comment here, in the Forum, or email me with your ideas.

Like reading RoughlyDrafted? Share articles with your friends, link from your blog, and subscribe to my podcast (oh wait, I have to fix that first). It's also cool to submit my articles to Digg, Reddit, or Slashdot where more people will see them. Consider making a small donation supporting this site. Thanks!